Jump to Recipe
Print Recipe
This Firecracker Salmon is easy to whip up! It tastes so delicious, also, with a little bit of spice and sweet, caramelized on the top and bottom, and flaky and delicate on the inside.
I marinated the salmon, then did a quick sear on each side, before popping in the oven for just about 10 or 11 minutes. Smaller pieces would even cook quicker, but the ones I did were just under a half a pound each.
Feel free to omit the red pepper flakes if you don't like spicy food, and also reduce the amount of gluten free sriracha sauce to a quarter or a half of a teaspoon. Cuties also work to juice in place of the orange juice in the marinade/sauce . I substitute cutie juice for orange juice because I generally have them on hand.
I served this to my kids recently and they loved it. I told them I had slaved over it for hours, haha! This dish is so easy! Anyway, I was happy that they enjoyed it. We served it with Gluten Free Rice Noodles and Vegetables (with Shrimp added in), steamed white rice, and sautéed green beans with bamboo shoots and garlic.
Enjoy!
~Laura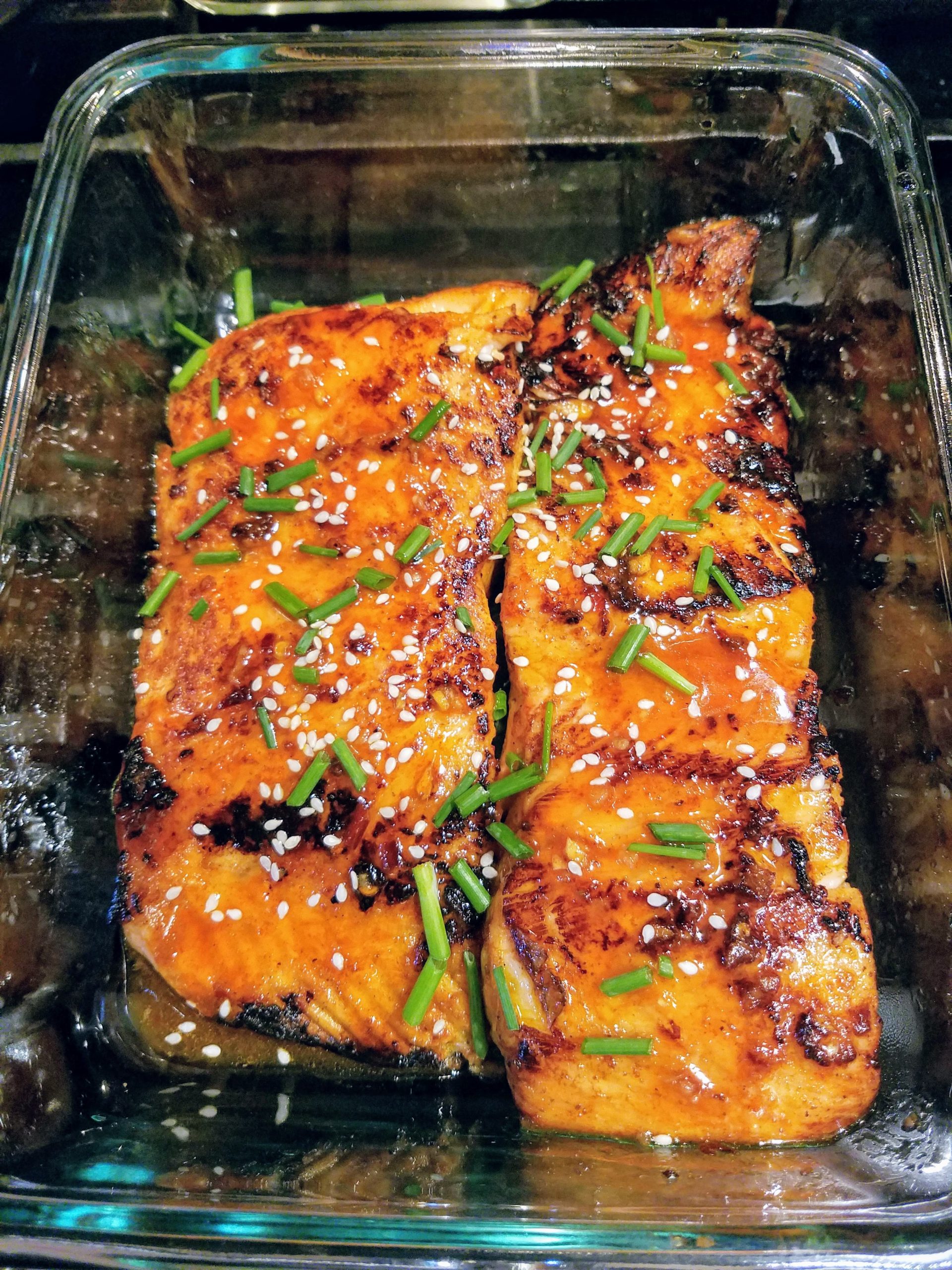 Firecracker Salmon (Gluten Free)
Quick and easy, while being so perfect in flavor. Not overpowering in sweetness or spiciness, but a nice meld of the two. Serve this with white or brown rice, Charred Green Beans (Gluten Free) or steamed broccoli.
Ingredients
1 teaspoon crushed or finely minced garlic

1 ½ teaspoon of finely minced fresh ginger

1 ½ teaspoon olive oil

1 ½ tablespoons San-J Organic Tamari Sauce, gluten free or other gluten free tamari sauce

3 tablespoons honey

2-3 teaspoons of Sky Valley Gluten Free Sriracha, or other gluten free brand, adjust for spice you want

3 tablespoons orange juice

2 teaspoons rice vinegar

1 teaspoon tomato paste

½ teaspoon paprika 

A pinch or two of crushed red pepper flakes, optional

2 or 3 salmon fillets, 4 – 7 ounces each

Salt and fresh ground black pepper on salmon pieces, skinless

2 tablespoons chives, finely sliced

½ teaspoon sesame seeds
Instructions
Whisk together the marinade/sauce ingredients: garlic, ginger, olive oil, gluten free tamari or soy sauce, honey, gluten free sriracha, orange juice, rice vinegar, tomato paste, paprika, and red pepper flakes. Dry the salmon fillets well with paper towels. Salt and pepper the fillets. Add the fillets to a casserole dish.

Pour half of the marinade over the pieces of salmon, coating well on each side. Reserve the remaining marinade/sauce to finish the fish after cooking. Cover the dish and move to the refrigerator for 2-3 hours to marinate. 

Remove the fish a half hour prior to cooking. Coat the fish with the marinade from the casserole dish.

Preheat the oven to 365 degrees F. Heat a skillet or cast iron over medium high heat with a tablespoon of olive oil. Remove the fish pieces from the marinade letting the excess drip off and place "pretty side" down in the pan without disturbing. Sear each fillet for 2-3 minutes until browned and crisp before carefully turning over with a very large spatula and searing on the other side of each fillet. The sugars will begin to caramelize in the pan.

Move the skillet to the oven or transfer the fish carefully to a foil lined casserole Pyrex dish, before moving to the oven. Bake for 8-11 minutes depending on the fish size. The fish should flake on the edge. Spoon heated reserved marinade/sauce to the top of the fish, then add the chives and sesame seeds. Serve over or beside white or brown rice.