Jump to Recipe
Print Recipe

These Gluten Free Sharp Cheddar and Chive Scones are just what I needed today! They're light, flaky and savory scones! Enjoy these for a breakfast treat, but these could also be served to compliment a piping hot bowl of stew or soup.
These scones contain some of my favorite ingredients, Tillamook Sharp Cheddar Cheese, and Ryze Gluten Free Flour Mix. Ryze, is a blend that does not contain lots of unknown ingredients, as it is just a blend of rice flours. I love using Ryze Flour blends in place of gluten free 1 to 1 blends in recipes. Check out Ryze for some of your favorite gluten free recipes and see what you think!
~Laura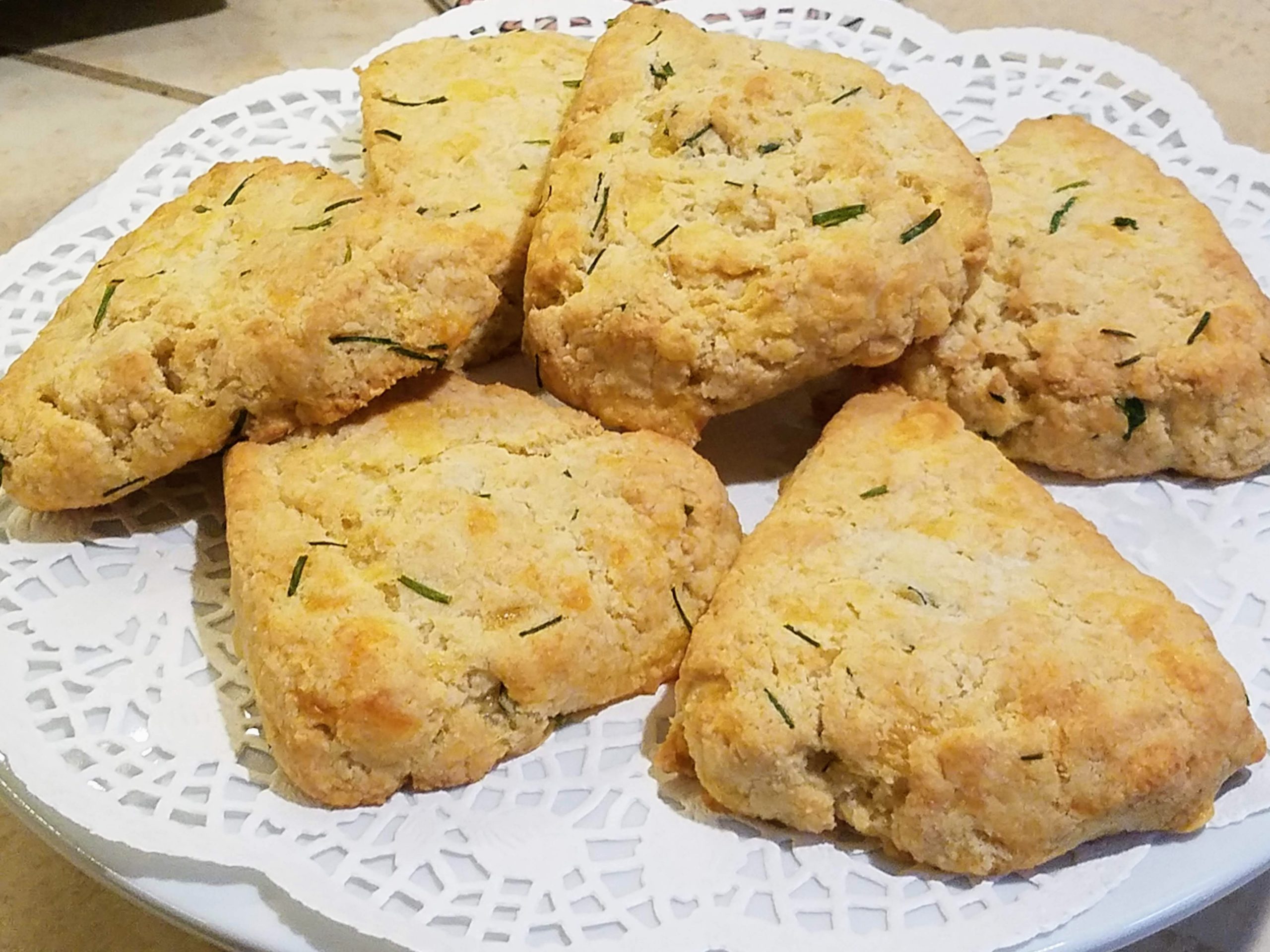 Gluten Free Sharp Cheddar and Chive Scones
These are a delicious addition to a dinner of soup or salad.
Ingredients
1 cup of Ryze Gluten Free Flour Mix (yellow bag)

½ cup Kirkland Signature Almond Flour Blanched California Superfine, gf

½ cup Bob's Red Mill Finely Ground Tapioca Flour, gf

1 tablespoon of baking powder, gf

½ teaspoon salt (omit if using salted butter)

¼ teaspoon fresh cracked pepper, optional

4 tablespoons unsalted butter or non dairy butter, cut up into small pieces

1 cup Tillamook Sharp Cheddar Cheese, coarsely grated and lightly packed to measure

3 tablespoons of grated parmesan or pecorino cheese, finely grated

3 tablespoons of whole milk or non dairy milk

4 tablespoons of heavy cream or non dairy creamer

1 egg

1 ½ tablespoons of chives, thinly sliced

1 ½ tablespoons of unsalted butter or non dairy butter, melted
Instructions
Preheat the oven to 425 degrees F. 

In a large bowl, stir together to combine: the Ryze Flour, almond flour, tapioca flour, baking powder, salt, and optional cracked pepper. Add the cut butter and using two knives or a pastry blender, cut the butter into the flour mixture until incorporated and mixture resembles coarse crumbs. Using two fingers, press any larger butter pieces into the dough. 

Whisk the milk, cream, and egg in a small bowl or measuring cup. 

Using a fork, mix the cream/egg mixture into the flour mixture. Once the wet ingredients have been incorporated into the dry, add both cheeses and the chives and mix with your hands to fully bring together, scaping any flour off the bottom of the bowl. 

Turn out onto a lightly gluten free floured board and knead a few times. Press into a circle ¾" thick. Cut into 6-8 pieces. Place on a parchment lined cookie sheet or stone pan, spaced at least 1 inch apart. 

Brush the tops with the melted butter. Bake for 16-20 minutes until golden brown and puffy. Best enjoyed while hot!