Warm bread just baked! Yum! There's nothing better than that smell in my opinion. Here's a recipe for a gluten free pumpernickel type of bread. Traditionally, pumpernickel is a bread made with both rye and wheat flours, and is a heavier, heartier, denser bread.
This version has delicious taste and has a similar texture. It makes delicious toast or grilled cheese. I have been having a toast of this bread the past few days and it's so yummy and is filling and hearty.
The flavors come together to make a "rye-like" bread. I have missed having rye bread for so long, so this is my version of rye bread for gluten free eaters.
Rye bread has always been a favorite of mine. It's funny how that happens. It seems like a lot of the things I love contain gluten. Like barley and rye! I also LOVE malt flavored things, especially Whoppers candies and milk shakes. But no more malt for me being on a strict gluten free diet.
You can add any amount of seeds you wish for the inside. Try adding 1/8 cup of sunflower or pumpkin seeds ground slightly for a bit more texture. Try to wait the full two hours before slicing! I usually fail, which means the first slice doesn't slice as nice! But then I get a fresh, warm slice of bread, so I guess it's okay!
(updated 1/28/2023)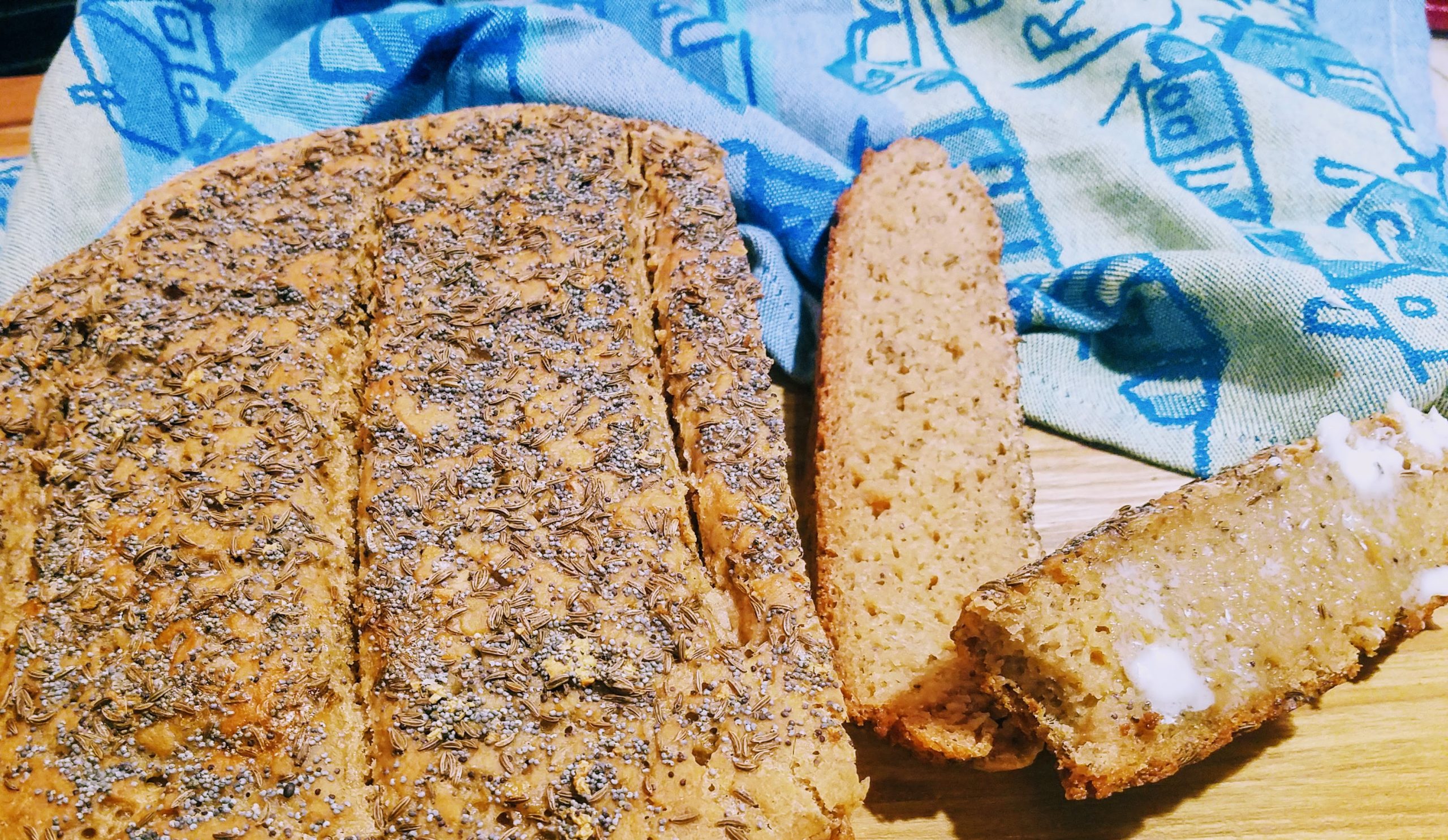 Gluten Free Seeded Sourdough Pumpernickel Bread
For all the rye bread lovers out there that need to eat gluten free bread. This is as close as I've had to "rye" bread for a very long time!
Ingredients
3/4 cup of fed gluten free sourdough starter

1 1/2 cup of warm water

1 1/2 teaspoons of yeast

gf

1 tablespoon sugar

1/4 cup tapioca starch

gf

1/2 cup of Ryze rice flour blend

or 1/4 cup gf white rice flour and 1/4 cup gf brown rice flour

2 cups gluten free 1 to 1 flour, with xanthan gum

plus 1/2 cup more to get the dough the correct consistency

1 1/2 teaspoons salt

2 tablespoons molasses

gf

2 teaspoons caraway seed

gf

2 teaspoons poppy seed

gf

1 teaspoon sesame seeds

gf

1 garlic clove, crushed

1/2 teaspoon cocoa or cacao powder

gf

1/2 teaspoon finely ground espresso
Seed Topping:
2 teaspoons caraway seed

gf

2 teaspoons poppy seed

gf

1 teaspoon sesame seeds

gf

1 garlic clove, crushed

1/4 teaspoon salt

2 teaspoons sunflower or pumpkin seeds

gf

1 tablespoon egg white mixed with 1 tablespoon water

brush on before topping with seed mixture
Instructions
Stir together in a mixing bowl or the bowl of a stand mixer, the gluten free sourdough starter, the warm water, yeast and sugar. Add the tapioca starch, the Ryze flour, gluten free flour, and salt. Mix by hand until well combined or in the stand mixer on medium speed for 4 minutes.

Mix together the seeds and garlic. Add the seed mixture and the molasses to the dough and mix until just combined. 

Let rest for 30 minutes. On a well floured board, with gluten free flour, stretch and fold over several times and form into a ball. Place in a greased bowl and cover with a towel and let rise for 1 1/2 – 2 hours, until puffy and risen*.

*Note: the dough will not rise as gluten containing bread will, but it should be noticeably risen by maybe a third.

Punch down and form into a round ball and place in a floured bread basket (or a bowl lined with a damp towel). Let rise for another 2 hours covered with a towel. 

Preheat oven to 475 degrees with rack in the center of oven. 

Turn out the dough unto a large piece of parchment. Brush the top with the egg white wash cover with the topping seed mixture. Using a very sharp knife, make 3 or 4 slits, 1/2 " deep on the top of the dough. 

Lower the bread dough into a Dutch Oven. Cover and place in the oven. Reduce oven temperature to 450 and bake for 30 minutes. Uncover and bake for 20 – 25 more or until a thermometer registers 209 when inserted in the center. Remove from the oven and using parchment overhang, remove the bread to a wire rack. Cool for 2 hours before slicing.