Jump to Recipe
Print Recipe
Print Recipe
These Gluten Free Chocolate Almond Biscotti are perfect for dunking in coffee or tea or just munching on. Serve them after dinner with some fresh fruit for a simple dessert. Having fruit for dessert is a familiar tradition on our Italian side. It really does aid in the digestion process too! You can also gift these to a happy chocolate lover recipient! Box them up or wrap in clear cellophane and tie a pretty ribbon. Or use a wood board or pretty plate to display and for the gift receiver to reuse later, then wrap in cellophane to keep airtight. Make sure to share any details for the celiac or gluten intolerant receiver, so they know it was prepared with ingredients they can eat and in a clean kitchen. If you want to make these dairy free and gluten free, just substitute the butter for gluten free non dairy butter (I use Earth Balance). The Guittard chips used do not contain dairy, but they do have cross contamination as they also produce milk chocolate on shared equipment, so if you need absolutely dairy free use a gluten free and dairy free chocolate.
Enjoy!
~Laura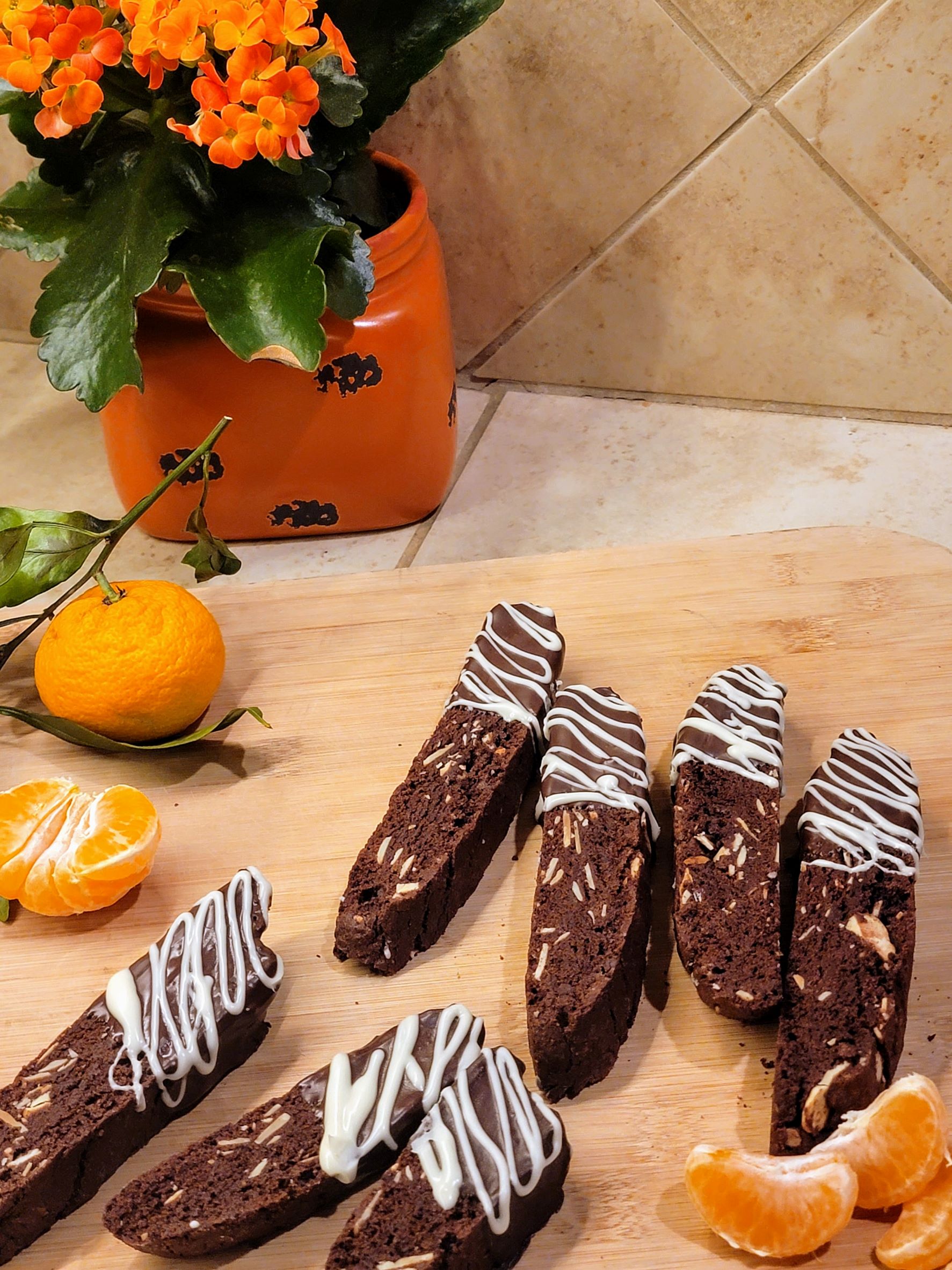 Gluten Free Chocolate Almond Biscotti
Makes 2 dozen
Prep time: 15 minutes
Bake time: 30 minutes at 350 baked in the logs, plus 35-40 minutes sliced
Cool time: between bake cycles – 30 minutes
Ingredients
½ cup (1 stick) unsalted butter or gluten free non dairy butter, cup into small pieces

½ cup plus one tablespoon Guittard Extra Dark Baking Chips, gf, or other gluten free dark chocolate

½ cup Guittard Cocoa Rouge Unsweetened Cocoa Powder, gf 

1 cup Bob's Red Mill Gluten Free 1 to 1 Baking Flour, gf 

½ cup Bob's Red Mill Tapioca Flour (also known as tapioca starch), gf

¼ cup Bob's Red Mill Gluten Free Brown Rice Flour, gf

1 ¾ teaspoon baking powder, gf

⅜ teaspoon salt

1 cup organic cane sugar

2 large eggs

1 teaspoon pure vanilla extract, gf

1 teaspoon Amaretto Liqueur, gf, optional 

or ½ teaspoon McCormick Schilling Almond Extract, gf

¾ cup Trader Joe's Unsalted Dry Toasted Sliced (blanched) Almonds 

or Trader Joe's Unsalted Dry Toasted Slivered Almonds , or other gluten free unsalted and roasted nuts
For dipping biscotti:
6 ounces (3/4 cup) Guittard Extra Dark Baking Chips, gf, melted

2 teaspoons of vegetable or canola oil

2 ounces (¼ cup) Trader Joe's white chocolate, gf and df

1 teaspoon vegetable or canola oil
Instructions
Preheat the oven to 350 degrees F. Line a cookie sheet with parchment paper. Set aside.

Sift the 1 to 1 flour, tapioca, brown rice flour, baking powder, cocoa powder, and salt together. Resift a second time.

In a double boiler or over very low heat in a heavy bottomed saucepan, melt the chocolate and butter, stirring often.

In a stand mixer bowl, beat the eggs with the sugar until very thick and lemon colored. Mix in the melted chocolate mixture on low speed. Stir in the flour mixture on low speed. 

Form the dough into two logs on a lightly gluten free floured board, about 2 ½ or 3" wide x 9" long, and about 1 ½ inches high. Set the logs at least 2 ½ inches apart on your prepared baking sheet. Bake for 28 – 32 minutes until logs are set. Cool for ½ hour to 45 minutes before proceeding. 

Slice each log on a diagonal into ½ " thick slices, very carefully with a sharp knife. Place the slices on another parchment lined cookie sheet. 

Set oven temperature to 275 degrees F. 

Bake the slices for 20 minutes before turning over and baking for another 20 minutes. Cool on the cookie sheet for 20 minutes before moving to a wire rack to finish cooling. 

Once the cookies are completely cool, melt the dark chocolate over a double boiler until it is not quite melted all the way. Remove from the heat and stir to finish melting. Add the 2 teaspoons of oil and stir completely through the chocolate. 

Melt the white chocolate in a microwave safe bowl in 20 second intervals until it is beginning to melt at the bottom and the edge. Finish melting by stirring. Add the oil and stir to distribute. 

Dip one end of the biscotti in the dark chocolate about 2-2 ½ inches up the cookie. Set on a piece of foil on a cookie sheet or board to dry. Once you have about 6 cookies dipped, drizzle  some white chocolate over the dark chocolate. Repeat for remaining cookies. Or you can dip several of the cookies in white chocolate and dip the others in the dark chocolate. Adjust the amounts of white and dark chocolate as desired. 

Store in a sealed air-tight container for up to two weeks, for best crisp texture.