Jump to Recipe
Print Recipe
We eat a lot of Italian food in our house! Sugo Red Sauce has always been a favorite to make and enjoy with family and friends. Although, we rarely go out for Italian food because our expectations are pretty high.
Growing up with great tasting food
Growing up with an family of wonderful cooks, from my mom, to my Italian Grandma Rose, to my Uncle Rudy, we always had amazing food served at our house. Holidays and parties were always special, with lots of delicious food and desserts. Often the food served was traditional Italian food and desserts. My grandparents used simple spices and ingredients from the southern region of Italy where my grandfather was from, so that's what is familiar to me.
I suppose Italian cooking is kind of a "go to" for me when I'm not sure what to make. We not only love it and it's easy to throw together: simple tomato and basil Pomodoro sauce, spaghetti and meatballs, chicken red sauce, lasagna with chicken sauce, and many others.
Favorite pasta dishes
Manicotti or Cannelloni filled with meat and ricotta used to be one of my all time favorite meals! Covered in a thick red sauce, or cannelloni with a chicken and ricotta filling, smothered in a creamy white sauce were heaven to me. Now finding those types of shells gluten free can be difficult to find. Try ordering online perhaps. I sometimes will use a gluten free lasagna noodle which I'll roll up with stuffing in. Then lay in a row and cover with sauce and cheeses.
It's summer here in the Santa Cruz Mountains, but you'd never know it as it's foggy and chilly out, so a little heavier red sauce over pasta sounds great tonight.
What is Sugo Sauce?
The Sugo Red Sauce will be just the perfect meal served over some gluten free pasta. Sugo Sauce, also known as Sunday Sauce, Sunday Gravy, Red Sauce, will often be made with beef, or pork and beef. It will be on the thick and meaty side. The smaller pieces of vegetables and meats will meld together as they cook. Any meat with the bone in the sauce will give a deeper richer flavor.
What to serve this over?
Serve this with a pasta that really soaks up the thick sauce. A rigatoni or traditional wide tagliatelle egg noodle would work well. You could also serve it over creamy polenta. I'm trying to cut down on corn and rice (and I don't eat any gluten or wheat), and so tonight I'll put this over zucchini for me. You could also make zucchini "spaghetti" (spiralized or mandoline cut to look like spaghetti. I actually usually prefer just have it over sauteed zucchini. But whatever you like. Paul will request his be over regular semolina flour angel hair pasta, which is his favorite. Maybe I can coax him to have rigatoni which will compliment it better.
Toppings and what to serve it with ~
Don't forget to pass lots of freshly grated parmesan cheese and bread with it. Bread is perfect for soaking up the sauce also. Growing up we always had very plain Italian bread. I think I may need to make some Gluten Free Puffy Yeast Breadsticks tonight!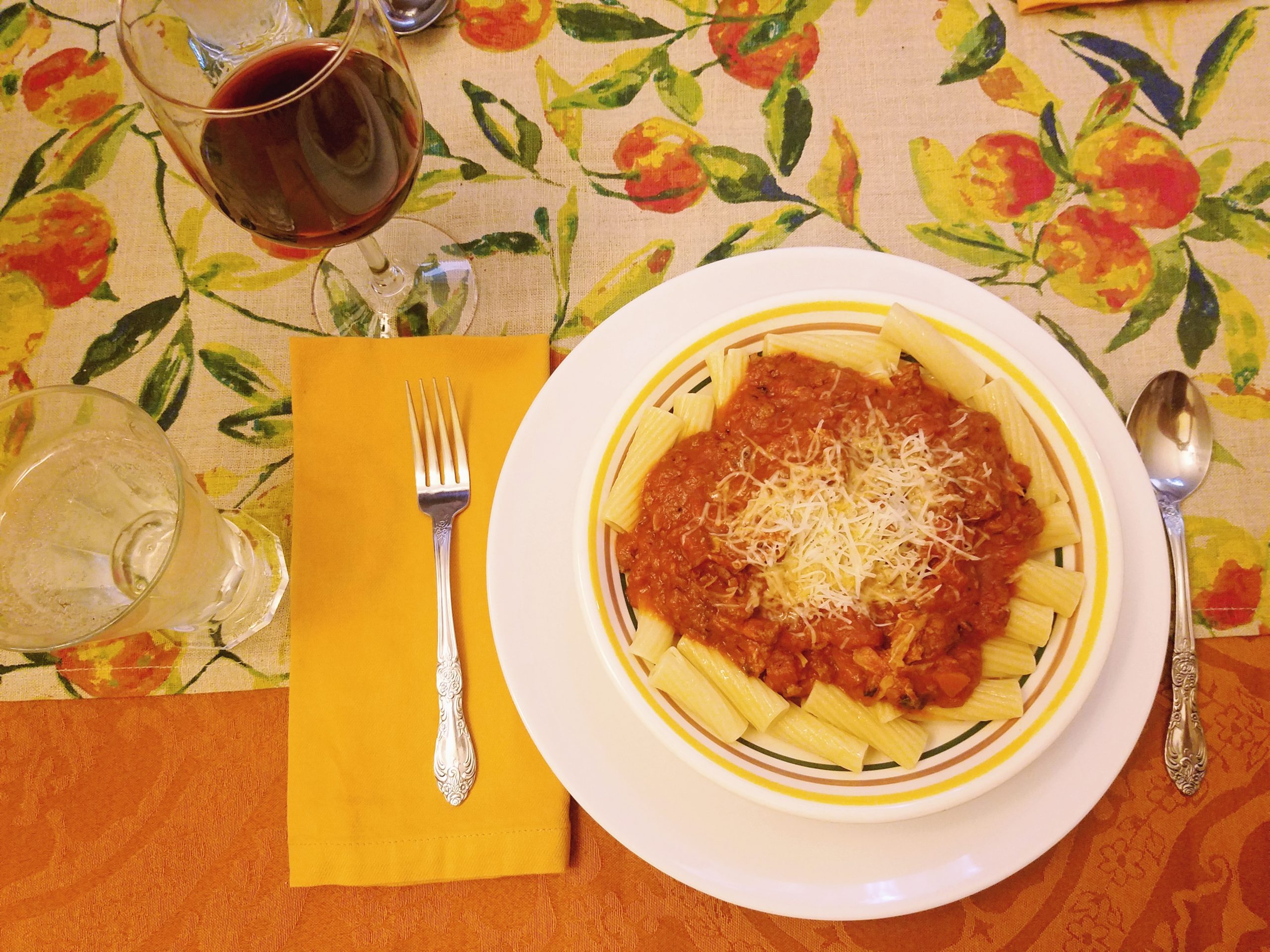 Sugo Red Sauce
Thick and rich with meaty flavor, this sauce is sure to be a hit! Serve it over gluten free pasta, or make both regular and gluten free pasta available for your family or guests. Double the recipe to serve a crowd. The sauce can be simmering while you are doing other things to get ready.
Ingredients
3 tablespoons 

olive oil

1/2 medium

onion, diced fine

4 – 5 cloves

garlic, minced

1 small

carrot, minced very fine

1 teaspoon

salt, more to taste

1/2 pound

ground beef

1

Italian sausage

mild or spicy, casing removed

1/3 rack

pork baby back ribs

bone in and in one piece or a few pork country ribs, fat trimmed

1  – 28 ounce can

crushed San Marzano Tomatoes

1 –  6 ounce can

tomato paste

2 1/2 cups

water

1/2 teaspoon

anchovy paste

gluten free

1 teaspoon

dried basil

gluten free

1 handful of

fresh basil

stems removed

1 tablespoon

balsamic vinegar

1 inch cube

parmesan cheese

in a chunk

1/4 cup

whole milk
Instructions
Heat olive oil in a 4 quart saucepan over medium heat. Add the onion and carrot, and a few pinches of the salt and saute until light golden and translucent. Add the minced garlic for 20 seconds. Remove from the pan to a bowl and set aside. 

Over medium high heat, brown the ground beef and sausage. Remove to a bowl. Then braise the pork baby back rib piece. When the rib piece is browned, add the other meat back to the saucepan. Add the remainder of the salt.

Add the sauteed onion, garlic and carrot back in the saucepan, along with the crushed tomatoes, tomato paste, water, dried basil, anchovy paste, fresh basil, balsamic vinegar, parmesan, and milk. Once the sauce begins to boil, turn down to a high simmer and continue to cook for 1 1/2 – 1/3/4 hours and until rib meat is very tender.

Remove the rib piece from the sauce to a plate and cool slightly. Remove the meat from the bones carefully (if using pork ribs). Return the meat to the sauce. 

Serve over hot pasta, zucchini or squash pasta or sauteed zucchini. Serve lots of freshly grated parmesan cheese.