Jump to Recipe
Print Recipe
This dinner was absolutely perfect! Rarely do I find a breaded chicken that is made gluten free, so it's such a treat to have it. Plus my family all enjoyed it too, and they don't need to eat gluten free! Gooey and cheesy, this Gluten Free Cordon Bleu with a Creamy Dijon Sauce has three kinds of cheese, plus prosciutto😋. Dip a bite in the Creamy Dijon or eat it without. Either way, it's so delicious!
Prepare these earlier in the day if desired
You can prepare the chicken rolls earlier in the day if you like. Then just cover and refrigerate. Remove forty five minutes prior to cooking, to bring to room temperature a bit. The browning for 2 minutes per side and baking for 20-25 minutes is very manageable to complete dinner.
What to serve with the Chicken Cordon Bleu?
You can also oven roast some potatoes at the same time, which will make for an easy side dish. These Gluten Free Seasoned Oven Potatoes for instance would pair beautifully. This plus a salad or vegetable is really all that is needed for this meal. Hasselback potatoes are also a nice side dish. Just make sure to allow enough time for them to back, as they take a bit longer than other roasted potatoes.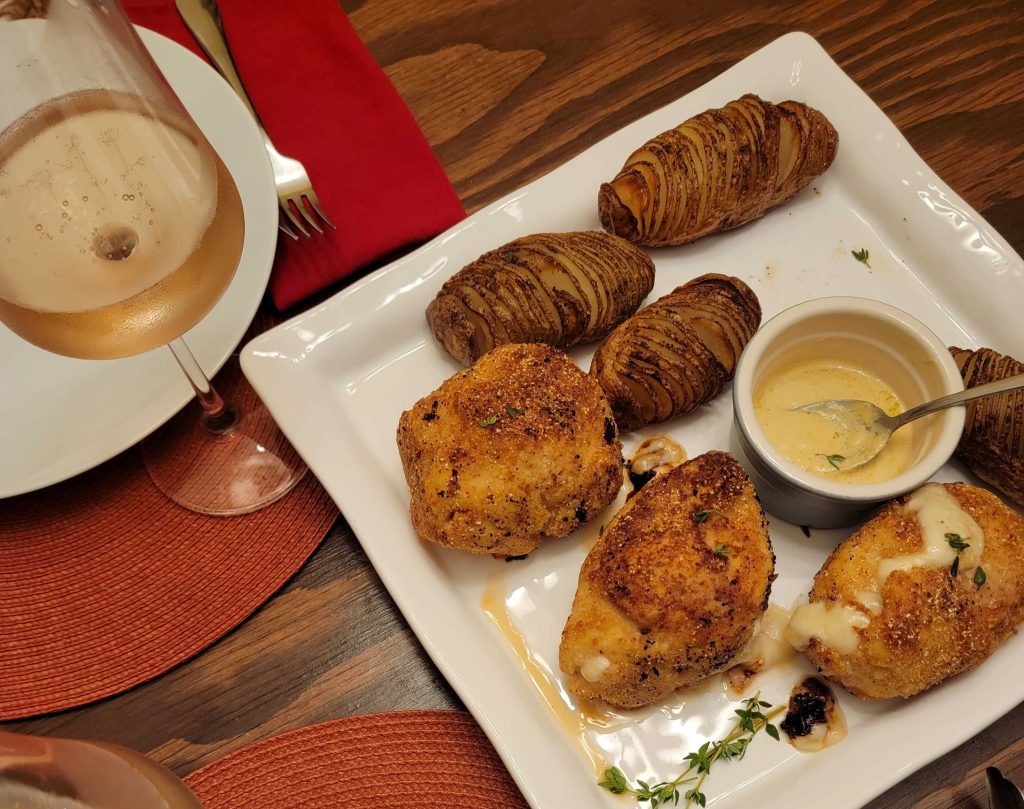 Serve a side dish with this that doesn't shout lots of other flavors, because you don't want it to complete with the chicken. A simple rice pilaf would also be nice with this. We love eating those with on gluten free cordon bleu nights.
Use prosciutto or smoked Applewood ham in this recipe
Either prosciutto or a thinly sliced smoked ham will work well in this recipe. Be sure to use a glute free prosciutto or ham, though, if you or someone needs it to be certified gluten free. Many types of prosciutto aren't labeled gluten free, but all of the Columbus brand line of meats are gluten free.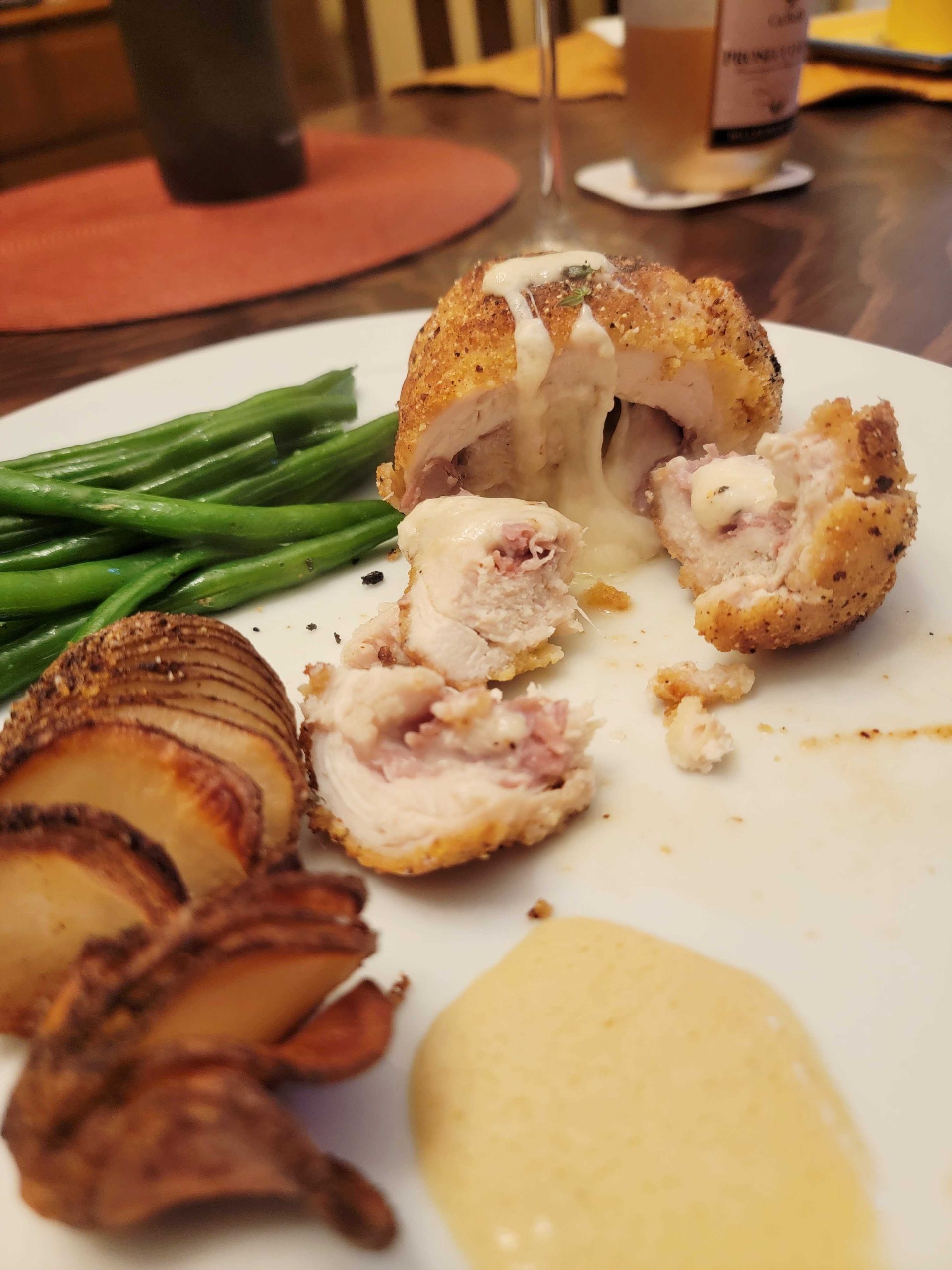 Three Cheese Chicken Cordon Bleu with a Creamy Dijon Sauce (Gluten Free)
Cheesy and flavorful this chicken classic made gluten free is so delicious! I can't wait until I make it again!
Equipment
1 skillet

1 baking sheet or stone

8 bamboo skewers

rubbed with oil
Ingredients
3-4

chicken breasts, pounded to ⅜" thick*

Light sprinkle of salt and pepper on each piece of chicken

3-4

slices Columbus prosciutto or thinly sliced ham, gf or other gf brand

3-4

round slices of fresh mozzarella

4

large

slices of sharp white cheddar

8

small

slices Gruyere

⅓

cup

gluten free 1 to 1 flour

2

eggs

⅜

cup

bread crumbs, gf

⅜

cup

almond meal, gf

¼

cup

cornmeal, gf

½

teaspoon

Kosher salt

½

teaspoon

garlic powder, gf

½

teaspoon

crushed black pepper

vegetable or avocado oil for frying
Creamy Dijon Sauce
2

tablespoons

butter, melted

1

clove

garlic, crushed or finely minced

½

tablespoon

Dijon mustard, gf2 ½ -3 tablespoons cream

2½-3

tablespoons

heavy cream
Instructions
Add the gf flour to a flat bowl. Whisk the eggs in another bowl. In a third bowl, combine the breadcrumbs, almond meal, cornmeal, salt, garlic powder, and pepper.
Pound the chicken to ⅜-½" thick pieces. Sprinkle lightly with Kosher salt and pepper. Lay the prosciutto pieces down on the chicken. Add the mozzarella spices to the center of the chicken on top of the prosciutto. Add the sharp cheddar and Gruyere.

Get the skewers ready. Cut them to about 6" lengths. Spray each with a little oil to keep from sticking.

Starting at one end, roll the chicken, folding the edges in as you go. Set in place with a few  skewers, "sewing" in and out along the edge and the ends.  Coat in flour, then dip in egg, followed by breadcrumb mixture. Repeat with remaining chicken pieces.

At this point you can proceed to cook them or set on a clean, dry plate. Cover with cellophane and refrigerate. 

Prior to cooking, bring to room temperature for 45 minutes. Preheat the oven to 400 degrees F. 

Heat a skillet with 1/4" of canola or avocado oil. Brown each chicken roll in the hot oil over medium or medium low heat for 2-3 minutes on each side. Move the pieces to a baking sheet.

Bake for 10 minutes. Turn each piece over and bake for another 10-13 minutes or until a meat thermometer registers 165 in several places. 

*If any of the chicken pieces are very large, you can cut them in half after pounding thinner.
Creamy Dijon Sauce
To make the Creamy Dijon Sauce: Melt the butter and saute the garlic. Remove from the heat. Add the mustard and the cream and stir until smooth. Set aside over a warm place while the chicken is cooking.