Jump to Recipe
Print Recipe
Everyone will enjoy this Tempura Battered Crispy Orange Chicken made gluten free! In fact they won't be able to tell it is gluten free at all! Satisfying and delicious and well worth the effort of frying.
I think I could eat this everyday for a while to make up for all the Chinese or Asian cuisine that I have missed since being on a gluten free diet. These are a few of the more difficult cuisines to have prepared gluten free so I often have to pass on eating them out!
Omit the sriracha and the crushed red peppers if you like
This dish can be as spicy or have as little spice as you wish. To make it less spicy, simply omit the Happy Valley Sriracha or reduce the amount and/or omit the crushed red pepper. Or as well, after making and finding it not spicy enough, simply add a few more crushed red pepper flakes to the top. You can also just pass a small bowl of crushed red pepper for each person to add to their plate.
What to have this dish with?
I think steamed white rice is the perfect compliment for this dish, as well as some sort of vegetable. For an easy vegetable that will pair well, try stir frying some broccoli and bamboo shoots with some minced garlic. Green beans with garlic and ginger are also tasty with the dish.
For extra crispy batter
Here are a few tips for getting an extra crispy batter on the chicken:
use a thermometer to tell how hot your oil is.
be sure to fry in 1/2 -3/4 " of vegetable oil or canola oil.
double fry the chicken.
use very fizzy sparkling water in the tempura batter and pour into the dry ingredients just prior to dipping the chicken.
fry the chicken in batches to not overcrowd the skillet.
remove the batches to a wire rack on a cookie sheet or plate and transfer to a preheat 200 degree oven.
put your warm sauce on just prior to serving.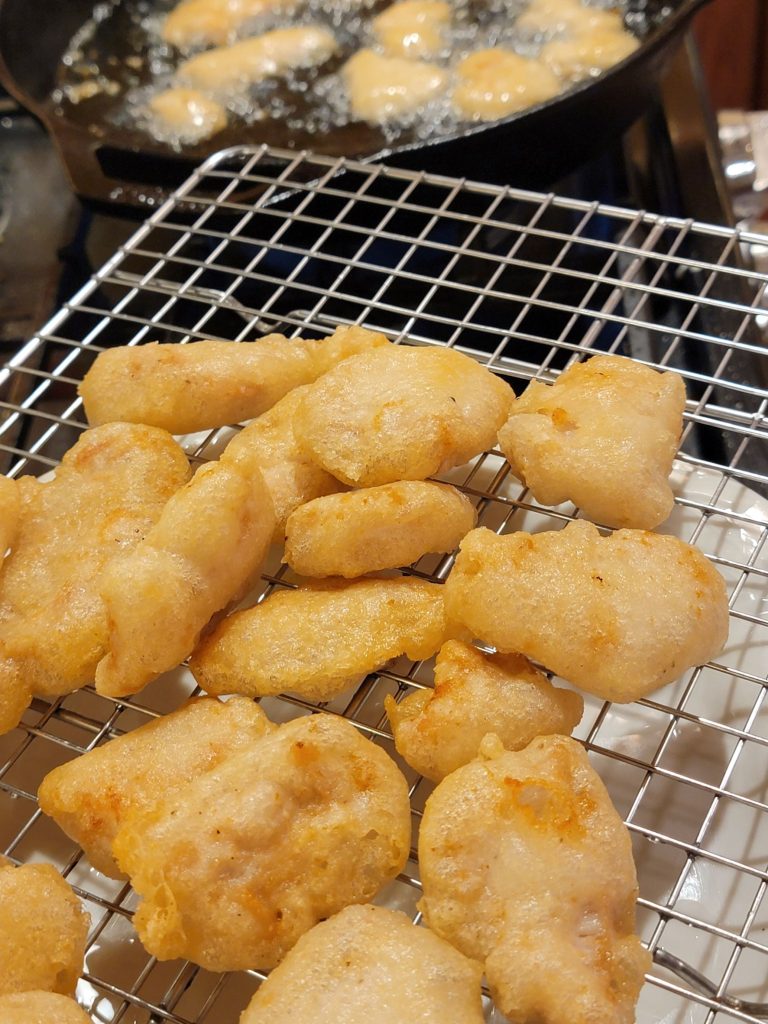 A few tips for less stress when preparing this dish
For less stress getting this dish ready, be organized in your kitchen. Start you rice on the stovetop well in advance so you have one less thing to worry about.
Prepare the Orange Sauce in advance. You can prepare it an hour in advance and just keep warm. Cut the chicken into bite sized pieces, then cover and refrigerate. Again, this can be done an hour or even two in advance.
Another tip is to get your dry ingredients measured for the gluten free tempura batter. Then once you are ready to proceed to frying, all you need to do is add the sparkling water. Then dredge the chicken pieces in cornstarch. Dip 5-6 pieces at a time and gently place in the hot to temperature oil. Be sure to use a thermometer for frying! The oil needs to be a 360 or 365 degrees F. Be sure to allow enough time to get to temperature, so it's ready when you are.
Double fry for extra crispy and extra hot chicken
Double frying the chicken means you can fry them again for a minute or two just before serving. The chicken will be still warm but you want them extra crispy also! Gently pour the battered fried chicken back into the hot to temperature oil (380-385 degrees F) and stir gently to brown a bit more and crisp up even more. Remove to the wire rack and to the warm oven. Plate after plating your other dishes to keep the chicken staying as hot and crisp as possible.
To have this meal complete with a stir fried vegetable ready at the same time, par cook your vegetables. Cool them in an ice cold water bath. Then drain the vegetables before tossing them in a hot skillet with a tablespoon of olive oil or vegetable oil. Blister or char for just a few minutes. Add the garlic in last and only for thirty seconds to a minute so it doesn't burn.
You can also tempura some shrimp when you are preparing this meal. Just be sure to dredge the lightly salted and peppered shrimp in clean, gluten free cornstarch before dipping in the gluten free tempura batter. You will want to dip the shrimp in the batter first. It won't cook as long as the chicken and for safe eating, I would recommend. Remove to a plate over a wire rack and move to the oven until the chicken is cooked.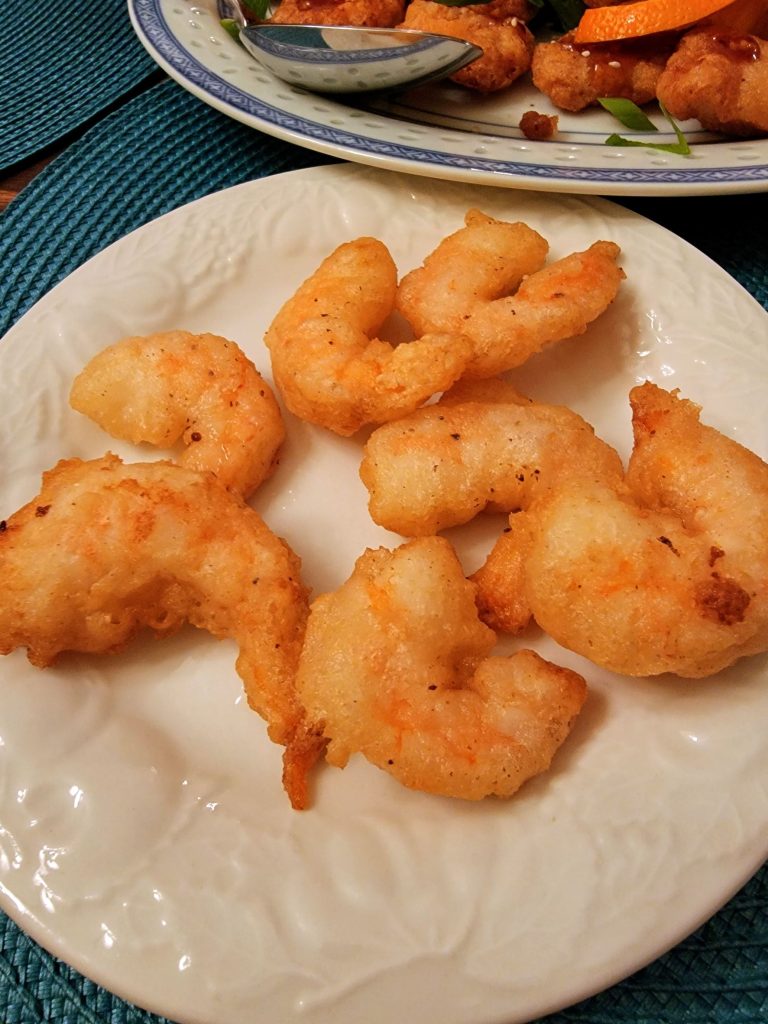 Get your chopsticks out and enjoy!
~ Laura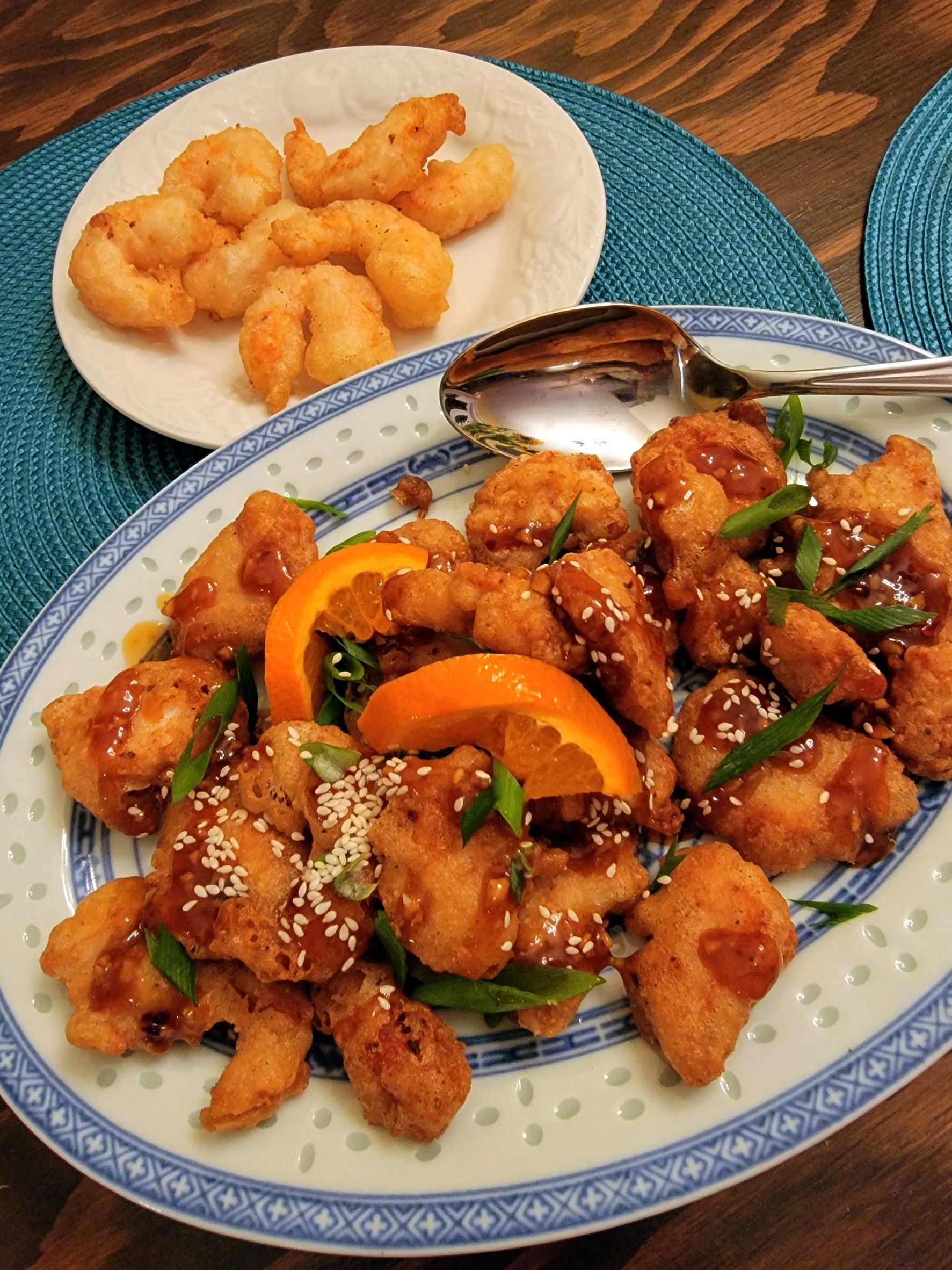 Gluten Free Tempura Crispy Battered Orange Chicken
This satisfying dish is perfect for the non gluten eater to enjoy! Rarely do we get to enjoy dishes that are battered and fried, or ones with soy sauce. I've noted the ingredients which need to be certified gluten free. Hope you enjoy!
Equipment
1 large skillet, cast iron, or wok
Ingredients
Orange Sauce
1½

tbsp

fresh ginger, peeled and finely minced

3

teaspoons

garlic, finely minced

⅜

cup

San-J Gluten Free Soy Sauce Reduced Sodium

or tamari, gf

⅜

cup

fresh orange juice or mandarin juice

3

tbsp

honey

3

tbsp

brown sugar

3

tbsp

white vinegar

2

teaspoons

orange or mandarin orange zest

3/4

-1½ teaspoon

Sky Valley Sriracha, gf

or other gluten free brand

1

-2

pinches of red pepper

gf

2¾

teaspoons

cornstarch

gf

1½

tbsp

water
Gluten Free Tempura Batter
⅜

cup

tapioca starch

gf

⅜

cup

almond flour

gf

⅜

cup

gluten free 1 to 1 flour blend

½

teaspoon

kosher salt

¾

cup

plus 3 tbsp sparkling water
Gluten Free Tempura Crispy Battered Orange Chicken
1

recipe

Orange Sauce

above

1

recipe

Gluten Free Tempura Batter

above

½

cup

cornstarch

gf

2

large

boneless skinless chicken breasts

dried, then sliced into 1/4" thick slices, and cut into 1½ inch pieces

vegetable or canola oil for frying

1/2-3/4" deep in skillet or wok

2

– 3

green onions, green portions only, sliced diagonal

1-2

tbsp

sesame seeds or toasted sesame seeds

gf
Instructions
Orange Sauce
In a small measure or ramekin, combine the cornstarch and the water to dissolve the cornstarch. Set aside.

In a small saucepan heat the garlic and ginger in a 1/2 teaspoon of oil, stirring until fragrant. Add the soy sauce, orange juice, honey, brown sugar, white vinegar, orange zest, sriracha, and red pepper. Bring to boiling.

Reduce the heat and stir in the cornstarch water stirring until smooth. Turn off the heat under the pan, but keep the sauce warm.
Gluten Free Tempura Batter
Stir together in a small bowl: the tapioca, almond flour, gluten free 1 to 1 flour, and salt. Just before you plan to proceed to fry the chicken, add the sparkling water and whisk together.
Gluten Free Tempura Crispy Battered Orange Chicken
Cut the chicken into bite sized pieces and refrigerate until 15-20 minutes before you are ready to fry. Dry the chicken pieces off again with paper towels and discard. Lightly salt and pepper the chicken pieces.

Heat the oven to 200 degrees F.

Pour the cornstarch into a medium sized bowl. Add the chicken and stir until it is completely coated.

Add 1/2 -3/4 " of oil to the skillet and heat on high. Use an instant thermometer to check the temperature often and bring to 360 degrees F.

Add a few chicken pieces to the batter at a time, using tongs to shake off the excess batter before setting gently into the hot 360 degree oil. Repeat until the skillet is full of chicken pieces but they are not crowded. Turn when they are light golden brown. Remove pieces to a wire rack over a cookie sheet lined with parchment or paper towels. Move to the oven to keep warm.

Fry the remaining chicken pieces in batches. Move to the oven to keep warm. Keep the skillet burner on high or close to high for the double fry. Check the oil and bring to 380 degrees F.

Add the chicken pieces back into the skillet for 1-2 minutes, stirring with a slotted spoon or tongs until crisp and very golden brown. Remove to the wire rack again.

Turn the burner under the oil off.

Spoon the chicken pieces onto a serving plate and spoon the warm sauce over the top. Add sliced green onions and sesame seeds. Add a few orange slices for decoration. Serve with hot steamed white rice.