Over the years, it's been difficult for me to find gluten free teriyaki chicken in restaurants. There are a few chain restaurants, like P.F. Changs which I like and can eat without getting sick, but there doesn't happen to be one in our area.
I love teriyaki and have just adapted to making my own at home. Of course, you can just buy a good gluten free teriyaki sauce, but even that can be difficult to find as of late.
Does anyone remember Teriyaki Etc. in Soquel, California
When we were first married, we used to have a favorite restaurant. We didn't have much money and loved this spot in Soquel Village, California, called Teriyaki Etc. It wasn't fancy, but nice enough, with really great food, and really reasonable. And their Chocolate Mousse Cheesecake was to die for! I think I have to make that soon!
My husband and I would each order Teriyaki Chicken entrees, long before my severe reaction to gluten or having to worry about eating completely gluten free. For $6.95 (okay, I know this may be dating us!) we would get a large serving of teriyaki chicken, rice, stir fried broccoli, a few pieces of tempura vegetables and a salad! I wish that place was still there! Many a date night was spent there eating yummy Asian food and decadent cheesecake covered in dark chocolate mousse. It was pretty perfect.
So, teriyaki chicken has stayed close to my heart….and of course chocolate mousse too. You can even find tempura batter on my website for the tempura Gluten Free Batter for Fish and Chips, Onion Rings or Tempura Vegetables. The gluten free batter is so crispy and makes me so happy! You can use it for battered fish, onion rings, or tempura vegetables.
Make your own teriyaki sauce for a healthier choice
The teriyaki sauce at Teriyaki Etc. may not have been as healthy as this recipe; with coconut aminos, and honey in place of the sugar, plus low sodium gluten free soy sauce, it is a very healthy choice.
What's in the pantry?
This recipe is made with ingredients I like to keep on hand, (minus the fresh pineapple), either in the refrigerator, pantry, or freezer.
The sauce is made from ingredients I normally have on hand. Do you like to keep these items on hand? I love Asian cuisine so keeping these ingredients on hand is a must for me: gluten free soy sauce, gluten free sriracha, gluten free coconut aminos, and plenty of garlic and fresh ginger on hand also.
Some of my favorite items are no longer to be found of the shelves of my local supermarkets, unfortunately. Even ordering some of these items online, it's more difficult to find what you are looking for lately. For me, that means, that if I see something I know I will use at a later date, I'll try to purchase just to keep in the pantry so I don't have to go search for it later.
This meal comes together easy
Stir the sauce together as the chicken is browning. No need to marinate the chicken wings or thighs here. For the thighs I like to cut them into two or three pieces each, so the sauce absorbs better, since we aren't marinating them.
Start the brown rice just prior to starting to make the sauce, and if white rice which cooks faster, start at the time of putting the chicken in the oven. Then, while the chicken is baking you have time to stir fry some vegetables quickly in a skillet. Dinner is done and on the table in just thirty-five to forty minutes!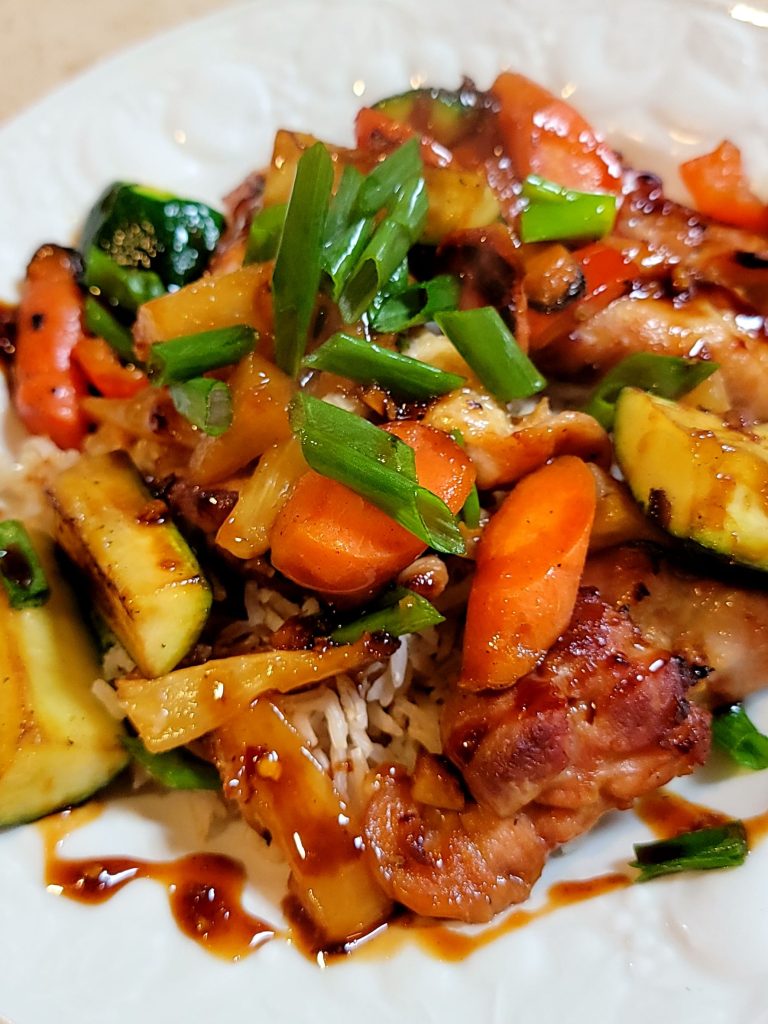 Fresh pineapple or canned will work
Feel free to use canned pineapple chunks also. It will be a tad sweeter, but delicious. Just be sure to drain the canned pineapple so the chicken can brown and crisp. Today, I had some fresh pineapple that wasn't very sweet which I wanted to use up, so that's what went in my dish.
Ginger cubes sautéed with the chicken
Sautéing some of the ginger in 1/4″ cubes give a bit of a "kick" when you get a piece in a bite! Yummy! Then the 1-1 1/2 teaspoons of ginger make this dish loaded with flavor! Add as much or as little as you like. Plenty of room to adapt this recipe to your liking.
Serve the wings with forks or toothpicks
Serve the Teriyaki Chicken Wings or Thighs with Pineapple (Gluten Free) with forks so you can get some of the delicious pineapple with every bite. You could also just put some toothpicks out with the dish if it's being served as an appetizer. Or, you could make this with chicken thighs cuts into halves or thirds and put over rice or rice and stir fried vegetables. It's a perfect dinner this way. And it's just so easy! And so tasty!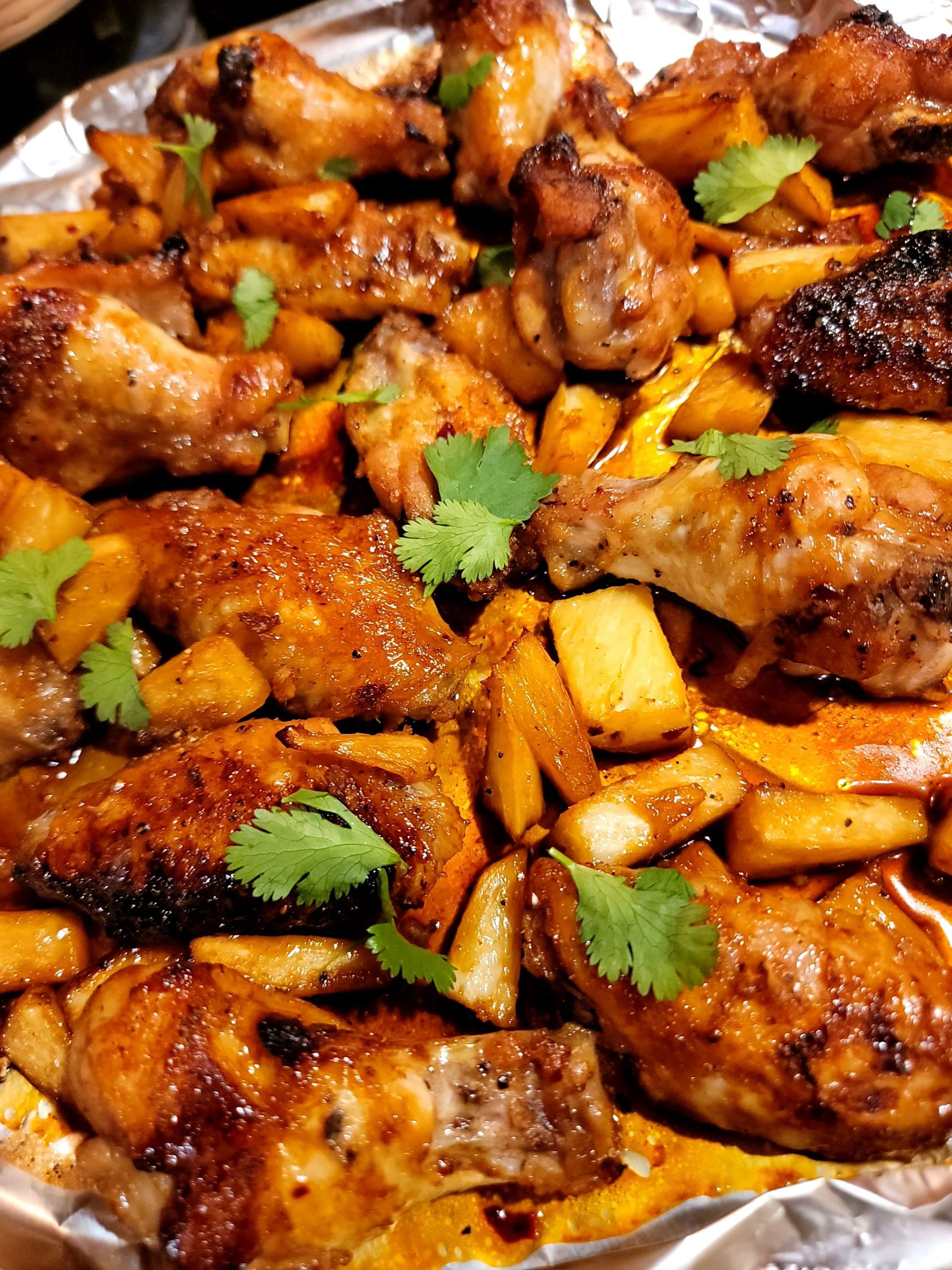 Teriyaki Chicken Wings or Thighs with Pineapple (Gluten Free)
Make this under 40 minute dish for an appetizer or a main dish. Loaded with flavor!
Equipment
1 large cast iron or skillet

1 baking sheet lined with foil
Ingredients
Gluten Free Teriyaki Sauce
1-1½

teaspoon

peeled fresh ginger, finely minced

2-3

cloves

garlic, crushed or finely minced

or ½ teaspoon of garlic powder, gf

½

teaspoon

sesame oil

2

tbsp

honey

4

tbsp

coconut aminos

pure, gf

2

tbsp

San-J Reduced Sodium Gluten Free Soy Sauce

or Tamari, gf

⅛ – ¼

teaspoon

crushed red pepper

gf

½

teaspoon

rice vinegar, gf

or white vinegar, gf
Teriyaki Chicken Wings or Thighs
3

tbsp

vegetable oil

12-14

chicken wings or 5-6 chicken thighs cut into halves or thirds

1 ½

cups

fresh pineapple, in 1/2" chunks

or canned pineapple chunks, drained

¾

teaspoon

Kosher salt

¼

teaspoon

black pepper

1½

inch

piece of peeled fresh ginger, cut into 1/4" chunks

cilantro or green onion slices

to garnish
Instructions
Gluten Free Teriyaki Sauce
Combine all the sauce ingredients in a small bowl and stir until well combined. Set aside.
Chicken Teriyaki Wings or Thighs
Preheat the oven to 450° F.

Salt and pepper the chicken wings or thigh pieces.

In a large cast iron or skillet, heat the oil over high heat. Add the chicken wings or thighs in two batches, frying and browning on all sides, 2-3 minutes total. Remove the first batch to a bowl and set aside. Continue with the second batch.

Add the first batch of chicken wings back in, the pineapple pieces, and the fresh ginger cubes. Saute for a minute or two.

Pour ¾ of the Gluten Free Teriyaki Sauce into the pan, reserving the ¼ for later. Stir the chicken wings or thighs and coat in the sauce.

Spoon the wings or thighs and pineapple to the foil lined tray. Bake for 18-25 minutes until browned and 170-185 internal temperature.

While the chicken in baking heat the remaining sauce to thicken slightly. Pour into a ramekin or or small bowl to use for dipping or spoon over teriyaki rice bowls.

Remove the chicken from the oven.

Spoon into individual dishes or bowls or into a serving dish and top with cilantro or green onion slices.
Notes
I like to serve this as a Gluten Free Teriyaki Rice Bowl. While the chicken is baking, saute vegetables of your choice. Carrots, red or yellow bell pepper, green beans, zucchini, and onion or green onion work well in this dish.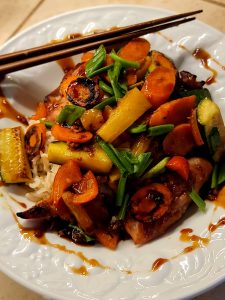 This dish will be so colorful and so flavorful with the depth of the spices and the different textures of the vegetables. Serve over steamed brown rice or white rice. Serve with chopsticks for fun. 
If you want a lot of sauce to add on top of your teriyaki bowls, make a double batch or 1 1/2 times the amount.