Walled cities and other wonders of Italy
Risotto brings back memories of visiting Voltarra, Italy, in Tuscany, on a trip we took now four years ago. What a beautiful trip! We stayed on the coast near Tuscany and took day trips into the small walled towns and wine country, stopping to visit so many wonderful places! One day our travels took us to the small town of Volterra, Tuscany, a walled city where Etruscan, Roman and Medieval history abounds. It's history dates back to before the 8th century!
Limoncello, alabaster, and truffle oils
We met wonderful people there and had amazing food! The views over the exterior city walls were unbelievable! The area is known for making limoncello and it was displayed in many of the shops. They also featured truffle oil in many of the dishes. So, apparently you do have to careful when purchasing truffle oil, as much is produced to synthetically taste and smell like black or white truffles! Okay, well ours does contain truffles in the ingredients! The shops in Volterra had wares made of alabaster also, from jewelry, to jewelry boxes, to candle holders and everything in between. We of course came home with many souvenirs!
Be sure to spend time with the locals ~ quaint ristorantes and trattorias
We had driven quite a while before arriving at the base of the wall to the city, but stopped at a restaurant to use the restroom. It was a family trattoria, and they were seated around a table enjoying a meal together. They were so kind and hospitable and the food smelled wonderful! We told them we would be back for dinner! Then we went up the hill to the upper part of Volterra, within the walls of the city. We explored all the quaint streets and shops, before making our way back down to the restaurant we promised to dine at. Our meal was presented so beautifully, and they provided us with the information to order everything gluten free. Everything we ordered was so delicious! We had a beautiful pear and parmesan cheese salad with truffle oil, a cheesy risotto, a steak with wonderful flavors, and a gluten free chocolate cake. The wine was local from the area. Our selections they helped us make were perfect. Risotto is often gluten free, just as it was here. Double check when ordering, though, because the broth used could contain gluten.
This dish reminds me of Volterra. Or maybe I just created it with Volterra in mind, with the flavors of white truffle oil and limoncello. We make our own gluten free limoncello as I need mine to be fully gluten free, so it's made with a gluten free vodka, instead of a grain alcohol. Paul makes his the traditional way though!
~Laura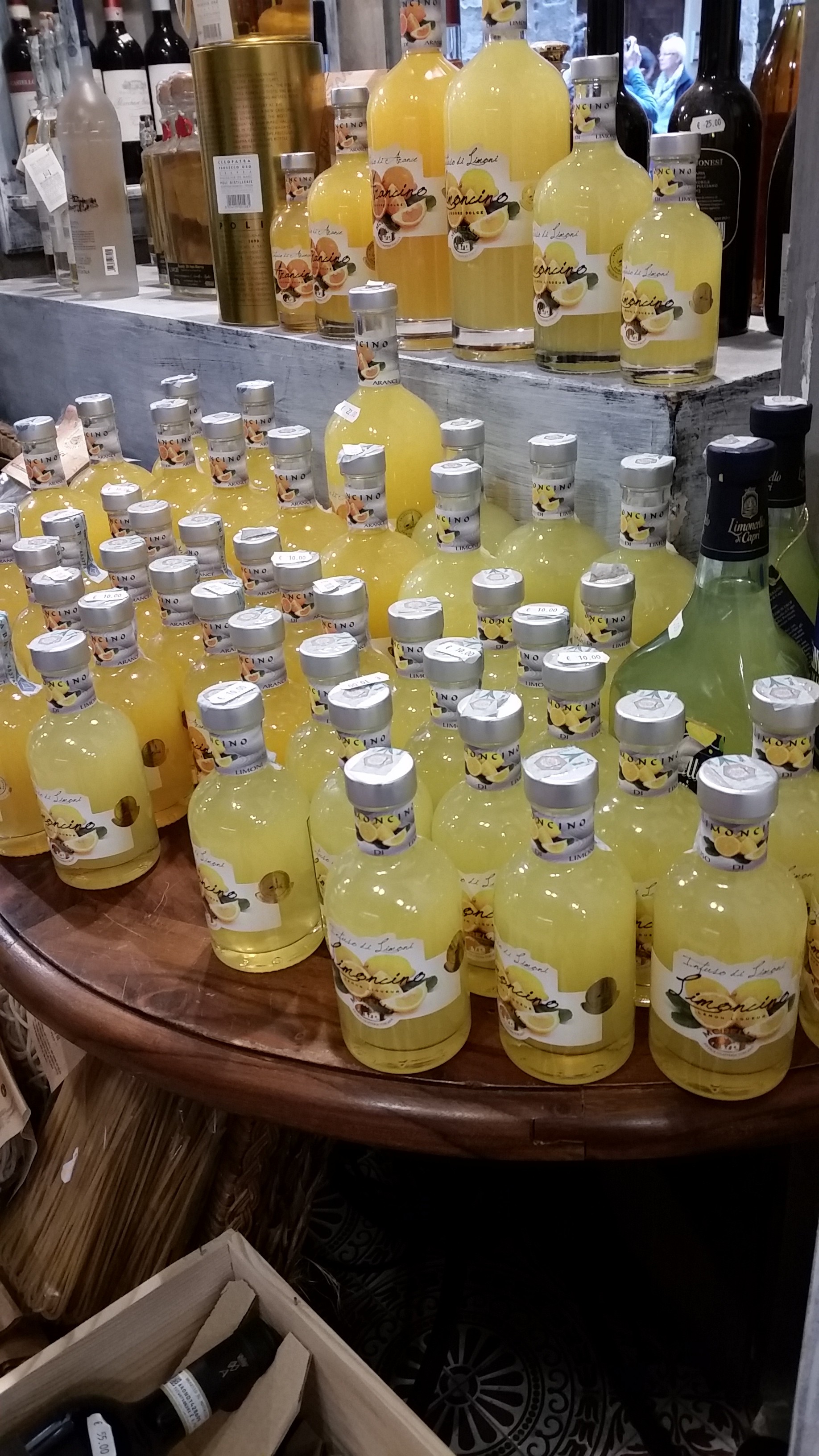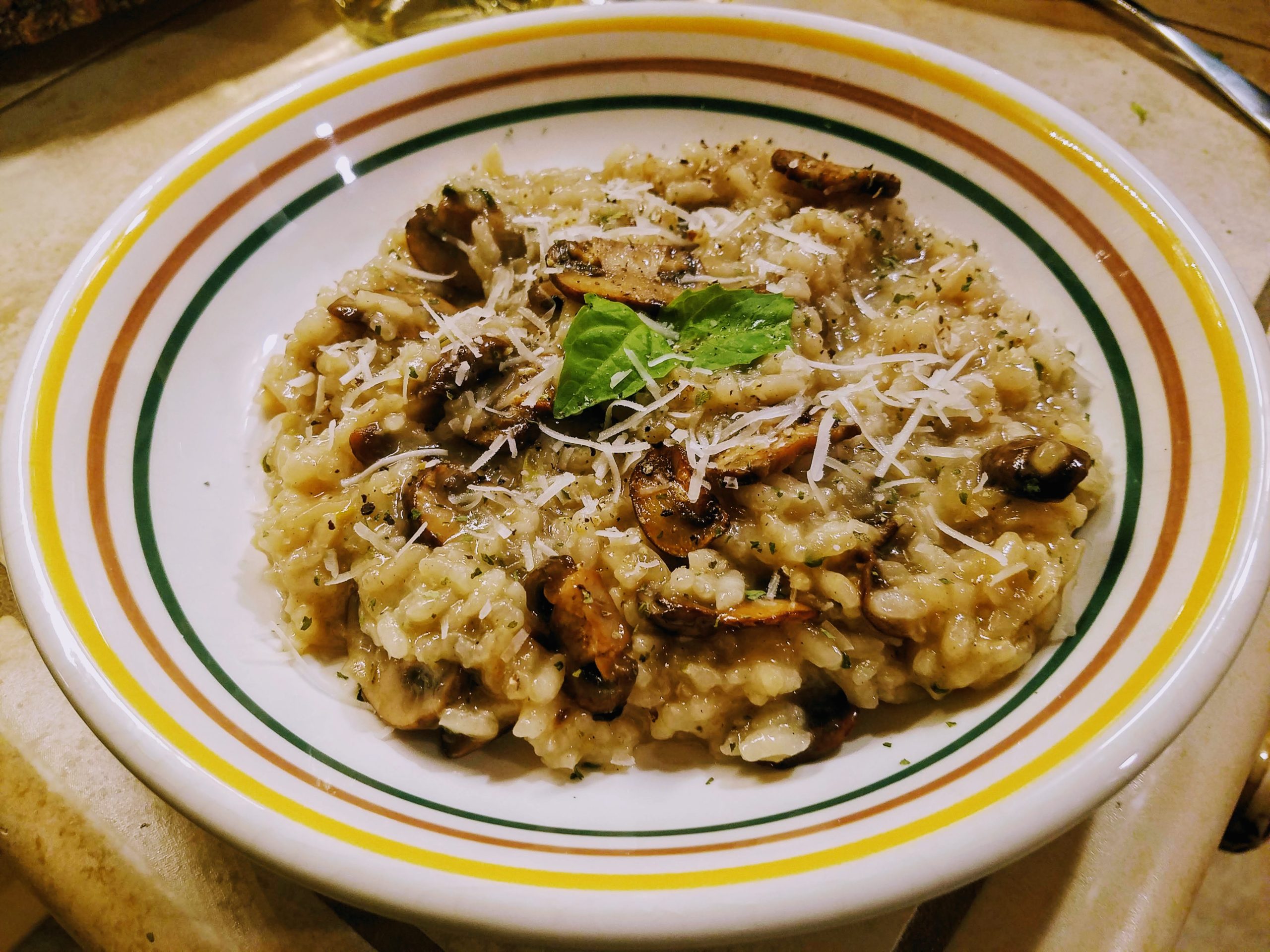 Pecorino and Crimini Mushroom Risotto (gluten free)
Ingredients
2 ½ Tablespoons

olive oil

extra virgin

1 medium

onion

minced

4 cloves

garlic

sliced

1 ¼ cups

Lundberg Family Farms White Aborio Rice

(gluten free)

5 oz.

Crimini mushrooms

washed, dried, and sliced 1/8" thick

1 ½ tablespoons

butter

1 cup

white wine

1 tablespoon

limoncello

or a squeeze of fresh lemon

4 cups

chicken broth

homemade or store bought, gluten free

¾  cup

water

½ – ¾  teaspoon

white truffle oil

(¾  teaspoon if more flavor desired)

½  teaspoon

dried parsley

or 1 tablespoons of chopped Italian flat leaf parsley

½ teaspoon

dried oregano

gluten free

8 – 10

basil leaves

chopped

1/3 cup plus 2 tablespoons for serving

Pecorino (sheep) cheese

freshly grated, (2 tablespoons for serving)
Instructions
Heat the olive oil in a 12" or large cast iron skillet over medium high heat. Add the onion in the skillet, stirring to coat with the olive oil and sprinkling with the salt. Cook until translucent, and cooked almost through, then add the garlic slices. Continue to cook another minute. Remove to a plate and set aside.

Heat the butter over medium high (or high) heat. Sauté the mushrooms until they are browned, turning in the skillet to brown both sides.

Turn the heat down under the skillet and remove the mushrooms to a small bowl and cover.

Turn the skillet heat back up to medium low, and add the rice and coat in the remaining butter in the skillet. Add the wine and simmer over medium low heat until it is absorbed. Stir in the limoncello. 

Add 1 cup of the broth a time, simmering and stirring continually after each addition until the liquid in mostly absorbed. Continue with remaining broth and water additions.

When the cook time is at about 20 minutes, (near the end of the cook time), add the herbs, and drizzle in the white truffle oil. Add the water when the broth has all been added, adding an additional few tablespoons as needed for a very creamy texture. Continue to cook until just barely al dente and very creamy, about 22 – 30 minutes.

Remove from the pan from the heat. Stir in the parsley, oregano, pecorino cheese and three quarters of the mushrooms.

Spoon the risotto into a serving bowl or into individual serving bowls, top with the reserved mushrooms, a sprinkle of Pecorino cheese and a few basil leaves.