So, I wanted to make minestrone tonight and and remembered a fun recipe I had from my Grandpa Pedulla. I believe this recipe pictured is his recipe or maybe given from a friend? I managed to translate it (loosely) with quite a bit of help from Google.
Thank you Grandpa Joe, for my Italian heritage and the love of good food (Italian [?] ) you and Grandma Rose put in my heart. [❤]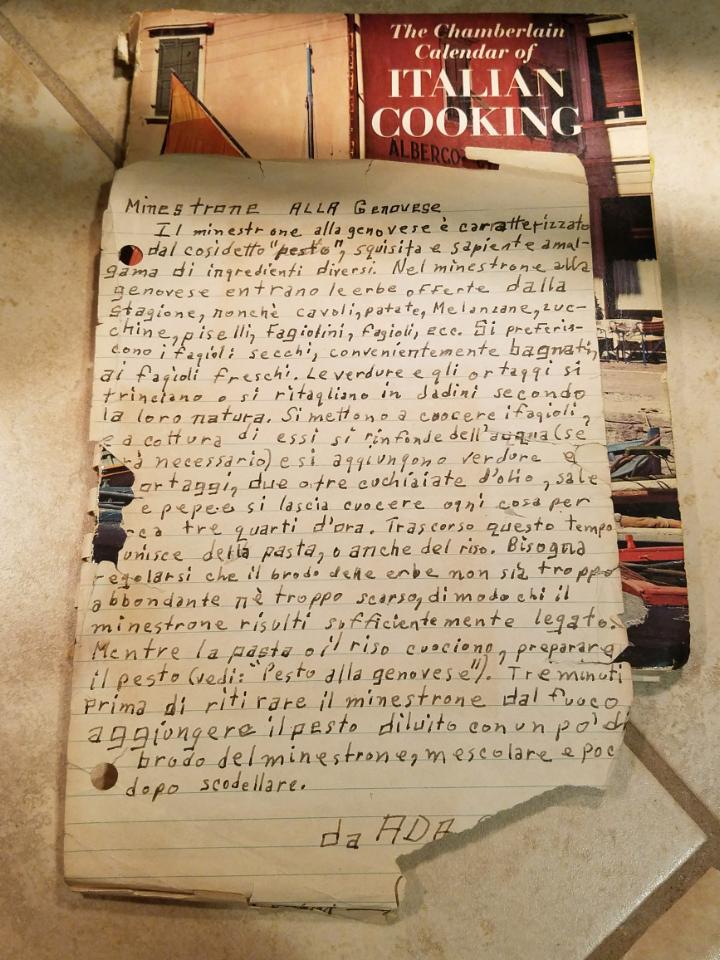 Here's what the Italian says: well as close as this non Italian "learned" girl can get it [?]

"The Minestone of Genovese (Genoa) is characterized by the exquisite pesto and skillful melding (?) of different ingredients.The minestrone of Genovese uses the herbs offered of the season, as well as cabbage, potatoes, eggplant, zucchini, peas, small beans and beans. If you prefer a can beans (or a pot), you can use what you prefer. Vegetables are chopped or diced according to their nature [?]
Use two wine skins of oil. (how much is that??) Let it cook for 3/4's of an hour. After this time, add some pasta, or even rice. You have to regulate to make sure the herb broth is neither too abundant or too scarce, so that the soup sufficiently tied (maybe blended together?). While the pasta is cooking, prepare the pesto (you see – pesto Genovese). Three minutes before removing the soup from the heat, add the pesto diluted with a bit of broth of the minestrone, stir and afterwards, bowl".

The Italian recipe doesn't give any measurements, but you can check out my
Minestrone recipe here ~
Mamalauraskitchen.com

I include a few Italian sausages, crumbled and browned, but you can certainly leave those out and use vegetable broth the make this dish vegetarian. It is also gluten free (check your broth though). I like to serve with freshly grated Pecorino cheese, some crushed red pepper, and a small bowl of Genovese Pesto (homemade or purchased). The wine is totally optional here although I would add an extra tablespoon of balsamic vinegar in it's place. This is a great winter meal! Serve with some crusty bread (gf if you need it).

Blessings on the Italians and the great food they bring us!

~ Laura

Laura's Minestrone Soup
Minestrone has been a favorite of my families for many years. It's best of course on a cold night, or as a first course to a beautiful Italian dinner. We love homemade bread sticks with ours, and a bit of Italian sausage in it as well. You can literally add most vegetables to this if you like more or different types, spinach instead of cabbage or kale works well also.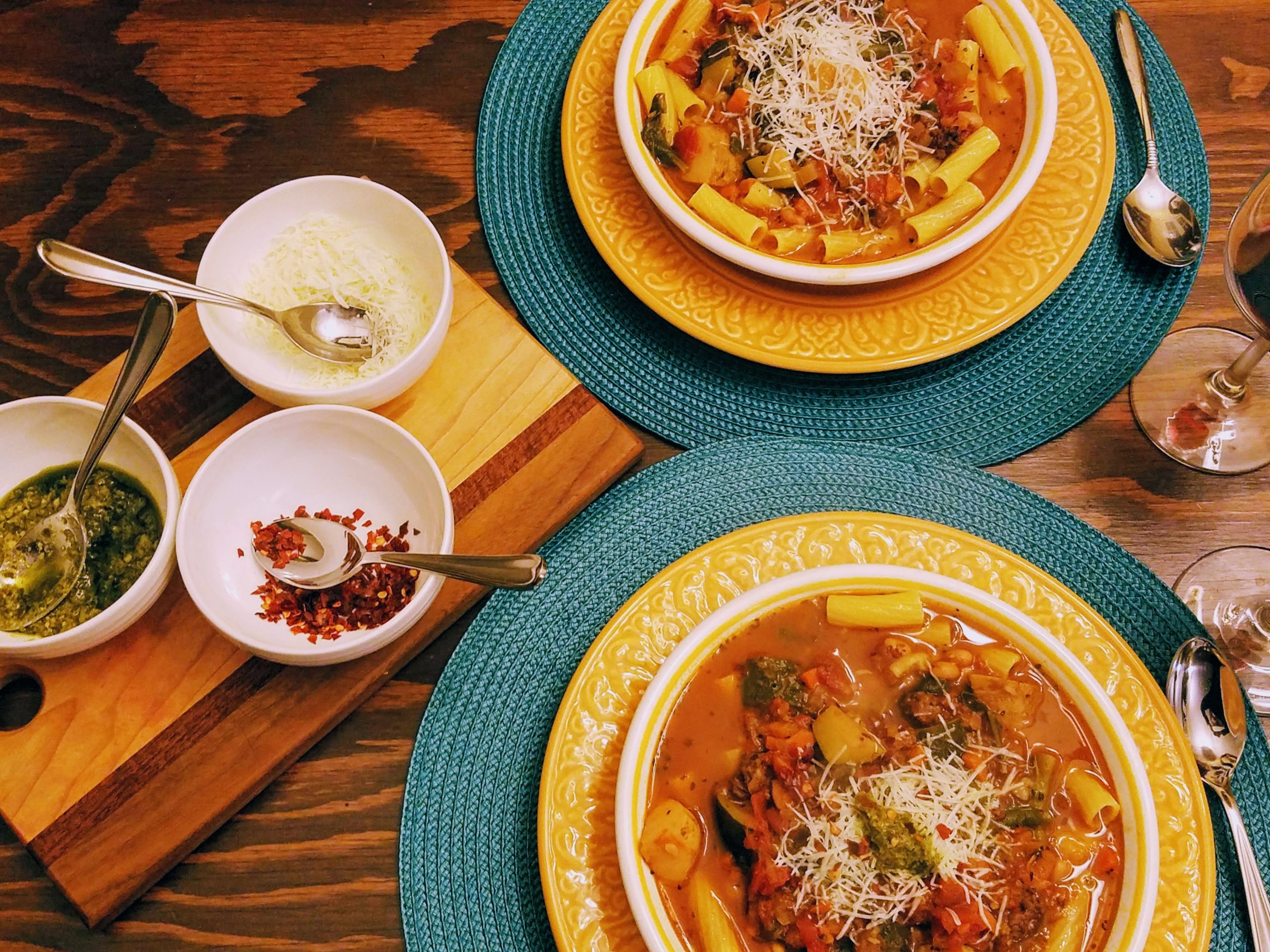 Laura's Gluten Free Minestrone
Ingredients
3 T olive oil 

1 large onion, diced finely

5 garlic cloves, minced

2 medium carrots, diced finely

2 stalks of celery or fennel, diced into small pieces

3 sweet Italian sausages, casing removed and crumbled

1 28 oz. can crushed tomatoes

3 T of tomato paste

2 cups of chicken stock (GF)

6 cups water

2 teaspoons of dried basil

1/3 cup of fresh basil broken into pieces

2 bay leaves

1/2 teas. thyme

3/4 teaspoon of salt (or to taste…some tomatoes are salted)

1/2 teas pepper

1/4 teaspoon of crushed red pepper

2 cups of sliced cabbage (thinly sliced)

3/4 cup red wine (optional)

1 T balsamic vinegar

3 medium potatoes diced in 1 inch pieces

1 cup of green beans cut into one inch long pieces

2 medium zucchini, cut into 1/2 inch pieces

1 – 14 oz. can of cannellini beans or kidney beans
Instructions
Saute onion until translucent and golden brown in 2 T olive oil in a large stockpot or dutch oven. Add the pressed garlic and saute for 1 minute on low. Remove the onion and garlic to a small bowl.

Add the crumbled Italian sausage and brown. Remove.

Add the diced carrots and celery and saute for 4 to 5 minutes in 1 T of olive oil. Add the Italian sausage back in along with the onion and garlic.

Next pour in the chicken stock, the can of tomatoes, 3 T tomato paste, 6 cups of water, basil, bay leaf, and thyme, salt, peppers, cabbage, wine and balsamic. Simmer with a lightly cracked lid for 1 hour.

Add the potatoes and cook for 1/2 hour longer. Then add the remaining vegetables and continue to simmer for another 1/2 hour to 45 minutes.

Cook some shell or penne pasta (GF) if needed while waiting. Drain and toss with a drizzle of olive oil. 

Ladle into large bowls with a bit of pasta in each bowl or add the pasta to the whole pot of soup (note, the soup will not reheat as well if pasta is added to the pot). Serve with freshly grated Asiago or Parmesan cheese, along with additional crushed red pepper, and of course breadsticks or french bread!