Jump to Recipe
Print Recipe
Print Recipe
This dish fills the air with such wonderful aromas as it's cooking! Lovely three cheeses baking, basil pesto, and sun-dried tomatoes wafting through the house! The crust of rosemary and pistachio adds a crunch and more flavors that meld together in union of Italian flavors. 
Can I reheat this dish?
This dish will reheat this perfectly, so if you only need one for dinner, you can use the full recipe and make two. Just cool, cover, and refrigerate. Then use it within 2 or 3 days of preparing. Both tenderloins will serve it for 5-6 people. They will take seconds! The meat is so tender and has such a wonderful flavor. If you want to make only one, just cut the recipe in half. 
Purchase an Instant Meat Thermometer
Tip #1:
Be sure to get an instant thermometer before making this. That way you will not have to guess if the pork is done. Roast it until the thickest portion comes to 145-149. Let rest for 10 minutes before serving. Recommendations no longer say to cook pork to 165 degrees internal, so don't worry about the lower finished internal temperature.
To Save and Reheat
Tip #2:
To save and reheat, cool the cooked pork before sealing in an airtight container and refrigerating. When an hour from being ready to serve, bring to room temperature for 20-30 minutes prior to heating. Drizzle a teaspoon or two of olive oil across the top of the meat. Heat with a piece of foil covering the meat, not the oven safe dish, in a 325 degree preheated oven for 25-35 minutes. For food safety, the meat should come to 160 degrees Fahrenheit internal temperature, so, if by chance any bacteria occurred in cooling, will be completely killed during the reheat process.
Is Stuffing a Pork Tenderloin Difficult?
Tip #3:
Stuffing the pork tenderloin is not a difficult feat and can be easily mastered! Follow the steps and your tenderloin will be stuffed and rolled in no time at all! You can also use your creativity and stuff it with any ingredient combinations you like. Apples, cranberries, and herbs would be a perfect compliment, as would a wild rice stuffing with dried fruit. 
Get the Tools Listed Ready Prior to Starting the Recipe
Tip #4:
Get all the tools listed ready before beginning and get all your ingredients measured. Get your skillet ready, your baking sheet prepared, cut pieces of your kitchen string, and have plenty of paper towels handy.
Wash You Hands Often During Prep
Tip #5:
Wash your hands often during the prep, keeping everything else in your kitchen clean in the process. Remember to clean all surfaces thoroughly after you are finished with the preparation. 
Tip #6:
Lay one of the pork tenderloins on a cutting board. Pat dry with paper towels. Discard. Using a sharp knife, remove the silver skin (tendon portion). Try to leave any fat on the outside while removing the silver skin. Make a slice down the tenderloin lengthwise carefully until you are about ½-¾ inch from cutting through. Next unfold the tenderloin to have one flat piece. Lay a piece of cellophane over the top of the tenderloin. Using a mallet or another heavy object, pound the meat (on the inside, facing up side) until it is ⅛-¼ inch thinner. This will make it easier to roll and keep together.
Tip #7:
Spread a layer of the filling down on the inside, leaving an edge of ½ inch free from any filling. Roll up the tenderloin from one long end to the other. Wrap and tie with kitchen string. Coat with any seasoning or spices. Then roast.
Take the Temperature in Several Places Using the Thermometer
Tip #8:
Take the temperature in several places before removing from the oven, as you want to make sure you are taking the temperature of both the meat (in the thickest part) and the filling. 
Tip #9:
Final step – Optional – Sear quickly in a pan to brown a little more if needed.
What Should You Serve with the Pork Tenderloin?
Tip #10:
What to serve alongside this yummy pork dish? We made a perfect wild rice pilaf with Crimini mushrooms, onion, garlic, celery, and chicken stock and a simple steamed vegetable. Or try mashed potatoes with a little Italian herbs or parmesan cheese added, and a Spring Mix Citrus and Fennel Salad. YUM!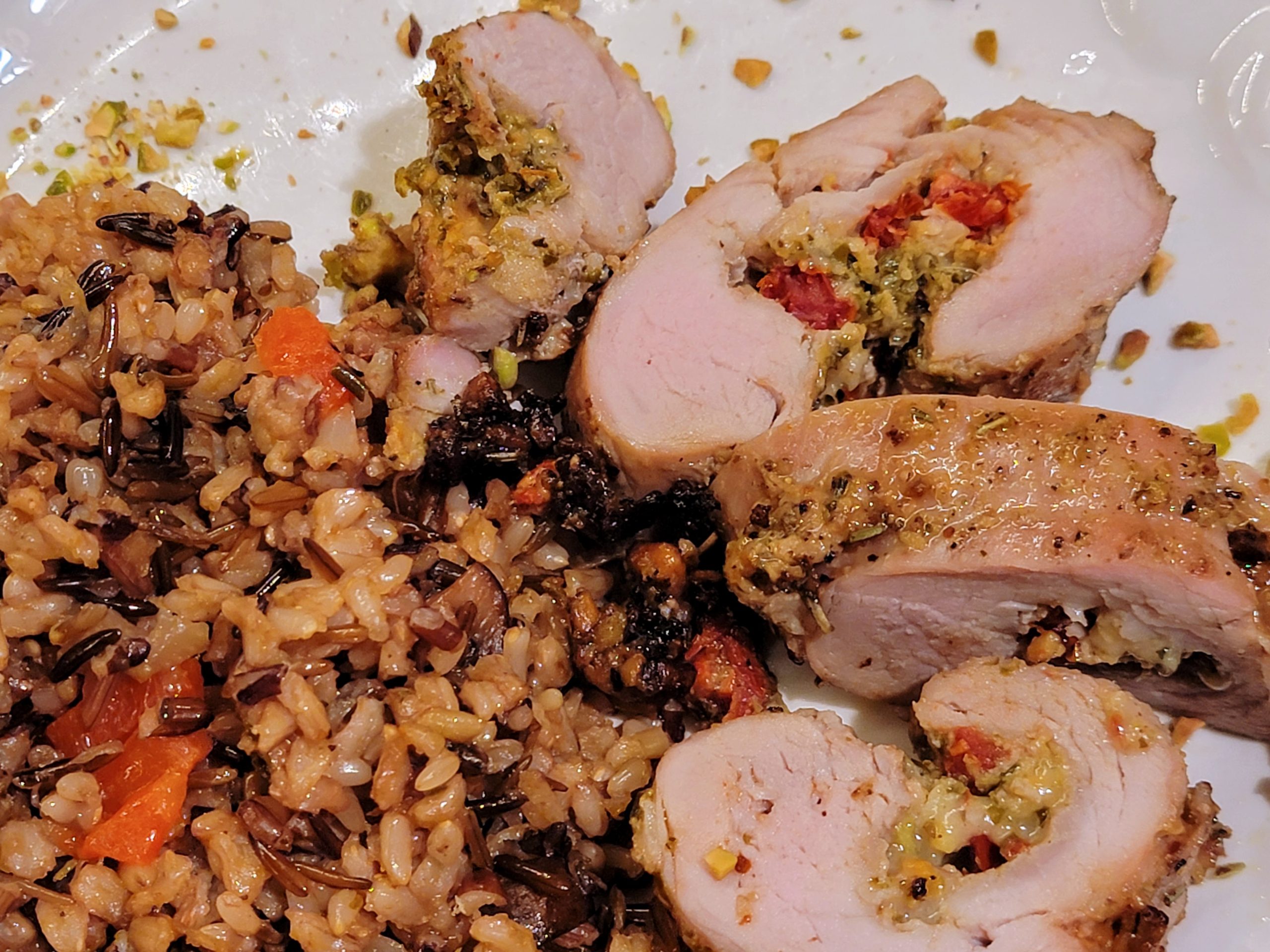 Stuffed Pork Tenderloin in a Pistachio Rosemary Crust (Gluten Free)
Makes: 2 Pork Tenderloins| Prep Time: 20-25 minutes| Sear time: 3 minutes| Roast time: 22-30 minutes
Equipment
Instant thermometer

Mallet or rolling pin for pounding meat

Cellophane or plastic wrap

Kitchen string

Skillet or cast iron

Baking sheet

Mortar and Pestle, helpful but not necessary
Ingredients
2

1.25-1.5 pound pork tenderloins, silver-skin removed

1 ½ teaspoons black pepper

1 ½ teaspoons Morton Kosher Salt

1 ½ teaspoons dried rosemary, gf 

⅛ cup roasted and salted pistachios, chopped until mostly fine pieces**

¼ cup of parmesan cheese or pecorino cheese, finely grated

¼ cup mozzarella cheese, grated

¼ cup sharp white cheddar cheese, finely grated

¼ cup gluten free pesto, purchased or homemade 

¼ cup sun-dried tomatoes, minced (if packed in oil, drained)

A handful or two of pistachios, chopped for outside

Avocado or olive oil
Instructions
On two cutting boards, slice each pork tenderloin lengthwise until ½ -¾ of an inch from slicing through. Unfold and lay flat. Cover with cellophane. Pound the meat until about ¼" thinner. Dry the meat thoroughly with paper towels and discard.

Mix the cheeses together in a bowl. 

In another bowl, or using a mortar and pestle, combine and crush the salt, pepper, rosemary, and pistachios. Pour half of the mixture into a small ramekin and reserve for the crust of the tenderloins. Sprinkle each tenderloin with half of the remaining pistachio mixture on the inside of the pork, leaving a ½" space free of any mixture.

Add a layer of cheese evenly across each piece of meat, leaving the same ½" edge free. Distribute the sun-dried tomato pieces across the cheese. Next add dollops of pesto evenly across the cheese layer, on both pieces of pork. 

Roll up each piece from one long side to the other and wrap kitchen string around and tie to secure.

Pour the remaining pistachio mixture on a large plate and roll each tenderloin in the mixture to coat evenly. Use the remaining chopped pistachios to fill in any missing spots. 

Preheat the oven to 400 degrees. 

Place the tenderloins an inch and a half apart on a lightly greased stone baking sheet or another baking sheet. Drizzle each with olive oil lightly. 

Bake in a 400 degree oven for 22-30 minutes or until internal temperature with an instant thermometer registers 145 degrees. Remove from the oven. If the tenderloins are not browned to your liking, proceed to the next step, or skip to final step.

Heat 2-3 tablespoons of high heat oil, like avocado oil or spray in a large skillet or cast iron. Sear each tenderloin, one at a time, on each side quickly over medium high heat, so the pistachios do not burn.

Remove to a platter, cover loosely with foil and let rest for 10 minutes before slicing into ½-¾" thick slices. Sprinkle a few more chopped pistachios over the platter or serving dishes. **If using unsalted roasted pistachios, increase the amount of salt to 2 teaspoons of Kosher salt.
Notes
A new favorite for my husband and I. This pork tenderloin requires a little more work with the pounding of the tenderloin and layering in the ingredients, rolling, and coating in the pistachio and rosemary crust, but it is restaurant quality every time. Serve with roasted potatoes for an easy accompaniment, or wild rice, some green beans, or artichokes.