Usually this time of the year, things tend to get very busy around our house (well, this year may not count since everything is kind of topsy-turvy). But normally, I like to make a lot of easy oven recipes in the skillet or Dutch Oven. This gives more time for family and holiday activities; putting up lights outside, or just a little relaxing with a good book by the fire (with some tea or double dark peppermint hot chocolate).
These meals tend to be simple, but comforting food, normally. A bonus is that having the oven on also heats the house a little! We love these "throw together, but still delicious" meals.
This rub is flavor-filled, has little prep and does not have to sit on long to absorb into the thighs. I always have the ingredients on hand for this dish, chicken and potatoes. Add a veggie to this and your meal is done! It's nothing fancy, but is always good.
I don't even think you can overcook a chicken thigh. They are moist and juicy every time, but we love them extra crispy here! If you don't like any spice to your chicken, simply put a little less Aleppo pepper or crushed red pepper. The coffee gives a little zing and pretty color. And if you keep a little bacon fat around, add a teaspoon or two when browning your chicken, because it gives a wonderful crust to your chicken or potato wedges. 
~Laura
(Updated 1/28/2023)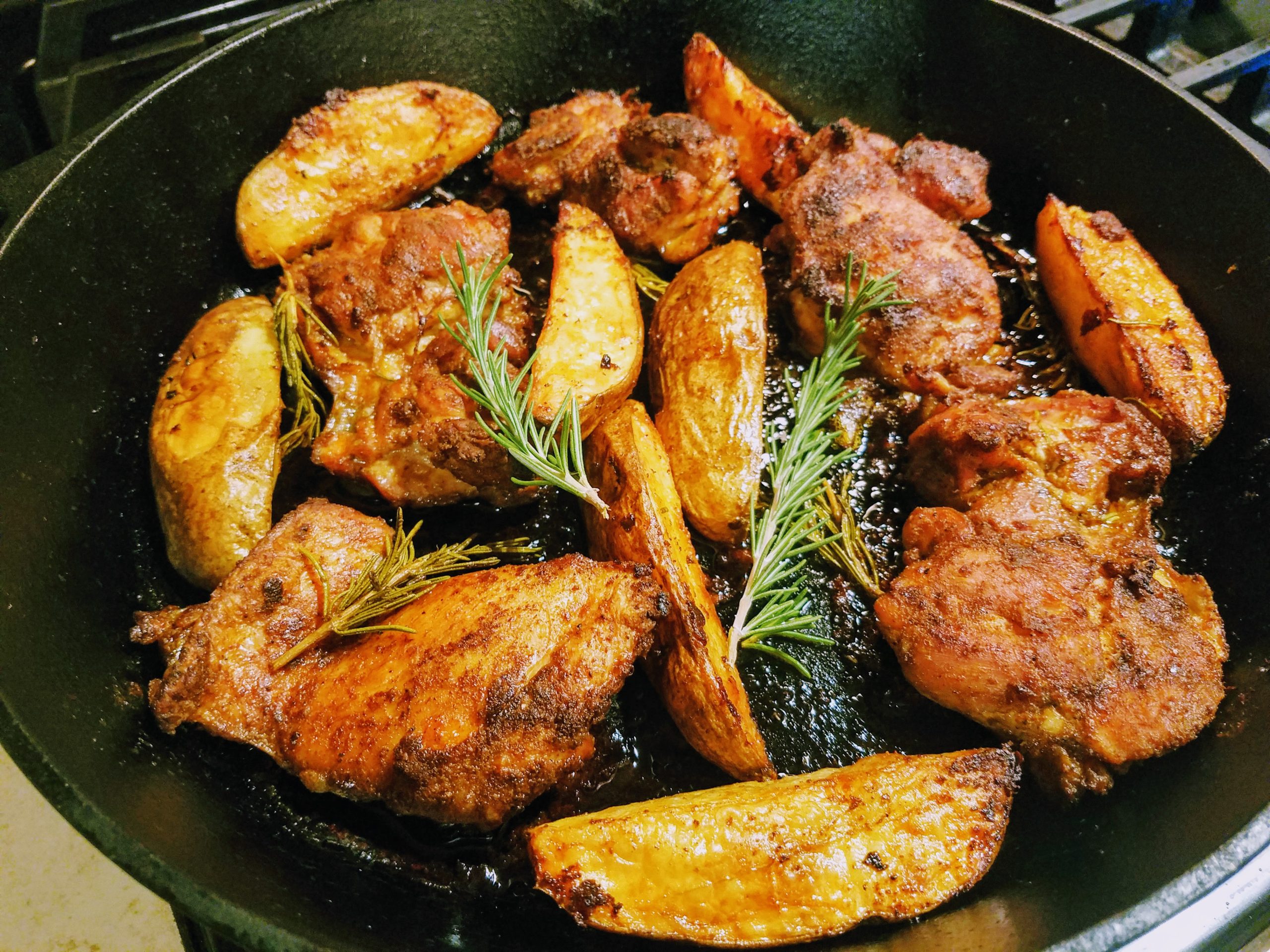 Baked and Slightly Spiced Dry Rub Chicken Thighs (and Crispy Potatoes)
A quick and easy meal for a busy night ~ and always delicious.
Ingredients
4 – 5

boneless chicken thighs

(skin on or skin removed)

2 medium or large

potatoes

cut in half lengthwise, then in half again, then then each quarter in 2 or 3 pieces

¾ teaspoon

salt

1 ½ teaspoons

paprika

1 teaspoon

garlic powder

1 teaspoon

finely ground espresso

3 Tablespoons

olive oil

4 – 5

fresh rosemary sprigs 

½ teaspoon

crushed red pepper

or Aleppo pepper  (1/4 teaspoon will not make this dish spicy at all, ¾ a bit more spicy :))
Instructions
Heat the oven to 400 degrees. Put the potato pieces in a bowl with a few tablespoons water and microwave on high for 3 1/2 minutes. 

To make the dry spice rub:  in a small bowl combine the salt, paprika, garlic powder, ground espresso, and Aleppo pepper or crushed red pepper.

Coat the chicken thighs with a tablespoon olive oil. Sprinkle the dry rub on all sides of the chicken thighs. In a large cast iron on the stove with burner set to high, heat 2 tablespoons olive oil. Add the chicken thighs and brown on each side. Add the potato pieces and drizzle 1 tablespoon of olive oil on them, sprinkle with salt and pepper. Add the rosemary sprigs.

Move the skillet to the oven. Bake for 20-25 minutes on 400 degrees, then turn oven up and bake at 425 degrees for another 15 minutes, turning the potatoes in the pan after 30 minutes.