Jump to Recipe
Print Recipe
Citrus and Fennel Salad with Parmesan Crisps is one of my favorite salads! I love fennel and the freshness of this salad.
So, how about you? Yes, to fennel, or no? Some people just don't like it, but I happen to love the flavor! The citrus and fennel in this salad scream Mediteranean or Italian dish to me, and it will pair wonderfully with those cuisines. Maybe serve it to balance a red sauce pasta dish, like our Sun Dried Tomato, Chicken, Sausage, and Artichoke Pasta. Even a seafood dish, with Mediteranean flair would pair well. You might try it with Steamed Clams in White Wine or Paella Mixta made Gluten Free.
The citrus vinaigrette is light and brings the flavors of the salad together. And if you don't have time to make the Parmesan Crisps, you can just purchase some store bought (gluten free) ones, or also omit.
I absolutely love the pink grapefruit and Satsuma Mandarins in the salad also. Satsumas are a beautiful fruit with delicious sweet flavor! Plus they are so easy to peel! Typically in our Italian grandparents home, they would serve fruit or salad after the main course. It aids in better digestion and also can cleanse the palate from the garlic in Italian and Mediteranean dishes.
We like to serve cordial sized glasses of Limoncello after dinner for that purpose too!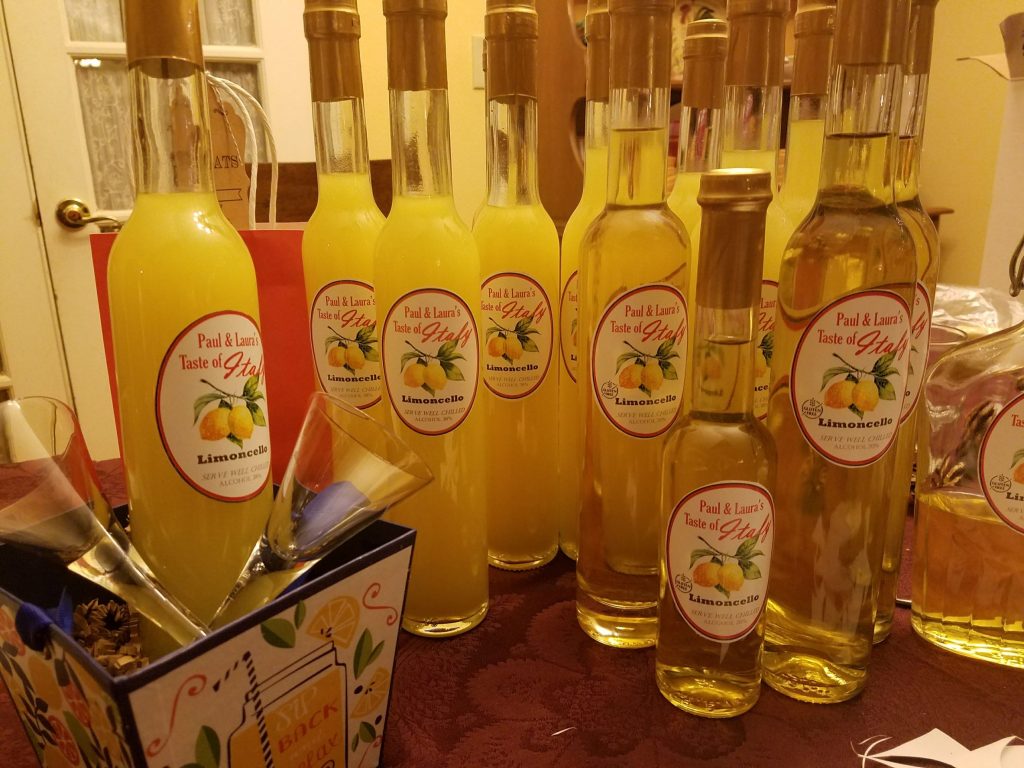 This salad is also hearty enough to serve as a main dish salad for lunch or for dinner.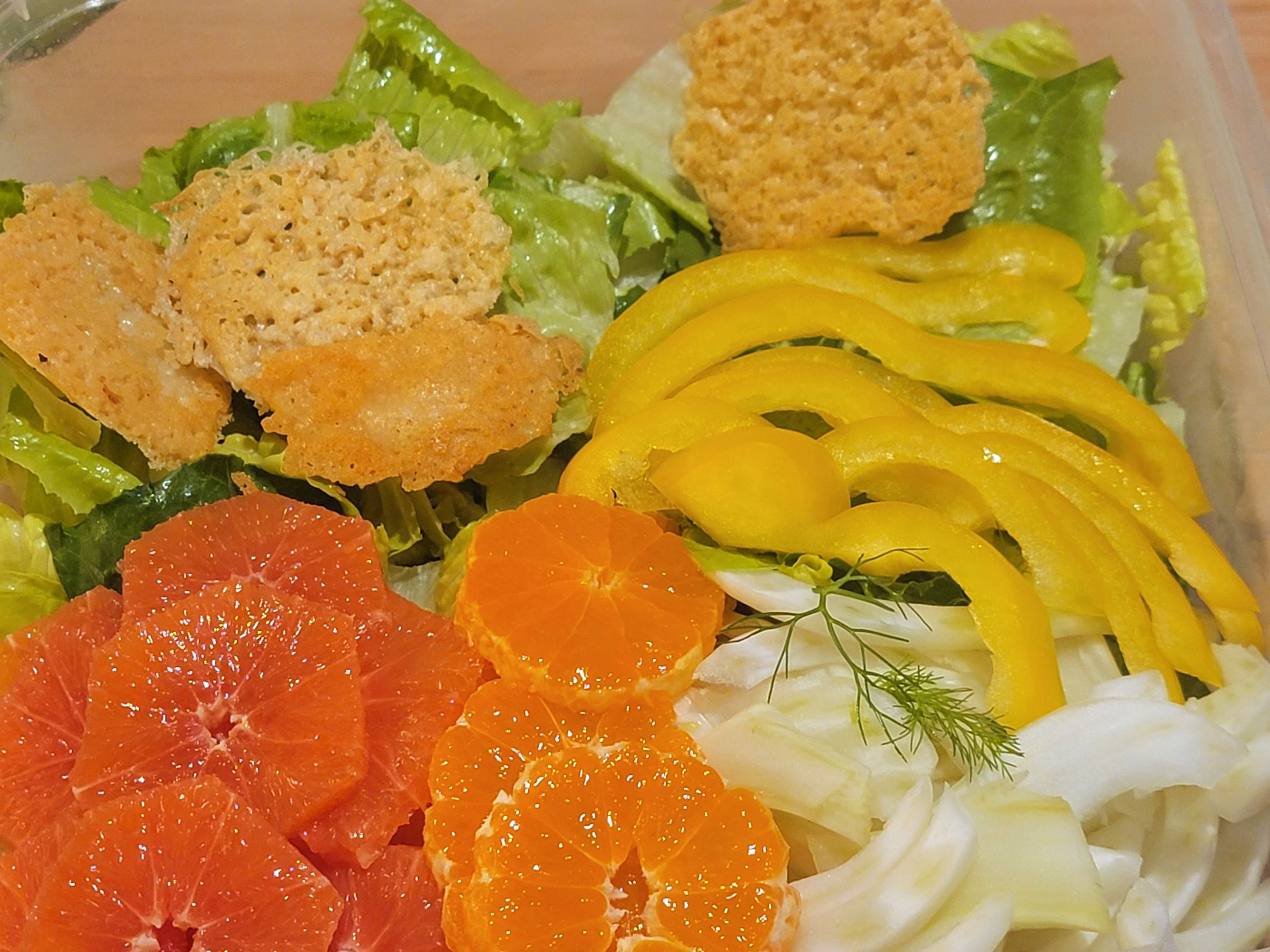 Citrus and Fennel Salad with Parmesan Crisps (Gluten Free)
One of my favorite salads! I love fennel, coming from an Italian family we ate this often, usually on an antipasto plate. I love it in a salad, along with these homemade Parmesan Crisps.
Ingredients
½-¾

bulb

fennel, core removed, and thinly sliced

2

navel oranges

1

satsuma

1

pink grapefruit

1

avocado, sliced or cut into 1 inch pieces

1

yellow bell pepper, thinly sliced

5

oz

spring mix or romaine

2

green onions, green parts sliced

¼

cup

pecans or pine nuts

to top

1

recipe of Parmesan Crisps
Citrus Vinaigrette
¼

cup

olive oil or avocado oil

1

tbsp

white balsamic vinegar

½

teaspoon

orange zest or lemon zest

2

tbsp

lemon juice

1

teaspoon

dijon mustard, gf

1

tbsp

honey

salt and pepper, to taste
Parmesan Crisps
1

cup

parmesan cheese, finely grated
Instructions
Salad
Using a sharp knife, peel the skin and white pith from the oranges, satsuma, and grapefruit. Slice into 1/4" thick rounds.

Layer the salad with the spring mix or romaine, yellow bell pepper slices, and fennel. Toss with half of the Citrus Vinaigrette.

Add with the citrus slices, avocado, green onion, and nuts. Serve the remaining dressing alongside or drizzle on top. Top with Parmesan Crisps, broken or whole, or fan the crisps along the edge of the dish. Serve the remaining dressing alongside or drizzle on top.
Citrus Vinaigrette
Whisk the ingredients together in a bowl or measuring cup until thoroughly combined and creamy.
Parmesan Crisps
Preheat the oven to 400° F.

On a stainless baking sheet or non-stick baking sheet, or a baking sheet lined with parchment, pile grated parmesan into 1½-2" rounds, ⅛" thick, spaced 2 inches apart.

Bake for 3 minutes. Let sit for 30 seconds. Then turn over a spatula. Bake 3-7 more minutes or until just starting to turn golden brown. **

Cool and serve with salad or eat alongside charcuterie or antipasto. Makes12.

**if using a stone pan, bake for 7 minutes. Let sit 30 seconds. Then turn over with a spatula. and bake for 3-4 minutes more, until light golden brown.
Notes
I could eat this salad any day of the week for lunch or dinner! Did I mention fried cheese or cheese crisps are one of my favorite foods! Make them and store in an airtight container if you don't use them all for your salad. They will keep up to 4-5 days in a sealed container.