Jump to Recipe
Print Recipe
Enjoying simple pleasures when you are needing to eat gluten free is a wonderful thing! The task: to developing a cracker that is crispy, light and just as delicious as any gluten filled cracker. What a wonderful discovery that sourdough starter discard can be used for making so many delicious treats.
These crackers are so addicting, so beware! My husband, who does not need to eat gluten free, not only loves them, but also can't stay away from them! It's okay, I'm fine with sharing, because they are so simple to make and use the discard from my sourdough starter, which I'm always looking for new, fun ways to use.
 Just a few ingredients to stir together, then spread them on the pan and pop them in the oven. Then less than 30 minutes later, crispy,  savory, herb crackers! This recipe makes two pans worth, so there's plenty to share, and they stay crisp for 6 to 7 days in an airtight container.
My daughter who is dairy intolerant and gluten free, tried these without the cheese and said they even still taste like cheese! This is due to the sourdough starter in them. The tangy sharp taste resembles the taste of cheese (plus they are buttery…yum!). They taste like a really incredible Cheez-it cracker, except way better! Enjoy! And don't eat them all at once!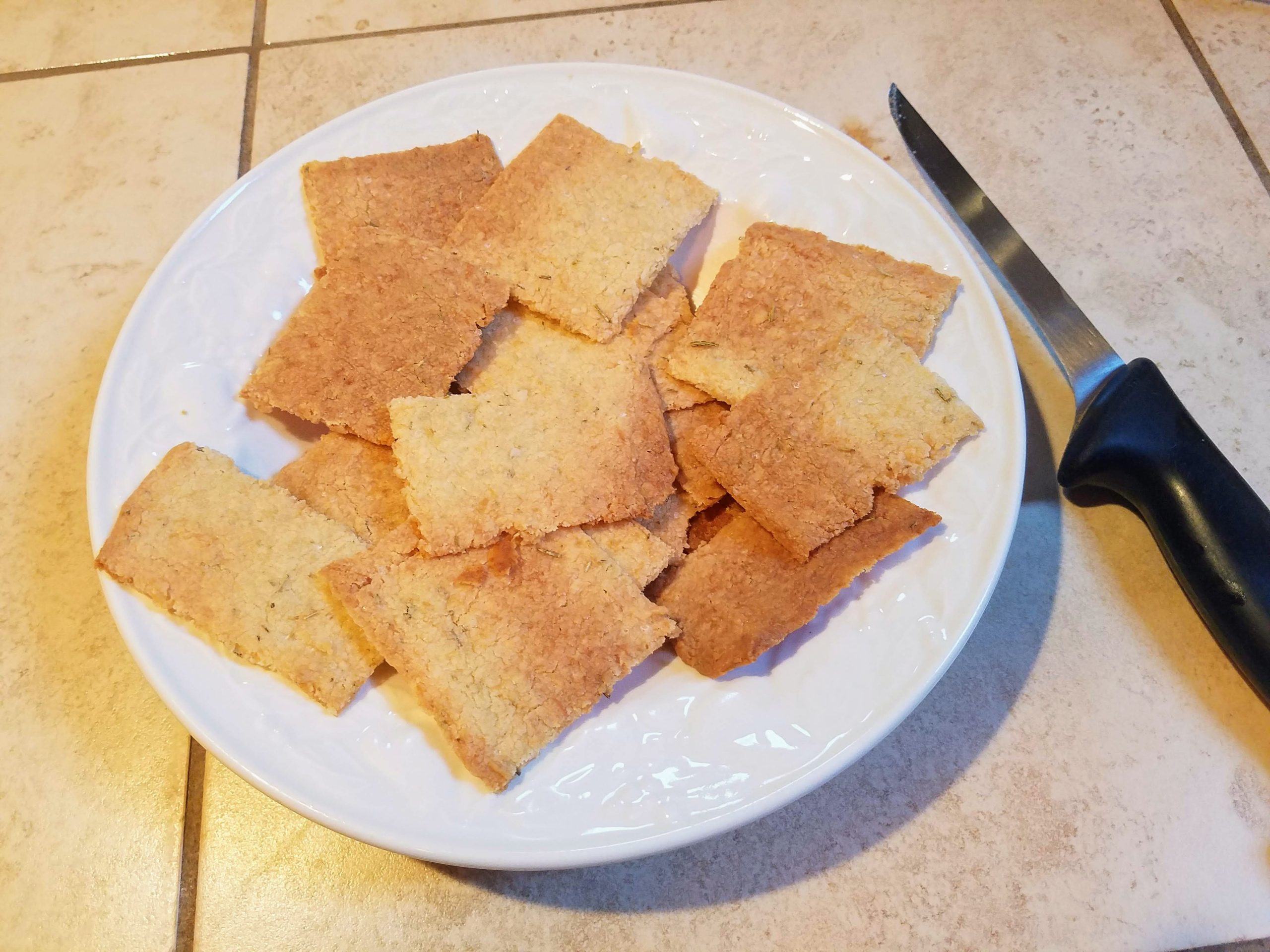 Best Ever Crispy and Savory Gluten Free Sourdough Crackers
Ingredients
1 cup

gluten free sourdough starter

(using discard is fine, or unfed starter)

1/2 cup

almond flour

2 1/2 tablespoons

olive oil

2 1/2 teaspoons

soft butter

1/4 teaspoon

salt

1/2 cup

parmesan or romano cheese

finely grated (optional)

1 teaspoon

dried rosemary or other dried herbs

(oregano, basil, thyme or a mixture of a few kinds) crushed a bit with a mortar and pestle
Topping:
1/2 teaspoon

coarse or flaked salt

1/4 teaspoon

dried rosemary

(or other dried herbs)

1 teaspoon

finely grated parmesan cheese

(optional)
Instructions
Preheat oven to 350 degrees.

With a mortar and pestle, crush the rosemary and coarse salt together for topping. Put topping ingredients in a small bowl. Stir in the one teaspoon of parmesan cheese (if using cheese). Set aside.

Stir, in a medium bowl, the sourdough starter, almond flour, olive oil, butter, salt, parmesan cheese (if using), and herbs.

On two parchment lined stone bar pans or cookie sheets, divide the dough between the two pans, and spread until very thin and even on both trays.

Using a spatula dipped in a small amount of water, or your fingers dipped in water, smooth the top of the cracker dough. Then sprinkle with the topping ingredients, reserving enough for the second pan. Repeat for second pan.

Bake one pan at a time on the middle rack, or if baking both trays at the same time, rotate after 10 minutes.

Remove from oven and score with a sharp knife (making straight lines for your cracker squares). You do not need to push the knife through to the bottom of the pan. This scoring will help you break these into nice square crackers once cooled. 

After scoring the dough, reduce the oven temp to 325 and return each tray to the oven for 15-20 minutes (rotating between racks again after another 10 minutes) or until the crackers are golden brown on the edges. If some crackers are browning more than others, remove the done ones and return pan to oven to finish baking.

Remove from oven. Cool completely before breaking on the scored marks and and moving to an airtight container (whatever is left after you enjoy some!)