This dish was a staple in our house growing up. We ate a lot of delicious pasta growing up with my Italian family who loved to serve lovely traditional pasta dinners. So, say "Mangia"! You don't need to coax your guests and family much! Comfort food. Beautiful on the dish. Makes a statement every time. Easy to make gluten free, you can even omit the bread if you choose.
Mangia. "mon-juh." Mangia is a conjugated form of the verb mangiare, which means to eat. Quora.com
Eat up. Eat lots of food. Eat some more. It's not gone yet, eat some more.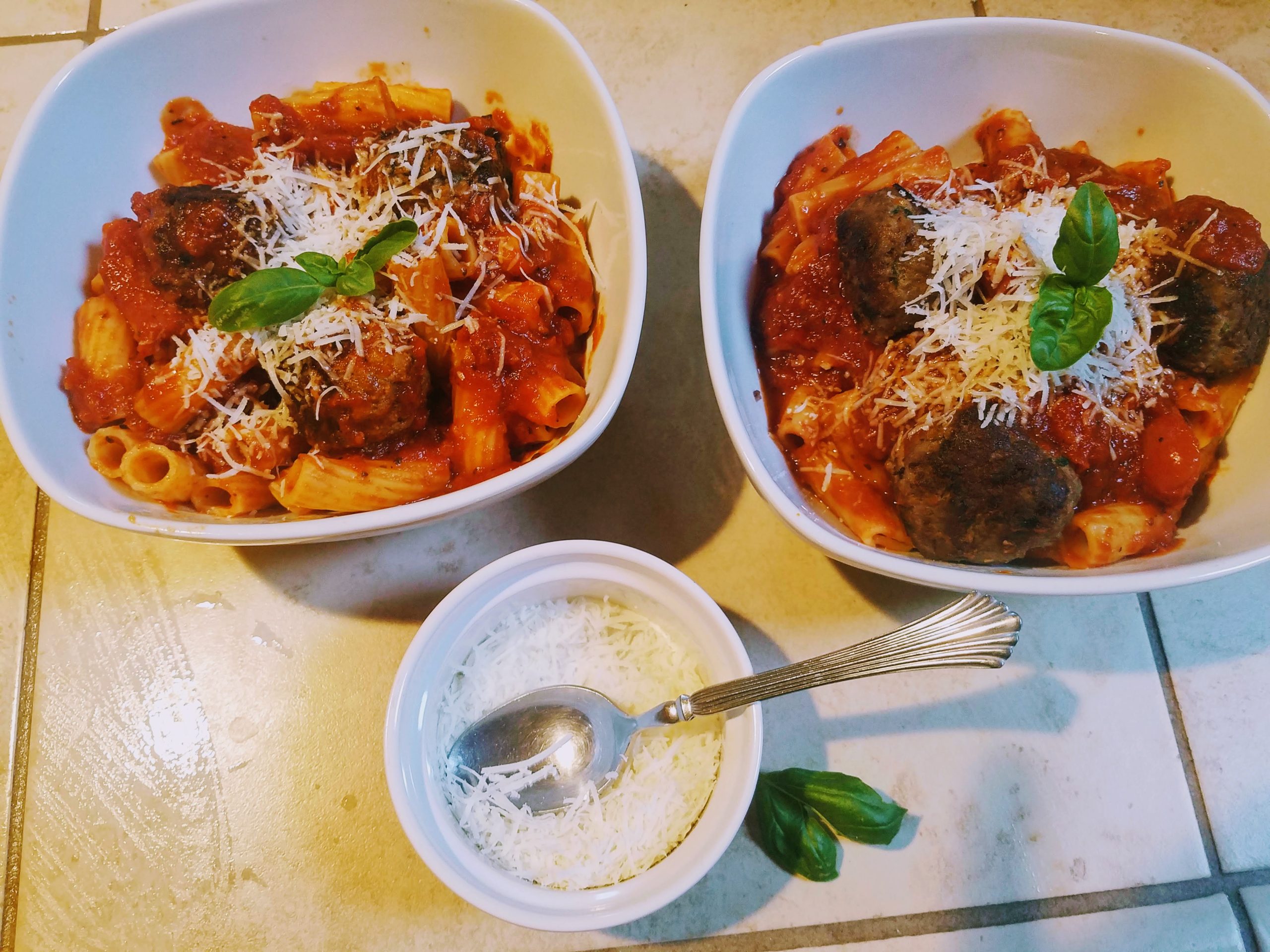 Gluten Free Spaghetti and Crisped Meatballs (or Rigatoni and Crisped Meatballs)
Ingredients
For the Sauce:
3 tablespoons of olive oil

1/2 onion, chopped very fine

5 – 6 cloves garlic, pressed or minced

1/2 package fresh grape tomatoes, sliced in halves

1  –  28 oz. of canned plum tomatoes, crushed

1 – 6 oz. can tomato paste

1 teaspoon of dried basil (or a handful of fresh basil leaves, torn) I use McCormick Schilling which is always gluten free

1/2 teaspoon salt, or to taste

A splash of balsamic  vinegar, or a splash of red winepasta of your choice – my favorite brand is Le Veneziane Gluten Free Corn Pasta, Rigatoni
For Crisped Meatballs: 
2 – 3 garlic, pressed or crushed

1 piece of gluten free bread or 1/2 gluten free bagel, soaked in water, then wrung out

1 egg

1 1/4 pound lean ground beef

1/2 cup freshly grated parmesan cheese

1/2 teaspoon salt

1/4 teaspoon cracked black pepper

1/8 cup minced Italian flat leaf parsley

1 tablespoon olive oil for frying
Instructions
For the Sauce:
In a large saucepan, heat the olive oil. Saute the onion on medium low heat until golden and translucent, and soft. Add garlic and saute on low for 30 seconds or so.

Add the fresh grape tomatoes and cook for a few minutes, then add crushed tomatoes, tomato paste, one large can of water (wash out the large tomato can), dried or fresh basil, salt and balsamic vinegar or wine.

Stir and simmer on low for one hour to one and a half hours.
For Crisped Meatballs:
Near the end of your cook time for the sauce, begin to prepare the meatballs. In a medium bowl stir the garlic, soaked and drained gluten free bread, egg, ground beef,  parmesan cheese, salt, pepper and parsley. Stir until well combined, and until no large bread lumps are visible.

Taking large spoonfuls of meat mixture, form into 1 and 3/4 inch balls (or the size you like). They will shrink slightly in cooking. Set aside on a large plate or platter.

Heat a large skillet with a tablespoon of olive oil on high heat. Turn down to medium low to medium heat. Place each meatball gently in the skillet and brown on each side, turning carefully and lightly covering to cook through the entire meatball, approximately 10 -13 minutes, lowering the heat if needed to maintain a gentle fry. I like the meatballs very brown and crisped, with a nice "shell" on the outside of each. 

When near the end of cooking time, prepare your gluten free pasta. 

Toss spoonfuls of sauce over your cooked and drained slightly al dente (gluten free pasta cooks quickly). Spoon into a large serving bowl, with meatballs on the top, plus spoonfuls of sauce over, or into individual serving dishes and top with 3 – 4 meatballs each. Laddle more sauce over the meatballs and top with freshly grated parmesan cheese.

Then just say "Mangia" and dig in!