Merriam-Websters Definition of breadstick: a crisp stick-shaped roll often served with soup.
In Italy, breadsticks are thinner and crisp, not usually soft in the center. But we prefer ours crisp on the outside and soft on the inside. Homemade breadsticks were a weekly item baked when our kids were growing up. I would make these when we had pasta or soup and our family would devour a double batch. Back when life was simpler it seemed, everyone ate gluten and the gluten filled dough is a cinch to make. Over the years I have tried to get the same taste and texture as those delicious sticks of bread. Here is my newest recipe (okay, I made this recipe up on the cuff yesterday, actually, because I really wanted a satisfying stick of bread after not feeling well from my Co-VID vaccines.) Sometimes gluten free bread items are the only foods that sound good when my tummy is messed up. These breadsticks are delicious! So crisp on the outside, puffy, and soft on the inside. The cheddar cheese variety tastes of fried cheese because it crisps up on the pan (Have you ever had fried cheese from Mexico? Delish! And a similar taste.) The herb garlic type is also yummy. We usually make some of each to satisfy everyone's liking. You could even do a cinnamon sugar variation with added butter to make more like a treat or breakfast item. Check them out and enjoy gluten free baked goods at it's best.
~Laura
(updated July 2021)
Gluten Free Puffy Yeast Breadsticks
Makes 8 large breadsticks
Prep time: 15 minutes, plus 20 minutes rest time
Rise time: 30-45 minutes
Bake time: 20- 25 minutes
Ingredients:
120 grams, (1 cup) Ryze Gluten Free Multi-Purpose Flour Mix (yellow bag)
120 grams (1 cup) Bob's Red Mill Finely Ground Tapioca Flour, Gluten Free
120 grams (1 cup) Bob's Gluten Free 1 to 1 Baking Flour or other gluten free blend with xanthan gum
68 grams (1/2 cup) finely ground corn meal, gluten free brand I use Safeway Organics Organic Corn Meal and grind finer in a food processor or Vitamix
8 grams (2 ¼ teaspoons or 1 packet) Fleishman's Active Dry Yeast, or other gluten free brand
14 grams salt (2 ½ teaspoons)
220 grams of warm water (1 cup minus 1 tablespoon)
2 tablespoons milk or dairy free milk, gluten free
1 large egg
20 ounces (1 ½ tablespoons) extra virgin olive oil
1 tablespoon honey
¼ – ⅜ cup gluten free flour (I used a ¼ cup Bob's Red Mill Gluten Free 1 to 1 Blend and ⅛ cup of Ryze Gluten Free Multi-Purpose Flour Mix (yellow bag)
For Topping:
2 tablespoons butter
2 tablespoons extra virgin olive oil
Toppings:
3/4 -1 cup grated sharp cheddar cheese
Dried oregano, gluten free brand
Dried basil, gluten free brand
1-2 cloves crushed garlic, or dried garlic for sprinkling, gluten free brand
2 – 3 Tablespoons of grated pecorino or parmesan cheese
Cinnamon sugar if desired for a sweet variation
To Prepare:
​
In the bowl of a stand mixer with dough hook attachment add the Ryze flour, the 1 to 1 gluten free flour, tapioca flour, finely ground corn meal, yeast, and salt and mix until well combined.
Add the warm water, milk, honey, and oil and mix for 30 seconds. Add in the egg and mix on medium for 2 – 2 ½ minutes.
Remove the bowl from the stand mixer. Add in enough gluten free flour, in 1/8 cup increments, add stirring by hand after each addition, to make a mildly firm, but still soft and pliable dough. Cover the bowl and let the dough rest for 20 minutes.
Using gluten free 1 to 1 flour blend, flour a board or mat well. Set the dough unto the floured surface and knead gently for 3 to 4 minutes, adding in more flour to the board as needed to keep from sticking. Flour the board lightly again and form the dough into a rectangle, approximately 9″ x 6.5″.
Melt the butter and olive oil in a saucepan over low heat and pour into a flat bowl or melt in the microwave in a flat bowl for 20-30 seconds. Let the butter mixture cool for a few minutes.
Cut the rectangle vertically into 1 ⅛ inch strips. You should have 8 pieces of dough.
Set a stone bar pan with an edge or baking sheet with an edge out. Place it very close to your bowl of butter/oil and close to your board that the dough strips are on.
Carefully dip each dough strip into the butter/olive oil and coat each side. The dough will be softer than a gluten dough so you will need to complete this portion quickly or the breadstick will tear. If this happens, you can piece it back together by pressing the dough pieces together and pinching. After dipping the strip of dough and coating in the butter mixture, lay the breadstick out on the pan, twisting as you set it down. It will stretch a bit, but try to not stretch too much because you want it to be on the thick side. Continue to dip each strip in the butter/oil mix and set on the pan, leaving a minimum of 1 ½ inch space between each strip.
Top with grated cheddar cheese pressed onto the tops or for the herb version, use crushed garlic brushed on top, or garlic powder sprinkled on top. Add dried basil and oregano sprinkled on top, then top with finely grated Pecorino or Parmesan cheese, pressed onto the top of the dough.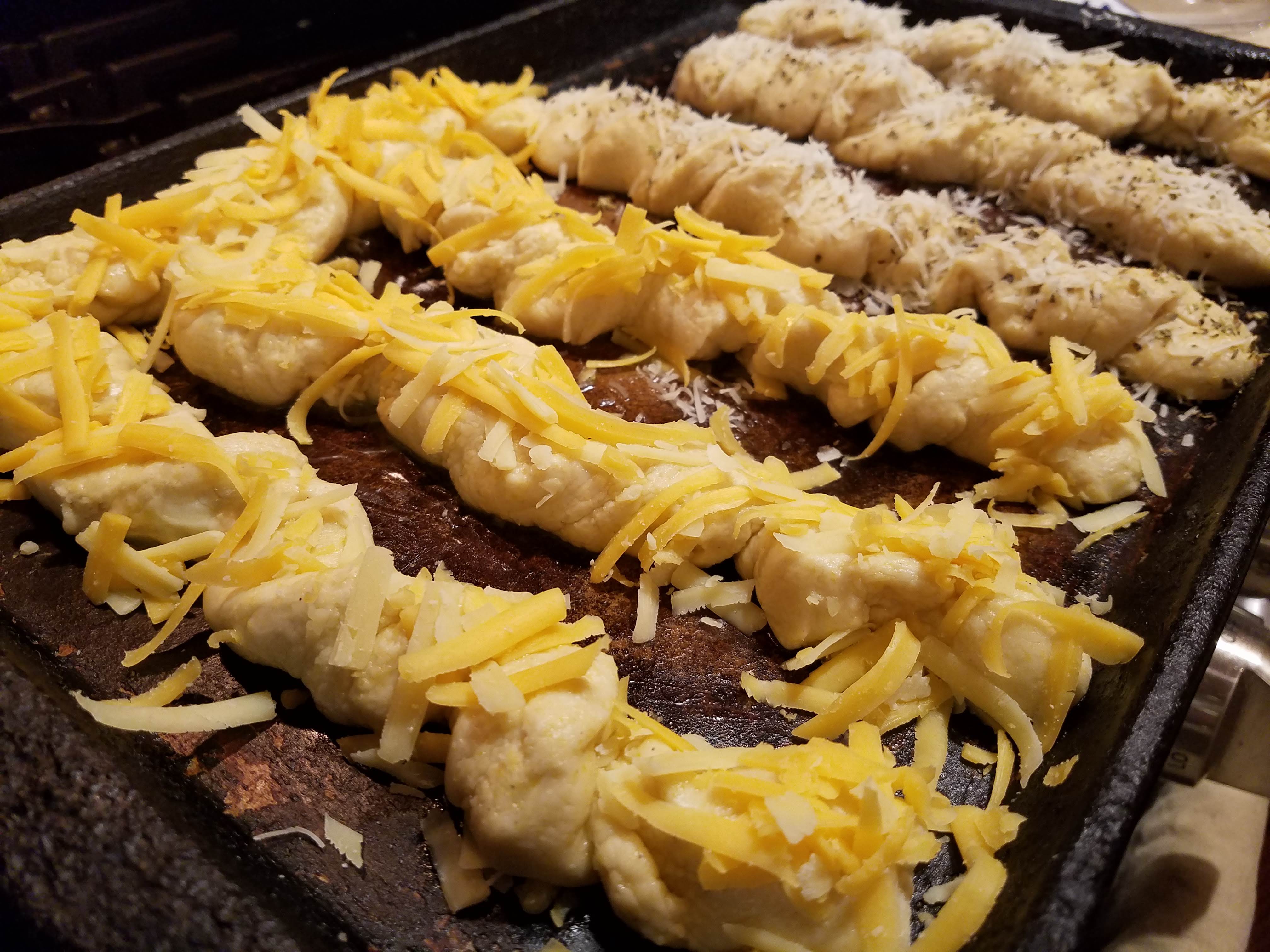 Let rise on the pan in a warm place for 30-45 minutes.
Preheat the oven to 425 degrees.
Bake in the lower third of the oven for 18 -20 minutes until puffy, rotating midway through the baking to bake the breadsticks evenly. Heat the oven to 450 degrees and move the baking sheet to just above the center rack and bake for 2-5 minutes more until golden brown and cheese is crisped. Best eaten hot off the pan, but you can reheat and re crisp in a 400 degree oven or toaster oven for
5 – 7 minutes.