Jump to Recipe
Print Recipe
Stir fry in the form of fajitas today! Something we haven't had for some time! I needed some red bell pepper (and red, instead of green tomatoes) to make this dish more colorful, but I have little energy lately to go running to the store for one or two items, so I used a orange bell pepper and the tomatoes that we had. The complimenting garnishment items for your fajitas are colorful: salsas, avocado or guacamole, cabbage, and limes too. Years ago I would make this in a large stainless skillet, but I love the cast iron skillet for quickly browning and cooking the chicken, and I think the flavors just penetrate the pan as it cooks, so if you serve it in the cast iron as well, you don't lose any of those delicious flavors. Check it out and see if what you think. Mexican style food is one of my favorites to both make and cook, but actually the fajitas dish does not qualify as authentic Mexican fare (nor do burritos or nachos). They think the dish probably originated in Texas with influences of Mexico, the Tex-Mex style of food, like chili, and so many others. Fajita referred to a cut of meat in Mexico, but somewhere along the line grilling the meat with vegetables and serving alongside warmed tortillas became a thing. They are super yummy so thanks whoever invented this!
~Laura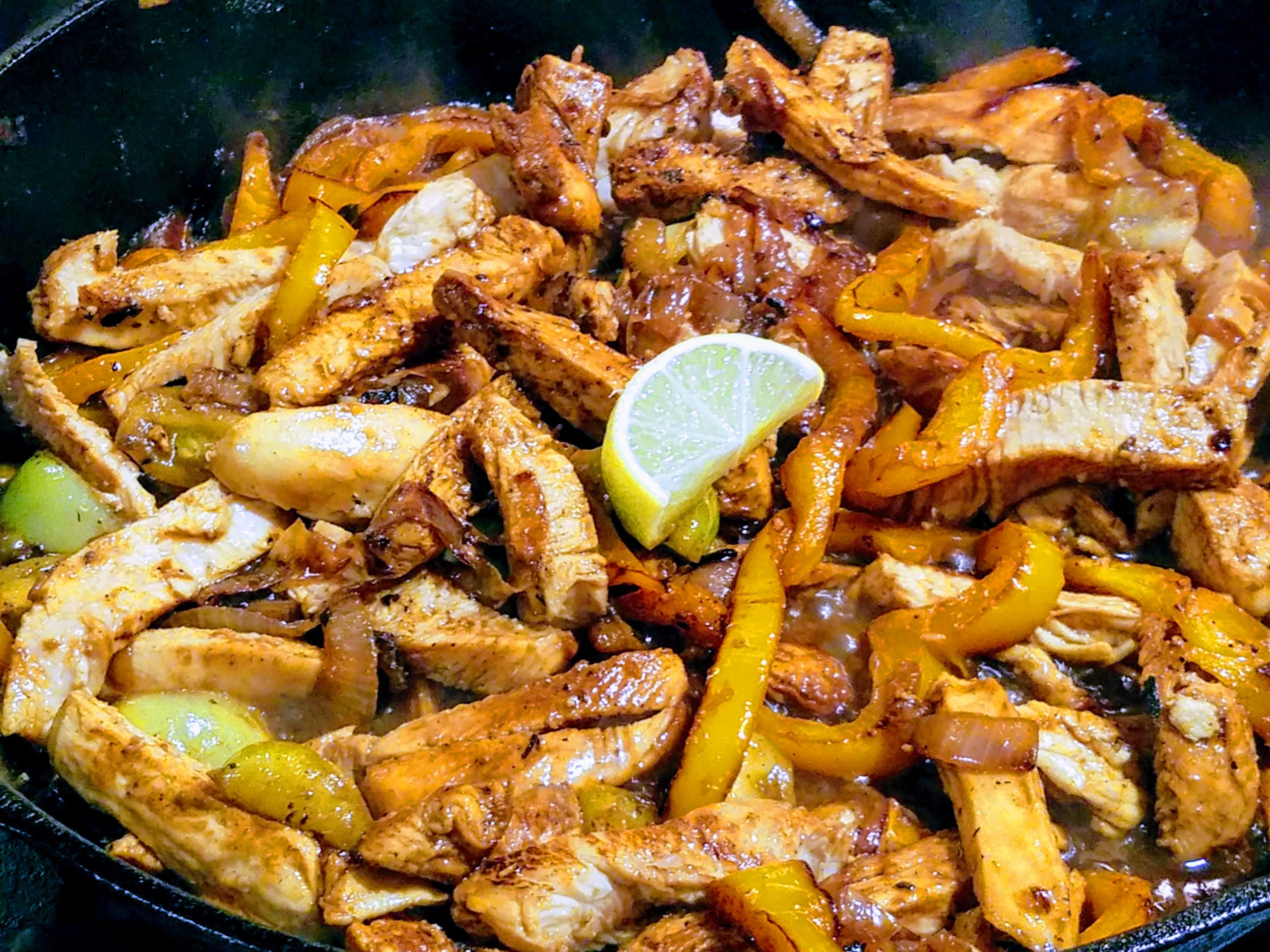 Gluten Free Chicken Fajitas
Ingredients
20-22 ounces

boneless, skinless chicken breasts

(2 chicken breasts),cut into 1/2 inch strips, lengthwise

3 tablespoons

olive oil

extra virgin

1

onion

sliced, then slices cut in halves

1

red or orange bell pepper

, sliced, 1/4 inch thick

1/2 cup

diced tomatoes

1/2

lime

gluten free tortillas

condiments for topping fajitas
For the Marinade:
3 tablespoons

olive oil

extra virgin

5 tablespoons

fresh lime juice

, about 2 limes

1 teaspoon

sugar

or honey

1 teaspoon

white or red wine vinegar

¾ teaspoon

salt

4-5 cloves

garlic

, minced or crushed

¼ teaspoon

chili powder

, gluten free

2 tablespoons

silver tequila

, optional
Instructions
Marinade Prep:
Stir ingredients together in a medium size bowl. Then reserve 1/3 of the marinade in a small bowl and set aside for later use.
For the Chicken Fajitas:
Put the chicken pieces in the marinade (be sure to reserve the 1/3 of the marinade for adding in after the fajitas are cooked) and let marinate for 1 – 1 1/2 hours. You can cut up your vegetables and do any other garnish preparation at this time. 

After the chicken has been in the marinade for an hour and 15 minutes, begin by heating a 12″ skillet, with 2 tablespoons of oil over medium high heat. Sauté the onions with a pinch of salt, over medium high heat for 2 – 3 minutes until starting to golden. Then stir in bell pepper slices and stir and continue to sauté with the onions. When the onions have browned and the peppers are lightly browned remove to a bowl and set aside.

Heat 1 tablespoon olive oil in the skillet over high heat. Drain the marinade off the chicken and discard, then put  half of the chicken pieces in the skillet. Add the chicken pieces in two batches to the skillet. Cook on both sides until just done, turning to brown evenly. Remove the chicken to a bowl and cover. Repeat for the remaining chicken pieces and add to the bowl.

On a clean cutting board, slice the cooked chicken into 1/4″ slices (this is done easily by laying the chicken pieces flat and slicing).

Heat the skillet and add the tomatoes and a tablespoon of the reserved (clean) marinade. Add back into the skillet: the sliced chicken, onions and peppers, and remaining marinade and stir to coat. Continue to cook for a few minutes over medium heat. Turn the burner off and squeeze a half of lime over the skillet.

Serve with all the garnishes and side dishes, gluten free tortillas, rice, beans topped with cheese put under the broiler, cabbage, avocado or guacamole, salsas and pico de gallo, grated or crumbled cotija cheese, extra lime wedges, and plenty of chips and salsa. And maybe make yourself a margarita or non alcoholic mocktail!