Jump to Recipe
Print Recipe
Want a delicious dinner? Try this! This is an upscale version of bruschetta! Bruschetta. Noun. Definition: A yummy food made of grilled or toasted bread with garlic, olive oil, tomatoes and salt.
This dish is usually served as an appetizer or paired with a charcuterie board, but at our house we enjoy it for dinner with some companion foods. How do you pronounce it? The pronounciation is Broo-skeh-tuh" or "Broo-skeda" since the "sch" makes the "sk" sound in Italian. What's the difference between a bruschetta and a crostini? Both are grilled or toasted, and both have olive oil and other ingredients atop. Typically the bruschetta is served with wide grilled rustic hearty bread or thick sourdough slices, but the crostini is usually served sliced using a finer texture, as a baguette.
This dish is one of our favorite meals either alone or paired with a simple Italian sausage and some roasted green beans. It's simply amazing! I think it's in our top three meals. You can have these ingredients out on the table and each person can make their own version: fresh basil, freshly grated parmesan, pecorino cheese, feta cheese, fresh mozzarella or goat cheese, prosciutto, or balsamic reduction. My gluten free sourdough bread works perfectly as the base for this. You want to almost over-toast the bread, because it will get soft with all the liquid ingredients, if not. Buon appetito!
~Laura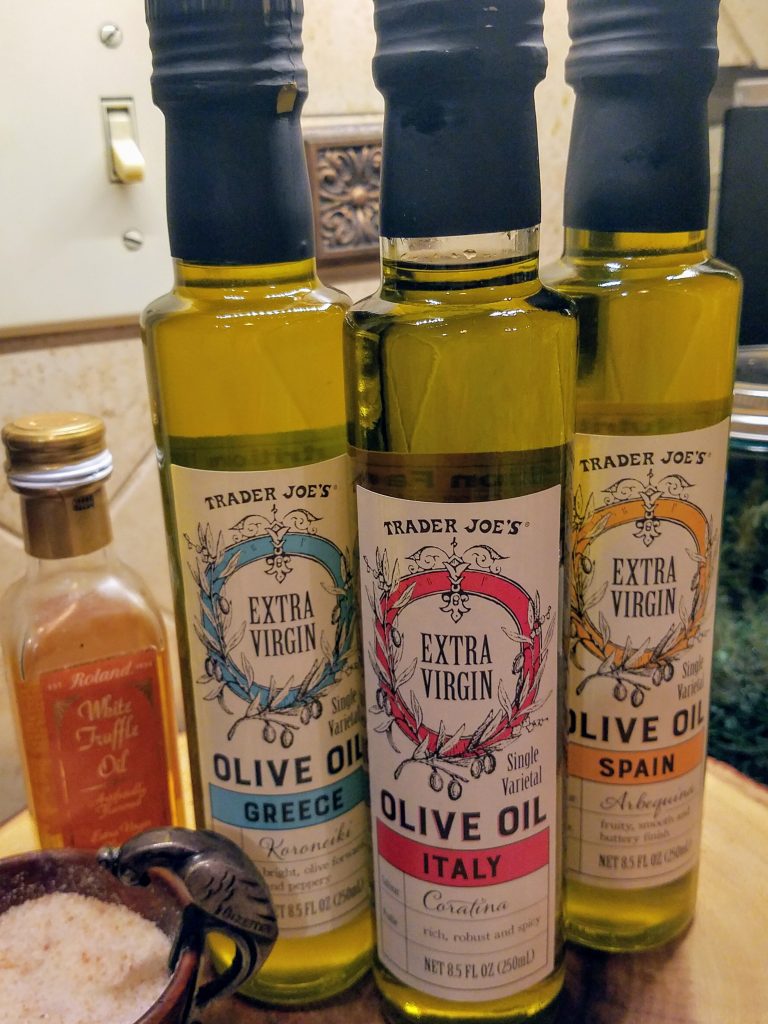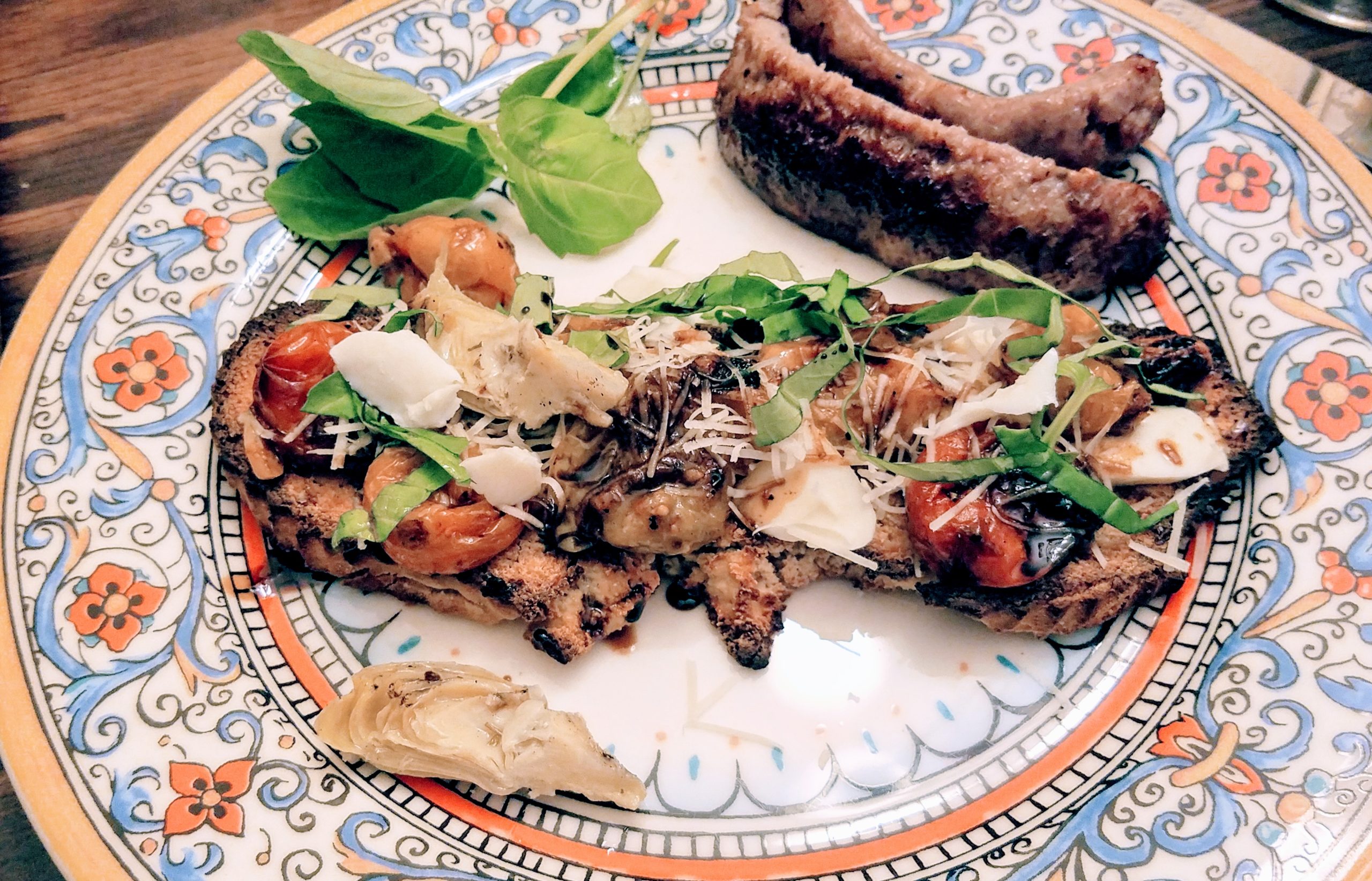 Roasted Rustic Tomato and Garlic Bruschetta
Beautifully roasted baby tomatoes and garlic caramelize and become even more amazing! Serve over toasted gluten free bread or regular bread for those that can. Then top with your favorite cheese, parmesan, feta, or something else. Finally, garnish with fresh basil and a drizzle of olive oil or thick balsamic or balsamic reduction.
Ingredients
16 oz

mini heirloom or grape tomatoes

rinsed and dried

5 – 6 large

garlic

sliced

1 tablespoon

canola or vegetable oil

3 tablespoon

olive oil

1/2 teaspoon

sea salt

or to taste

4 – 5

slices

bread slices

toasted or grilled (gluten free bread if needed)

6 – 8

 basil leaves

rinsed, dried and cut fine (kitchen shears work well for this)
Other Toppings:
Parmesan or Pecorino Cheese

freshly grated

Goat cheese or Fresh Mozzarella

crumbled or sliced

Olive oil

Balsamic vinegar or balsamic reduction

Prosciutto

Artichoke hearts
Instructions
Drizzle the canola oil over a stone around the outside of the bar pan or heavy cookie sheet. A cast iron skillet will also work well.

Add the tomatoes and garlic and drizzle olive oil over, then stir in the pan to coat with the oil. Sprinkle the salt over the pan.

Cook at 350 degrees for 15 minutes. Increase the oven temperature to 425 degrees and cook for 20 – 25 minutes more, or until the tomatoes are soft and caramelized and the garlic appears toasted.

Using a rubber spatula, scrape the tomatoes and garlic, including the oil, into a small bowl to serve. Serve the tomatoes on toasted or grilled bread slices, fresh basil leaves, your choice of cheeses, balsamic or balsamic reduction, olive oil, prosciutto or other meats.
Notes
To make a balsamic reduction that is delicious, heat in a small saucepan over medium heat, a 1/4 cup of balsamic vinegar, stirring the pan often and swirling the vinegar in the pan for a few minutes. Add 1 tablespoon of pure maple syrup and continue to stir and heat until thickened, or "reduced", about 3-5 minutes more.