Jump to Recipe
Print Recipe
This meal brings back so many memories for me. It's definitely comfort food at its best. Sitting around my grandparents table with our family having a big plate of rigatoni covered in thick red sauce, sweetened by the chicken stewing with the tomatoes for a few hours. It was definitely one of my favorite sauces….up against red sauce with bracciole, a pounded, rolled and tied steak with all sorts of yummy things in it.
We went over grandma and grandpa's house on Sundays for lunch at 12 noon. There was always opera music on, amazing food, plenty of hot Italian temper displayed (from my grandpa) and my grandma was always in the kitchen with her house coat on, (a smock like dress that kept her clothes clean), when we arrived, busily getting everything ready for the table.
The food grandma made was always delicious! This amazing sauce, has few ingredients, but is definitely packed with flavor. The flavors and ingredients represent where my grandfather was from in Southern Italy, Calabria, where farming for tomatoes, peppers and eggplant, and fava beans is prevalent. At grandpa and grandma's they used simple herbs and ingredients; they might have used the traditional Calabrian peppers, but they did not like spicey food, so they stayed away from using it in their cooking.
This red sauce, makes super yummy lasagna also. You can cook the chicken in the sauce, then remove when cooked and cut up for the lasagna. Add in the layers ricotta and mozzarella and parmesan and you have one of the best lasagnas ever in my opinion. And for gluten free lasagna, the best I've found is DeBoles Gluten-Free Rice Pasta Lasagna. You don't even have to par boil it before building and baking your lasagna.
You'll want to cook this sauce for 1 1/2 – 2 hours so the flavors really meld together and the chicken is super tender and falls off the bone (if you are using chicken with bones). Using chicken on the bone, will give this sauce a sweeter flavor, but either option is still really good.
Serve this over your favorite gluten free pasta. My favorite is Le Veneziane brand. And for this sauce, I like their rigatoni pasta. Le Veneziane, gluten free pasta, imported from Italy, is a corn based gluten free pasta that I was served at a restaurant in Healdsburg, California. I had to ask the the waitress after I took a bite if I really got gluten free pasta, because the taste and texture was so amazing! She brought me the box and then let me take a picture. I was hooked after that! Now that's what I use all the time. They make all varieties of pasta also, but Rigatoni is perfect to use here when you want a large amount of sauce in each bite.
Paul says this is one of his favorite meals, and I have to agree. And it's a family recipe…a family secret, but I'll share it if you promise you'll give credit and a "Salute" (pronounced suh.loot), an Italian cheers toast, to Grandma Rose for me! Make it for Sunday super and your family and friends will be happy you did! I can smell this cooking now and my mouth is watering!!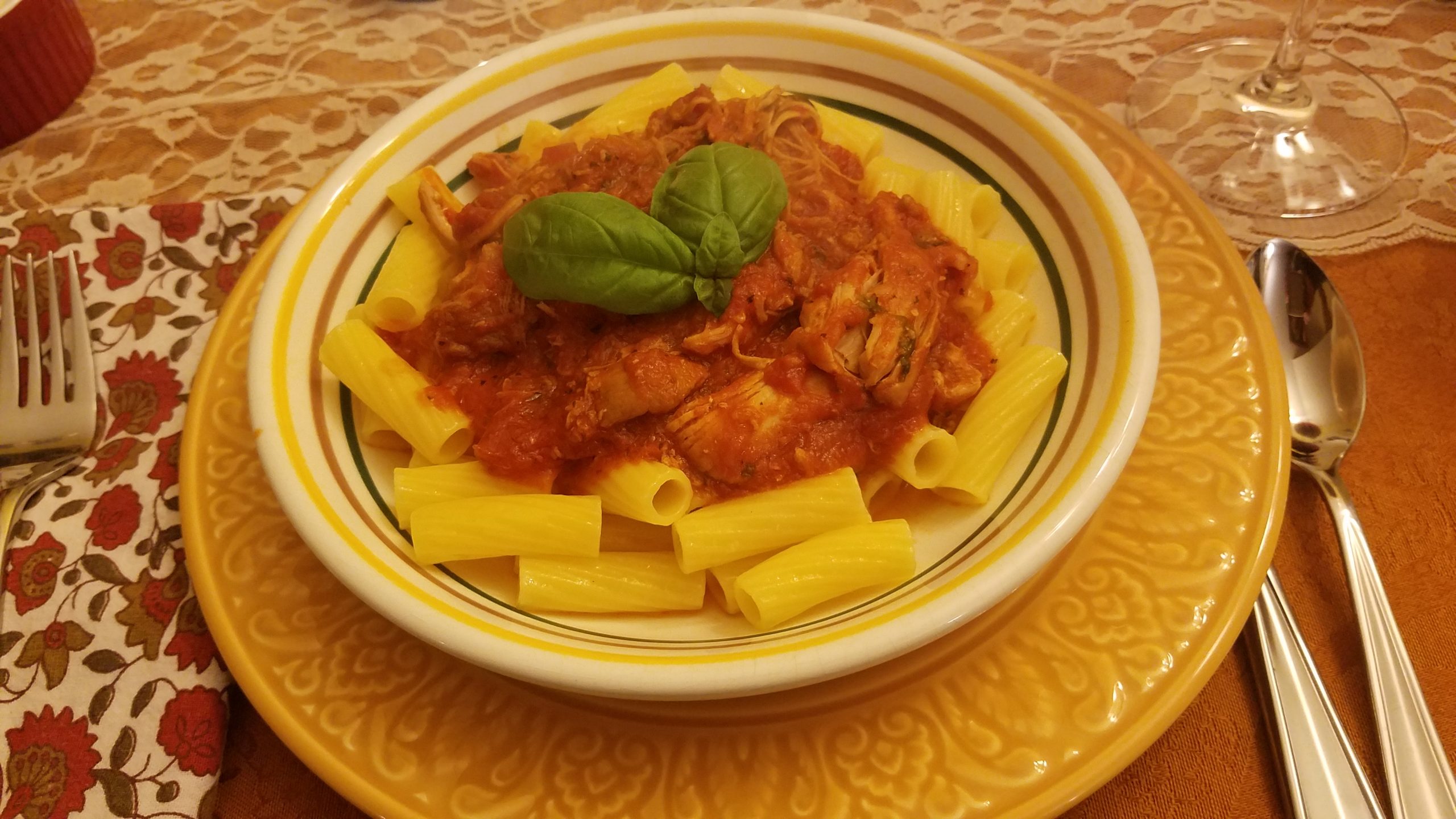 Grandma Rose's Chicken Sauce
This is a family recipe that we all adore. My very sweet Grandma Rose showed me how to make this delicious lighter sauce with chicken. We LOVE, LOVE, LOVE it here!
Ingredients
3 1/2 tablespoons

olive oil

(or enough to cover the bottom of the saucepan)

1/2 large

onion

(or 1 small onion) minced fine

1/2 teaspoon

salt

3 large cloves

garlic

minced or crushed (Grandma only used 2 cloves, I think ;))

3

chicken breast halves

or 4-5 chicken thighs, boneless or bone in, or 4-5 chicken legs, bone in, salted and peppered

1  – 28 oz can

stewed plum tomatoes

cut up

1 –  6  oz can

tomato paste

1 teaspoon

dried, crushed basil

(gf brand)

large handful

fresh basil

leaves, torn 

1 1/2 cups

water

(or fill 2, 6 oz size can with water)

1 teaspoon

salt

more to taste
Instructions
Heat 3 tablespoons olive olive in a 4 qt saucepan or dutch oven over medium low. Add the onion and 1/2 teaspoon salt and saute the onion until just translucent and soft. Add the minced garlic and saute for just 30 seconds on low. Remove the onion and garlic to a small bowl or small plate.

Add a half tablespoon of olive oil and heat the pan over high heat. Add the chicken pieces and lightly salt and pepper. Saute until each piece is brown on each side. 

Add the stewed tomatoes, tomato paste, water, fresh basil , dried crushed basil, salt and the sauteed onion and garlic back in to the saucepan. Simmer over low heat covered with the lid cracked for 1 1/2 to 2 hours.

For the recipe, if using chicken with bones, after the sauce simmers for 1 1/2 hours, remove the chicken pieces to a large plate and remove the bones and cartilage from the chicken.The chicken will fall off the bones, and be super tender. Put the boned chicken pieces back into the sauce. 

Serve this over your favorite gluten free pasta. Rigatoni or mostaccioli for me. Tube pasta is great for this sauce. Pass the parmesan cheese too, for me, but Paul says it doesn't need it. Serve this with Gluten Free Cheesy and Herb Sourdough Breadsticks or a gluten free Italian baguette.