with Gluten Free Blackened Seasoning
---
Spicy ~ or spicey [spaphy-see]
adjective, spicier, spiciest.
1. seasoned with or containing spice:
a spicy salad dressing.
As someone who loves blackened seasoning on fish, I have been dreaming of having this dish out in a restaurant. Unfortunately, blackened fish is rarely gluten free, as blackened seasoning often contains modified food starch or some other additive which may contain gluten. So, instead of risking exposure to gluten, I have been making this in my own kitchen, which is a safe and easy alternative.
The recipe is simple, and you can use whatever type of fish you prefer. We have used mahi mahi the past couple of times, but cod could work, or snapper, as well as any other firm white fish. It takes virtually no time at all, with great results! If you have a large cast iron skillet (which is a great addition to any of your cooking skillets or pans), it comes great, with no sticking, and your can brown the fish and then put it directly in the oven to finish cooking. My kitchen went without this large 14″ cast iron skillet for years, but when I saw my daughter who is recently married had two, I figured I deserved this after my thirty years of marriage and cooking in the kitchen! I got a great deal as well, at a local Marshall's store, even though it is a name brand skillet.
The other benefit besides making this blackened seasoning gluten free, is you can add more kick of spice if you like.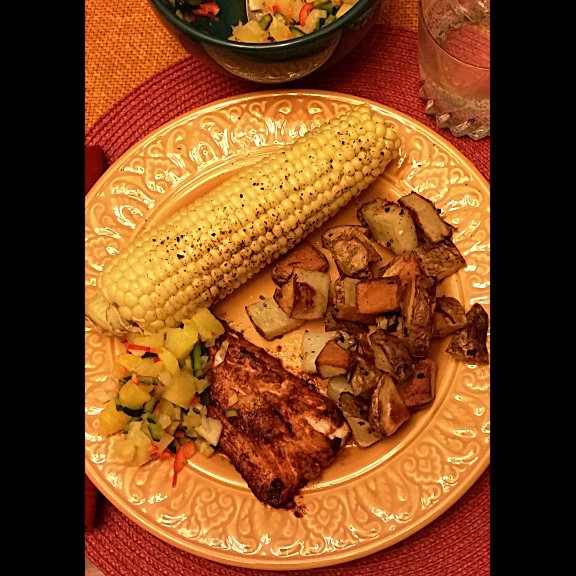 Blackened Fish with Pineapple Salsa
with Gluten Free Blackened Seasoning
Ingredients
Blackened Fish
3/4 – 1 lb.

white fish

(3-4 pieces of mahi mahi, swordfish or snapper)

2 tablespoon

paprika

(I like Sweet Hungarian Paprika)

1 teaspoon

kosher salt

1/2 teaspoon

cayenne pepper

(use 3/4 – 1 teas. if you like it extra spicy)

3/4 teaspoon

dried thyme

1 tablespoon

brown sugar

1/8 cup

lemon juice

fresh squeezed

2 tablespoon

butter

melted
Pineapple Salsa
1 tablespoon

onion

white or red onion, finely minced

2 tablespoon

pasilla chili pepper

diced (anaheim chili also works, or jalapeno if you want it spicier)

1 cup

diced pineapple (fresh or frozen and thawed)

sprinkle of

salt

squeeze of

lemon juice

1 teaspoon

honey

optional
Instructions
Preheat your oven to 400 degrees. 

Mix the dry ingredients together in a flat bowl. Dip one piece of fish in lemon juice mixed with the melted butter, then dip in the dry mixture until well coated. Continue until all pieces are coated. Place on a clean, dry plate.

Meanwhile make the pineapple salsa,  mixing all ingredients together in a bowl. 

Heat a large skillet lightly greased with olive oil or avocado oil on medium high heat. When the pan is hot, place each piece of fish in the skillet and brown each side for 2 minutes. Next transfer the skillet to the oven and finish cooking for 6-8 minutes more or until it flakes when checked on the edge with a fork.

Serve with pineapple salsa on top of the fish or alongside the fish in a bowl. The coolness of the salsa is a compliment to the spiciness of the blackened fish.