Jump to Recipe
Print Recipe
There's nothing better than delicious roasted vegetables! This dish is even better with the sweet and tart and the caramelization that happens when you add this to the pan for the last bit of the roasting time.
Try this dish using other herbs if you like, fresh tarragon could work or fresh rosemary. I would use both of those sparingly as they can overpower the other flavors. You can also use dried herbs in place of the fresh.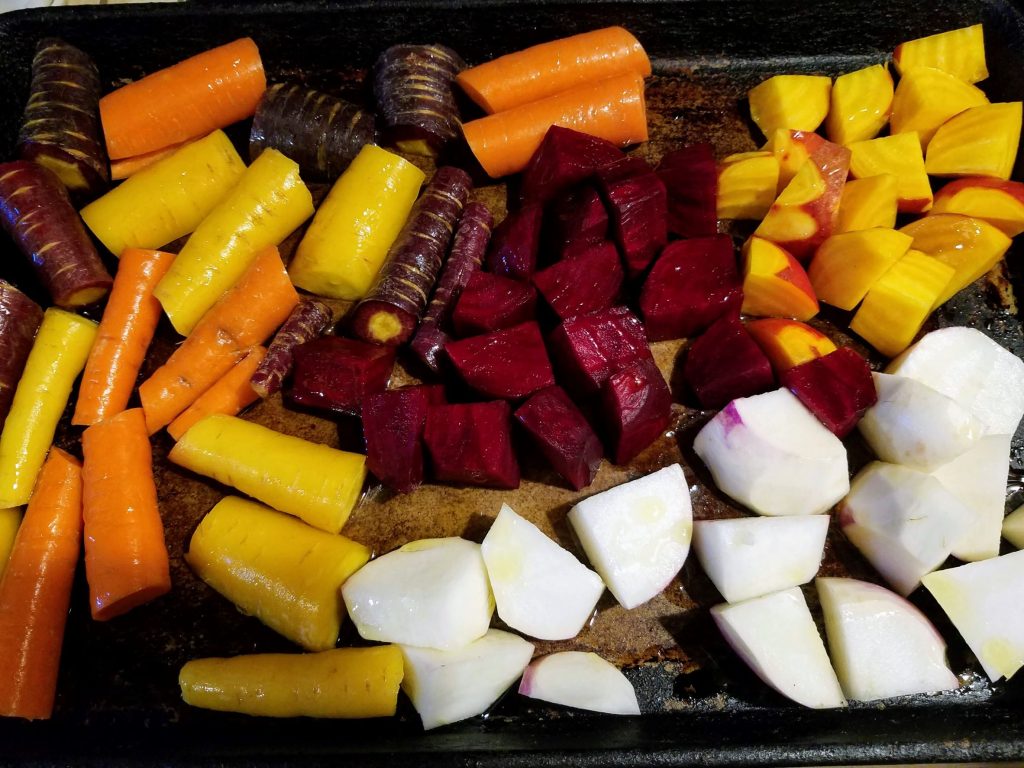 Serve this dish for Thanksgiving or Christmas or just for a fall dinner. You'll be sure to have a clean serving dish at the end of the day! Subsequently your guests get plenty of veggies and vitamins and minerals in the process of consuming these! Carrots are loaded with Vitamins A and K, Biotin, magnesium and potassium.
These colorful root veggies are sure to be a hit with your vegetarian, gluten free, and dairy free guests. We usually run out of this at family gatherings.
You can even prepare these carrots advance, also. But I would suggest leaving the dried cranberries pecans off until they are warmed and ready to serve. After roasting, cool completely and move to an airtight container to refrigerate. Then warm on a baking sheet or in a covered oven safe baking dish loosely covered with foil at 325 degrees for 13-18 minutes or until warm. Add more thyme and toss with some of the cranberries and pecans. Then top the dish with the remaining.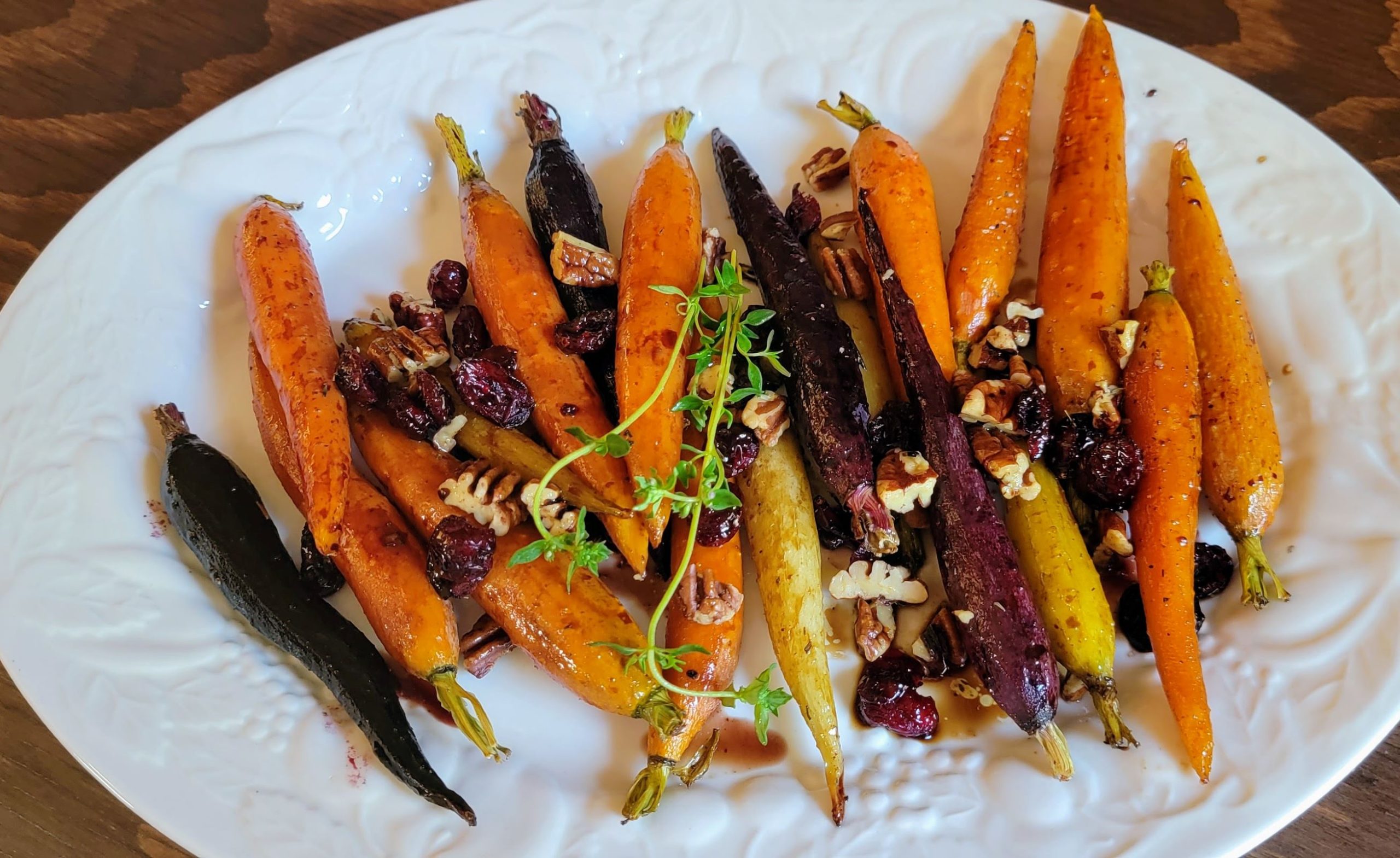 Colorful Roasted Carrots with Maple, Balsamic, Cranberries and Pecans
Simple roasted carrots with a bit of sweetness and tartness are the perfect compliment to many a dinner. Perfect for Thanksgiving or Christmas, but also pairs wonderfully with a Fall Pork Tenderloin.
Equipment
1 or 2 rimmed stone bar or rimmed baking sheet
Ingredients
2 -16 oz. Packages Trader Joe's Les Petites Many Colored Carrots or 2 lbs. other multi colored carrots with stem portion

3 tbsp olive oil

8-10 sprigs fresh thyme

salt and pepper

2 tbsp maple syrup

1 tbsp honey

2 tbsp balsamic vinegar

½ cup dried cranberries

⅓-½ cup pecans, whole or halves
Instructions
Preheat oven to

400

°F

. Stir together the maple syrup, honey, and the balsamic in a small bowl and set aside.

Place the carrots on a rimmed stone pan or cookie sheet. Drizzle with olive oil and toss together. Add thyme sprigs, and Kosher salt and black pepper.

Roast for 20 minutes or until the carrots are almost tender when poked with a knife. Pour the maple, honey, balsamic mixture to the carrots and bake 5-10 more minutes.

Remove from the oven. Add the cranberries and pecans, reserving a few for the top.
Notes
I like to use two pans to roast these just so they aren't too crowded. Also, before you place in the oven, move the purple carrots together so they don't spread their color to the lighter colored carrots. 
Instead of using the easy Trader Joe's Les Petite Carrots, use organic store bundled multi colored carrots with the stems. You can cut most of the stem off leaving a inch or so of green on the end. It looks pretty that way.