Risotto is a dish I have come to love more recently, as I was not at all familiar with this dish growing up, as my Italian family never served it. You can eat this as a main dish or a side dish. We served it with a marinated tri tip, which complimented it perfectly. For me, it is a true comfort food. For the gluten intolerant, it is also a great choice for an entrée when ordering out, as it can easily and is often made gluten free. Make sure to ask if the broth is gluten free and for the highly sensitive, also the spices, herbs, and even the cheese, which sometimes can contain gluten or contamination.
Once you find a basic recipe you like, you can add in so many different ingredients for a twist. If you can't have dairy, leave the cheese out and substitute dairy free butter for the butter. It will still be creamy and delicious! I love mushrooms of all kinds, but my husband does not, and since this one did not have them, I couldn't keep him away from the bowl! There is still at least one serving left, so I'm happy, though!
Get creative and have some fun! You can skip the recipe for risotto if you remember the ratio of fat, rice, and liquid amounts. I typically use 2-4 tablespoons of fat, 1 cup of rice, and 4 ½ cups of liquid. The other ingredients you can use how much you like. You do also need a bit of patience to stir continuously and add the liquid slowly, adding more after each addition is absorbed, as that is what produces that creamy texture. This version came extra creamy with the little bit of mozzarella it contains. Yummy!
~Laura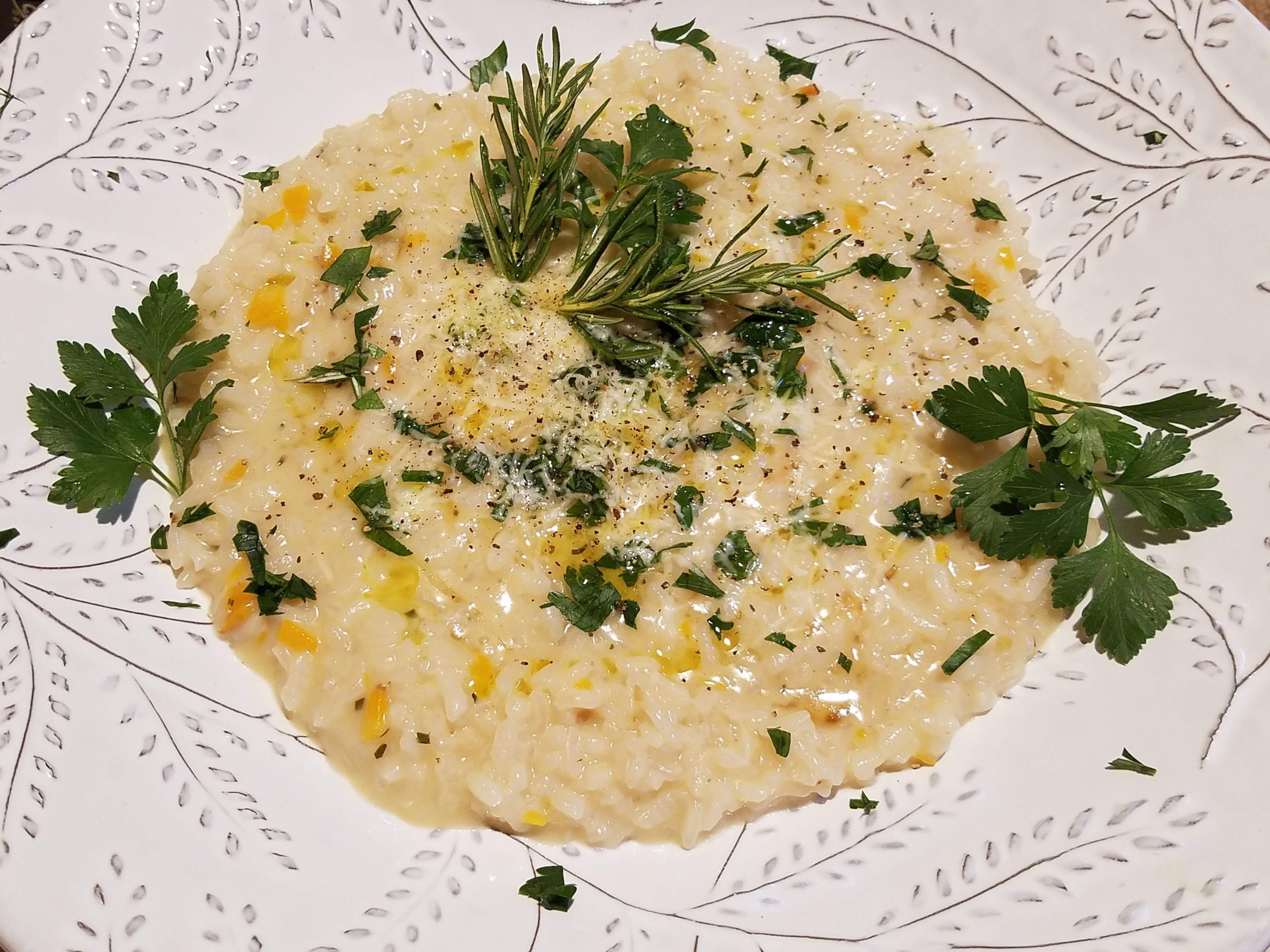 Creamy Gluten Free Risotto with Fresh Herbs, Carrots, and Honey Drizzle
Ingredients
2 tablespoons extra virgin olive oil

2 tablespoons butter

¼ cup finely diced white onion

1 clove garlic, minced or crushed

½ small purple carrot, minced fine

¼ teaspoon salt

1 cup Lundberg Arborio rice or substitute a gluten free brand of arborio or carnaroli rice

½ cup dry white wine or dry rose wine

4 cups chicken or vegetable broth, gf

½ teaspoon of fresh rosemary, chopped very fine

1 oz. mozzarella cheese, sliced

1 oz. asiago cheese, grated fine

Salt to taste

2 tablespoons of Asiago, grated

1 tablespoon parsley, chopped fine

2 teaspoons orange blossom honey or mesquite honey, for drizzling on top

Extra virgin olive oil, for drizzling on top

Crushed black pepper
Instructions
Heat the broth in a saucepan or in a bowl in the microwave until just hot to touch.

In a 4 quart saucepan over high heat, heat the olive oil. Turn the burner to medium low and add the butter to the saucepan. Saute the diced onion, sprinkled with the salt, until it is beginning to soften. Stir in the garlic and diced carrots and continue to cook until the vegetables are very soft in texture.

Add the rice to the pan and stir well to coat the rice. Cook for a few minutes until it smells "toasted", stirring with a wooden spoon or a rubber spatula.

Stir in the white wine or rose wine. Use a large spoon or ladle to add about ⅓ cup of hot broth at a time. Simmer at a high simmer and stir continuously with the wooden spoon or rubber spatula until the broth is absorbed. Continue adding in the broth by ladleful, as the broth is absorbed, and until all of the broth has been added and the rice is just slightly undercooked, or al dente, about 15-20 minutes

Lower the heat to low and stir in the cheeses until melted, about 3-4 minutes, reserving the 2 tablespoons of asiago cheese for serving. Once the cheese has melted and most of the liquid has been absorbed, turn the burner off. Add additional salt to taste. Cover the pan and let sit for 5-8 minutes until the rice thickens a bit, but is still very creamy. 

Spoon into a serving bowl and top with chopped parsley, the remaining asiago cheese, a drizzle of olive oil, a drizzle of honey, and crushed black pepper.
Notes
I love risotto! It's also one of my favorite menu items to order when I'm dining out, because (if you ask) it is often made completely gluten free and is a great option for gluten free diets. It's more like a meal for me than a side dish, loaded with intricate and complex flavors; the rice makes it so much more satisfying and filling than say, a plain vegetable salad. I love those too though, but when I'm dining out, I love it when there are a few options on the menu that I can choose from.