Jump to Recipe
Print Recipe
My husband and I have been to Romania and Hungary many times, and my kids several times also, as we worked with an organization called Caminul Felix, which means "Happy Home" in the cities of Oradea, and Felix, Romania. We flew into Budapest, Hungary many times. The city of Oradea, Romania, is three to four hours by bus, from Budapest, Hungary. The organization developed a program where orphaned children of Romania of all ages, would be placed in a large home with 10 to 18 children, with a set of parents to care for and love them. These were children that had not received care and love previously, after the harsh cruelty of a dictator who ruled during the 80's, and left hundreds of thousands of orphans. Many of the children who came to Caminul Felix came from state run orphanages where they did not have the resources to take care of babies and children, and they were often left unattended for many hours of the day. Many children were not able to talk or walk, or lead a normal life when they arrived.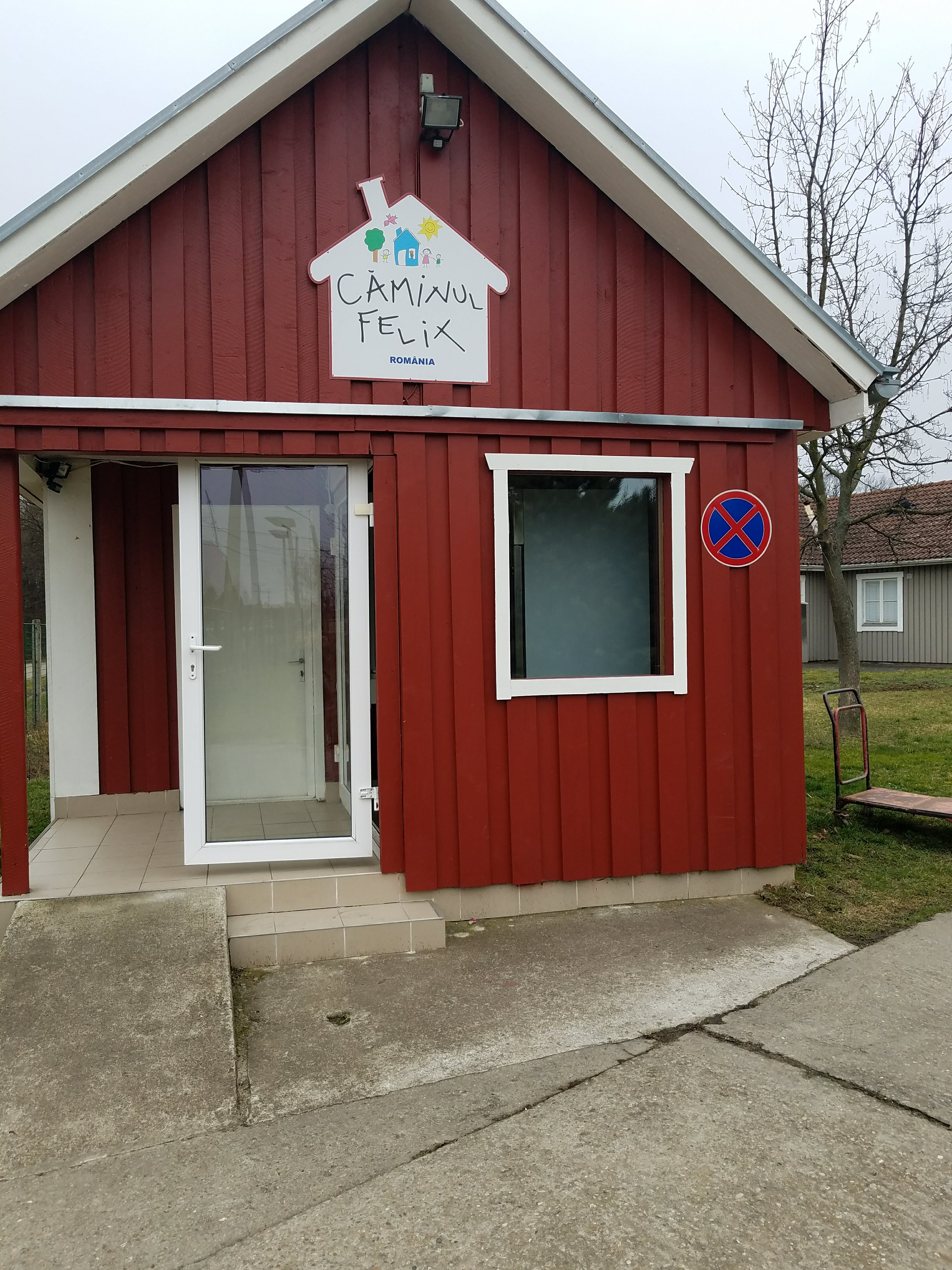 Caminul Felix, the "Happy Home" in Romania
We went over several times with a team from Santa Cruz to build a home for a family, a community playground, basketball court, and even apartments for some of the young adults coming out of the program. It was amazing to see what the gift of love in these children's lives could do. We loved to be apart of the work they were and are continuing to do. And what a welcome we received each time we arrived! The people of Romania are warm and friendly, and we made many friends with parents and children over the years (and the people we traveled with also!). What a blessing! When we arrived at the Budapest airport, someone from Caminul Felix would meet us and we would travel across the border into Romania, always stopping at a favorite restaurant for a spicy bowl of hot goulash, before arriving at Oradea or the town of Felix, where the two orphan home villages are located. We were treated so special, served delicious foods and treats and were welcomed into the homes of these people who love and serve God by giving their lives to serving these kids, making a huge commitment to raise them.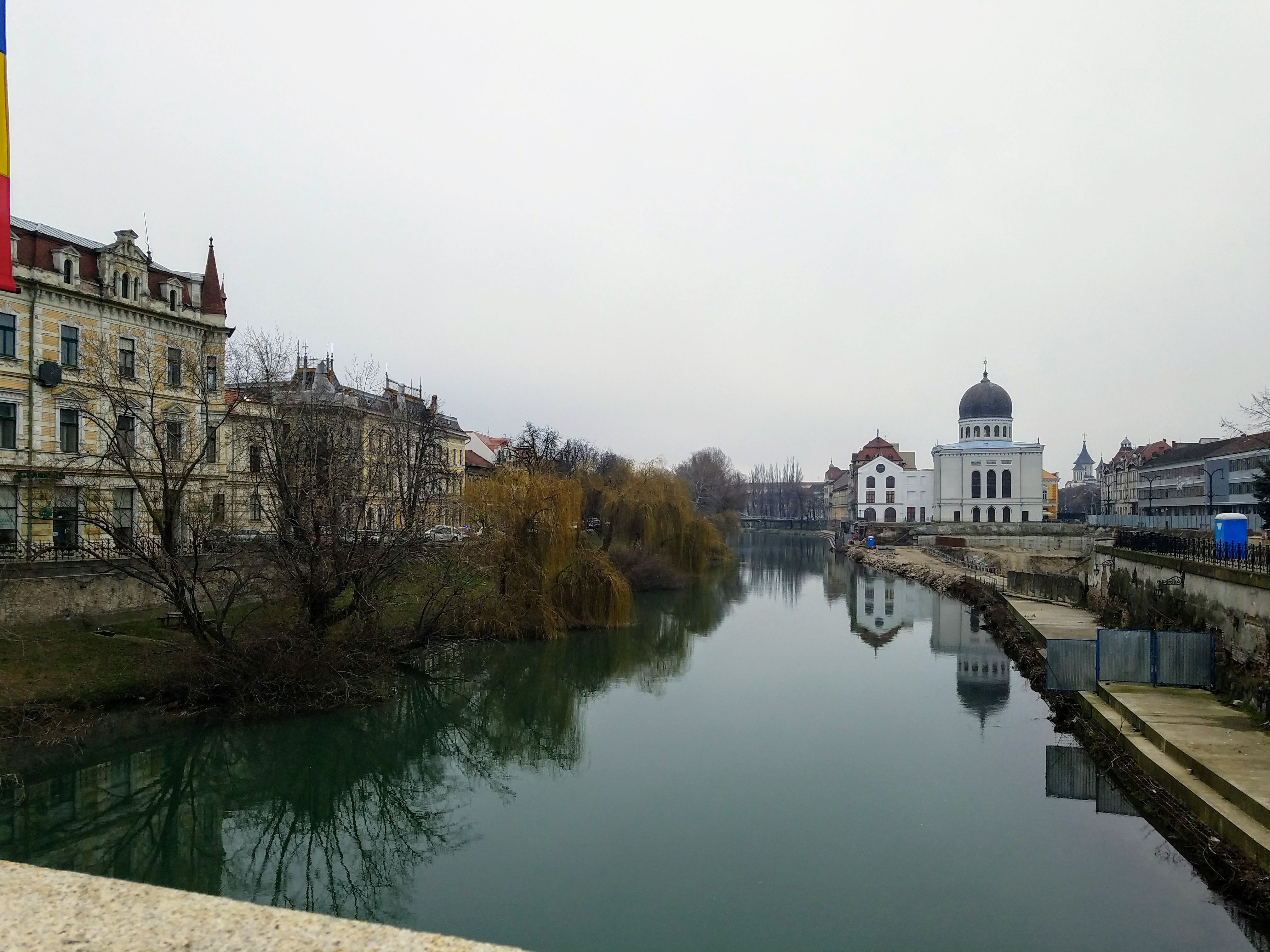 Oradea, Romania
Touring in both Oradea and other cities of Romania was wonderful also. The architecture and history in the cities we saw is so rich. Oradea has many beautiful sights and we also were able to visit Cluj-Napoca, Romania with our dear friends, Ghita and Radiana.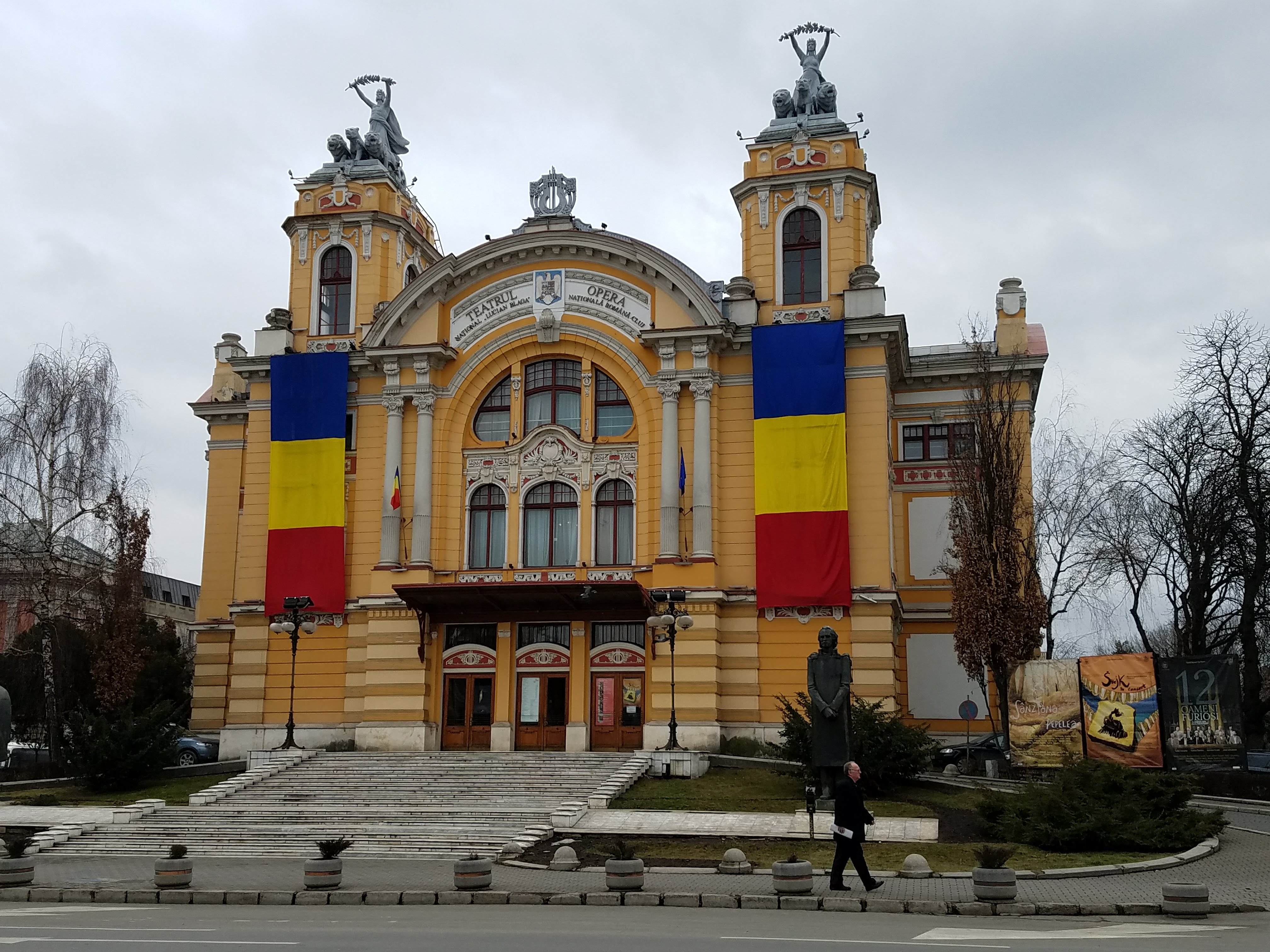 Beautiful Streets of Cluj-Napoca, Romania
The foods and soups there are amazing! I came up with this recipe many years ago as we longed for the delicious food when we hadn't been to visit for some time. It was missing a little something and the last time we were in Budapest, I discovered it was cumin! In Romania, the goulash is a soupy texture and can range in spiciness. In Hungary, they often serve goulash with Hungarian spaetzle, a small dumpling, and the soup can also be quite spicy! Sometimes we were served it in caldron type pots, and sometimes as a deconstructed soup, with the meat, speatzle, and potatoes served separately on a large plate. However you serve it, it is delicious! I hope you like it 🙂 You may not be able to find Hungarian wax peppers, and you can definitely substitute another chili, in it's place. I really like the flavor of the pasilla pepper and it's not too spicy. I have adapted this recipe to not be too spicy, for our whole family to enjoy, and you can add more paprika and peppers per your liking.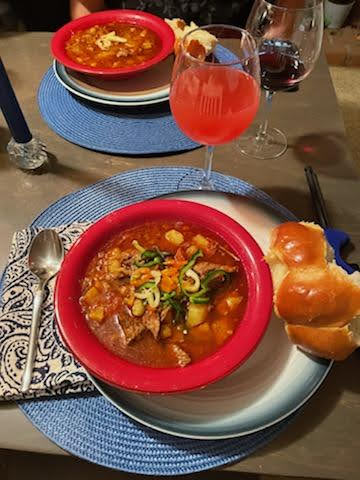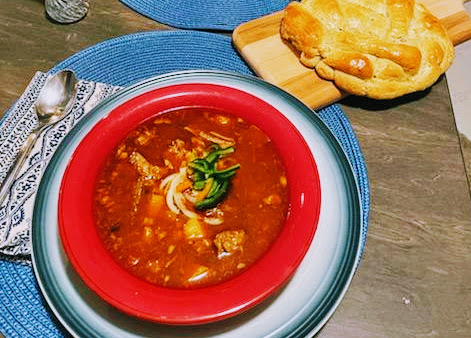 Hungarian Goulash (Gluten Free)
Ingredients
4 tablespoons

olive oil

1 medium to large

onion

minced

3 – 4

cloves garlic

crushed

2 – 2 1/2 lbs

chuck roast

cut into 2 inch cubes

3 cups

beef broth

gluten free

3 cups

water

1

Hungarian wax pepper or Guero Chili

seeds and membranes removed, and minced

1/3 of a

pasilla pepper

chopped fine

4 tablespoons

Hungarian paprika

or other, gluten free

1/2 teaspoon

cumin

gluten free

3 – 4

medium potatoes

golden, diced

1

tomato

chopped 

More peppers chopped fine for topping the goulash with: Serrano peppers, Hungarian wax peppers, Guero Peppers, Pasilla peppers.
Instructions
Sauté the onion in 3 tablespoons of olive oil in a Dutch oven over medium high heat.  When the onion is translucent, add the garlic and sauté for 15 seconds. Turn off burner and remove the onion and garlic to a bowl.

Salt and pepper the meat cubes.

Heat a Dutch oven on high heat with 1 tablespoon of olive oil. Sear the beef chunks, until a nice crust is visible, in two batches, turning to brown each side evenly.

Add the chopped peppers and sauté for a minute. Add the broth and stir, then the water, paprika and cumin. Add the onion and garlic back in and give a stir. Bring to a simmer and cook on the stove top until tender or move to the oven and cook at 300 degrees for 2 1/2 – 3 hours.

When the meat is tender, but it can still cook longer to make it more tender, add the diced golden potatoes and the chopped tomato. Stir in and cook at 325 degrees in the oven for 1 hour to 1 hour, 15 minutes more. Remove from the oven.

Salt and pepper to taste 1/2 – 3/4 teaspoon salt.

Add more Hungarian wax or pasilla peppers to taste or mince finely and pass for those who like a bit more spice in their goulash.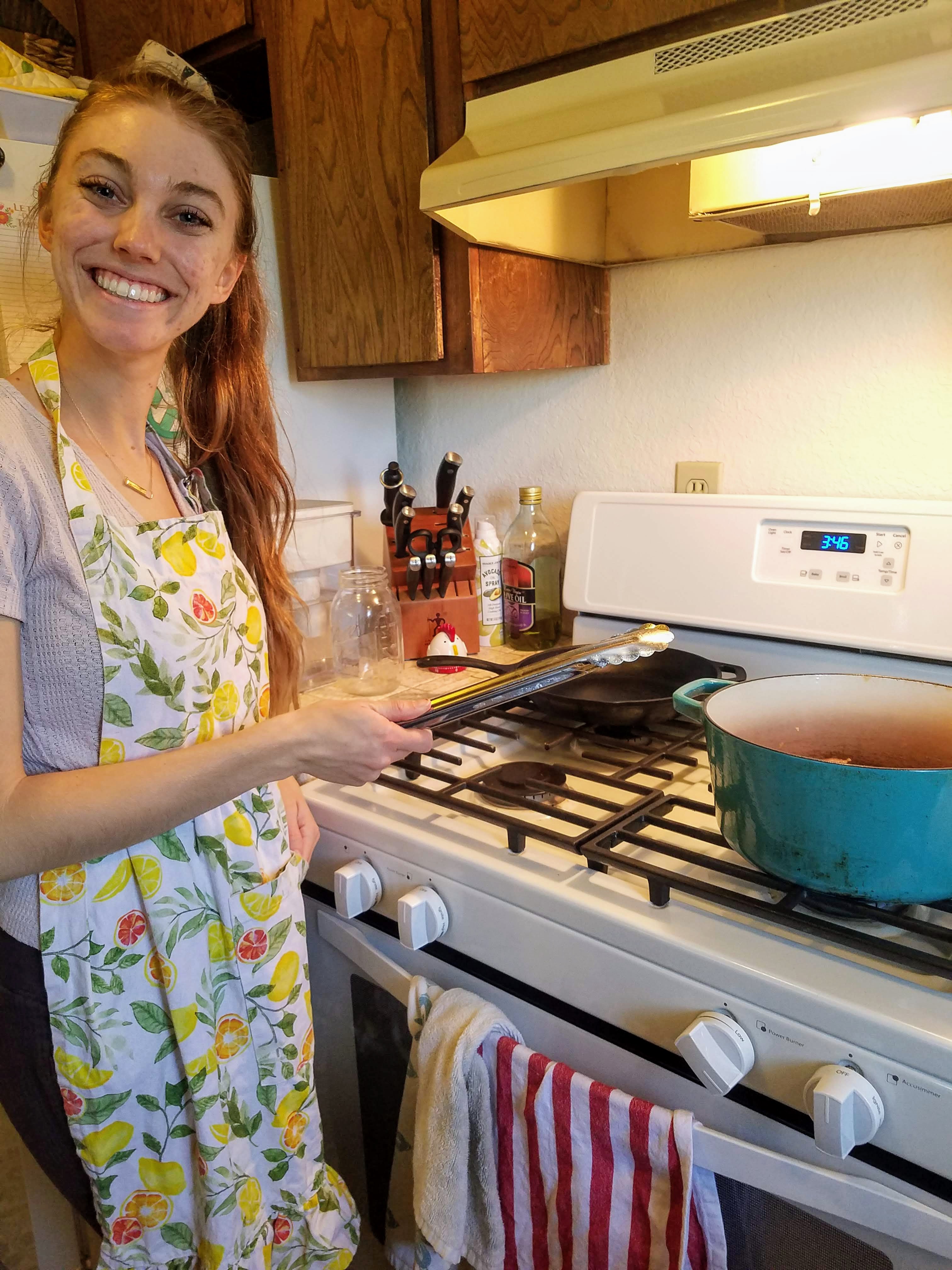 Daughter Corinne making her first Goulash for her husband who is of Hungarian heritage!