Jump to Recipe
Print Recipe
Both delicate flavors and smooth texture are found in this light and airy cornbread. It's such an easy gluten free bread option also and is super satisfying! I wonder why more restaurants don't have a gluten free option for us non gluten eaters?
This recipe combines Maseca brand instant corn masa flour which is gluten free, but also has a coarser cornmeal for a wonderful flavor and texture. Slice down the middle and slather it with some freshly whipped honey butter and enjoy!
Paul, my husband, loves his cornbread extra sweet, so here we've doubled the amount of sugar, using organic and unbleached cane sugar. This type of sugar is my preference when using sugar in recipes, although often I substitute maple syrup or honey for up to half of the total sugar. This version is really more like a corn cake, so you can't go wrong!
Serve it with chili or soup or to accompany any lighter meal. It goes great with barbecued chicken also.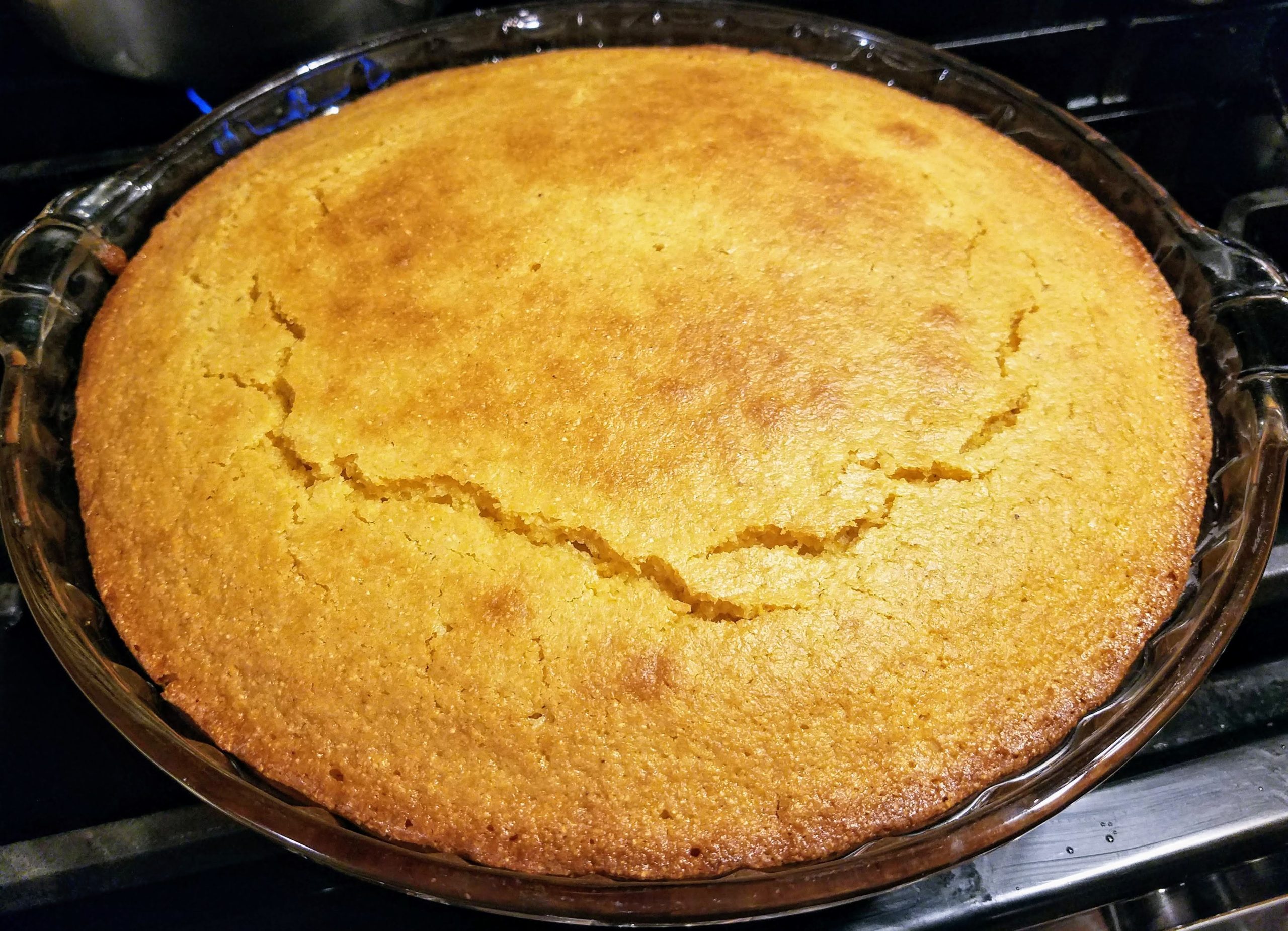 Paul's Favorite Sweet Gluten Free Cornbread
Ingredients
1 cup Safeway Organics Gluten Free Corn Meal

1/2 cup Maseca Gluten Free Instant Corn Masa Flour

2 tablespoons of tapioca flour, gf

2 tablespoons of potato starch, gf

1/2 cup organic cane sugar

3 1/2 teaspoons of baking powder, gf

5/8 teaspoon baking soda, gf

1/2 teaspoon guar gum or xanthan gum

1/4 teaspoon salt

1 cup minus 1 teaspoon of whole milk

1 teaspoon of apple cider vinegar

1 large egg

1 large egg yolk

1 tablespoon maple syrup or honey

1/2 cup vegetable oil, canola oil, or avocado oil

1 teaspoon vanilla, gf
Instructions
Grease an 8" round or 8" square glass baking dish or for corn muffins prepare a muffin pan with paper liners or grease the cups of the muffin tin. Preheat the oven to 400 degrees F.

Stir together the corn meal, masa corn flour, sugar, tapioca starch, potato starch, baking powder, baking soda, guar gum, and salt in a large bowl.

In a medium bowl, whisk to combine the milk, vinegar, egg and egg yolk, maple syrup, oil, and vanilla.

Pour the liquid mixture into the dry ingredients and stir with a rubber spatula or wooden spoon until well combined. Let sit for 5 minutes until bubbly.

Pour into the prepared glass pan and smooth the top or into the prepared muffin tray for corn muffins. Bake for 15-20 minutes for corn muffins or 20-25 minutes for a round pan, until golden brown and a toothpick comes out clean when inserted into the center of the muffin or round.

Remove from the oven and serve piping hot with whipped honey butter or butter.