Jump to Recipe
Print Recipe
These rice bowls (gluten free) are so perfect for a quick meal! Loaded with flavor and color, fresh fruits, and vegetables, you will feel great after eating. None of that "heavy meal" feeling in your stomach after eating!
You can use shrimp and chicken in the recipe or tofu for a vegetarian option
You can use just shrimp if you like, or just chicken in these. Of course the chicken will need to cook a bit longer, but your meal will still be done in the amount of time it takes to cook your brown rice. Tofu would also be a great choice with all the flavor in the sauce and the salad.
An easy dinner with less mess
I love bowl dinners, because there's less mess usually, and if serving for several people they have to option to dish out what they like in their bowl. My husband leaves the Citrus Mango Salad and the avocado slices off his ;), but that means I get a double portion! You can prepare the salad several hours in advance, then cover and refrigerate. The sauce can be made in advance of marinating the chicken or shrimp. Just cover and refrigerate until ready to use.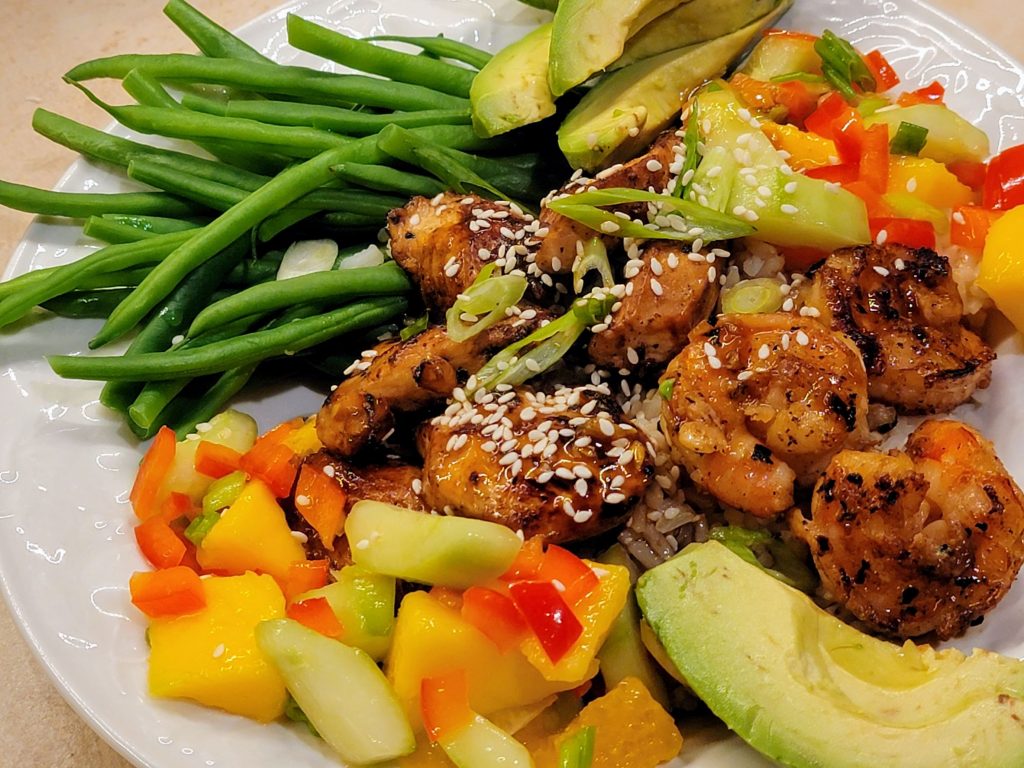 Chicken or Shrimp?
Prepare the sauce beforehand. Cut the chicken, use boneless chicken thighs or boneless breasts or breast fillets, into bite sized pieces and marinate for 45 minutes to 1 1/2 hours. For shrimp, I prefer to use raw, easy peel jumbo sized. Removing the tails works best for this recipe. You can buy fresh or even frozen shrimp. I often buy Costco's Kirkland Frozen Large Tail On 21-25 Shrimp Per Pound. They are flash frozen, chemical free, and easy to thaw then you want to use less than the 2 lb. bag.
I also love shopping the seafood counter at Whole Foods Market. They have a large supply of seafood and often things you can't find other places. You'll want to marinate the shrimp for just thirty minutes before pan frying them. Any longer will result in the shrimp cooking in the citrus marinade.
What kind of rice should I use?
For health reasons, including more fiber and less sugars, brown rice is my first choice. However, the brown rice will also detract from the flavors since it has a stronger flavor, making white rice a better choice. But either is great and will work in this dish. Trust me, no one will complain when they're tasting all the vibrant flavors in your rice bowls (gluten free)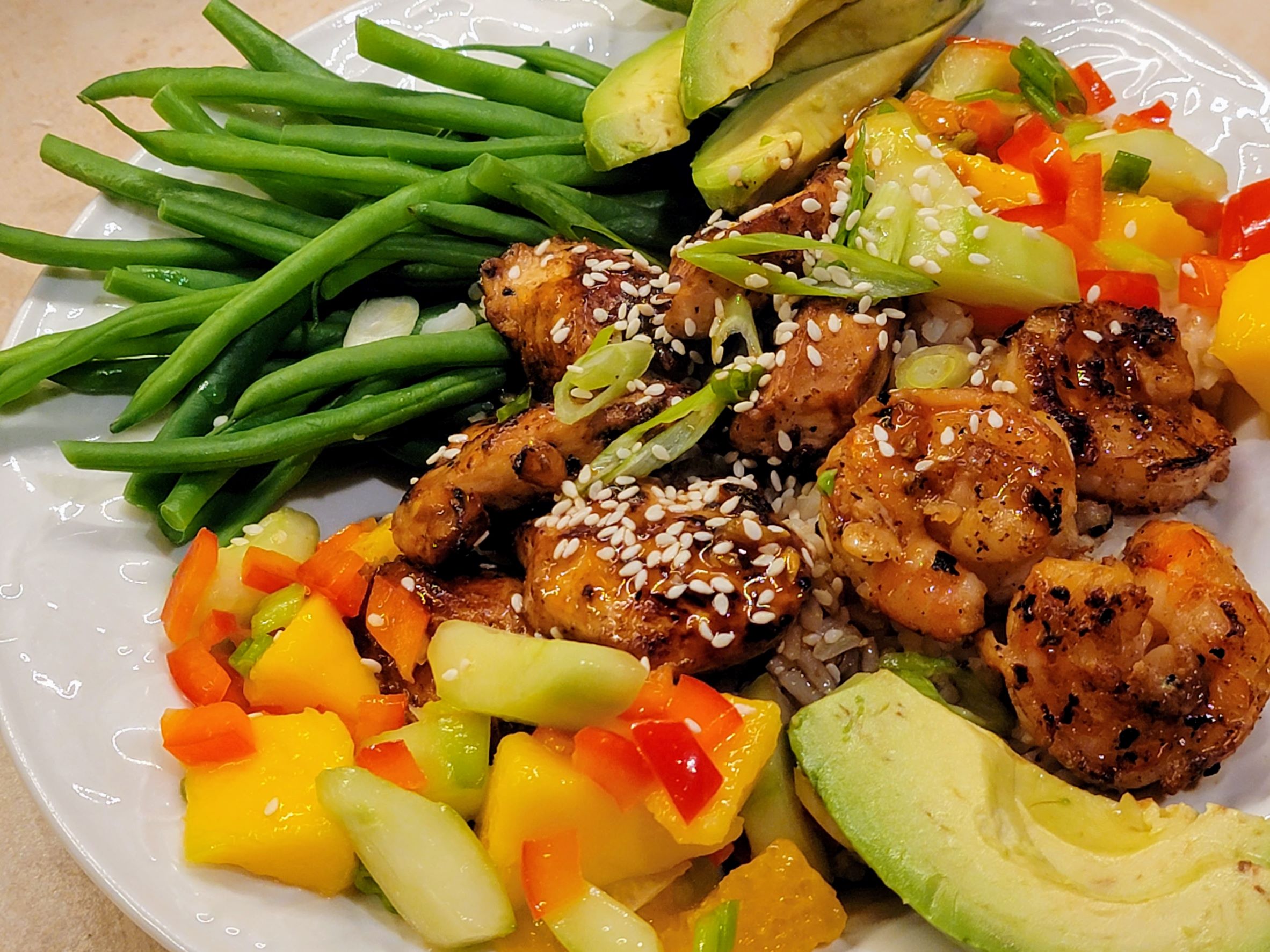 Citrus Mango Shrimp and Chicken Rice Bowls (Gluten Free)
Perfect dinner for a long day. This one takes little time and if you don't have shrimp on hand, you can use chicken which will be delicious too!
Ingredients
Citrus Marinade/Sauce
4

tbsp

San-J Gluten Free Soy Sauce

Reduced Sodium or tamari, gf

4

tbsp

orange juice

3

tbsp

lime juice

4

tbsp

honey

or pure maple syrup

3

tbsp

canola, avocado, or vegetable oil

2

large

clove garlic

crushed or minced

1½

teaspoon

fresh ginger

peeled, grated or finely minced

1½

teaspoon

Sky Valley Sriracha Sauce

or other gf brand
Citrus Mango Shrimp and Chicken Rice Bowls
1

lb.

large shrimp

peeled, tail off

1

lb.

chicken breasts

cut into 1" pieces

1

recipe

Citrus Marinade/Sauce

1

teaspoon

Argo cornstarch

or gf brand

1

recipe

Mango Salad

1½

cups

white or brown rice

cooked

1

avocado

sliced

1

teaspoon

sesame seeds

1

green onion

sliced, to top bowls

16

oz.

green beans

cooked, al dente, warm or cool
Mango Salad
1

large

mango

cubed

1

large

cucumber

seeded and quartered, then 1/4" thick pieces

1

large

mandarin or navel orange

peeled and cubed

1

tbsp

red bell pepper

finely minced

2-3

green onions

green portion only, sliced

1

teaspoon

honey

1

teaspoon

lime juice

½-1

tbsp

minced jalapeno

optional
Instructions
Citrus Mango Shrimp and Chicken Rice Bowls
Stir together in a bowl the gluten free soy sauce, orange juice, lime juice, honey, oil, garlic, ginger and gluten free sriracha. Divide the sauce/marinade between three bowls.

Add the chicken pieces to one bowl and marinate for 45 minutes – 1½ hours.

To the second bowl add 1 teaspoon cornstarch. This will be the sauce. Set aside.

Make the Mango Salad. Cover and refrigerate.

When about 45 minutes from serving, add the shrimp to the third bowl of Citrus Marinade/Sauce. Let the shrimp marinate for 20-30 minutes before cooking.

Cook your white or brown rice. Prepare the green beans.

Heat 1 ½ tablespoons oil in a large cast iron, wok, or skillet. Add the chicken pieces in a few batches, cooking and browning on one side for 3-4 minutes before turning to cook on the other side for a minute or two, or until done. Remove the chicken to a bowl. Repeat for the next batches.

Wipe out the skillet. Add another tablespoon of oil to the skillet and heat over medium to medium high heat. Cook the shrimp in a few batches. Cook for 2-2 ½ minutes per side, turning when then shrimp turn pink. Remove to a bowl. Continue to cook the remaining shrimp.

Add the chicken and shrimp back into the skillet or wok and add the remaining bowl of sauce. Stir quickly to thicken. Turn off the heat and continue stirring.

Assemble bowls by adding a spoon of cooked rice, green beans, shrimp and chicken. Spoon Mango Salad next to the chicken and shrimp. Add a few slices of avocado. Top the chicken and shrimp with sliced green onion, and sesame seeds.
Mango Salad
Add to a medium sized bowl the mango cubes, mandarin cubes, cucumber, red bell pepper, green onion, honey, lime juice and optional minced jalapeno. Cover and refrigerate until ready to serve.
Notes
The shrimp and chicken will get a little charred from the sugars in the marinade. This caramelization will make the protein delicious. Just stir the shrimp or chicken pieces often to not burn the sauce in the pan. 
The dish looks like it has a lot of ingredients, but remember these are the ingredients for your whole dinner. I like to try to keep most of these ingredients on hand in my refrigerator or pantry, including the ginger root, garlic, limes, oranges, honey, gluten free soy sauce and gluten free sriracha. 
The marinade/sauce mixes up easy and once divided, you can add a teaspoon of cornstarch to a third of the sauce for pouring over the cooked shrimp and chicken.  
A fan of rice bowls (gluten free) and curious about more rice recipes? Check out:
Mediterranean Lemony Rice Pilaf (Gluten Free)
Moroccan Brown Rice Pilaf with Dried Fruit (Gluten Free)
Saffron Rice (Gluten Free)