Jump to Recipe
Print Recipe
How about a fairly simple salad that displays beautifully and tastes delicious, plus it's loaded with vitamins and minerals? We love decorating our salads with lots of color and flavors! Sometimes when making a salad, I first access what ingredients I have on hand that will include unique texture and color. Then I run to the store for any special ingredients needed.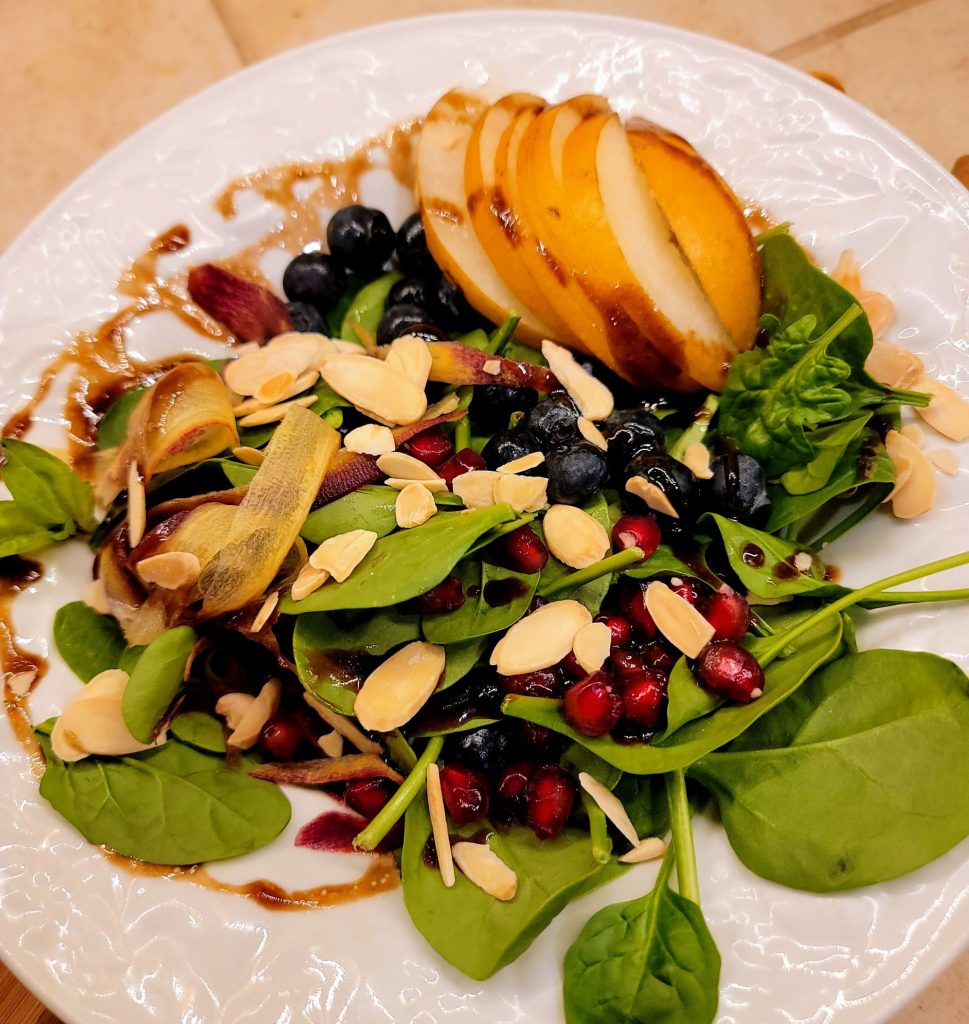 Eat your Veggies!
I find that if I keep a lot of vegetables and fruits on hand, I am much more likely to make more dishes that use them, which means I'm eating more vegetables and fruits!
Cutting up fresh fruits and vegetables ready to eat and stored in containers, makes them a very accessible and easy snack for your family. Purchase some stackable sealable containers for the best use of refrigerator space.
Serve this salad as a start to a meal or as the main dish
Our Crisp Apple and Roasted Beet Salad is just the ticket if you want a colorful salad! With roasted golden and red beets, red onions, thinly sliced apple, raw or toasted pecans, and a small amount of goat cheese or gorgonzola, it's a great side dish or main dish. You can add more nuts or cheese for added protein for a main dish. Or you might serve this salad before a nice hearty soup.
Easy and no mess to make these roasted beets
Roasting the beets in foil is a great, no mess way to make them. First, cut the greens from the beets and save. You can wash well, then braise these or pan fry with garlic for a perfect vitamin filled side dish. Second, scrub each beet thoroughly. Then wrap each in a piece of foil, crimping to seal at the ends. Next, roast on a foil or parchment lined tray in a 450 degree oven for 40-50 minutes or until tender when a knife is inserted. The roasting time will vary depending on the size of the beets and the color. Yellow beets tend to roast slightly quicker, but they are sometimes smaller as well.
Cool the beets before removing the foil. Using a gloved hand, simply remove the skin by rubbing the gloved hand across it. The skin comes off with ease! Discard the skins. Then just slice the beets into 1/4″ thick rounds or refrigerate in a sealed container for 1-3 days for later use.
Then have fun decorating your salad
Add these in a decorative fashion or just scattered to a bed of lettuce. Butter, red lettuce or spring mix works well for a pretty display. Add your apple slices (dipped in lemon and water if they will be sitting for a half or a full day), red onions, goat cheese, and pecans or almonds, and the salad is nearly complete! Cover with cellophane, or use a bowl with a lid, and refrigerate for the beets to get cold. Top with pecans and dried cranberries, and drizzle with dressing just before serving.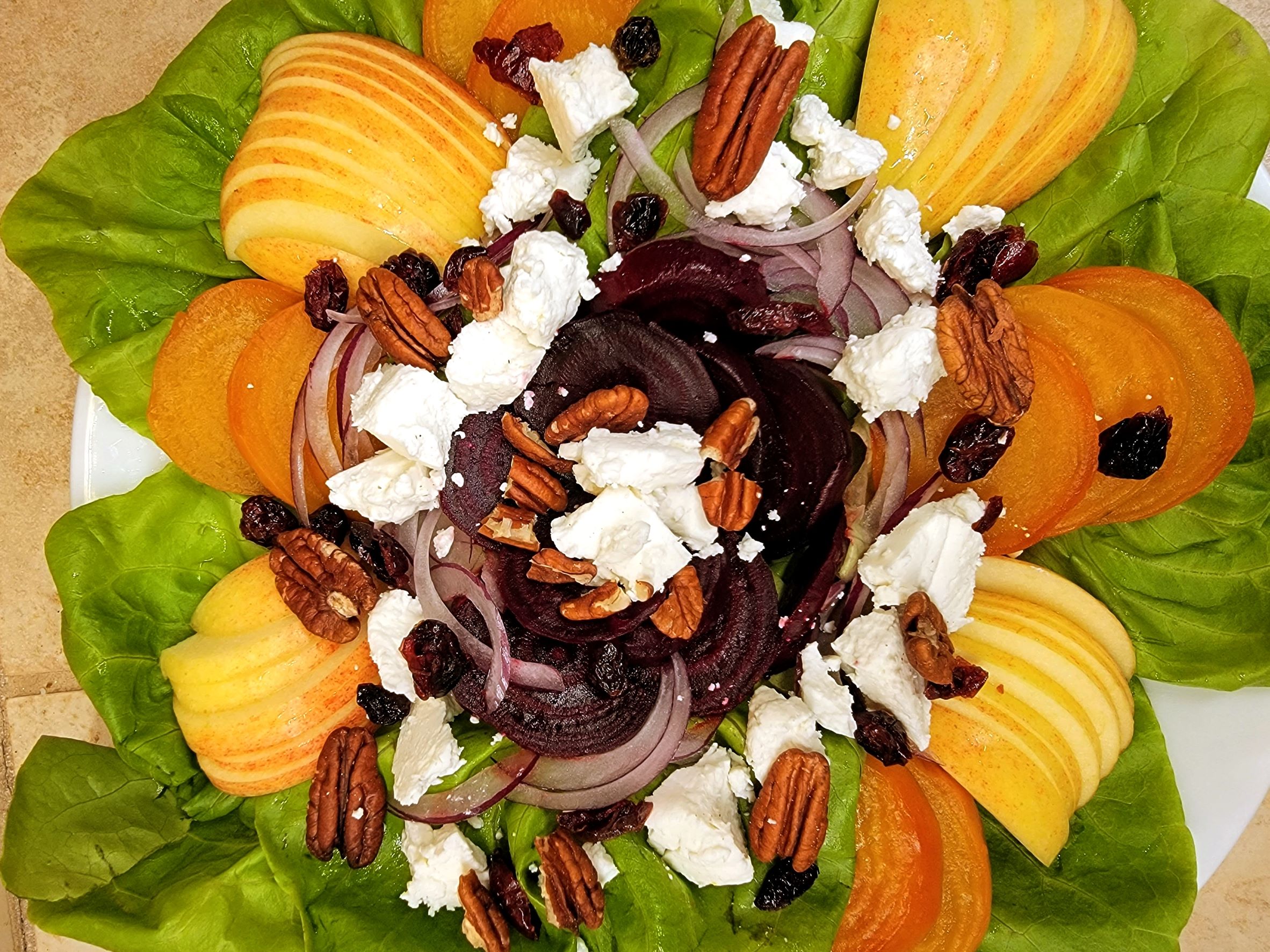 Crisp Apple and Roasted Beet Salad (Gluten Free)
Not only is this salad a very pretty and colorful salad, it also is loaded with vitamins and minerals!
Equipment
aluminum foil 10" squares

baking sheet or tray

lined with foil or parchment
Ingredients
1

bunch

golden beets, scrubbed, greens removed

1

bunch

red beets, scrubbed, greens removed

1

living butter head lettuce or butter lettuce, leaves rinsed and dried

or 1 5 oz. bag of spring mix

1

large

pink lady or Fuji apple, cold

1

teaspoon

lemon juice mixed with 1 teaspoon of water

½

red onion, thinly sliced

5

oz.

goat cheese or Trader Joe's Chevre with Honey Goat's Milk Cheese, sliced or broken

or gorgonzola cheese, crumbled

⅓

cup

raw or toasted pecans

or Marcona almonds, gf

¼

cup

dried cranberries or dried cherries
Honey Balsamic Dressing
2

tbsp

balsamic vinegar

1

tbsp

white rice vinegar

gf

1

tbsp

Dijon mustard

gf

1

tbsp

honey or pure maple syrup

¼

teaspoon

kosher salt

¼

teaspoon

dried thyme or oregano

gf or ½ fresh thyme leaves or oregano leaves

3

tbsp

avocado oil or extra virgin olive oil
Instructions
Crisp Apple Roasted Beet Salad
Preheat the oven to 450° F. Line a baking sheet with foil or parchment.

Wrap cleaned beets, stems removed, in foil squares and crimp to seal the edges. Roast in the center of the oven for 40-50 minutes or until tender when inserted with a sharp knife. Remove and let cool.

Unwrap the beets using a gloved hand. Hold in one hand while running the other gloved hand over the skin to gently slide off. Use a paper towel to remove any remaining skin pieces.

To a medium sized platter, add the washed and dried lettuce pieces in a circular fashion or the bed of spring mix.

Slice the beets into ¼-⅜ pieces. Set some in a fanned position in the center of the lettuce bad. Place the others in several other places.

Quarter and core, then thinly slice the chilled apple, keeping the pieces in order. If your salad will be sitting for a half a day or more, dip each quarter apple stack in the lemon and water solution to keep them from turning brown. Add the fanned stack to several places on the lettuce bed.

Top with goat cheese or gorgonzola and red onions. Cover and refrigerate until ready to serve.

Add pecans or Marcona almonds to the top. Add the dried cranberries or dried cherries. Serve Honey Balsamic Dressing alongside or drizzle over the top.
Honey Balsamic Dressing
In a 2 cup measure or small bowl, combine the vinegars, Dijon, honey, salt, and thyme or oregano. Pour in the oil and whisk together until combined. Refrigerate until ready to use.
Notes
Don't have apple on hand? Use sliced yellow bell peppers to add some varied color, flavor, and texture to this salad. You can also add some fresh organic micro greens for some variety.