It's feeling like fall here in the woods, so how about some Chicken Tortilla Soup, with just a little capsaicin heat and lots of delicious flavors! I'm blaming COVID for not having all the fun toppings for this, but it was still delicious.
You can add any of these to the top: cilantro, avocado slices, sour cream or cotija cheese if you like. Cutting thin strips of tortilla and frying them makes a great topping also. But often we just crumble store bought gluten free tortilla chips, for a little less bother. For the hominy, my favorite is Juanita's Original Mexican Style Hominy.
When I serve this for guests, I always have a bit of chopped jalapeno out also, for those who like it spicier.
Today, I didn't have my can of stewed tomatoes I normally use. What I did have were some grape tomatoes, so I chopped those and the soup turned out great.
The tomatillos for this recipe were homegrown from our deck garden. They survived the CZU Fire!
Speaking of the fire, we want to say thank you to the fire fighters, first responders, or neighbors who watered our plants while we were evacuated for two weeks. And of course to the fire crews for saving our home and neighborhood!
(Updated 1/28/2023)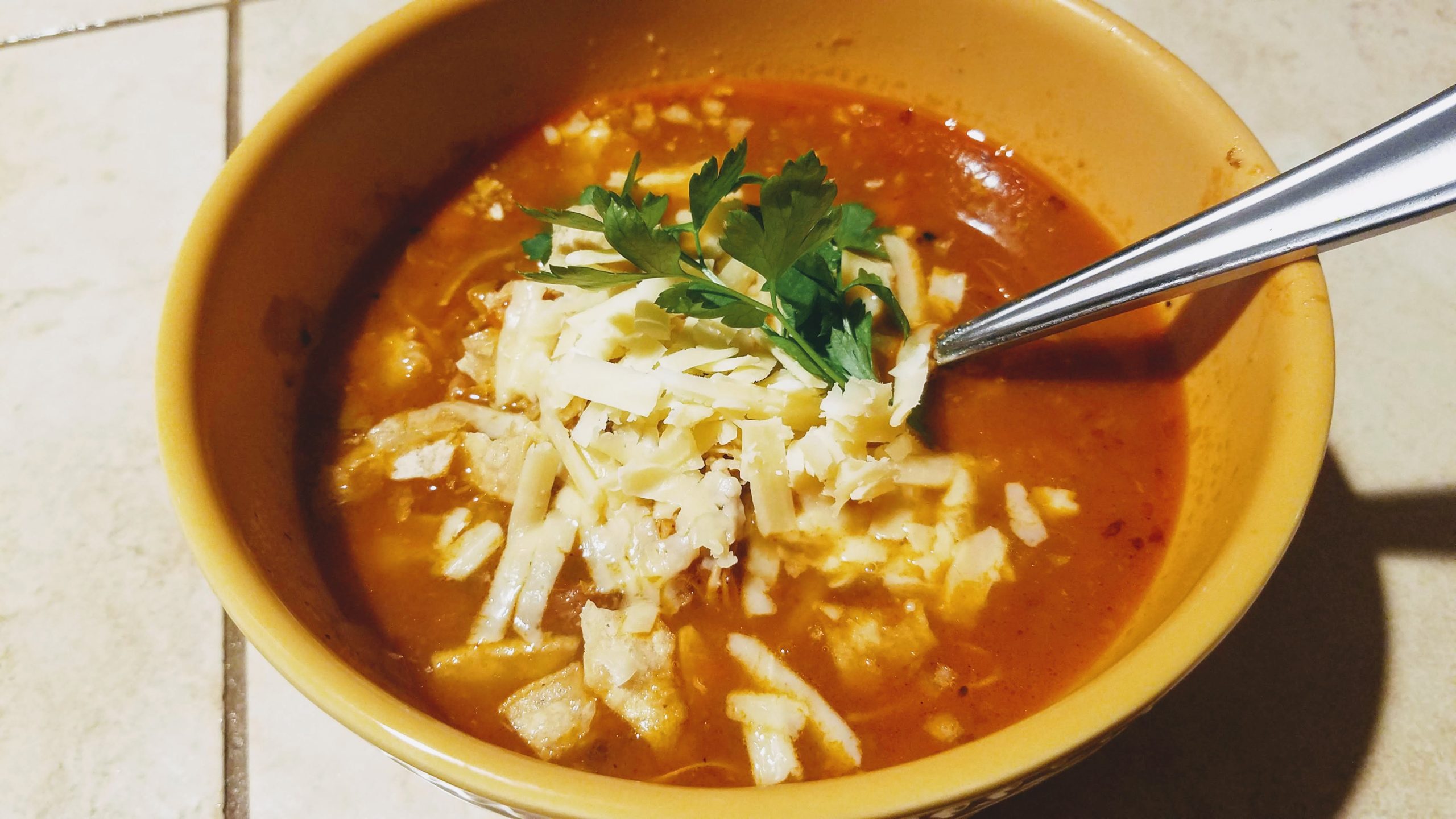 Gluten Free Zesty Chicken Tortilla Soup
Busting with flavor and healthy vegetables, this soup is sure to be a hit!
Ingredients
4-5 boneless chicken thighs or 4 boneless breast halves

3 tablespoons of olive oil

3/4 large onion, or 1 medium, chopped

5 large garlic cloves, minced or crushed

2 celery stalks, diced

1 carrot, diced

1 1/2 teaspoons salt

1 – 28 oz can of stewed tomatoes (or substitute 2 cups of grape tomatoes, cut in quarters plus 1/2 cup water)

3 tablespoons of tomato paste

1 1/2 -2 Anaheim chili peppers

6 or 7 tomatillos

1 1/2 teaspoons chili powder

gf

1/2 teaspoon of ancho chili powder

gf

2 teaspoons ground cumin

gf

1 teaspoon coriander

gf

1/4 teaspoon oregano

gf

4 cups chicken broth

hg

1 1/2 cups water

1/2 can (25 oz) Juanita's Original Mexican Style Hominy

or other gf brand

1/2 can (15.5 oz) great northern or cannellini beans with 1/2 the liquid
Garnish Ideas:
bought gf tortilla chips or strips of corn tortillas (cut gf corn tortillas, cut in strips and fried)

avocado slices

grated cheddar cheese or crumbled cotija cheese

cilantro, chopped

diced jalapeño

sour cream
Instructions
Set oven to broil. Lay the whole, washed Anaheim chilis and the whole (peel off the outer skin) tomatillos on a tray (or tray lined with foil). Broil until charred on one side, turn over and broil until peppers and tomatillos roasted on the other side. Remove from oven. Set aside to cool.

When cool enough to handle, remove the top of the peppers and seeds, then peel the skin off. Remove the skins from the tomatillos.

Dice the peppers and save 1/2 of one to add in if you would like more spice. Save the seeds as you can add for some hotness also. Cut the tomatillos slightly.

In a large Dutch Oven or stockpot, over medium high heat, saute the onion with 2 tablespoons of olive oil for a minute. Add the celery and carrot and salt and continue until slightly soft. Add the crushed or minced garlic and saute for 30 seconds. Remove this soffrito to a bowl.

Heat over high heat, in the stockpot or dutch oven, 1 tablespoon of olive oil.  Add the chicken when the oil is hot. Salt and pepper lightly. Brown the chicken pieces on all sides.

Add to the stockpot with the chicken, the can of diced, stewed tomatoes (or cut fresh tomatoes and 1/2 cup of water), chili powders, cumin, coriander and oregano. Add chicken broth and 1 1/2 cups of water, tomato paste, soffrito, diced roasted Anaheim peppers and tomatillos. Simmer the soup on a low burner for about 1 1/2  hours. Add the hominy and beans and continue to simmer for another 30 minutes or so. 

Give a taste to see if you need more spice. If so, add in a the extra 1/2 of Anaheim pepper and some of the reserved seeds. Remove to bowls and serve with all the toppings for each person to garnish.
Notes
I like to serve this with warm tortillas and butter or corn bread and butter. There's nothing like it on a cool fall or winter night!