Jump to Recipe
Print Recipe
Where, oh where, has my Ryze Flour gone??
I'm so sad that recently I have not been able to get my hands on any Ryze Flour, my favorite gluten free flour blend. Ryze is a blend of rice flour and doesn't contain any xanthan gum, but acts as if it does, so it's incredible for baking. I have been looking for the past year for it, and I've come up empty handed! 🙁 Maybe if you see it in stores near to you, comment as to where you've found it. I try to minimize the amount of flour blend with xanthan gum I bake with (and also many 1 to 1 blends contain cellulose, which I cannot tolerate), so I'm having to be even more creative. This recipe does contain some xanthan in the Bob's Red Mill, but it's a minimal amount. My recipes often contain more than one flour, the reason being is they don't all taste the same or give the same result. While it may seem like a lot of flour types to have on hand, keep in mind that you won't go through them super fast unless you are baking a lot.
Versatility in a dough ~ What do you want to make?
This week's bread recipe is a Gluten Free Cheddar and Rosemary Loaf or Focaccia Bread. I made it to be formed into two small loaves, or one larger loaf, a traditional thicker focaccia bread or a thinner focaccia. The recipe will even make one thinner focaccia bread to enjoy the day you make this, and one smaller loaf of bread to enjoy over the week. This bread is so light, you'd never know it was gluten free! The top of the loaves are crisp and even on the third day it still has amazing texture, after storing in parchment and a paper bag. On the third day you could still enjoy this just sliced (it doesn't even need butter) or you could toast it and enjoy it warmed and crisp on the crust and outside. The cheese in it makes it toast very nicely. The sharp cheese flavor definitely comes through, as does the sourdough taste.
Make sure your gluten free sourdough starter is fed before starting
For this recipe you do want to make sure your sourdough starter is fed before. Simply pull your starter out of the refrigerator and remove (we call this discard) ¾ -1 cup to a bowl or measuring cup to use for Gluten Free Sourdough Waffles or Gluten Free Sourdough Cheese and Herb Crackers. Then feed your starter 1 cup of Ryze Gluten Free Flour, gluten free brown rice flour, or gluten free millet or sorghum flour, plus 1 scant cup of water. I have found these gluten free flours work well in gluten free sourdough starters. Stir to combine and cover lightly with a towel for 2-4 hours or until bubbly. At that point you are ready to start your bread recipe.
For many of my sourdough recipes, they have an overnight rise, but this one is sped up by the yeast in it. So, if your gluten free sourdough starter is fed, you can have this bread loaf or focaccia bread ready to enjoy in just 3 ¼ to about 4 ¼ hours.
And again, with the kitchen scale??
Okay, I will try to back off on this, because I may sound like a broken record! But, baking with a kitchen scale is so much easier to get the same results each time, so I would suggest picking one up if you like to bake. Or if you want your coffee to be precise every time, as my son-in-law taught me. It does come so much better with the accuracy of a scale.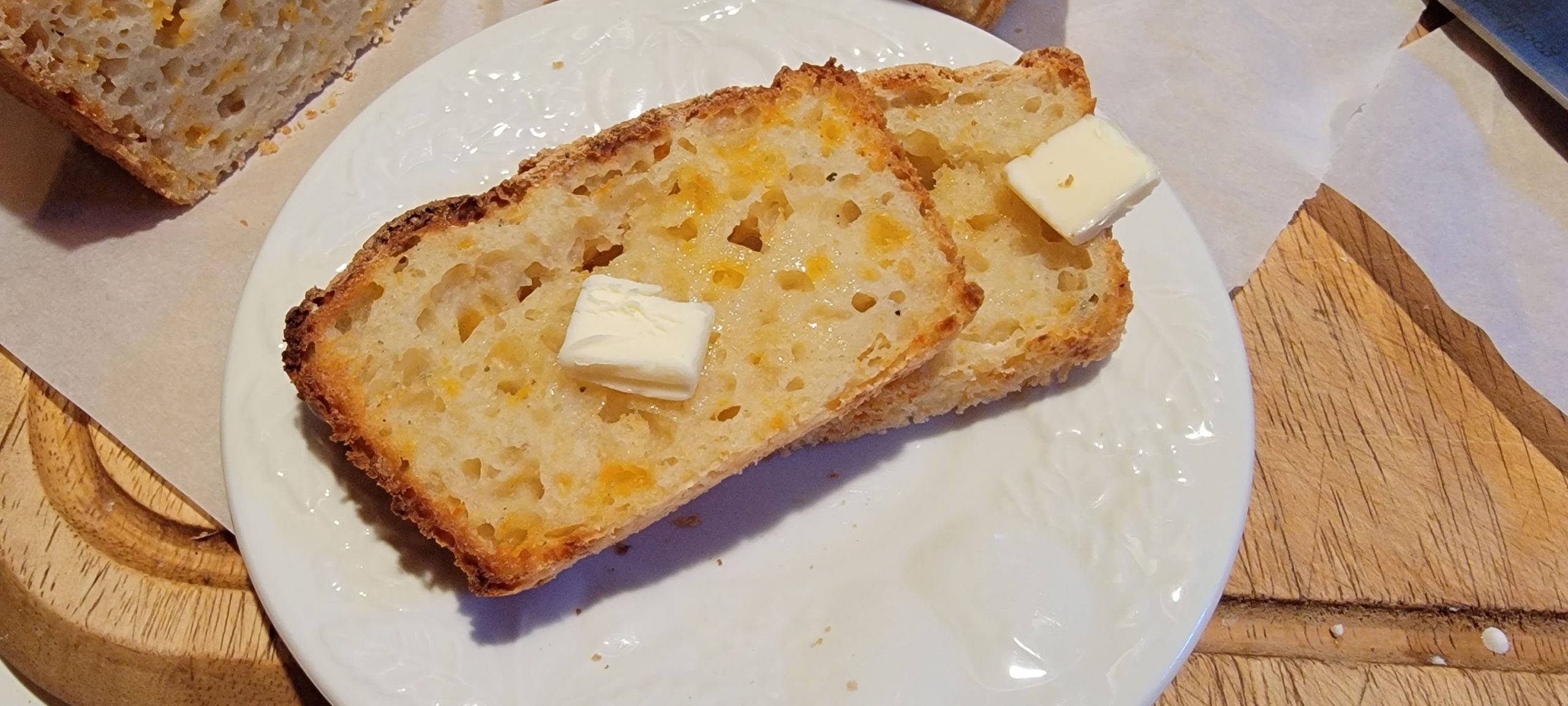 Gluten Free Cheddar and Rosemary Sourdough Loaf or Focaccia Bread
Cheesy bread is always a good idea! Serve this with your favorite pasta, soup, or salad, or for breakfast, try it as a toast. A versatile recipe you can make as a single larger loaf, two small loaves, thick focaccia bread, or two thinner focaccia pans.
Equipment
1 1 or 2 stone pans or baking sheets or 1, 9x4x4 inch or 2, 8X4X2 inch bread loaf pans

1 a baking/cooking thermometer 

optional, but helpful

1 Stand Mixer or Hand Mixer

optional, but helpful
Ingredients
1½ cups

warm water

1½ teaspoons

Fleischmann's Active Dry Yeast, gf or other gluten free yeast

1½ teaspoons

cane sugar or other sugar

1 cup

(227 g) gluten free sourdough starter, 90-100% hydration, fed

¾ cup plus 1 T

(120 g) Bob's Red Mill 1 to 1 Gluten Free Flour or other gf blend with xanthan gum

1 cup

(134 g) Bob's Red Mill White Rice Flour, gf 

½ cup

(59 g) Bob's Red Mill Millet Flour, gf

⅞ cup plus 1½ T

(110 g) Bob's Red Mill Tapioca Flour, gf

2 tablespoons

cornstarch, gf

1½ teaspoons

Kosher salt

½ cup

(78 g)  Bob's Red Mill 1 to 1 Gluten Free Flour, or other gf blend with xanthan gum

⅝ cup plus 1 T

(2.5 ounces) sharp cheddar cheese, grated 

½ cup

(2 ounces) asiago cheese, finely grated

½ teaspoon

fresh rosemary, minced finely

¼ teaspoon

black pepper

1 clove

garlic, minced or crushed
Focaccia topping:
2-3 tablespoons

olive oil

½ teaspoon

rosemary, finely minced

2 tablespoons

asiago cheese, finely grated

coarse salt, optional
Instructions
Stir together in a medium mixing bowl the 1 ½ cups of warm water, yeast, and sugar. Let sit until mixture is bubbly, about 15-20 minutes.

In a stand mixer bowl, combine the 1 to 1 gluten free flour, white rice flour, millet, tapioca starch, cornstarch, and salt, mixing on low speed. Add the sourdough starter and the bubbly yeast mixture. Using the hook attachment mix on low for 30 seconds, then increase to medium high speed for 3-4 minutes. Stir down the bowl often to thoroughly combine. Add the ½ cup 1 to 1 flour remaining and mix for another minute or two, to attain a stiffer batter. Stir in the cheeses, rosemary, pepper, and garlic by hand or on low speed of the mixer. 

Let rise in the bowl, covered with a towel, until the dough is puffy about 1-1 ½ hours and about 1 ½ times larger in size. I like to raise mine in the oven with the oven off, but with the light on. It seems to rise better than the bread proof setting on my oven.

After raising the dough until puffy and 1 ½ times its size, punch down the dough lightly and proceed to the next step for making loaves of bread or to the Focaccia bread step. 
For Making One or Two Loaves:
Spoon the dough, which will be a thick batter, into two smaller greased and gluten free floured bread loaf pans or one larger loaf pan, such as King Arthur Perfect Gluten-Free Loaf pan, 9x4x4 inches or another type of 9 x 5 loaf pan. 

Smooth the top of the loaf or loaves using your fingers dipped in water or a rubber spatula dipped in water. 

Let rise for 1 ½-2½ hours in a warm place, covered with a towel until the bread is 1½-2 times its size, roughly close to the top of the loaf pan. 

Preheat the oven to 425 degrees.

Bake for 35-50 minutes in the center of the oven, depending on loaf size, or until the internal temperature reaches 209 degrees. Loaf will be golden brown. If the loaf is browning too much, cover the top loosely with a piece of foil for the last few minutes of baking.

Let cool for 15-20 minutes before loosening the bread and turning out onto a wire rack to finish cooling for 2-3 hours. 

Will keep on the counter wrapped in parchment and in a paper bag for several days, or in a Ziploc in the refrigerator for up to a week, and freezer for a few weeks. For freezing, place parchment pieces between individual slices, and store the loaf or half loaf in double Ziploc freezer bags.
For Making Focaccia Bread:
Spread dough between two greased with olive oil stone pans or baking sheets or if you like a true thicker focaccia, on one olive oil greased stone or pan. Smooth the top of the focaccia using your fingers dipped in water or a rubber spatula dipped in water.

Cover with a towel and let rise 1-1½ hours or until 1½-2 times higher. 

Preheat the oven to 450 degrees F. 

Using your fingertip, make indents in the dough in rows across the focaccia. Drizzle 2-3 tablespoons of olive oil over the top and into the dimples. Sprinkle reserved asiago cheese and reserved rosemary over the top. Add a pinch of coarse salt if desired. 

Bake for 12-16 minutes. Slice into rectangles and serve while hot or warm for the best texture. The slices can be reheated in a 375 degree oven for 7-9 minutes.
Notes
This is a fairly quick sourdough loaf or focaccia bread. Serve the focaccia as an appetizer or to accompany a soup and salad night. It will be a special addition to any meal, especially when serving Italian food. If you make this for a gluten free member of you family or a gluten free guest, they are sure to feel the LOVE! The loaves of bread slice well, and are perfect in addition to lunch or dinner, but also make terrific toast.