Jump to Recipe
Jump to Recipe
I know fall is almost upon us, but there's still loads of fresh sweet berries and other summer fruits still available. So today, we have an Easy Gluten Free Fruit Tart, with a basic gluten free shortbread tart shell. This dessert never disappoints. We have a restaurant nearby in Aptos, The Farm Bakery, Cafe and Gifts, which is famous for their fruit tarts. People come for miles to pick up these tarts or to place orders for a special event. However, they don't make a gluten free version. So now, you can make your own! It's really an easy recipe and it looks so impressive. You can also make the crust the night before if needed. Just cover with foil and leave out on the counter for filling the next day. Whether you choose to fill it with an assortment of fruits and berries, or just an assortment of berries, use your artistic talent and create a beautiful palette of fruit. Everyone will be amazed at the taste and beautiful display of color.
This dessert is perfect for a party as the fruit display on top looks like a celebration, with all the brilliant colors.
~Laura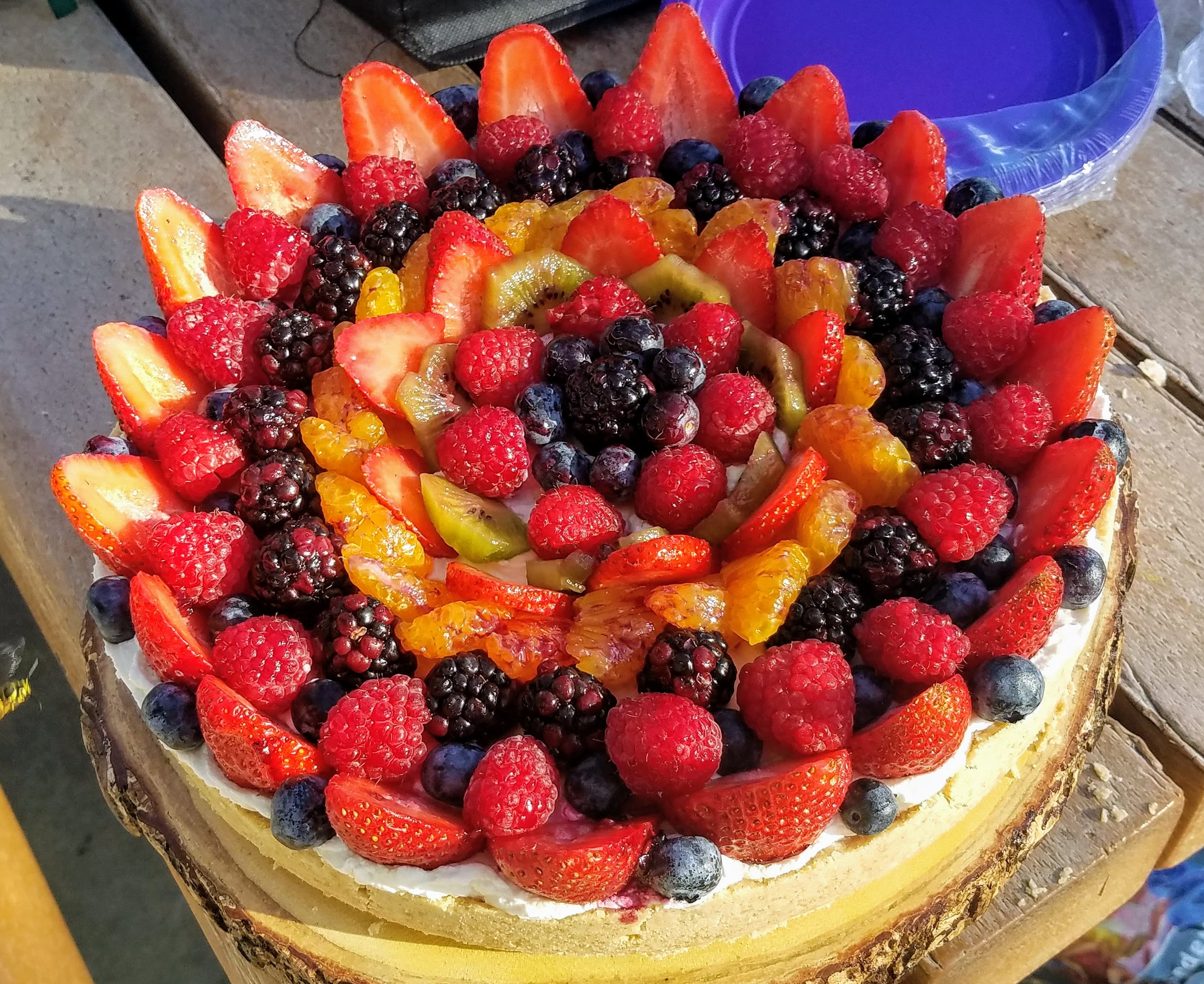 Easy Gluten Free Fruit Tart
Ingredients
Tart Shell Crust:
2 Tablespoons brown sugar

2 Tablespoons organic cane sugar

1/8 teaspoon salt

1/2 cup almond meal, gf

3/4 cup Bob's Gluten Free 1 to 1 Baking Flour

4 tablespoons of unsalted butter, or dairy free butter, cut up into small pieces

1/2 teaspoon vanilla, gf
Filling and Fruit Topping:
1 cup heavy cream

1 tablespoon organic cane sugar

1 teaspoon vanilla, gf

4 ounces cream cheese

2 tablespoons heavy cream

1 teaspoon vanilla, gf

1/2 cup powdered sugar

Assorted berries and fruits for decorating the top

1 tablespoon of raspberry jam 

1 teaspoon of water or Grand Marnier Liqueur
Instructions
Tart Shell Crust:
Preheat the oven to 350 degrees.

Combine the dry ingredients together in the bowl of a stand mixer on low speed.

Add cut up butter and vanilla and mix on medium low until the mixture has a fine crumbly texture.

Press into a 8" tart shell or springform pan lined with a parchment piece to fit the bottom of the pan.

Bake for 15 -18 minutes or until golden brown. Remove to a wire rack to cool before filling.
Filling and Fruit Topping:
Whip the 1 cup of heavy cream starting on low speed, then increasing to medium high, until lines begin to form from the beaters. Add the sugar and vanilla and continue to beat on medium high until soft and fluffy. Remove to another bowl and set aside.

Add the cream cheese and 1/2 cup powdered sugar to the mixer bowl and beat on medium speed.

When completely smooth, beat in 1 teaspoon vanilla and 2 tablespoons of heavy cream. Mix on low until combined.

Fold in 1/2 cup of the whipped cream that you set aside. Reserve the remaining whipped cream to pipe or decorate the top of the berry or fruit tart, if desired, or serve a dollop beside the slice on the plate.

Spread the cream topping unto the cooled shell. Decorate with rinsed, dried, and sliced assorted berries and fruits, kiwi and/or nectarine slices, mandarin orange segments, blueberries, raspberries, strawberries, and blackberries.

Brush the fruit with 1 tablespoon of raspberry jam mixed with 1 teaspoon of water or Grand Marnier Orange Liqueur.

Chill thoroughly before removing the bottom of the removable tart shell or springform pan. Remove parchment before serving.
Notes
Fruit tarts are some of the easiest desserts to make gluten free. The shortbread crust here actually even comes better that it's counterpart with gluten. You can also choose to use a pie crust dough, even a frozen gluten free dough that you bake before filling the tart, but honestly this one is way better. I served two of these, gluten and no gluten, side by side and everyone that tried both said the gluten free was even better. 
You can also make the crust the day before or evening before, and cover with foil until you are ready to fill the next day. 
An easy and beautiful dessert for all your guests to enjoy! Try it using just summer berries too! Yum!