Fall dinner today! For an easy dinner (gluten free and delicious) check out the recipe for these pork chops with a maple marmalade glaze. My daughter and son-in-law and granddaughter picked apples at a local farm yesterday and gifted me with some. Together with the pork chops I picked up on the way home, I knew it would bring together an amazing fall dinner! Pork chops are, also, one of the least expensive meals to make and they are easy to brown in the cast iron and then finish in the oven or grill outside. They literally cost as much as a coffee at your local boutique coffee shop, and that's for 2 beautiful, big pork chops.  We had several other projects going (oh, did I say we???)…it may have mostly been me giving my husband projects to complete for me. So, while he was making a creative backing and frame for the canvas I picked up at Ross to be hung in our outdoor hot tub area, I was brining the pork chops. I'm excited to see this mounted and hung in our hot tub area, as it's of one of my favorite places, Italy, and specifically the Cinque Terre. I'll show you the picture and finished product later after it's hung. Anyway, he was building, I was cooking. Then, while they brined for an hour, I painted the wood frame with a polyurethane to protect and seal the wood. Then back to the kitchen to finish the meal! Next was prepping the potatoes and apples, preheating the oven, and getting the glaze ingredients ready to throw in a pan. You could also use another fruit jam or even chutney if you like. I happened to have some marmalade we made last Christmas and I used that. Also the Grand Marnier Liqueur is a lovely finish for the glaze, but is completely optional. Hope you enjoy!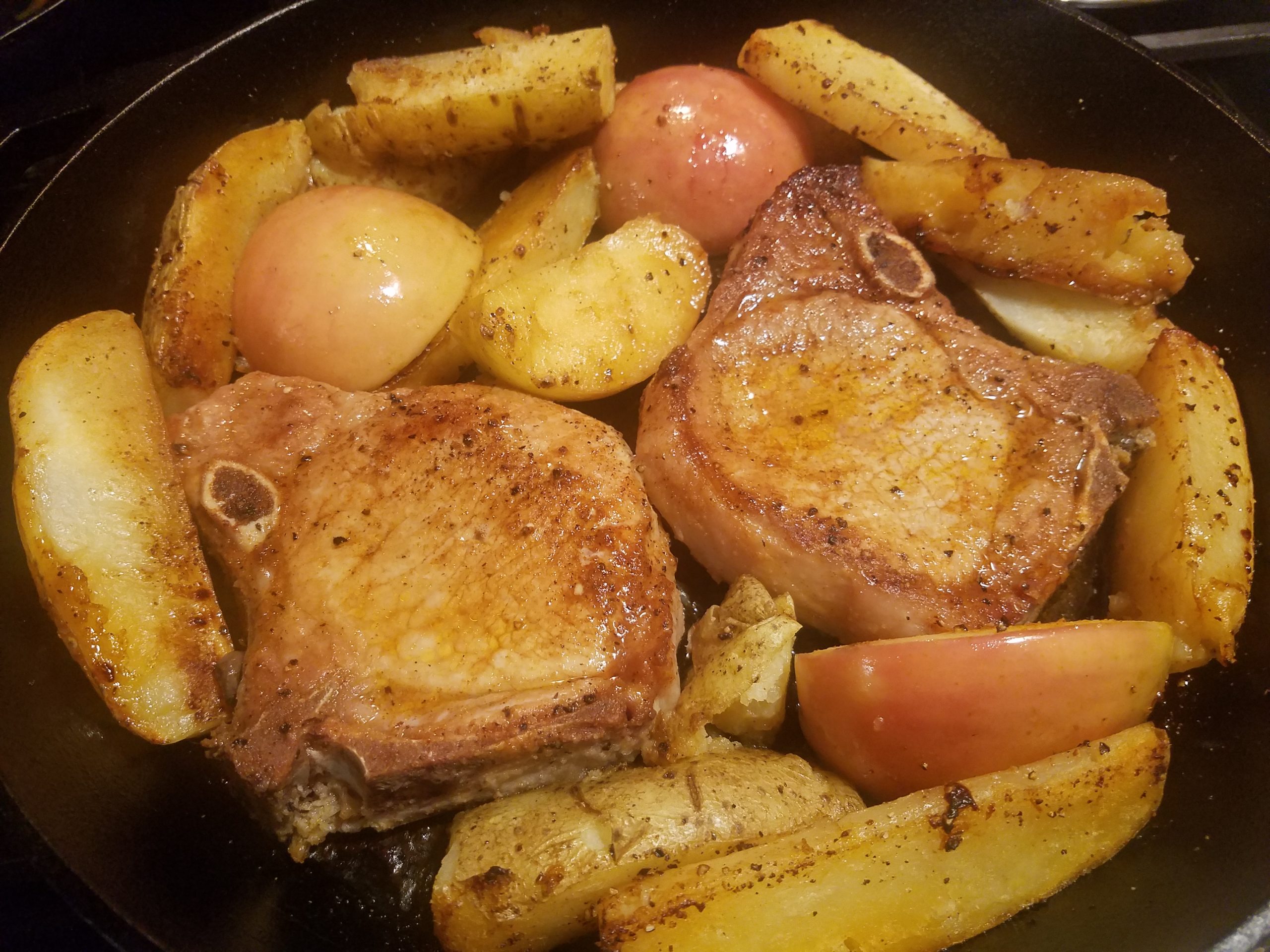 Fall Apples, Potatoes and Pork Chops in a Maple Marmalade Glaze (Gluten Free)
Ingredients
For the Brine:
1 cup

warm water

1/8 cup

kosher salt

1/8 cup

organic cane sugar

1 cup

cold water

ice cubes

handful

2

pork chops

bone in (1 – 1 1/2 inch thick)

1 1/2 tablespoons

olive oil

(bacon fat also works well)

2 small or medium

potatoes

scrubbed and cut in halves lengthwise

1 large

apple

cored and cut into quarters
Rub:
1/2 teaspoon

paprika

1/2 teaspoon

garlic powder

sprinkle of

kosher salt

each side of pork chops

ground black pepper

fresh
Glaze:
1/2 cup

water

1/2 tablespoon

oil

4 tablespoons

maple syrup

pinch of

salt

1/2 teaspoon

butter

1 tablespoon

orange marmalade or chutney

1 tablespoon

Grand Marnier Orange Liqueur

(completely optional)
Instructions
In a small bowl or glass measure cup, stir the salt and organic cane sugar into the warm water. After the salt and sugar dissolve, pour the liquid into a small, flat casserole dish to brine the pork in. Add one cup of cold water and a handful of ice cubes and cool, before adding the pork chops. Make sure they are covered with the brine. Brine, covered, with cello over the dish, in the refrigerator for up to two hours. Remove from the refrigerator at least 20 or 30 minutes before proceeding to cook these.

When ready, pour off the brine and dry the pork completely with paper towels. Set on a plate.

Mix the paprika and the garlic powder together and sprinkle over each side of the pork chops. Sprinkle lightly with salt and plenty of freshly ground black pepper on each side.

Preheat the oven to 450 degrees, rack in the center of the oven.

In a small skillet, add 3/4 cup of water over medium low heat simmer the apple quarters for 4 or 5 minutes. Remove from the pan to a small plate and pour the remaining water out of the skillet.

Microwave the potatoes halves in a bowl for 4 or 5 minutes to par cook. Slice each half into four long slices each. 

Heat the skillet on the stove with the 1 1/2 tablespoons of olive oil on high heat. Brown the pork chops for 3 to 4 minutes, then turn and brown for 3 – 4 minutes on the other side. Add your potatoes to the pan and drizzle with olive oil and sprinkle the potatoes with salt and pepper. 

In the small cast iron skillet or pan, add 1/2 tablespoon of olive oil, and heat over medium low heat. Add the apples back in and add 2 tablespoons of maple syrup and a pinch of salt and simmer on low for 4 or 5 minutes until bubbly and sticky. Remove the apples from the skillet and move to the pork chop pan in the oven.

To the glaze add 2 more tablespoons of maple syrup, the 1/2 teaspoon of butter and and orange marmalade. Simmer until bubbly. Add the Grand Marnier and simmer for 30 seconds more. Remove from the heat. 

Check the pork chops after 15 or 20 minutes. Bake until a thermometer reads 145 degrees. You may want to turn the potatoes oven to brown on the other side also, midway through the baking. Remove the skillet from the oven when up to temperature and let rest for 3 or 4 minutes.

Plate your pork chops and potatoes and apples and pour the glaze over the pork chops and enjoy.