I love to make foods with international flavors and styles! It makes our meals so much more interesting and exotic. You can even decorate according to your theme or have your guests come in attire related to your evening theme. We love dressing up here (well at least one of us does!). With daughters and granddaughters and having three sisters of my own, dressing up is not out of the ordinary.
Murder mysteries and themed dinner parties
Remember those fun mystery dinner parties that were either purchased or made up? Murder mysteries or what-knot that would liven up any dinner party? We hosted a few for our girls and we still talk about them! For our first daughter's twelfth birthday, my husband and I wrote our own play (and modified it for our second daughter also!). We prepared well in advance and sent each guest their lines in the evening play as well as their character sketch. The birthday guests were encouraged to come in proper dress and act their part.
Sapphira B. Bright was the birthday girl. In the play her birthday sapphire necklace was stolen in the mystery (we didn't want to have a murder mystery for thirteen year old girls!). But the night was complete with a "staged" person coming to the door to get shelter out of the storm, and the lights went out several times during the night. So fun! Then there were Bollywood parties with Indian cuisine and music and Hollywood parties complete with our own runway. There was always dress up involved and decorations and themed food! What would life have been if I had boys??
What to serve with this Moroccan Brown Rice Pilaf
This is such a fun rice to enjoy and spice up any meal. You could make this to accompany a simple chicken or fish dish, or pork. I think some kebabs would pair perfectly with it so maybe I'll try that next time! I made it with Marinated and Grilled Greek Chicken, Cucumber and Tomato Greek Salad, and Gluten Free Sourdough Flatbreads this time, and it was delicious! And Morocco is on the Mediterranean Sea, so I thought it worked well together.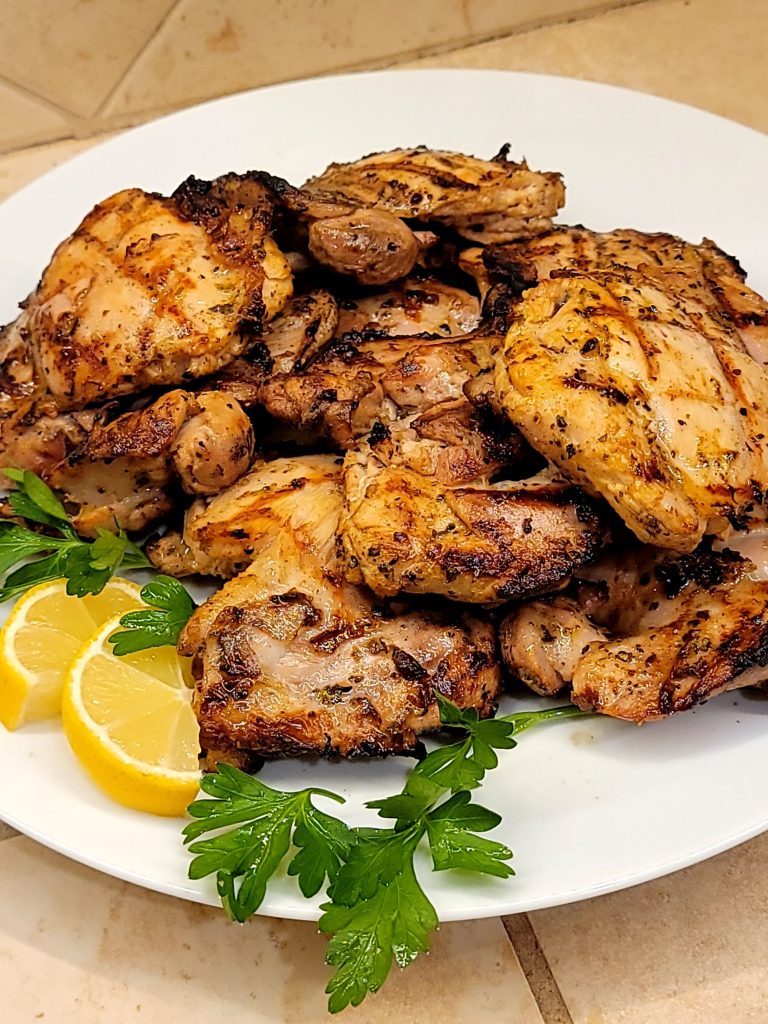 Plenty of herbs and spices and a bit of sweetness in this dish
I love the little bit of allspice and cinnamon in here, especially with the dried fruit. You could use whatever dried fruit you like. I love the Trader Joe's Sliced Dried Mandarins to add a little citrus in, but apricots, raisins, golden raisins, and dates would be delicious too. The turmeric and paprika give it delightful color and the toasted nuts on top, just a little crunch and texture.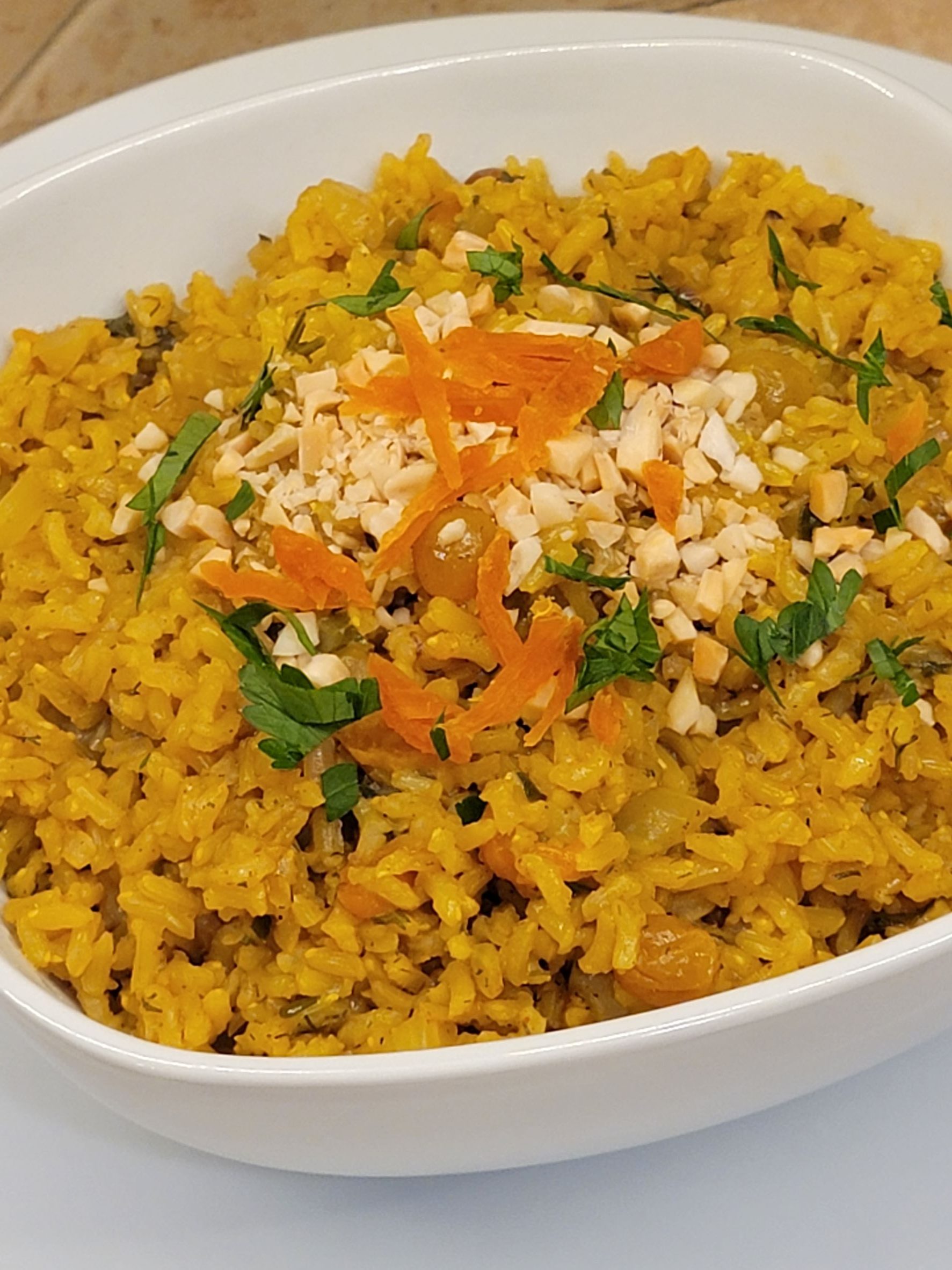 Moroccan Brown Rice Pilaf with Dried Fruit (Gluten Free)
A slightly sweet rice pilaf. So delicious!
Ingredients
1½

tbsp

olive oil

extra virgin

½

small

red onion

minced

1

stalk

celery

minced

¾

cup

brown rice

½

teaspoon

dried dill

gf

½

teaspoon

Kosher salt

more to taste

½

teaspoon

turmeric

gf

¼

teaspoon

paprika

gf

⅛

teaspoon

ground allspice

gf

pinch

of cinnamon

gf

2⅛

cups

vegetable broth, chicken broth or water

gf

¼

cup

golden raisins

4-5

Trader Joe's Dried Fruit Soft and Juicy Mandarins or dried apricots

⅛

cup

parsley, flat leaf

minced

2

tbsp

toasted almonds or pistachios

chopped, to top

1-2

Trader Joe's Dried Fruit Soft and Juicy Mandarins or dried apricots

to top

parsley, flat leaf

sliced or minced, to top
Instructions
Heat the olive oil in a medium saucepan. Saute the onion and celery until soft.

Add the brown rice and stir to coat in the oil. Stir for a minute to brown the rice. Add the broth or water. Stir in the dill, salt, turmeric, paprika, allspice, and cinnamon. Add half of the golden raisins. Bring to a low simmer and cover.

Continue to cook on a very low simmer for 35 minutes or until most of the liquid is absorbed. Add the remaining dried fruit and minced parsley. Cover and continue cooking for the remaining recommended cooking time for the rice you are using.

Spoon into a serving bowl. Top with more dried fruit and almonds and a bit more parsley.
Notes
I hope you enjoy this rice dish! I love adding different spices and herbs to change a dish slightly. I love the flavors and colors of this one. Perfect to spice up any meal.