Jump to Recipe
Print Recipe
How about some Italian cookies to finish off a meal?! Italian Amaretti cookies are normally gluten free and grain free as they traditionally just contain almond flour, egg whites, sugar, cream of tartar, and Amaretto liqueur and/or almond extract. For the severely sensitive or celiac, remember to use certified gluten free products including liqueurs and extracts, as well as nuts and nut flour certified gluten free or made in a wheat or gluten free facility.
These small bites of deliciousness are crisp on the outside and soft on the inside, with a big burst of almond flavor. We had Italian amaretti cookies served with crème brûlée at one of our favorite local restaurants, Shadowbrook Restaurant, and it was an amazing combination! They also have an incredible menu with so many gluten free options, including incredible artichoke soup, lots of gluten free entrees, sides, desserts, and even fried appetizers made in a separate fryer specific for gf items. The whole experience at Shadowbrook is romantic and special, from the garden pathway down to the restaurant to the quaint dining areas, to the trolley car ride up or down. Plus my beautiful daughter Lizzy works there! We love to support restaurants who take special care to accommodate allergies/intolerance for us who need it. Thank you to our local allergy conscious restaurants: Shadowbrook Restaurant, Laili Mediterranean Restaurant, and Back Nine Restaurant!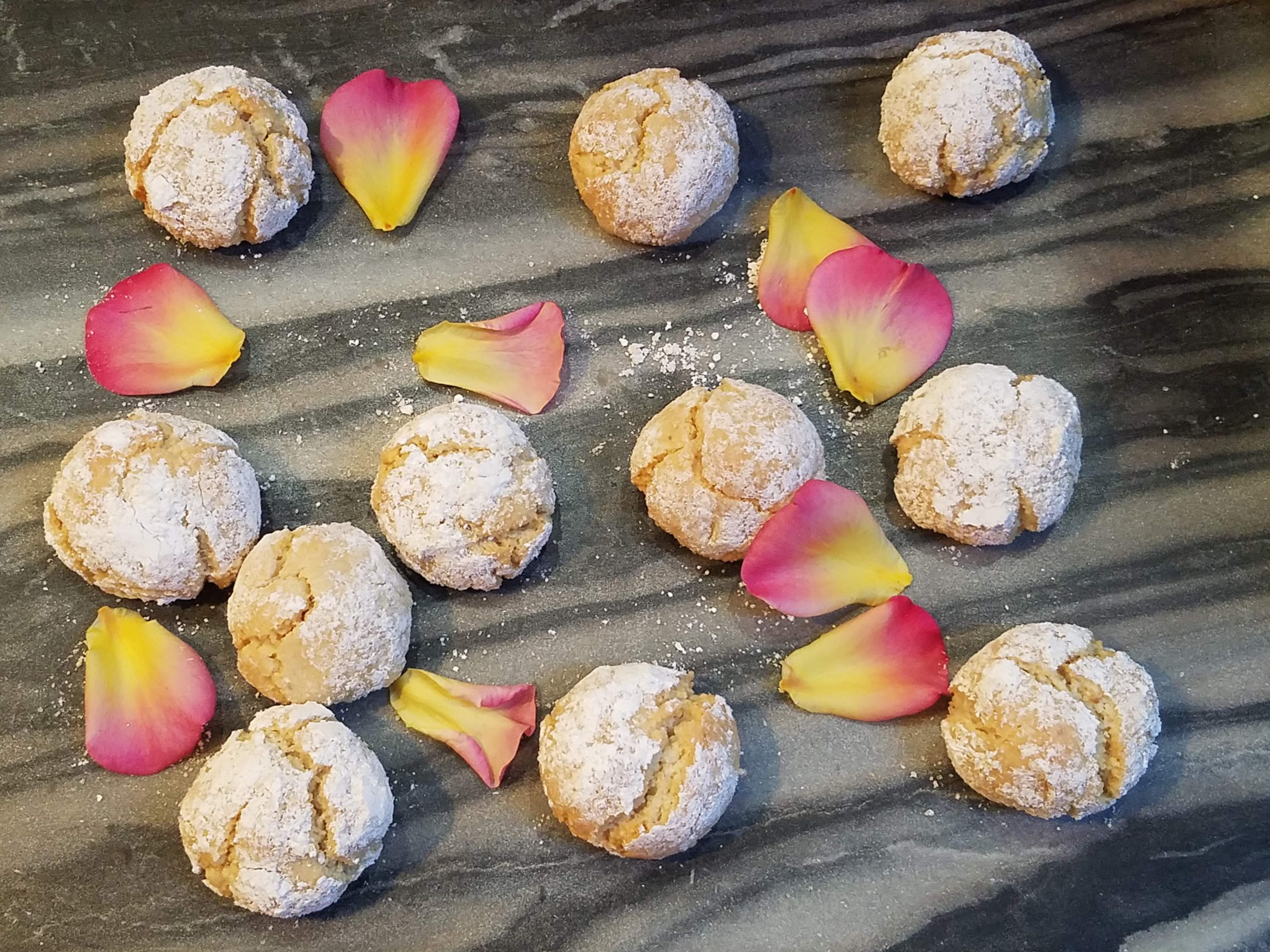 Italian Amaretti Cookies (Gluten Free)
Ingredients
3 1/4 cups almond flour, gf

1/4 cup roasted salted almonds, finely ground, gf

1/8 cup Bob's Red Mill Tapioca Flour, gf 

1 1/2 cups Organic Cane Sugar, finely ground or 1 1/2 cups granulated sugar

3 large egg whites

1/2 teaspoon cream of tartar

1 tablespoon sugar

1 1/2 tablespoons Disaronno Liqueur, gf or other gluten free amaretto liqueur

1 teaspoon McCormick Schilling Pure Almond Extract, gf
For rolling the cookies:
3 tablespoons granulated sugar

3 tablespoons powdered sugar, gf
Instructions
Combine the almond flour, ground almonds, tapioca, and sugar in a bowl.

In a stand mixer bowl or in a large bowl using a hand mixer, whip the egg whites on medium low speed until frothy. Add the cream of tartar and the tablespoon of sugar and continue whipping, increasing the speed to medium high speed until soft peaks form. Gently stir in the Disaronno Liqueur and almond extract. Gently fold in the almond flour mixture until fully incorporated into the whipped egg whites.

Cover and chill the dough for 2 hours.

Preheat the oven to 325 degrees F. Put the sugars for rolling the cookies into a flat bowl. Line a baking sheet with parchment. Roll the dough into 1" balls, roll in the sugar mixture to coat and set 2" apart on the baking sheet.

Bake for 24 minutes, then increase the temperature to 375 degrees F and bake for 2-5 minutes more, until golden brown on the bottom and the top.

Remove to a wire rack to cool. Store in an airtight container for 3-4 days. Just see if they can last that long! You can also roll these and freeze them on a cookie sheet, transfer to a sealed freezer container, and bake 6 or 8 at a time.