Okay, today is Cinco de Mayo! Woo-hoo! And fiestas call for delicious Mexican food, so Carnitas is on the menu for tonight! Carnitas is definitely one of the best meats for a delicious taco! Use it for whatever variation of serving you like, whether on top a pile of nachos, in a burrito stuffed with other goodies, or in a colorful and healthier bowl, you won't regret making this. Made in the right way, nothing stands up to this dish for flavorful Mexican mouthful! And yes, there are many variations to this dish. You can cook the traditional style, which is covered in lard, slow cook it, or even cook it in milk (which I've tried), or eat it before crisping it, which we think is a bad idea. This recipe here is simple, really, you can also make it Paleo, by just leaving out the small amount of Coca Cola. We always crisp our version in a large cast iron, even for big parties. You can fry the portion you need that way and it's way fresher, plus closer to what they do in Mexico at a taco stand, or here in California at a taqueria. We have a large outdoor burner and a very large cast iron skillet which makes the crisping of the meat ridiculously good. The large pork shoulder can feed a small crowd with all the other fiesta fixings. You can always put more or less spices, but I find this recipe to contain pretty much the right amount for what we like. Think simple….The pork shoulder is the star. Some recipes might contain even some diced jalapenos, which you can add if you like. I like to brown the pork shoulder before adding all the other ingredients. Also rubbing the meat down first with the seasonings and a bit of olive oil makes the flavor meld into the meat better. Slow cook this pork, but I prefer slow cooking in the dutch oven (did I mention that it's one of my favorite kitchen tools ;)), not a crock pot. I'm sure you could do it in an instant pot if short on time, but honestly, if you put it in late morning and just cook it low, there's not much work, (as it just cooks on low in the oven without any effort), just a little planning ahead. Did I mention, it's NOT low fat….but every once and a while it's okay to splurge! Share your leftovers with friends or family, or put a portion in the freezer. Take out of the freezer, and just thaw, then crisp in a skillet, and it will still be tasty.
Carnitas
Perfect tacos every time!
Serves 6-8 people with other taco fixings
Prep time: 15 minutes
Cook time – 4-5 hours, plus frying just before eating
Ingredients
4 – 4 1/2 pounds of pork shoulder, boneless or bone-in (also know as pork butt):
1 tablespoon dried oregano (I always make sure my spices are gluten free, since I am highly sensitive)
4 teaspoons cumin (gf brand)
3-4 tablespoons of olive oil
3-4 teaspoons salt
1/2 teaspoon of black pepper
1 onion, chopped coarse
6 large cloves garlic, sliced or minced
1/2 cup orange juice (Sheltered in recipe, used "cutie" juice since I didn't have orange juice)
2 limes, juiced
1/4 cup Coca Cola
1 cup of water
Directions
Preheat the oven to 285 degrees. Rub the pork shoulder down with 2 tablespoons of the olive oil, oregano, cumin, salt and pepper, coating all sides.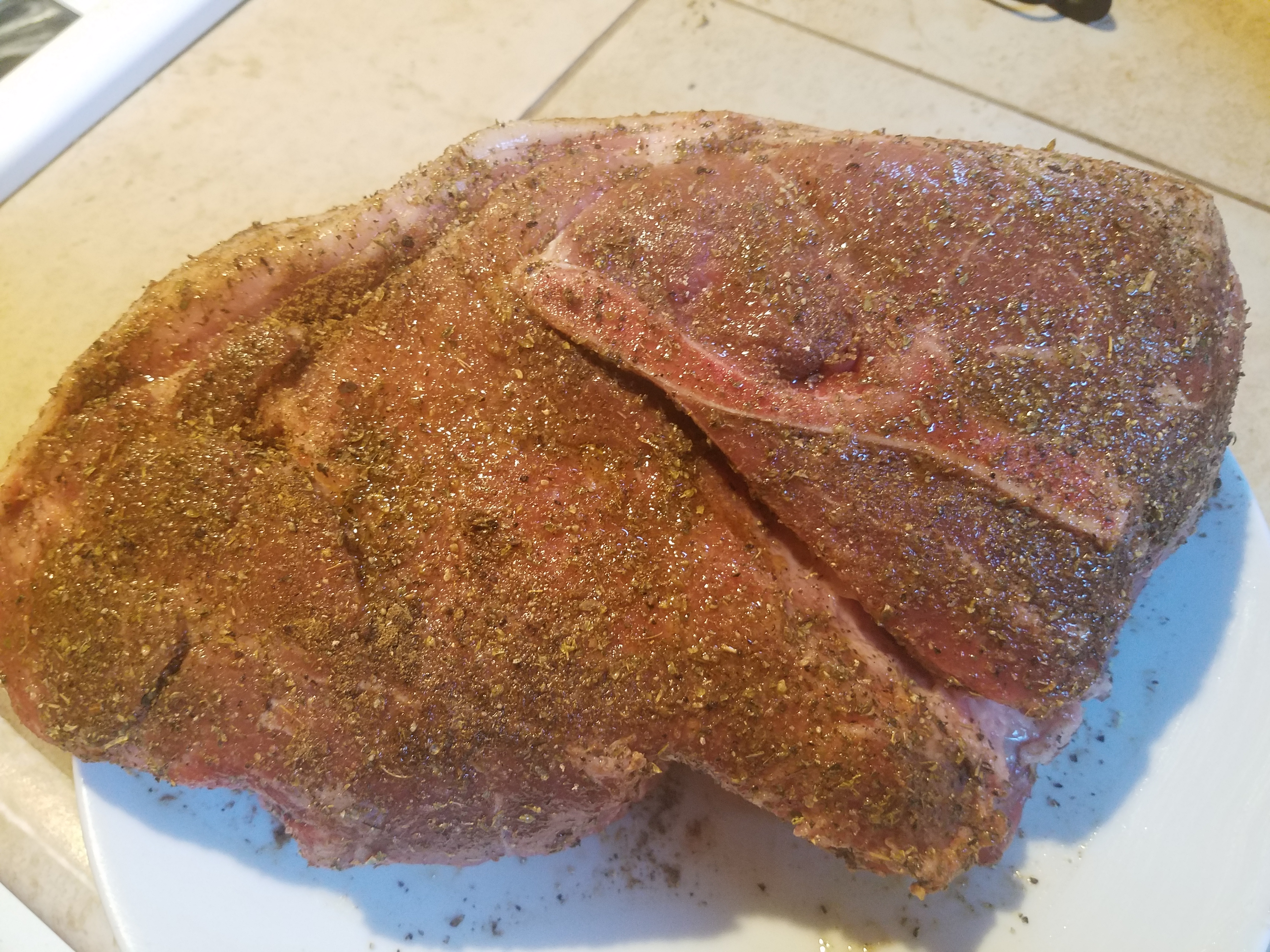 Let sit for 20 minutes, while you chop your onions and garlic and juice your oranges and limes. Heat the dutch oven on high with remaining 2 tablespoons of olive oil. Brown the pork shoulder on each side. It's going to start to smell delicious already, so get ready! Add the chopped onion, garlic, orange and lime juice, water, and Coca Cola.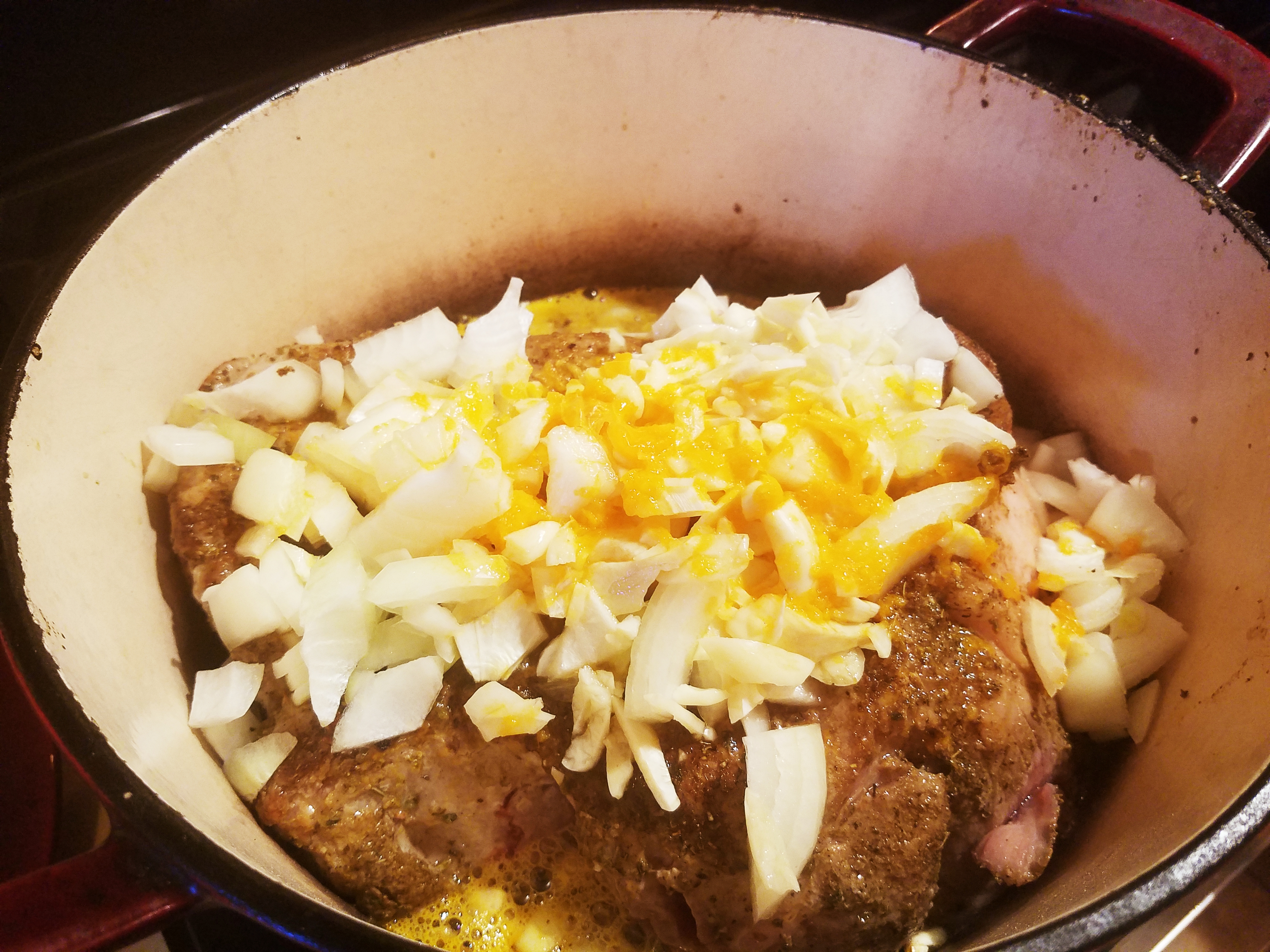 Cover and move to the oven on the middle rack. Cook at 285 for 4-5 hours, cracking the lid after about 3 hours so some liquid will evaporate.
Once the meat is falling apart (strings apart easily), remove from the oven. Remove the meat to a plate and continue to break apart. You can cool completely and refrigerate at this point, taking out an hour before planning to eat it. When you're ready to serve, heat a cast iron on high heat and once the skillet is hot, add spoonfuls of the meat and brown, turning with a spatula several times. Or if you prefer, to brown the meat, spread shredded meat on a foil lined cookie sheet and broil for a minute or two, turn meat over with a spatula, and crisp the other side under the broiler for another minute or two, watching it closely. Transfer the meat to a serving dish and serve alongside warm tortillas, with lots of options : to serve alongside: avocado slices, finely sliced cabbage, thinly sliced radishes, green or red salsa, finely diced onion, lime quarters, cilantro, and Cotija Mexican cheese, or another strong cheese, such as a Romano, Feta, or Parmigiana-Reggiano. Serve it up to your friends and family and they will think it's the real deal.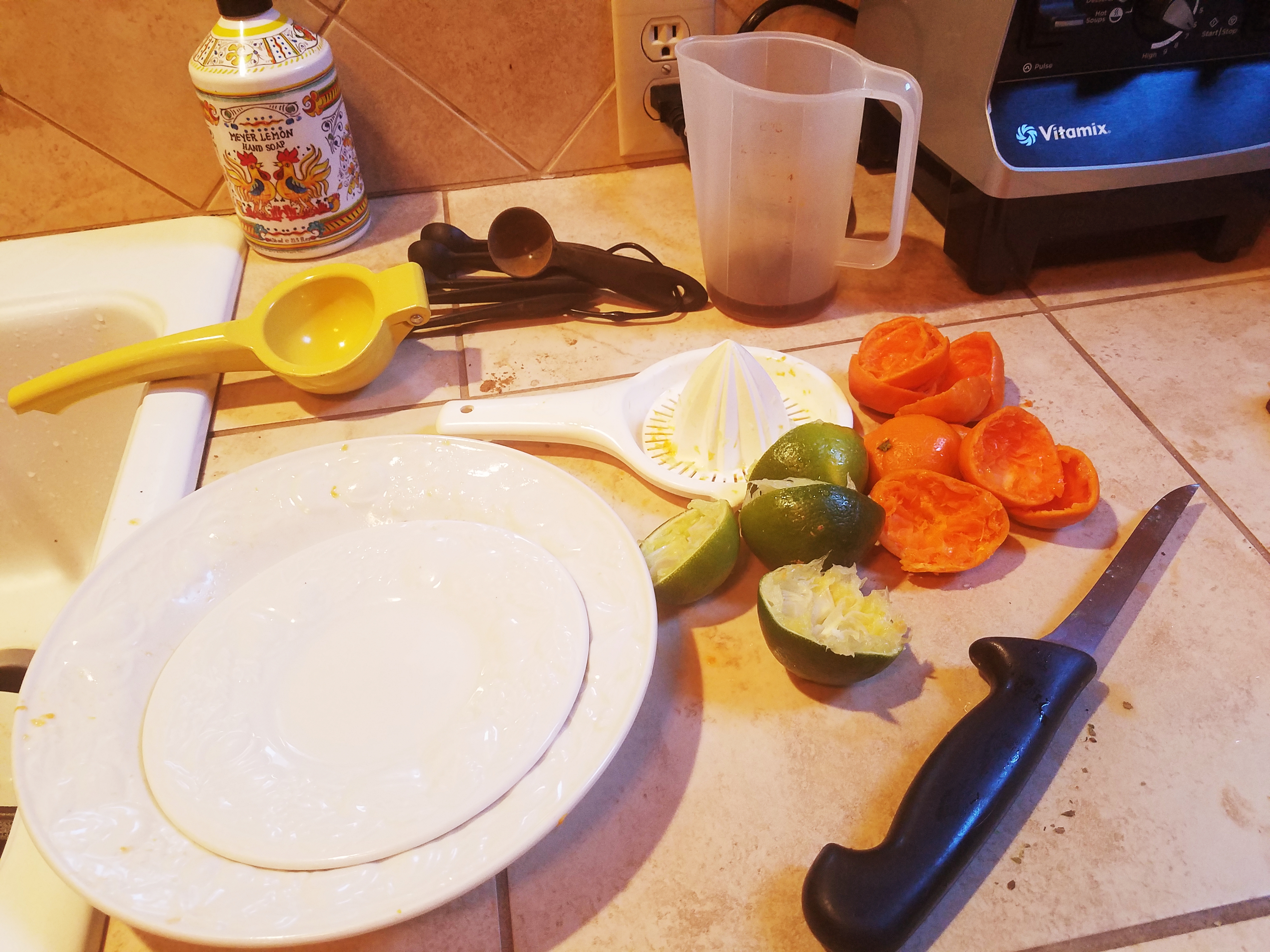 Here's my kitchen after prepping. Paul helped sous chef for me. Who's going to clean up!