Jump to Recipe
Print Recipe
Chili Verde, or what I like to call Chicken Verde, which is similar to Chili Verde, but made with chicken, is a dish I love to make and eat! Sometimes after work, I may not have enough time or feel up to roasting the tomatillos (if I even have them in the house), or roasting the Anaheim chilis. Or I may need more ingredients that I don't have. Often, I improvise when cooking, which is where this dish came in. I almost always have a jar of green salsa and a can of green chilis, and usually chicken breasts in the freezer that can be thawed on defrost in the microwave.
Throw together and let it cook!
This is a dish I throw together quickly and then sit back and rest a bit while it cooks. If you are making bowls, you can chop a few vegetables while you wait, like cabbage, avocado, tomatoes, cilantro and jalapenos. Put some rice on and get ready to heat some canned black beans, and serve up a colorful bowl for dinner.
How to serve it
Feel like having a burrito, taco, or burrito bowl with tortilla chips or tortillas? However you serve it, this dish turns out fantastic. Spoon more salsa on top, or let each person add the garnish they would like, and adding as much spice as they desire. You can make this dish with mild salsa for those that don't like as much spice, or with medium or hot. You could also just make it mild and serve with a spicier salsa or diced jalapenos or habanero peppers.
Cook on the stovetop or in the oven
I can't tell you how many times I've made this dish in the last few years. It's versatile as well as tasty. You can serve it with fresh vegetables or on a tostado and it's much lighter. Serve it over rice or in or with tortillas and it's better for a chilly night.
This dish can be cooked stove top as well, if desired. If it's too hot to have the oven on, you can still make it! Just simmer covered for approximately an hour and a half, until meats strings apart. Remove the cover for the last 20 minutes to evaporate some of the liquid. Either way you cook it, yum. 
The dish can be prepared the day before
You can easily make this dish the day before you plan to serve and reheat it. Just be sure to cool it safely on the counter before covering and moving to the refrigerator within about 2 hours maximum time. For reheating on the stovetop, simply pour the meat and sauce into a skillet and heat over medium low or low heat, simmering for 10-15 minutes. Add a tablespoon or two of water if the sauce thickens too much. You can also cover loosely when reheating on the stovetop.
To reheat in the oven, bring the dish to room temperature for 15-20 minutes. Preheat the oven to 350 degrees. Add a tablespoon or two of water to the dish. Cover the dish with foil and heat for 20-30 minutes. It should be steamy hot and 165 degrees internal temperature when taken in several locations, for safely eating after reheating.
It may be even tastier the second day. Simple and delicious.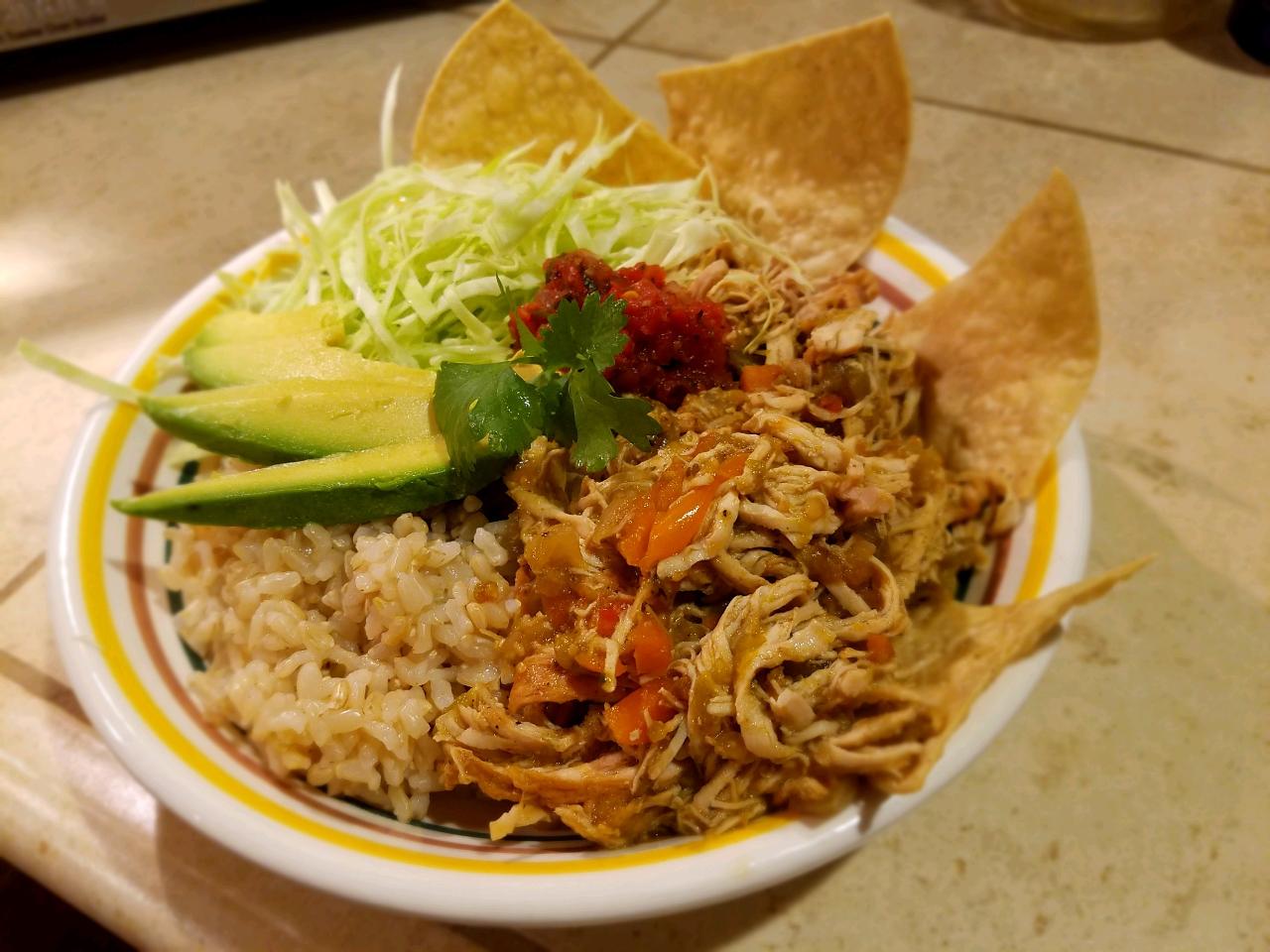 Laura's Easy Mexican Chicken (Gluten Free)
An easy, toss together meal with ingredients that will generally be found in the pantry and refrigerator. So satisfying, whether served in bowls, burritos, or tacos. Perfect for leftovers too!
Ingredients
4 tablespoons

olive oil

3 large

chicken breasts

3/4 teaspoon

salt

plus more to taste

1/2 teaspoon

pepper

1

large onion

chopped

2 large

celery stalks

chopped small

1 small

carrot

finely minced

4 

large cloves of garlic

minced or crushed

1 – 7  oz can

diced green chilis

gf brand

1/2 jar, 15.7 oz.

green salsa

(I use medium Herdez Roasted Salsa Verde)

1/8 cup

red salsa

fresh or jarred (optional)

1/2 cup

fresh tomatoes

diced

1 teaspoon

cumin

gf brand

3/4 teaspoon

coriander

gf brand or a few sprigs of cilantro

1/2 teaspoon

dried oregano

gf brand
Instructions
Preheat oven to 325 degrees. Gather your ingredients.

Heat 2 tablespoons of olive in In a Dutch oven or large cast iron skillet. Salt and pepper the chicken with 1/2 teaspoon salt and 1/4 teaspoon pepper. Saute the chicken breast over medium heat, until browned on each side. Remove chicken from the pan to a bowl.

In the remaining 2 tablespoons of olive oil, saute the onion until translucent, with remaining salt. Add the celery and carrot and cook until the onion is slightly golden brown and the celery is almost soft.

Add the crushed garlic and cook for 30 seconds to one minute. Transfer the onion, celery, carrot, and garlic, to a small bowl. 

 Add the chicken and any juice back into the Dutch oven (or skillet). Add the cooked onion mix back to the Dutch oven (or skillet). Add one can of green chilis and the red salsa or fresh tomatoes, cumin, coriander, and oregano on top.

After adding remaining ingredients back in, give a stir, and simmer for a minute, before covering (you can use foil if you don't have a cover for your cast iron).

Move to the oven or see note below for stovetop cooking. Cook for 1 1/4 – 1 1/2 hours, or until meat strings apart when pulled with two forks.

Crack the lid or uncover the foil part way after about 1 hour, so that some of the liquid can evaporate. Remove from oven when meat  comes apart easily. Break apart the chicken breast with two forks until it's in small pieces.

Note: You can also choose to cook this stovetop if you prefer. For stovetop method, simmer over very low heat, with the lid on but cracked slightly until the meat pulls apart, about 1-1/4 hours. Add more water as needed.
Notes
This is a delicious, easy, stewed Mexican chicken. Great for leftovers also, as the flavors even come together better by the following day.