It was pretty hot here today! We needed an easy dinner to both cook and eat outdoors! So, a simple marinade on chicken breasts, which we grilled. Together with grilled corn with a little olive oil and a sprinkle of chili powder, quartered zucchini lengths, and a few potato slices, it was the perfect meal. And even better, because my husband did the grilling!
I wanted to use some of my harvested cilantro, combined with a little Mexican flavoring. The spice of the Aleppo pepper sounded good, also.
I had a bottle of chilled Rose from Bianchi Winery California, which I used in the marinade and it paired with the dinner wonderfully. The chicken also is great served with a little Pico de Gallo, avocado salsa, or avocado slices, and a couple of gluten free tortilla chips. The meal cooks in just 15-20 minutes. Super easy and we didn't heat the house up!
~Laura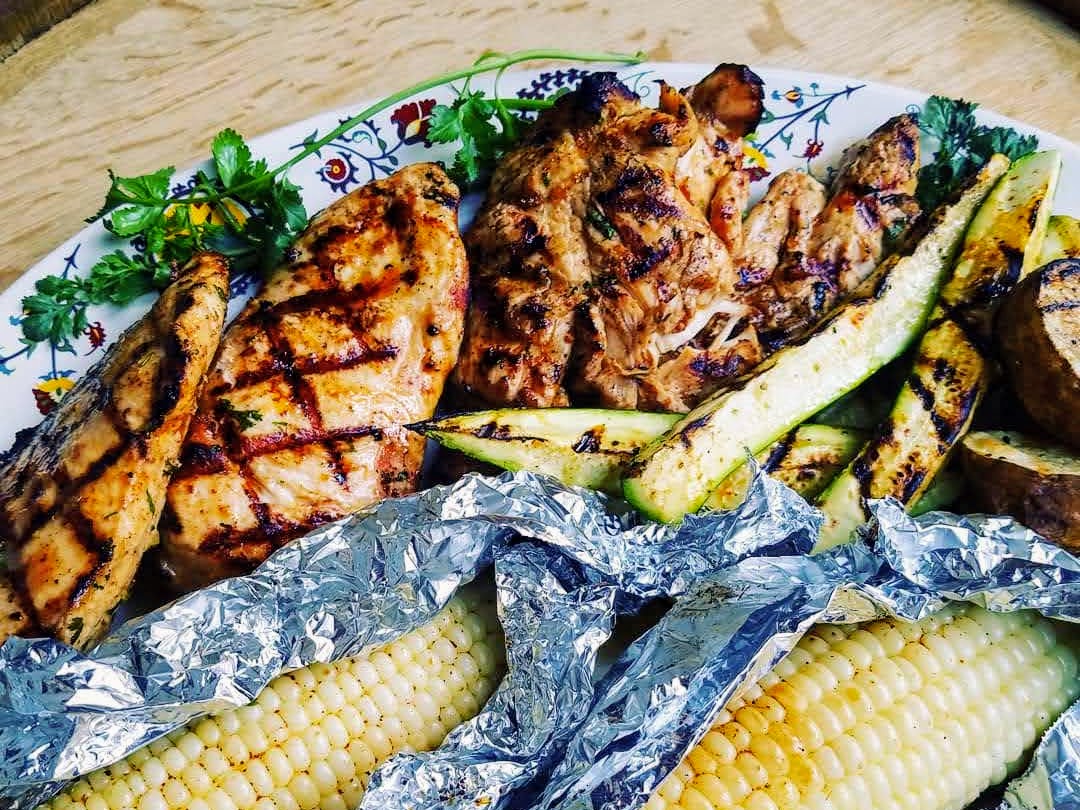 Grilled Chili Citrus Chicken
Prep time: 5-10 minutes
Marinate time: 45 minutes to 1 hour
Cook time: 12-15 minutes on the grill
Ingredients
For the Marinade:
2 tablespoons of olive oil

2 tablespoons of white or rose wine

1 teaspoon white vinegar

¼ teaspoon of Aleppo pepper (use ½ teaspoon for more spice)

½  teaspoon of paprika

½  teaspoon ancho chili powder

⅛ teaspoon black pepper

1 teaspoon salt 

2 tablespoons of lime juice or orange juice

1 large garlic clove, crushed

1 tablespoon of cilantro, chopped

1 teaspoon of sugar

2 large skinless boneless chicken breasts, cut in half widthwise so you have four thinner pieces of chicken
Instructions
Stir the marinade ingredients together in a small bowl. Pat the chicken with a paper towel and set in a medium bowl. Pour the marinade over, and stir, moving the chicken to coat. Cover and let sit in the refrigerator for 30-45 minutes.

Remove from the refrigerator 15-20 minutes before you want to start grilling.

When ready to grill, heat the grill to medium high. Using tongs, set onto the grill, leaving a space between the pieces. Cover and turn the grill down to medium. Let cook for 8-9 minutes, rotating on the same side to get nice grill marks, before turning to the other side. Cook for a total of 12-15 minutes, depending on the heat of your grill.

Remove from the grill when the internal temperature is 160 degrees F and set aside for 3-5 minutes. Serve with lime wedges and a pico de gallo or fresh salsa if you like. Pour yourself a glass of rose and have a few chips and pice de gallo or salsa while you wait for the chicken to marinate!