Who doesn't love pasta?
Oh, pasta! Who doesn't love it! Growing up with an Italian grandpa and grandma, we had a lot of pasta around the table. Precisely at noon, everyday, my grandfather wanted the pasta in red "sauce" on the table. Not a minute before, not a minute after. We would always go for Sunday dinner, which was served at lunch time. We would have yummy pasta, always a red sauce, with chicken or stew meat in it, or sometimes, pasta accompanied by bracciola, a stuffed, rolled, pounded piece of beef, that cooks in the sauce.
Use your favorite pasta in this dish
My favorite pasta has always been Rigatoni, a tubular noodle which collects a large amount of sauce in the inside. Always served alongside the large platter of pasta, was what grandpa insisted was Italian bread, not French bread. It was a very simple bread, with not a lot of flavor, but perfect for dipping in the excess pasta sauce. This was before I was severely sensitive to gluten.
Grandma made artichokes stuffed with bread crumbs and garlic and cheese, which was a favorite also. Always ice cream or ice milk, an icier version of ice cream, usually Neapolitan (which is layers of strawberry, chocolate and vanilla). These are all memory triggers for me.
I loved going to grandma and grandpa's house. We would always take walks, to the ocean when they lived near it, and also through the small back garden, collecting flowers as we went.
Touring Italy
Quite a few years ago, my husband and took our first trip to Italy, on the way back from another trip overseas. We had a wonderful time with family friends, and our own two daughters, who were eleven and fifteen.
Exploring so many amazing cities and towns, from Rome to Florence, Orvieto, San Gimignano, the Cinque Terre and Venice, we had an amazing time.
We encountered incredible historic sites and picturesque cities, views from high atop walled cities, we swam in the Mediterranean Sea, and ate so much gelato and other wonderful things.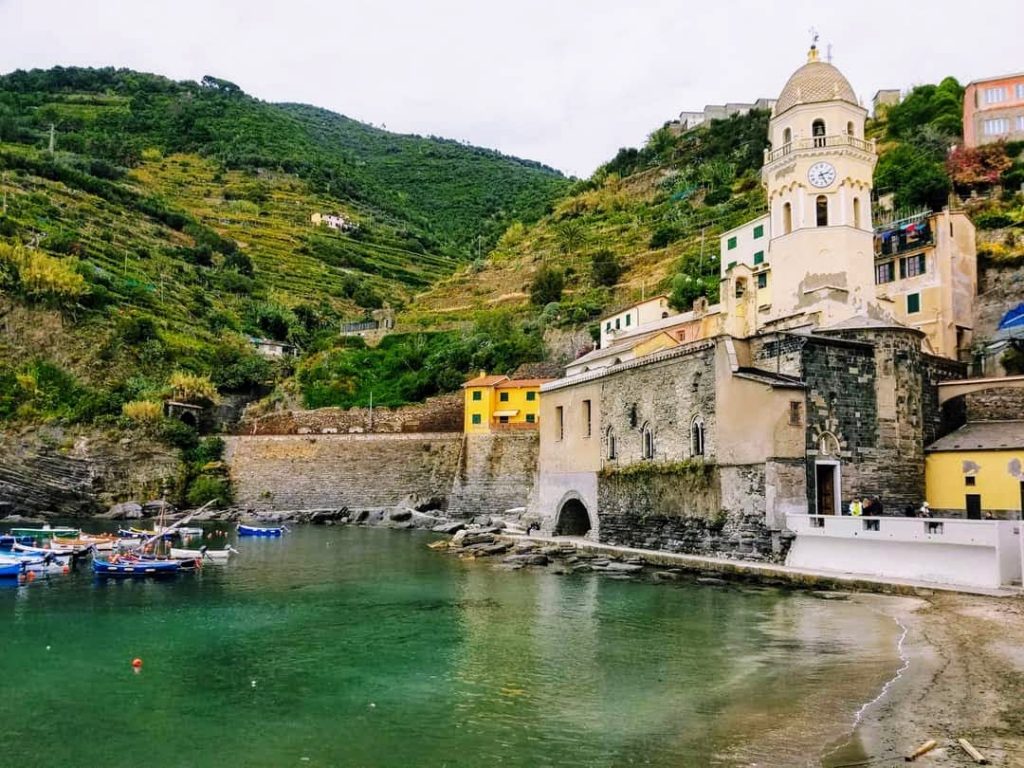 One of our favorites ~ Orvieto in Umbria, Italy
This dish was inspired by a dish I had in Orvieto, a small walled town of Umbria. It's a beautiful walled town with so many wonderful trattorias and so much history. We stayed at a local B&B run by Valentina. She was soo sweet and accommodating.
So much flavor in this dish! Of course, I think everything tastes better when you are there, absorbed in the culture; your servers speak little or no English and you speak very few Italian words and keep trying to speak to them in Spanish!
After this brilliant meal, Christian, our waiter, came along with tiny glasses of bright yellow, limoncello for everyone (even the kids…haha).
(Updated 1/28/2023)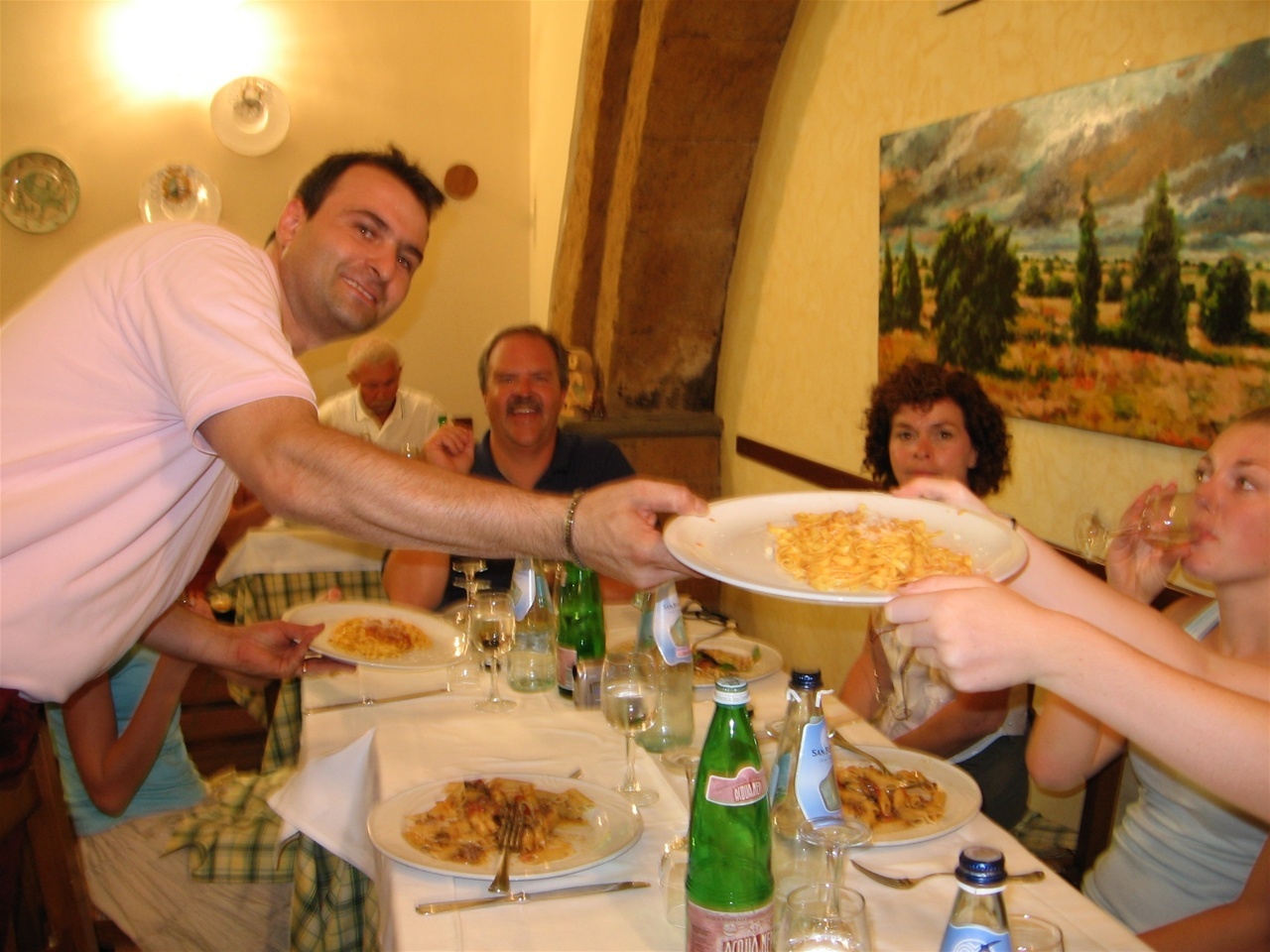 My dish is a little different of course. I could never replicate what we enjoyed there, in the small little quaint trattoria in Umbria. In the dish I was served, Italian sausage and eggplant were the highlighted ingredients. My family preferred zucchini and I thought the addition of chicken went well with the other flavors. Still a very light sauce and simple flavors. I hope you enjoy if you get a chance to try the recipe.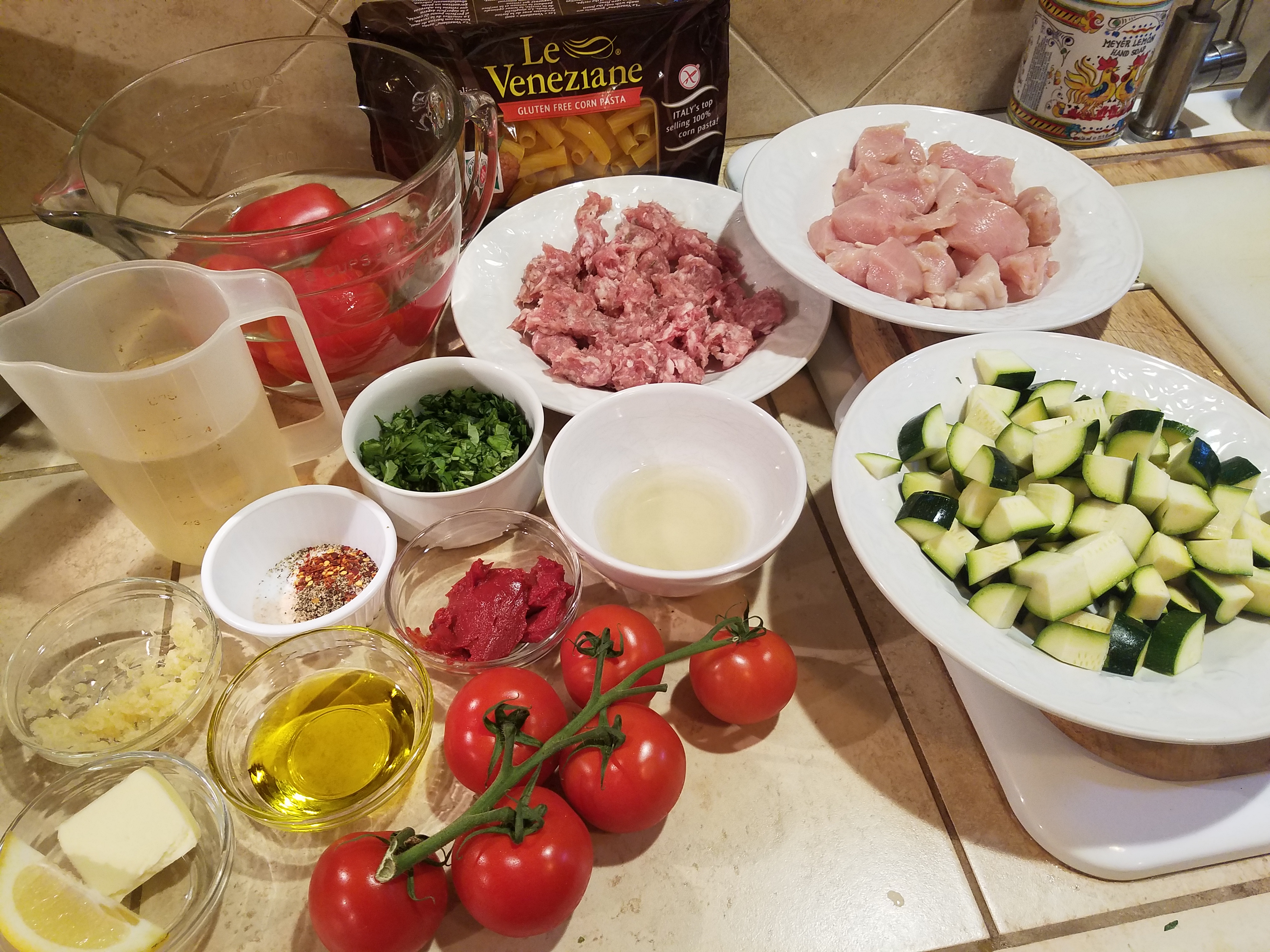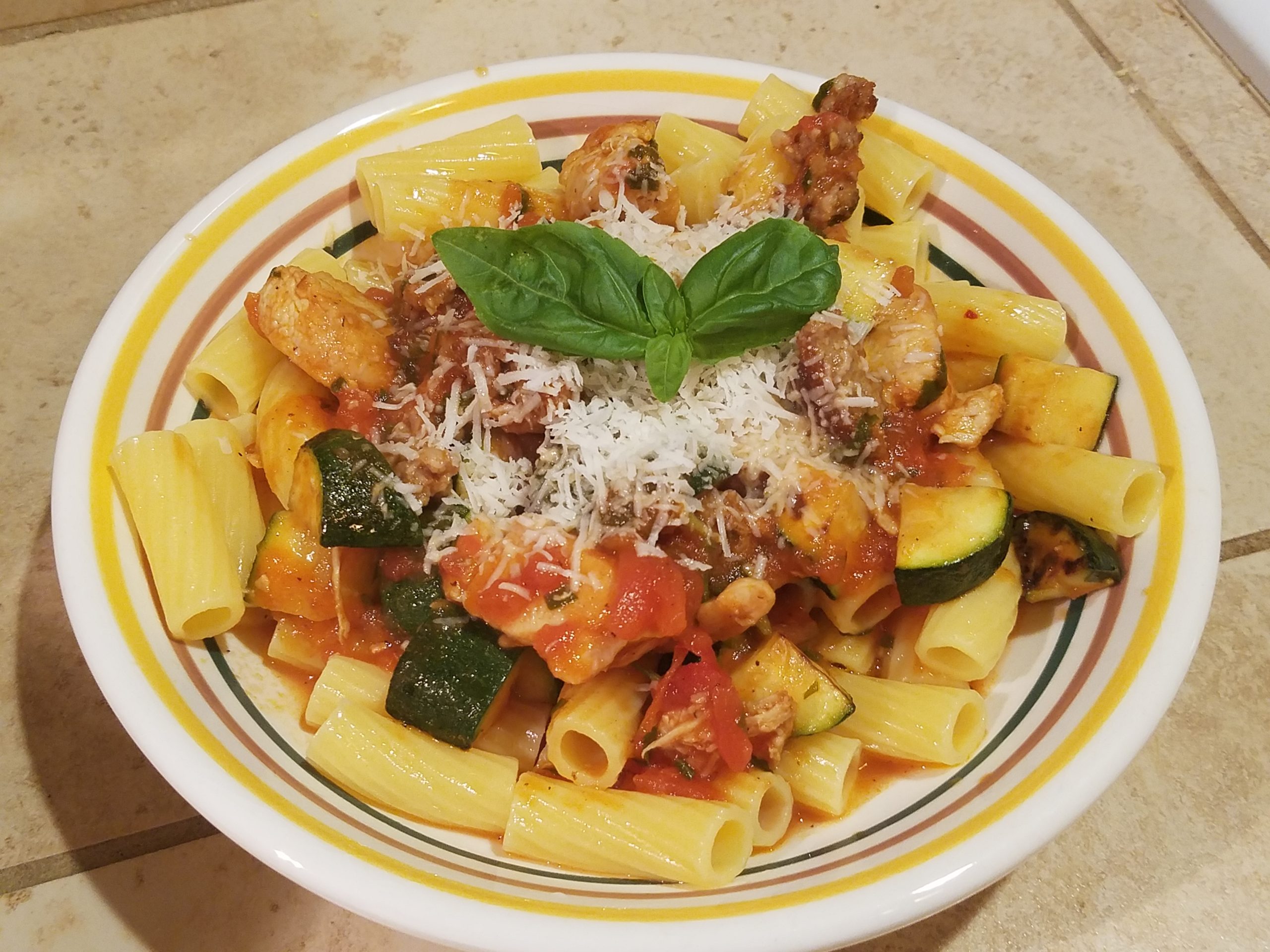 Pasta con Salsiccia and Pollo (Pasta with Sausage and Chicken)
Inspired by a dish I was served in Orvieto, Italy. This has so much flavor and is a favorite!
Ingredients
3 

sweet or hot Italian sausage links

casing removed and crumbed, Gluten Free brand (I like New York Sausage Company)

2-3 small

chicken breasts

cut into small 1 1/2 x 1/2 inch pieces

3 tablespoons

olive oil

1 tablespoon

butter

6

garlic cloves

minced

4 – 5 

roma tomatoes

blanched to removed skins, * and seeded, then diced

4

vine ripened tomatoes

blanched to remove skins, * and seeded, then diced

2 1/2 tablespoons

tomato paste

1/8 cup

fresh basil

1/8 cup

fresh parsley

1 1/2 cups

white wine, like a Sauvignon Blanc

1/8 cup

chicken broth

gluten free

3/4 teaspoon

salt

1/2 teaspoon

pepper

1/8 teaspoon

crushed red pepper 

gluten free

1/4 of a

lemon

squeezed

a bit of

pasta water

(if needed to thin out your sauce, from the gf pasta water)

3 – 4 medium to large

zucchini

sliced in quarters lengthwise, then 1/4" thick pieces.

1 1/2 pounds

Rigatoni

or Mostaccoli, Gluten Free pasta. (My favorite brand is Le Veneziane, imported from Italy.)

Freshly grated parmesan

or romano cheese
Instructions
Blanch Tomatoes
To blanch tomatoes, start by trimming off the stems and cutting a small "x" into the bottom of each tomato.

Put the tomatoes in a pot of boiling water and let them cook for 30 seconds.

After 30 seconds, use tongs to transfer the tomatoes to a bowl of ice water so they stop cooking.

Helpful link "Wikihow: How to Blanch Tomatoes (with Pictures): https://www.wikihow.com/Blanch-Tomatoes
Pasta with Sausage & Chicken
Heat pasta water in a large stockpot on low. 

In a large cast iron or skillet, heat 1 tablespoon of olive oil on high for a few minutes. Add a third of the chicken pieces and brown quickly on both sides. Remove to a covered dish. Repeat two times with the remaining chicken pieces.

Lower the burner to medium high and cook the Italian sausage, breaking into small pieces as it cooks and browns. Remove the sausage to a covered bowl. 

With burner turned down to medium low, add 1 more tablespoon of olive oil and brown the garlic about 30 seconds. Add the 1 tablespoon of butter and melt. Next add the tomatoes and saute on high heat for 1 to 2 minutes. Add the tomato paste, white wine, chicken broth, salt, pepper, crushed red pepper and lemon juice. Simmer on low heat for 8 – 10 minutes.

Bring the pasta water to a boil with a pinch of salt.

Add the sausage back in to the skillet and the chicken. Add the parsley and basil in to the sauce. Continue to simmer on very low while you cook your pasta. 

Once your pasta water is boiling, add the pasta and cook for just under the suggested cooking time, checking near the end so it is "al dente" (just under cooked, as it will continue cooking slightly when you add the sauce). 

While pasta is cooking, in another large skillet, in 1 tablespoon of olive oil, saute zucchini pieces until browned and almost tender. Remove the zucchini pan from heat. 

Add the cooked zucchini to the sauce. If needed, add one or 2 tablespoons of the pasta water (from your gluten free pasta that is cooking) into the sauce to thin out. Strain pasta and rinse in cold water quickly, when it is done cooking, continue to drain and return to your stockpot with a drizzle of olive oil. 

Pour pasta into a large flat bowl, top with the pasta sauce, parmesan cheese and decorate with a few basil leaves. You can also pour the pasta into the sauce and stir well before pouring into your serving bowl.

Serve immediately with lots a large bowl of parmesan or Romano cheese to pass. Gluten free bread or bread sticks would be delicious alongside.
Notes
We like to keep our pasta separate as my husband enjoys grain pasta and I have to eat only gluten free pasta due to a severe intolerance. So I can eat the leftovers if I keep everything separate using separate utensils.