Jump to Recipe
Print Recipe
The growing up years
When I was a teenager, I worked at Mount Hermon Camp and Conference Center, here in the Santa Cruz Mountains. It's a place where people can grow in their faith, have a spiritual experience or moment, laugh, grow, be challenged, or to zip through the Sequoia Sempervirens on a Canopy Tour with spectacular views, swinging bridges, and zip lines. Check out Mount Hermon Adventures if you are coming to the area, for team building and ropes courses, or to reserve a spot on a Canopy Tour. You'll love it!
People come from all over to experience Family Camps, youth and kids camps, and retreats. I worked in the dining room as a waitress and then as a hostess. I also worked there as an adult much later, but not in the dining room.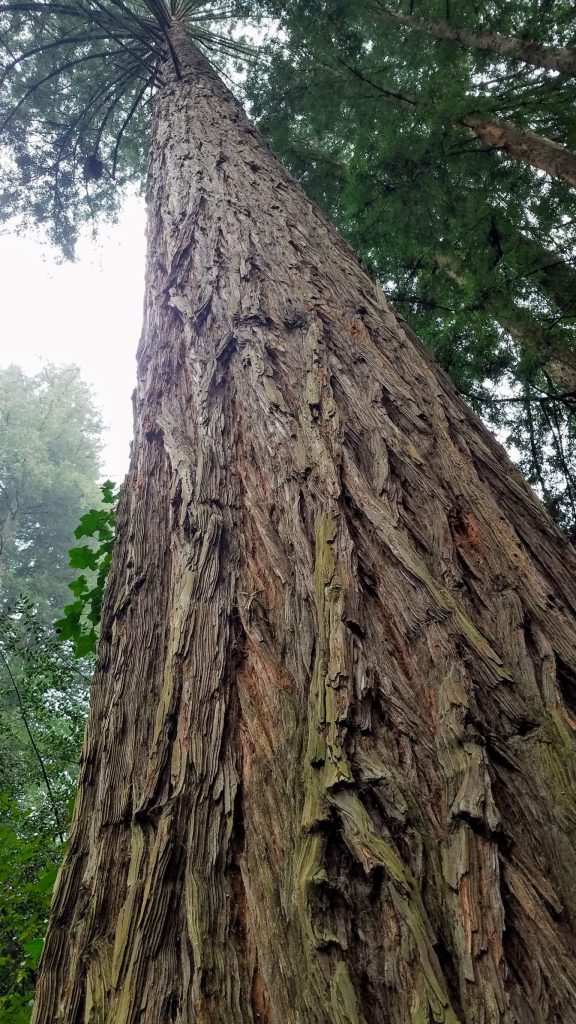 They were some fun times working with many of my friends! It's also where my husband and I became better friends. Actually he would save food for me, specifically special fruit and salads from his department…..so I guess he wooed me with food! Our family has some great memories from Mount Hermon, where not only my husband and I worked as teens and young adults, but our daughters did also. We also attended retreats and camps and did lots of hanging out there with family friends.
Working in the dining room, we had many breaks in between our shifts of breakfast and lunch or lunch and dinner. We'd fill the hours with ping pong or frisbee, or just hang out in the lounge area.
Memories of CHOC-CHOC Cake
The food we were served as staff was not always my favorite, but I did love the bread and the desserts. They had a great baker, Bobby, who would serve up his creations. And back then I could eat gluten! One of my favorites was his Indian Bread, which was a dark, substantial bread. Another favorite was his Chocolate Cake with Chocolate Frosting! It was a sheet cake, cut into healthy sized square pieces. If I remember right, it was put on the menu, to shorten I suppose, as Choc-Choc Cake. So that's always the name it has always had in our house. Here's a good gluten free CHOC-CHOC Cake.
Chocolate Cake or Chocolate Torte?
Most of the time, I prefer a Chocolate Torte to a Chocolate Cake. Tortes tend to be richer with more eggs, separated and whipped to perfection, with little or no flour, and they also contain more chocolate. This cake is definitely sweeter and lighter. You could frost it with a whipped cream frosting for less sweetness, but the cream cheese in the Chocolate Frosting helps to offset the sugar of the cake. For a great chocolate torte, make my Gluten Free Dark Chocolate Torte. It's like a slice of heaven, especially filled with chocolate mousse and topped with raspberries and whipped cream.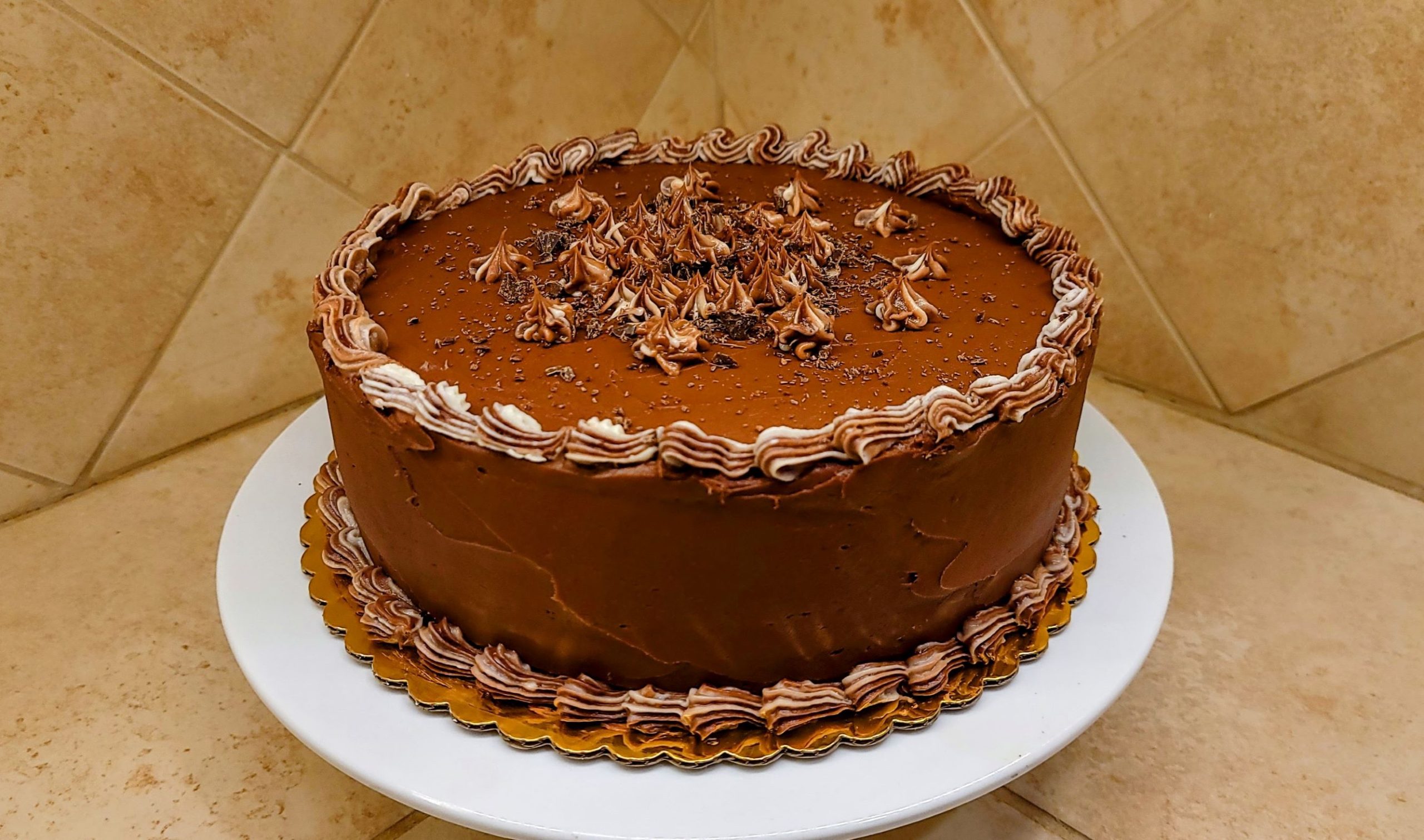 Gluten Free CHOC-CHOC Cake (Chocolate Cake with Chocolate Frosting)
Sometimes you need a nice Gluten Free Chocolate Cake with Chocolate Frosting. Perfect for a party.
Equipment
2 9" cake pans

1 Stand Mixer or Hand Mixer
Ingredients
2

cups

(296 grams) Bob's Red Mill Gluten Free 1 to 1 Flour, or other gluten free flour blend with xanthan gum

½

cup

 (60 grams) Bob's Red Mill Tapioca Flour, gf or other tapioca starch

4

teaspoons

baking powder, gf

1

teaspoon

baking soda, gf

½

teaspoon

 salt

½

cup

plus one tablespoon Hershey's Unsweetened Cocoa Powder, gf 

or other gluten free cocoa powder

1½

cups

 cane sugar or granulated sugar

½

cup

 butter, unsalted, cut up

⅔

cup

vegetable oil

2

large

eggs

1

large

egg yolk

1

tablespoon

vanilla, gf

½

cup

Guittard Extra Dark Baking Chips, gf, melted

or other gluten free dark chocolate chips

1

cup

whole milk

2

tablespoons

white balsamic vinegar

or white vinegar

3/8

cup

boiling water
Chocolate Frosting
1

cup

unsalted butter

4

ounces

cream cheese

4

cups

 powdered sugar

2

teaspoons

vanilla, gf

¼

cup

plus 2 tablespoons Hershey's Unsweetened Cocoa Powder, gf

or other gluten free cocoa powder

¾

cup

Guittard Extra Dark Baking Chips, melted

or other gluten free dark chocolate chips
Instructions
Chocolate Cake
Line the bottom of two, 9 inch cake pans with parchment paper. Lightly grease the parchment and the edges of the pans and dust with gluten free flour.

Preheat the oven to 350° F.

Sift together the gluten free 1 to 1 flour, tapioca, baking powder, baking soda, salt, and cocoa powder into a medium bowl. Repeat. Set aside.

Beat the butter and sugar in the bowl of a stand mixer, on medium speed, until starting to cream. Add the oil and continue mixing until fluffy and creamy.

In a small cup or measure, stir together the milk and vinegar. Set aside. Add the eggs, one a time, then the yolk, beating after each. Add in the vanilla and stir in.

Add in the flour/cocoa mixture and milk/vinegar mixture, alternately, in 3-4 additions. Mix until just combined and smooth after each addition.

Pour in the boiling water and mix on low speed until combined. Stir in the chocolate chips.

Spoon into the prepared pans and smooth the top. Bake in the center of the oven for 20-25 minutes or until the cake springs back when pressed with a finger, and a toothpick comes out clean when inserted into the center. The cake will be puffy and starting to brown on the edges.

Let the cake cool  the pan for 15 -20 minutes, before turning out onto a wire rack to finish cooling.

Frost with chocolate or vanilla frosting and pipe decoration or top with edible, washed organically grown flowers or dairy free gluten free sprinkles. Makes 2 nine" cakes. 16 servings.
Chocolate Frosting
In a stand mixer or a medium bowl with a hand beater, beat the butter with the cream cheese until creamy. Gradually beat in the powdered sugar.

Add the melted chocolate, stirring in by hand with a rubber spatula until combined.

With the mixer on low, add the cocoa powder and vanilla and continue to beat until very smooth.

Refrigerate until ready to use. Frosts a 2-Layer 9" cake.
Notes
Coating with a crumb coat will give a smoother finish to your cake and will be a much easier task to frost it as well. Crumb coats can be just a thinner frosting, but for an easy crumb coat, I like to make a thick glaze. The glaze dries quickly and will give a smooth surface to add frosting to. For my Crumb Coat,  stir together 2 cups powdered sugar with 1 1/2 tablespoons of milk. Cover the bottom layer with chocolate or vanilla frosting, top with the second layer. Then pour the crumb coat icing on the top, letting the drizzle run down the sides. Use a cake spatula to spread the icing evenly on the sides and top of the cake. Let dry for 30-45 minutes before frosting the top and sides with the remaining chocolate or vanilla frosting. 
Using a kitchen scale to weigh the flour and tapioca will give a much more accurate measurement. If you are not using a scale, be sure to scoop your flour and tapioca, then run a knife across the top of the measuring cup to get rid of the excess. Do not pack the flour down.