Jump to Recipe
Print Recipe
Paella is one of my favorite foods! I think I may be able to live on this delicious Spanish meal! In Spain you can find so many varieties of paella! My favorite is the Mixta, with a few vegetables, chicken, and seafood. you can't wrong! The flavors in this dish are so full and even without a traditional paella pan, you can make this perfectly at home.
Make the paella completely gluten free if needed
Make the paella completely gluten free for yourself or a guest, by using gluten free chicken stock and gluten free spices. Be sure to also use a clean, free of gluten particles paella pan or cast iron skillet. We like to keep our cast irons free of any gluten contamination, since the particles are easily lest behind on many surfaces. We have one skillet in our house that can be used for gluten items. My husband graciously adheres to these strict policies so I can stay well.
You may think you don't need gluten free spices, but for the highly sensitive or celiac person, we do need everything in our diet to be free of gluten or cross-contamination of gluten, which many spices contain.
This dish can often be found in restaurants and will often be made gluten free, but just check with the waiter or chef first. I found it many times in Spain and they assured me there was no gluten. You can't even imagine the joy it brings when an allergy diet person is able to safely eat something that they love in a restaurant!
Smoky or not smoky??
If you don't like the smokiness you get from Smoked Paprika, or you are using Smoked Spanish Chorizo, add less Smoked Paprika than the recipe calls for. If you like more smokiness, add a dash extra. But don't go overboard, because a little bit does go a long way with this spice! I like to use Italian Sausage instead of Spanish Chorizo, and then add in a small amount of Smoked Paprika. You want to be able to taste all the other delicious flavors in this dish without overpowering them with the smoky flavor.
Add what you like in your Paella
Everyone's tastes are different, and with paella, can adjust anything to your liking! If you like peas, add peas! My husband does not, so I omit them. If you like olives, use a few Spanish olives to add some color, but add them during the last few minutes of cooking or just to garnish the dish. If mussels are not your thing, make it without. Literally, you can make this to your liking!
Reheating Paella
I think when reheating this dish, it's best to put it into a lightly oiled skillet and stovetop cook for several minutes before stirring and turning with a spatula. Add a tablespoon of water to the skillet and heat over medium heat, covered for 5-8 minutes. The rice should crisp up a little which is what we are looking for.
You could also add a tablespoon of water and heat in a 350 degree oven, covered, for 14-20 minutes, depending on the amount you are reheating.
Speaking of Spain
So, since we are talking about Spanish food today, I can't forget to include a few pictures from some of my favorite places we visited, now six years ago. I want to go back so desperately, since we didn't get to see Barcelona and some many other places.
Touring some cities of Spain
We spent one night in Madrid, before traveling by train to Sevilla, where we rented a car. Then we headed to Granada and to see the Alhambra Palace and Fortress and toured the city seeing marvelous sites! One of the highlights of Granada was a flamenco show in a cave on the hillside. It was a small venue, where the dancers were in arms reach. Fantastic!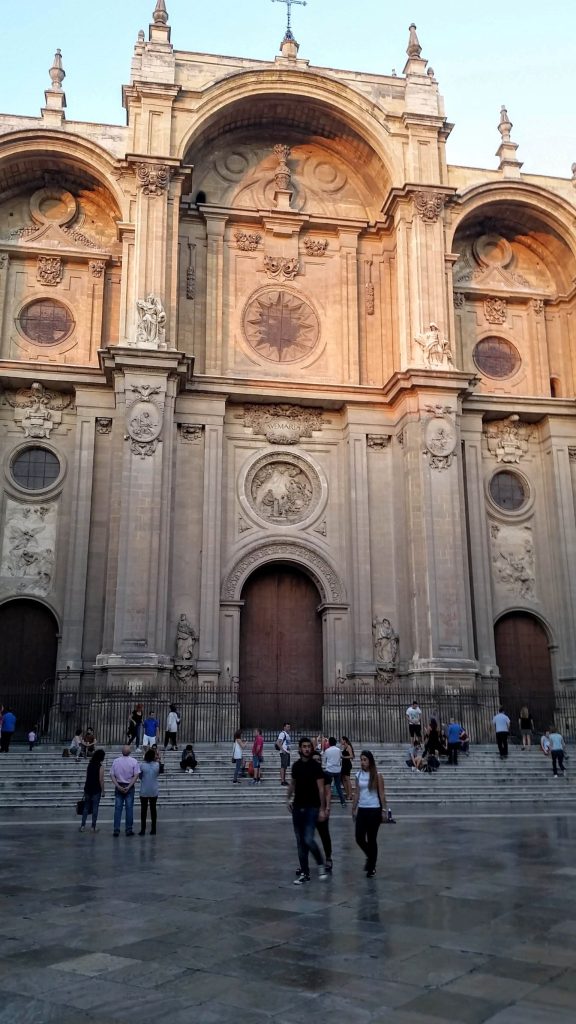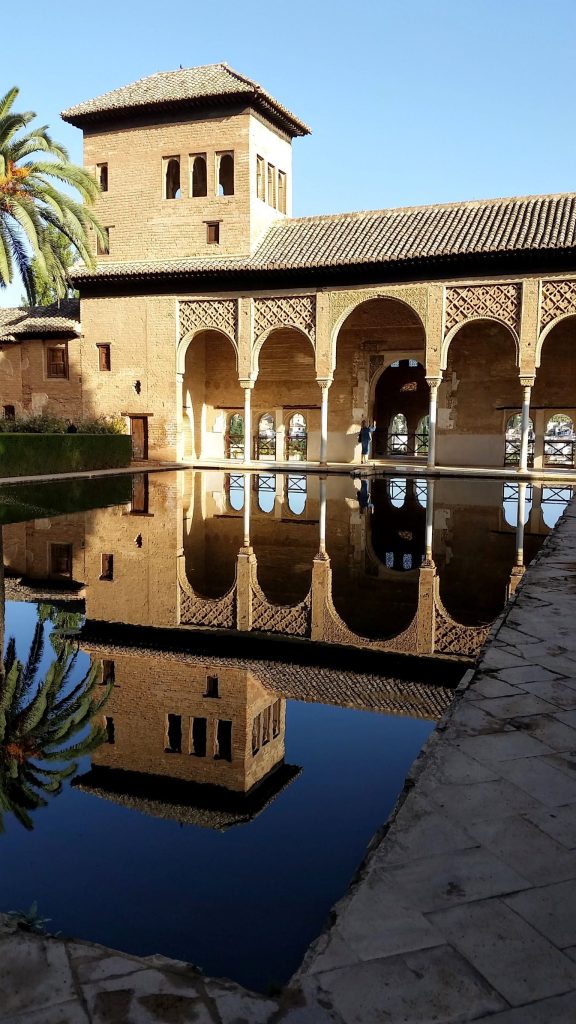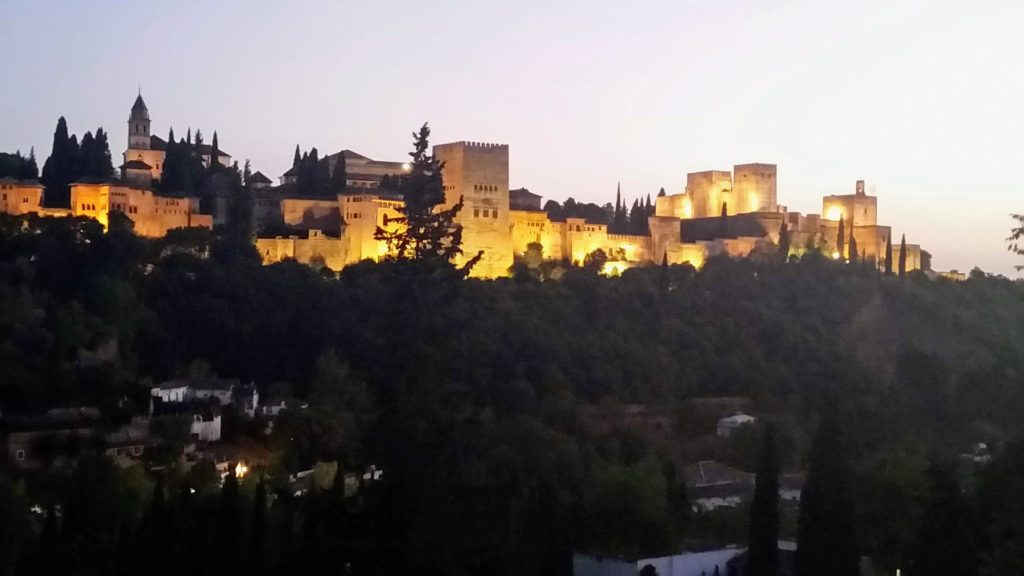 From Granada we drove to the small town of Ronda, a town on the rock cliffs. Beautiful white houses line the hillside. Small and quaint cafes and shops line the streets.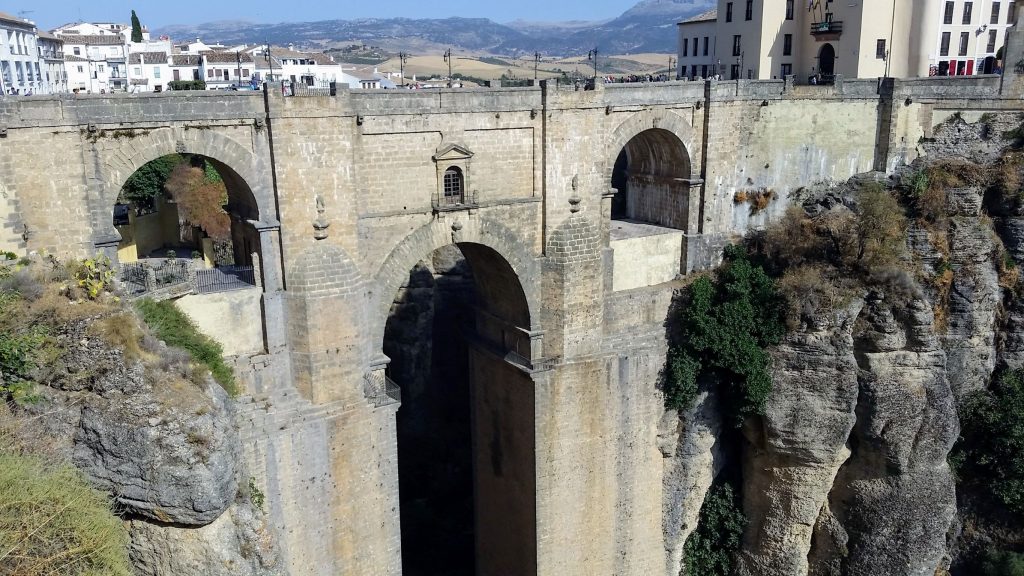 From Ronda we head back to Sevilla
Next, we headed back to Sevilla (Seville) where we dropped off our car and then walked the streets to so many amazing sites! One of these was the World Fair Site. Another the beautiful and gothic Sevilla Cathedral. It is, I believe, one of the largest cathedrals ever built. It's architecture is gothic and definitely yet in parts you can see the Moorish influence, as well.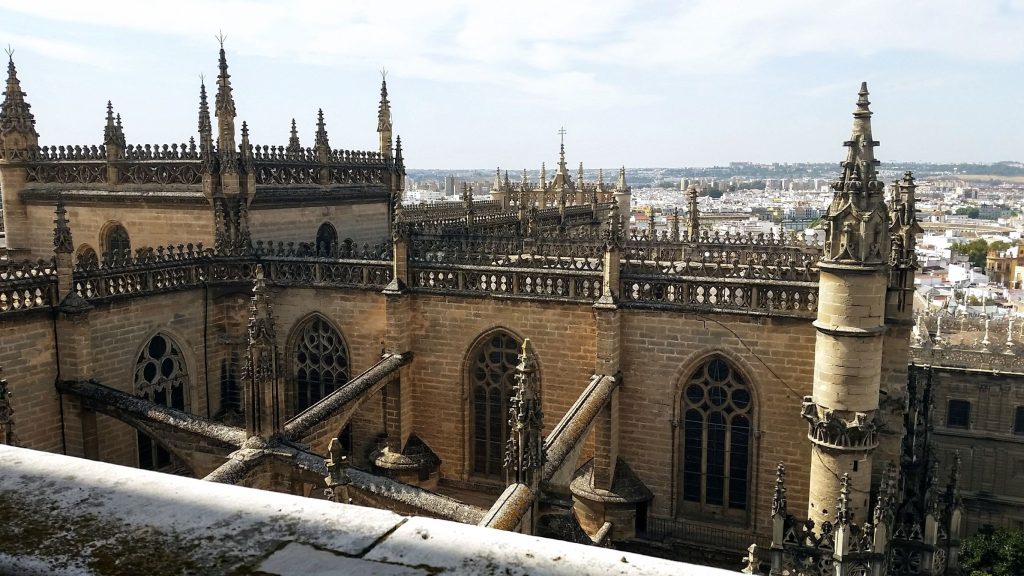 Sevilla is such a fun place to explore. With outdoor plazas where everyone hangs out, drinking and eating together, it is so lively and exciting! I found plenty of gluten free food there, also, which was such a happy surprise. Live musicians singing and playing for anyone that will stop to listen, beautiful, intricate architecture everywhere you look are just a few of the many things you will experience in Sevilla.
Final destination in Spain before flying to Rome
We took the train back to Madrid after our three day stay in Sevilla. Madrid is full of entertainers, cafes, and paella eateries, delis with hundreds of Ibérico jamón legs hanging, shops, and historic sites. Churros and chocolate anyone?? Or for me, some gluten free crepes and thick warmed chocolate! YUM!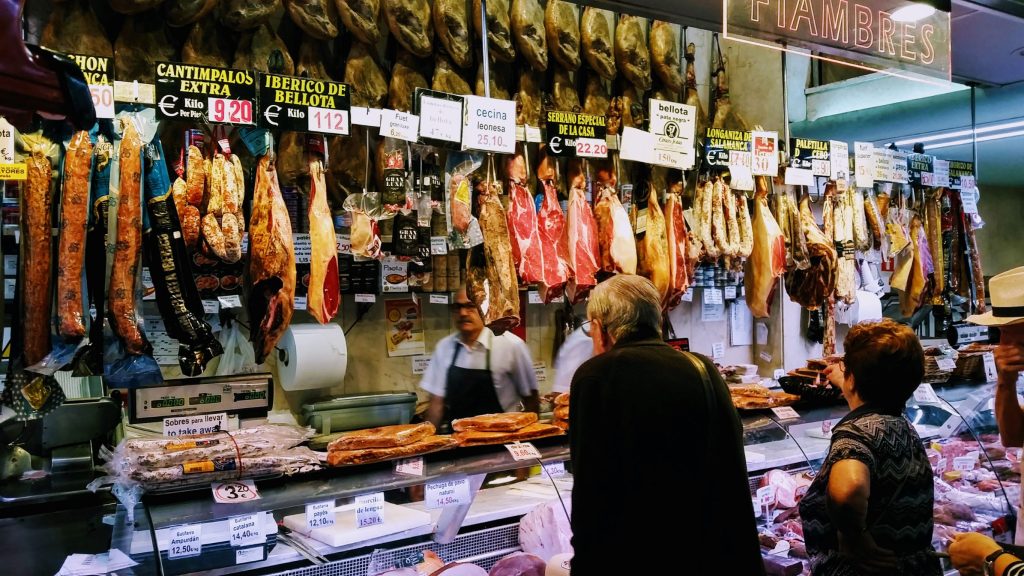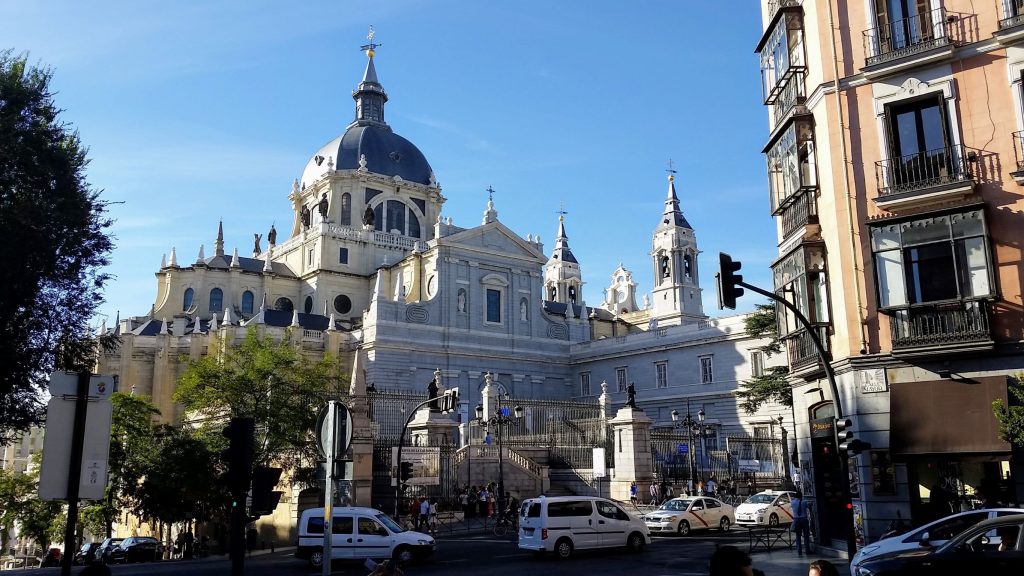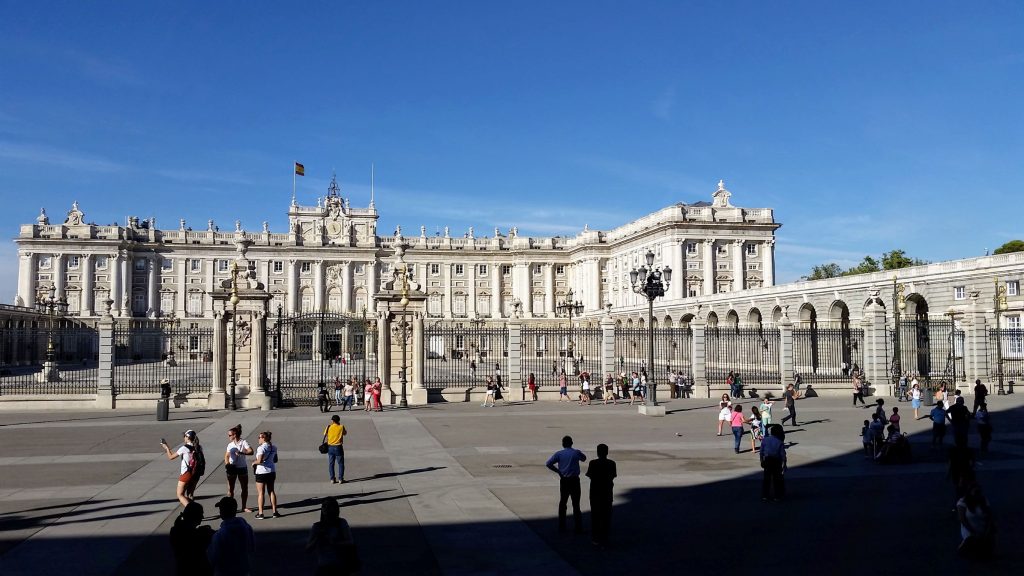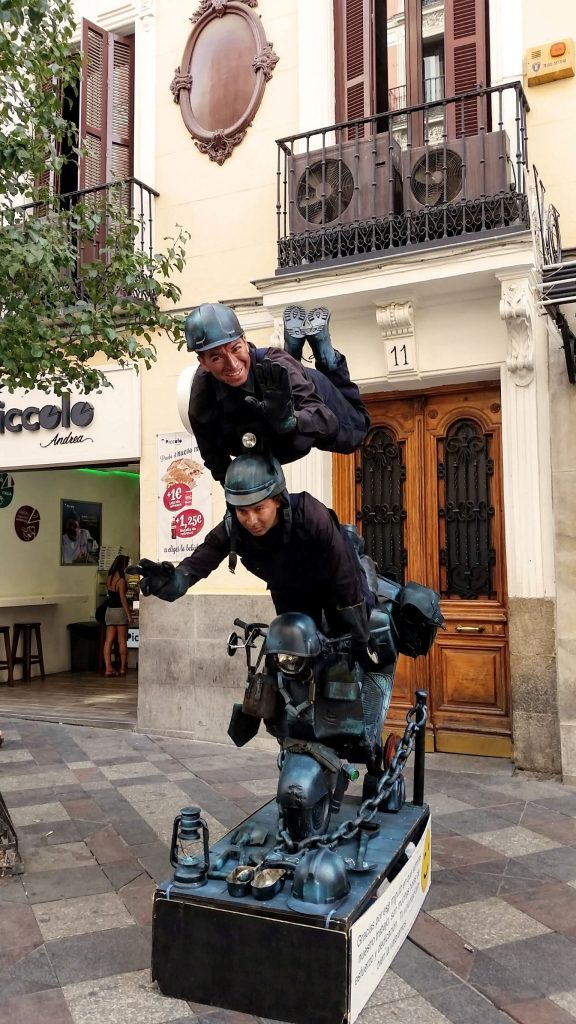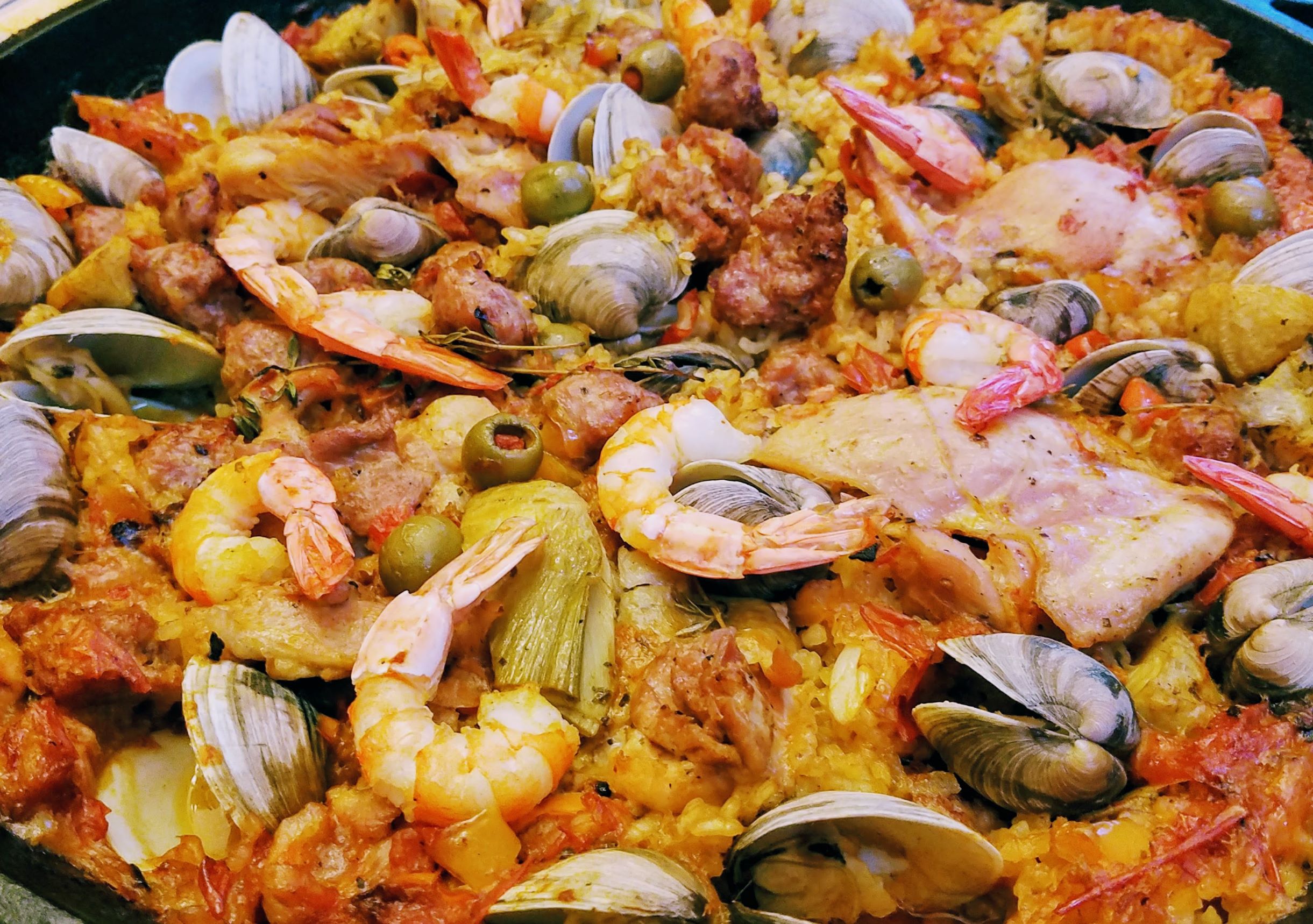 Paella Mixta made Gluten Free
This traditional Spanish flavored dish is the perfect party fare or tapas dish. Use the ingredients you like to create one especially to your liking.
Equipment
1 12-15 inch cast iron or paella pan
Ingredients
4

tbsp

olive oil

4

chicken thighs, boneless or bone-in, or 2 chicken breasts, sliced and cut into 1 x 2" pieces

2

Italian sausage links, casing removed and crumbled, gf or 8 ounces soft Spanish chorizo, diced, gf

7-8

cloves

garlic, minced

½-¾

cup

diced white onion

¼

cup

 finely sliced and diced fennel

½

cup

grated tomato

¼

cup

 red bell pepper, minced

⅛

cup

Pasilla pepper, minced

2

cups

Calasparra rice or Valencia rice

½

teaspoon

paprika, gf

¼-½

teaspoon

smoked Spanish paprika, gf

¼

teaspoon

 turmeric, gf

sprinkle

of crushed red pepper, gf,

optional

½

cup

dry white wine

30

threads

saffron, gf

4

cups

chicken stock, gf

¼

cup

diced artichoke hearts

optional

10-12

clams or mussels in shell, scrubbed

and room temperature

8-10

prawns or large shrimp, rinsed and dried

at room temperature

8-10

scallops or 1/2 lb. cod, cut into bite sized pieces

¼

cup

Spanish olives, pitted

optional

1

lemon

sliced, seeds removed

⅛

cup

 flat leaf parsley, chopped

Salt and Pepper to taste
Instructions
In a measuring cup or bowl, add the white wine and saffron. Set aside. Gather your other ingredients.

Preheat the oven to 450° F.

Salt and pepper the chicken pieces. In 2 tablespoons of the olive oil, in a large cast iron skillet over medium high heat, saute the chicken breast pieces, or chicken thighs until just browned. Remove to a plate or bowl.

Saute the crumbled sausage or chorizo over medium high heat. remove to a plate or bowl.

Add the remaining 2 tablespoons of olive oil. Add the onion, fennel, bell pepper, pasilla pepper, and garlic. Add a sprinkle of salt. Saute over medium to medium high heat, stirring often. Add the grated tomato, paprika smoked paprika, and turmeric and give a stir.

Then add the rice and stir to coat. Pour in the saffron and wine, then the chicken stock, and artichoke hearts, stirring and bringing to a simmer. If using chicken thighs, add back in at this time. Add the sausage pieces in and give a quick stir.

Cover with a lid or foil and move to the lower third of the oven. Bake for 20-22 minutes.

Turn the oven up to 500 degrees. Remove the pan from the oven.

If using chicken breast pieces, tucked the sauteed breast pieces into the rice. Add the clams, mussels, scallops, prawns or shrimp, or cod pieces in the same way, tucking them into the rice, and arranging in a decorative manner.

Add the olives, if using. Sprinkle with 1/2-3/4 teaspoon kosher salt and crushed black pepper. Top with lemon slices and return, uncovered to the lowest rack in the oven.

Bake for 5-10 minutes more, or until the clams and mussels have opened and the fish, shrimp, or scallops are thoroughly cooked. Discard any clams or mussels that did not open.

Let sit for 5-10 minutes. Sprinkle with parsley just before serving. Serve with lemon wedges.
Notes
Paella can be served as an entrée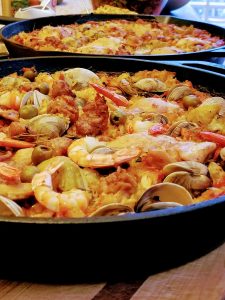 , side dish, or tapas style. It's perfect served as the main dish of the meal with a simple large green salad. Serve it in the pan on the center of the table for everyone to dig into! 
I like to keep the Calasparra or Valencia rice on hand, so I can whip this dish up easy. The other ingredients I typically have on hand, so I need to only go and purchase the seafood usually, although sometimes, I even cheat on that and use what I have in the freezer. There's no rules, just use what you like in this delicious dish!