Jump to Recipe
Print Recipe
A good day for Cranberry Orange Scones – Gluten free of course! This scone is not a dry scone, but rich with butter and cream. The texture is more like a pastry, which I prefer.
Our family las always loved dress up and tea parties (well, the girls in the family anyway) and there's nothing better than delicious scones with tea. We've hosted many a tea party over the years!
English breakfast tea, made in the British style with milk (and sugar if you like it) and don't forget to take time to make your tea properly, by heating your tea pot, boiling your water, pouring the boiling water over your tea strainer or bag, steeping it but not dunking it.
Speaking of tea, reminds me of having tea with my Grandma Rose at her house. Those were always special times. We'd always have a little cookie or "dog biscuit", as she called the very hard cookies that we would dip in our tea or coffee. Tea parties have always been a special part of peoples' lives. Now with the Shelter in Place order, we have been having tea parties with our four year old grand-daughter and daughter who live in Capitola, and my daughter in San Diego, via Zoom.
Sometimes my mom joins us too, for a full four generations! We all show our tea pot, display our tea cup, share our treats (virtually) that we are enjoying, and the kind of tea we are drinking. This week both my mom, my sister-in-law, and niece joined also, decked out in dress up "tea" hats and attire. I brought out my special tea pot and creamer. My mom reminded me it was brought from Italy when my grandparents went over for a visit to my Grandpa Joe's hometown in Gerace, Calabria, in southern Italy.
Using special family heirlooms like my teapot and creamer, remind me of the important things in life: the people that God blessed me to know and share life with. Enjoying sweet little things, like the flowers blooming out on the deck (mandarin blossoms, roses, and jasmine, just to name a few) tells me to breath in the beauty and blessings around me. Enjoying comfort drinks and food is important for us during this time. Especially, as stress levels are higher for many people, we need these moments. Just going to the store is not my favorite lately and causes quite a bit of stress.
So, take time to relax with family and friends. You can use video methods, until we can be together in person. Enjoy some tea and scones together! I'm having Gluten Free Orange Cranberry Scones! What will you be having?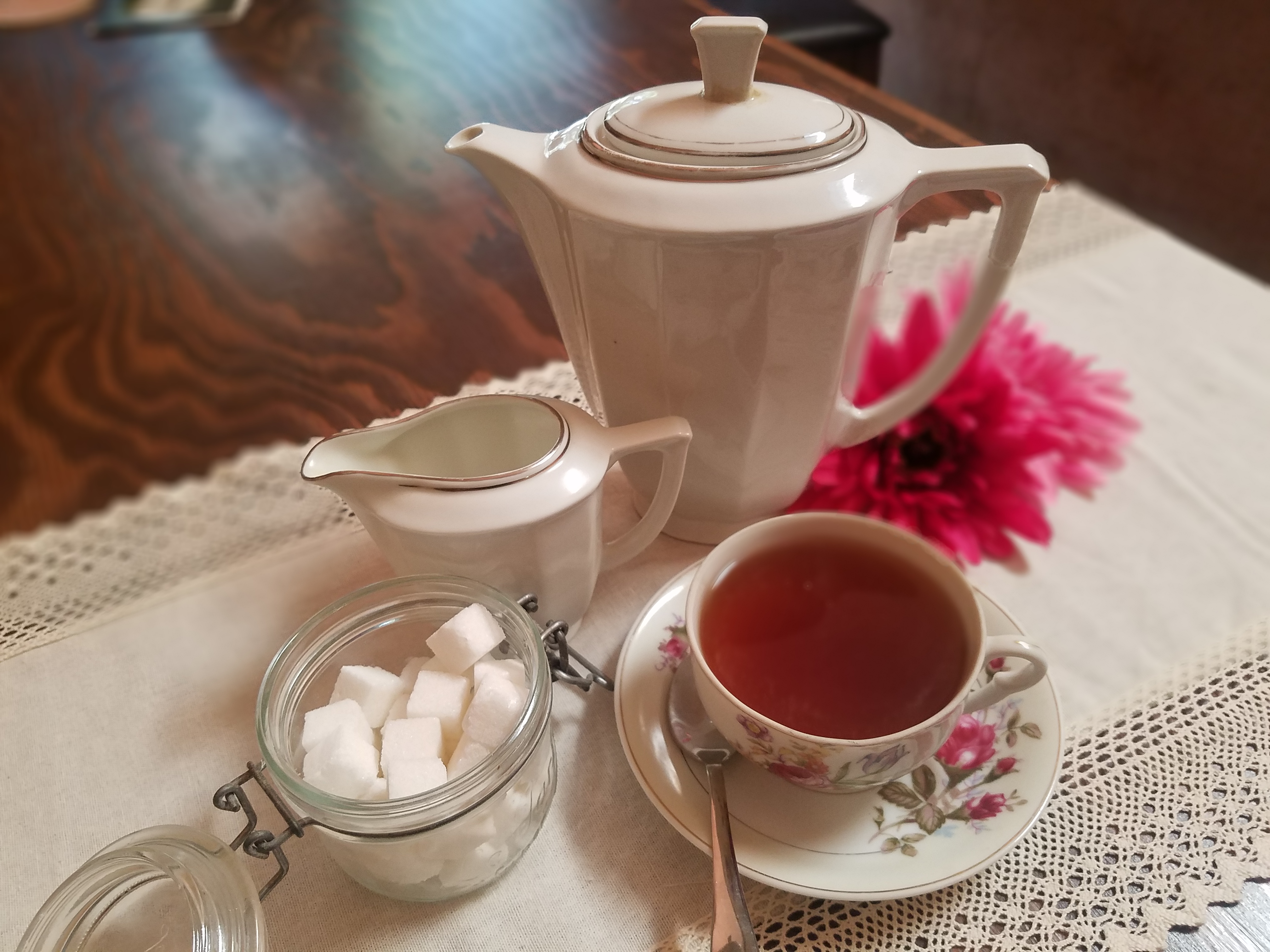 There has been lots of baking happening across the country and that means lots of stores are out of key ingredients. There are only a few things you can't do without for baking, so just be creative on the other things. If you don't have all the ingredients, can you substitute something else?
I've been using up a lot of things from my pantry and freezer lately. More creativity is allowed and is really beneficial when we are cooped up and we are making less shopping trips for things we need. Your recipe may turn out different but who knows, you might even like the recipe better with your tweak!
Side note, I got Paul Sampson to eat three mini scones! He loved them and couldn't tell they were gluten free. Normally he would pass on these! I'm not even going to tell you how many I ate in the course of a few days!
These are great with tea, for breakfast, or anytime. For a non gluten free version see note at end of recipe. Now, that's a switch!
– Laura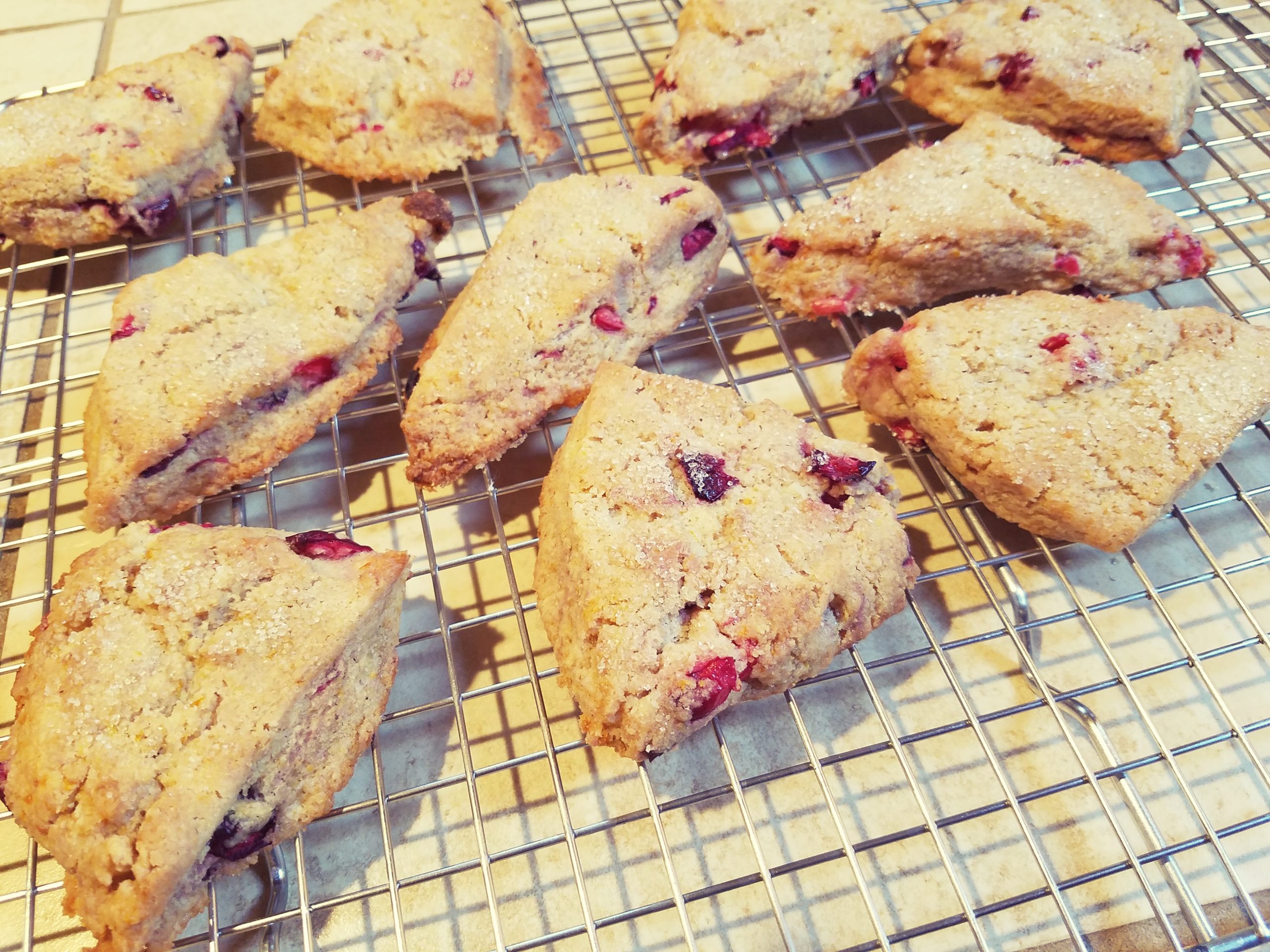 Gluten Free Cranberry Orange Scones
Gluten free cranberry orange scones are perfect for a breakfast treat, tea time, or a snack.
Ingredients
7 Tablespoons of butter, cut into small pieces, then freeze for 15 to 20 minutes

1/8 cup of whole milk (or half and half)

1/8 cup of heavy cream (or half and half)

1 1/2 teaspoons of vanilla extract, gf

1 cup frozen cranberries unsweetened and chopped coarsely, dried cranberries, or berries.

Raspberry or blackberry would be delicious as well. If dried cranberries, use 3/4 of a cup and soak in a small amount of water, then drain)

1 cup of gluten free flour (gf rice flour blend or gf 1 to 1 flour)

1/2 cup almond flour, gf

1/3 cup tapioca starch, gf

3/4 teaspoon of xanthan gum or guar gum

omit if using all purpose gf flour that contains it

1/3 cup of brown sugar, packed

1 tablespoon of cane sugar

3 teaspoons of baking powder, gf

1/2 teas salt (1/4 teas if using salted butter)

Zest of 1 large orange or 2 small

1 tablespoon of cane sugar or turbinado sugar

for sprinkling on top of scones before baking
Instructions
Preheat oven to 400 degrees. Line a baking sheet with parchment. Cut butter into small pieces using a pastry blender/cutter or two knives. Put in a small bowl in the freezer for about 15-20 minutes.

Stir together, milk, cream and vanilla. Set aside.

In a mixing bowl combine dry ingredients and orange zest, reserving 1 tablespoon of turbinado sugar. Add butter and cut in a bit with a knife until you have very small pieces of butter in the mixture. You can also do this with your fingers. Add the cut cranberries (wait to add other frozen berries until after mostly combined, because they will break apart and won't be as pretty) and toss to mix.

Using a fork, add the milk in 2 T portions and stir until dough forms together. Sometimes your hands are easier at this point. On a lightly floured surface (gf if needed) flatten and form dough into a 3/4 inch rectangle, square is fine too. Cut into 4 triangles by cutting in half each way and then cut those in half again (makes 8 medium or 16 small or a combination of both sizes like I've shown here) and place on the baking sheet, 1 inch apart. Sprinkle with 1 tablespoon of remaining turbinado sugar.

Bake for 13-15 minutes for small and 15-20 for large scones, until the tops are golden brown and slightly soft to the touch. Allow to cool on the pan for 5 minutes (and grab one while it's hot), then move to a wire rack. Serve with lots of butter. Enjoy!

**For a non gluten free version, simply substitute the 1 cup of gluten free flour, almond flour and tapioca starch, for 1 1/2 cups of all purpose flour.
Notes
I've always been in love with scones! These gluten free scones are so buttery and not at all dry like some. You could serve them with a Devonshire "like" cream or just butter. They do have lots of flavors with the orange and cranberry so they don't need much.