Jump to Recipe
Do you need a little jolt on a hot summer afternoon? When I'm feeling lethargic from the heat, it's a perfect time for a Gluten Free Dark Chocolate Iced Mocha! With the caffeine and chocolate it's sure to give you a little needed energy to make it through the remainder of the day. It's my drink of choice! The chocolate sorbet adds the small amount of sweetness needed to this drink, besides adding the decadent chocolate taste. Even when made dairy free, it is delicious. This mocha is sure to put a smile on your face and erase any troubles! At least temporarily!
If you are looking for a dairy free and gluten free chocolate sorbet, Talenti brand makes one: Talenti Dairy Free Dark Chocolate Sorbetto. There are so many options, but the last one I'll mention is Nada Moo! This is a brand my daughter introduced us to. The Nada Moo! Organic Chocolate Dairy Free Frozen Dessert, is a great choice for a dairy free and gluten free "ice cream". All these sorbets and chocolate desserts are very good. They are so creamy in texture, without the cream. I have also made chocolate sorbet dairy free and gluten free, and that is an option as well as there are many recipes online. There are even some name brand recipes for it!
We've been eating Talenti brand gelatos and sorbettos for many years now, but more recently they have been labeling their gluten free products as such. So, don't ever assume they are all gluten free. If you don't need dairy free, Breyers ice cream is usually a safe bet, but again check the label for the "gluten free" certification.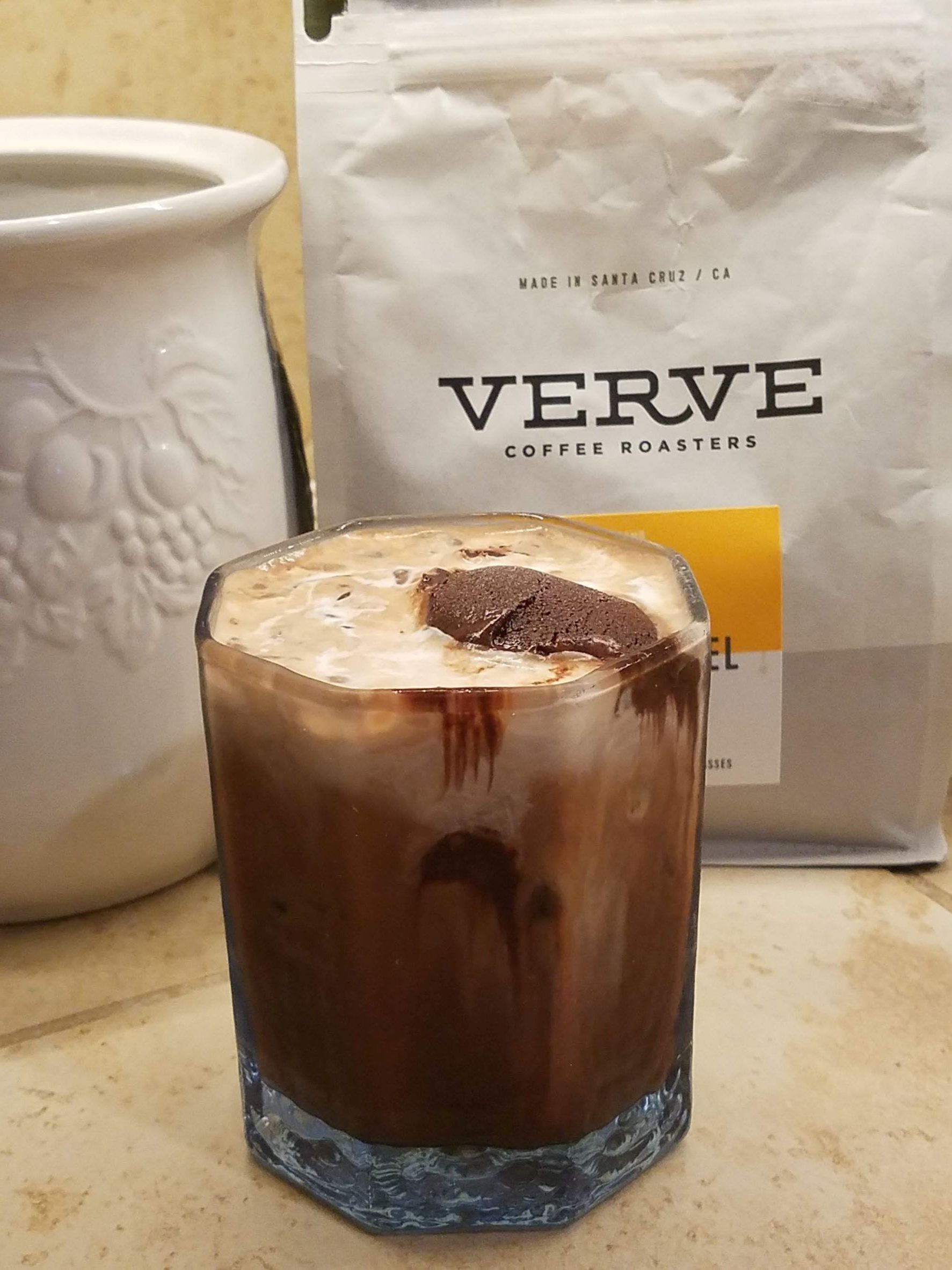 Gluten Free Dark Chocolate Iced Mocha
Ingredients
1 cup of strong coffee, cooled or chilled

1/8 cup dairy free milk

A handful of ice cubes

1 or 2 small scoops of dairy and gluten free chocolate sorbet

small drizzle of heavy cream or non dairy creamer of your choice for the top.

sprinkle of cinnamon, optional
Instructions
Add the cooled coffee, your choice of milk, ice cubes, and chocolate sorbet to a glass. Scoop in chocolate sorbet on the top. Drizzle a small amount of non-dairy creamer or heavy cream over the sorbet. Sprinkle a little cinnamon on top if you like.
Notes
Yum! A perfect pick me up on these hot summer like days! This is such a treat with the chocolate sorbet on top!