Jump to Recipe
Print Recipe
What do you do what you have an abundance of Italian parsley and basil from the garden! You make a Tuscan White Bean and Potato Soup laced with pancetta and topped with lots of fresh parsley and basil!
This soup is very similar to soups my grandmother would have made, with simple flavors and ingredients. You might likely find these items on hand in your pantry or refrigerator, but if you don't have pancetta, you can substitute a little smoked ham. Soups are fantastic meals to start and then just let simmer on the stovetop and enjoy the aromas filling your home.
This one is a perfect soup for a light meal. Or, try it as a starter for your main entrée. So fancy!
~Laura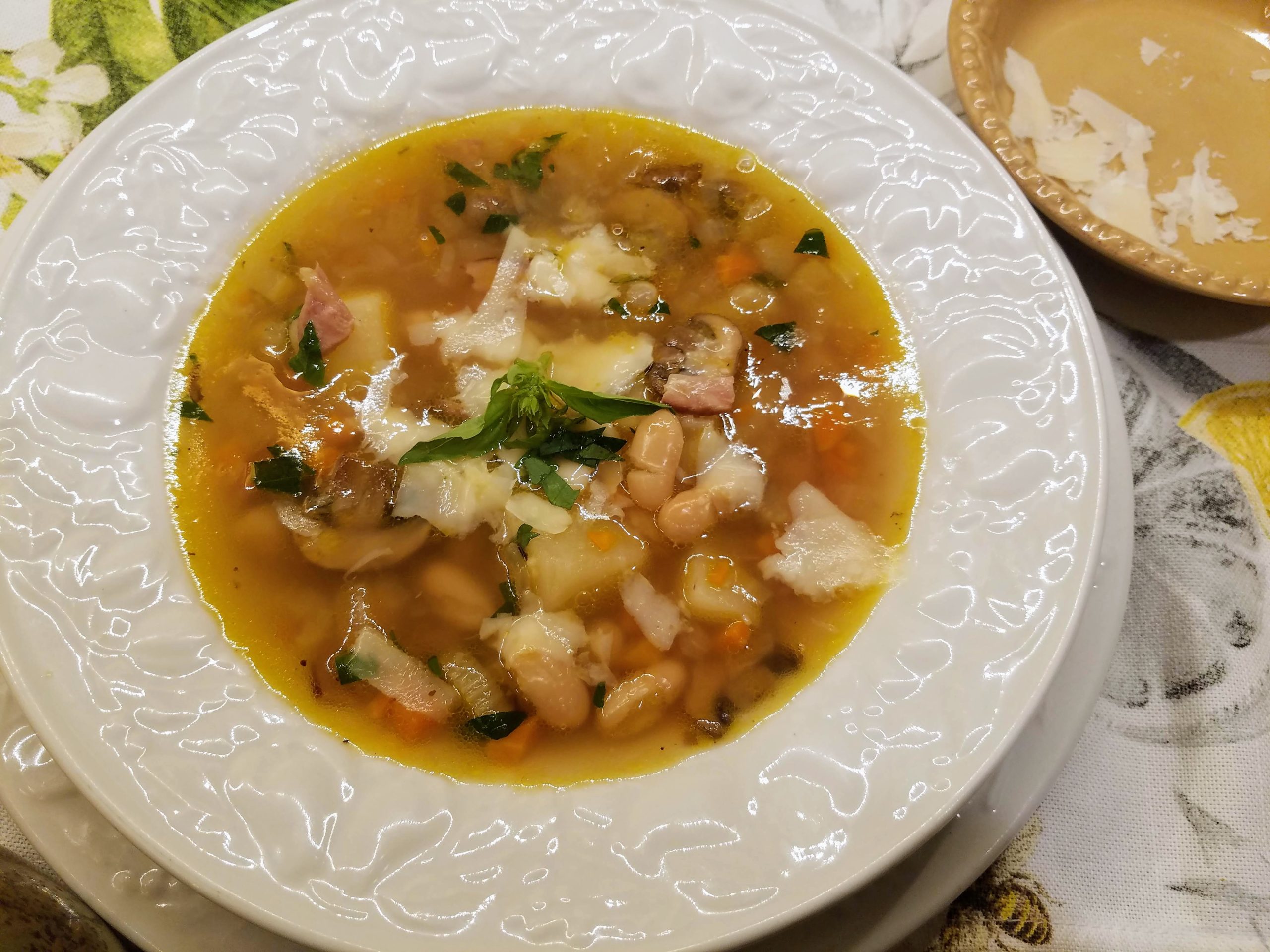 Tuscan White Bean and Potato Soup
Prep time: 10-15 minutes | Cook time: 1 hour | Makes 6 1 cup servings
Ingredients
5-6 Baby Bella mushrooms sliced (saute in ½ tablespoon butter and ½  tablespoon olive oil)

1.5 – 2 ounces gluten free pancetta or smoked ham, chopped small

1 medium carrot, finely diced

1 small onion, finely diced

2 ½  tablespoons extra virgin olive oil

2 large stalks celery, chopped

¼ tsp salt

3 garlic cloves, minced

4.5 cups of homemade or boxed vegetable or chicken broth, gf

1.5 cups water

1 medium potato, diced in ½ " pieces

½ teaspoon balsamic vinegar

1 – 15.5 ounce can Trader Joe's Cannellini White Kidney Beans

crushed black pepper to taste

1 ½  tablespoon chopped Italian flat leaf parsley

1 ½ tablespoon chopped sweet Italian basil

Grated or shaved Trader Joe's Parmesan or Trader Joe's Pecorino Cheese for topping each bowl
Instructions
In a small skillet, heat the olive oil and butter and saute the mushrooms, turning to brown both sides. Remove the mushrooms to a small plate.

In a medium saucepan, brown the ham or pancetta in a drizzle of olive oil. Remove to a small plate.

Add the remaining olive oil and heat. Saute the minced onion, carrots and celery, along with the salt to the pan and cook until just getting soft. Add the minced garlic and stir for 20 – 30 seconds.

Add the broth, water, potato pieces, browned pancetta or ham, and balsamic vinegar to the saucepan. Add in 1/8 teaspoon or so of crushed black pepper. Simmer on medium low for 40 minutes.

Add the drained white cannellini beans, mushrooms, and half of the chopped parsley and basil. Simmer for 15 minutes. Remove from heat and add in remaining basil and parsley. Add more pepper to taste. Ladle in bowls and top with shaved or grated pecorino or parmesan.