It's taken a few months to get this blog written! I can hardly believe we arrived back August 31st! We had such a wonderful time on our trip to Scotland and England! Now it's time for more Mama Laura's Kitchen gluten free travel discoveries!
You've probably heard me say, or maybe saw my posts on Instagram or Facebook talking and showing you the loads of gluten free menu items I was served! I was so grateful for the many gluten free options I was offered when dining out in these countries.
We ate a lot of seafood over the two weeks. I enjoyed everything from gluten free fish and chips (I had this a few times and usually I only get this if I make it!), to scallops and langoustine, mussels, and haddock! I had my favorite soup, Cullen Skink, a smoked haddock chowder (quite a few times!!)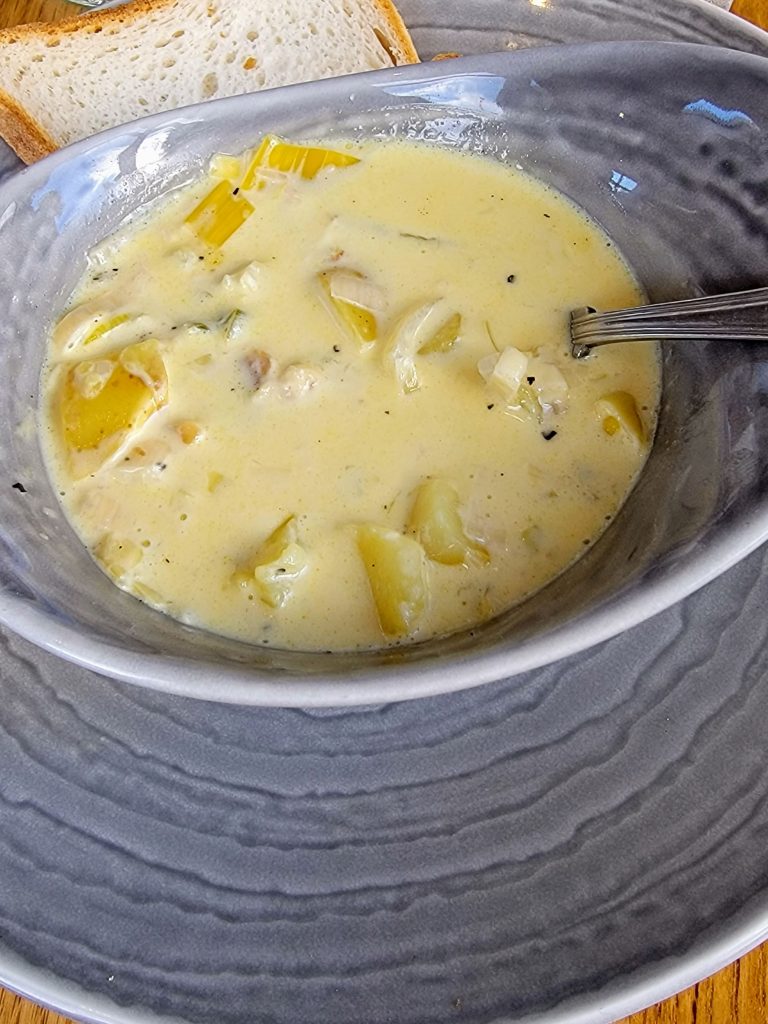 The first nine days of our trip were spent on retreat, a spiritual pilgrimage. Our time with our small group on the retreat was wonderful, calming, spiritual, as well as introspective. During the retreat, we visited Iona in Scotland and Lindisfarne or Holy Island in Northumberland, England, and Durham Cathedral in Durham, England.
Gluten Free Cullen Skink! Hooray!
We first found Cullen Skink chowder at a sort of rest stop along the drive by Loch Lomond in the Trossachs National Park. It was delicious! It was made gluten free and even came with some gluten free bread! Here, in the states, our chowders are very difficult to find gluten free, as they sometimes will have flour to thicken it. But, chowders are very easy to make gluten free!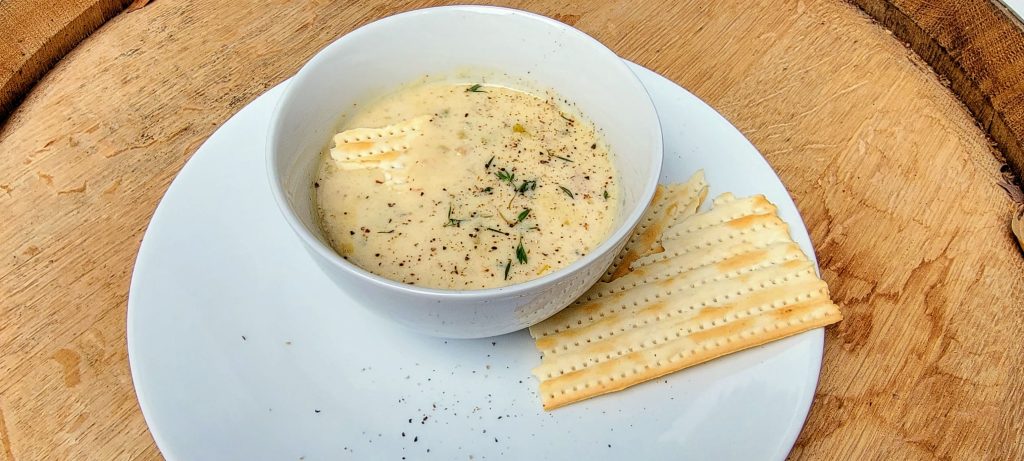 Our group's van driver, Mick, probably thought I was a bit eccentric having fish chowder before 11 am! But then I explained to him that I eat when I find things that I can eat because of my gluten intolerance. Gluten free travel can sometimes make things tricky. He actually had Crohn's Disease, so he understood. I was his captive audience for a good portion of the day, on the van ride to Oban, because I was seated in the front seat. I felt very lucky to be seated up front getting a personal tour of Scotland hearing lots of information about the areas we were driving through and to!
Starting our pilgrimage in Iona, Scotland
Iona is a small island off the Island of Mull on the West Coast of Scotland. People come for spiritual retreat to this special island, to spend time with God, walking places the early Christians walked. The museum at the Abbey is amazing, full of artifacts dating from the 500's.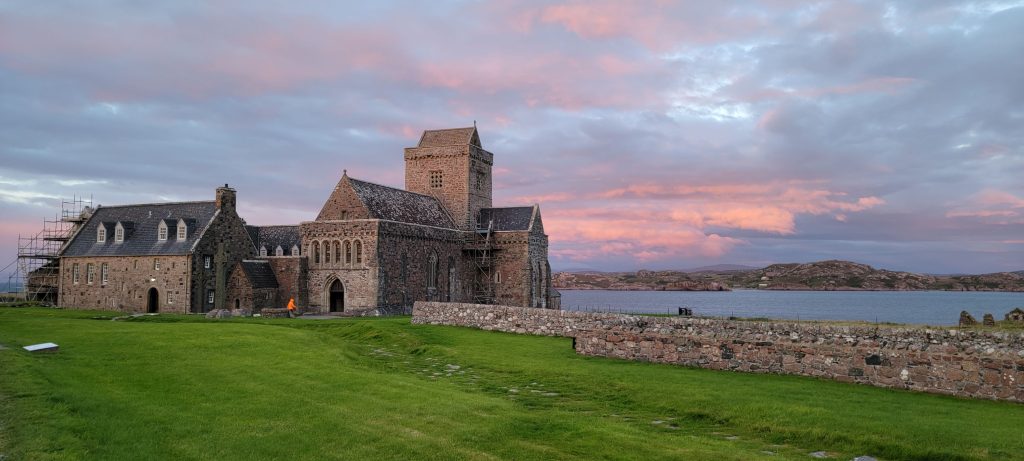 Everywhere around us, beautiful countryside, sheep, turquoise colored ocean, and purple heather covered hillsides. I could spend hours just being enveloped in the picturesque countryside!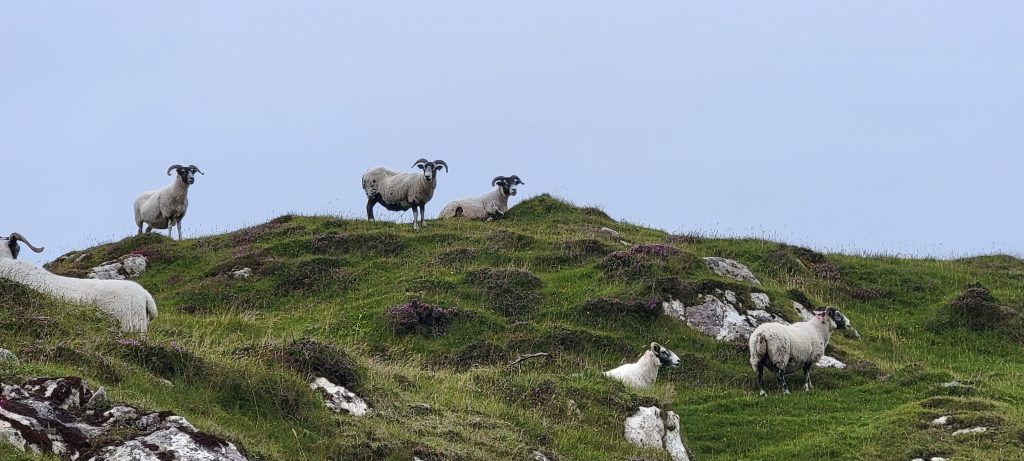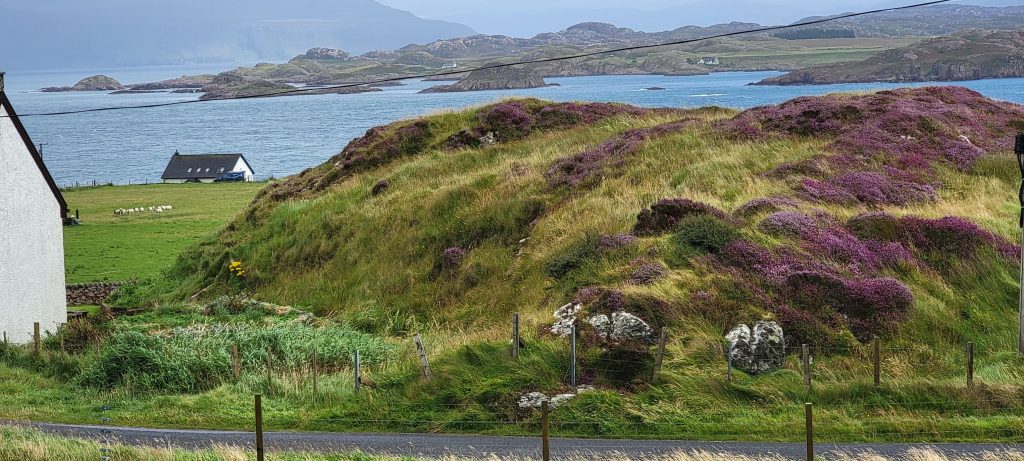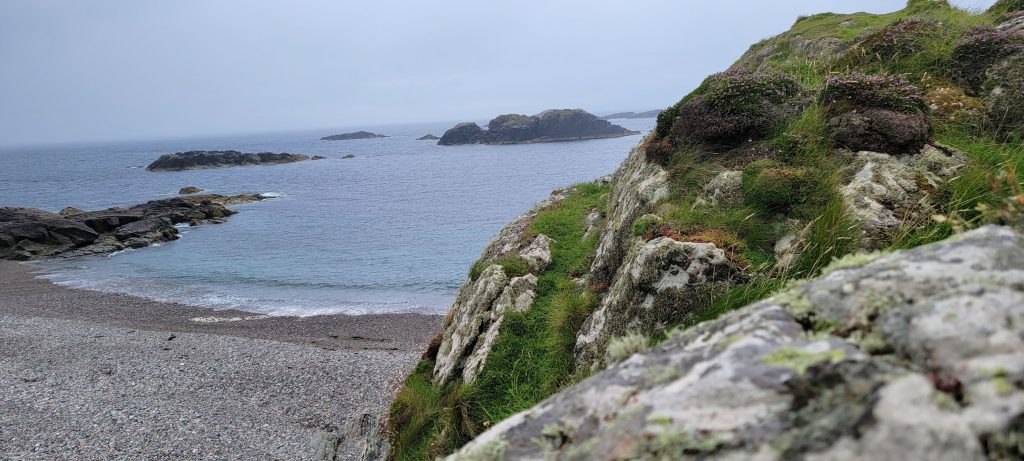 We stayed four nights at the Columba Hotel and were well taken care of for our breakfasts and dinners.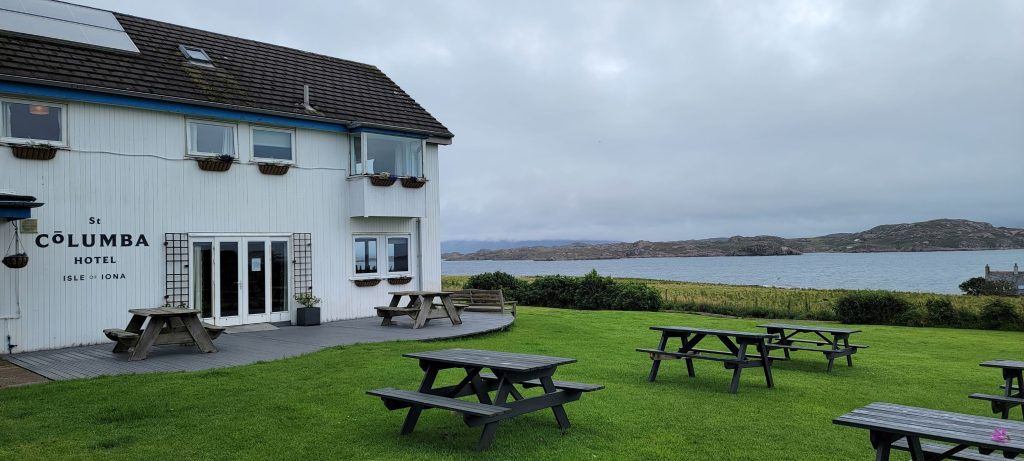 The dinners served were like something out of a 3 Star Michelin restaurant! I enjoyed lots of seafood here! They made gluten free travel easy as they always had plenty of gluten free options, even gluten free desserts!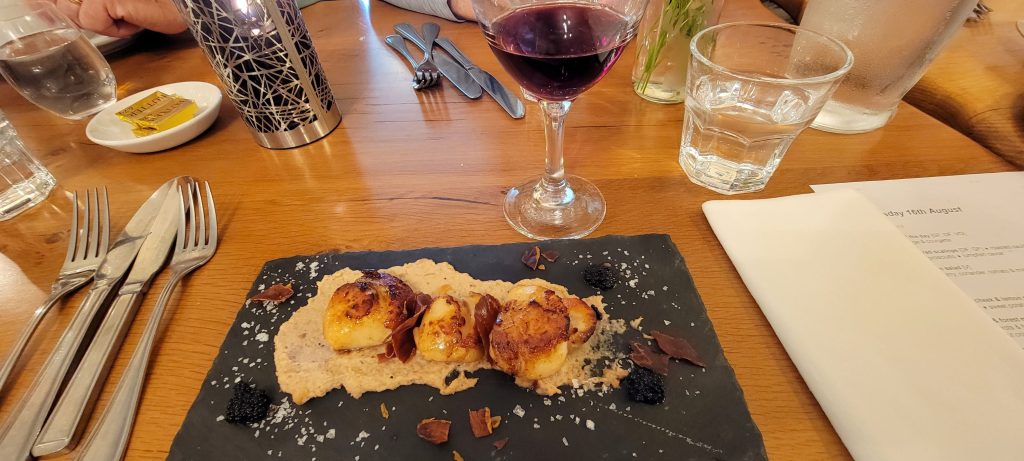 The people are warm in Iona and seem to want to facilitate a calming retreat for you.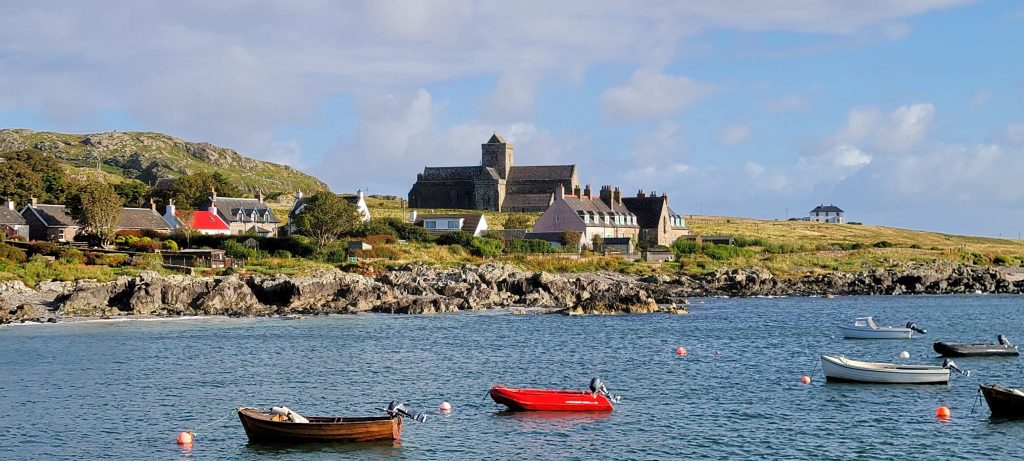 Lindisfarne, Holy Island
Holy Island was our next stop. It is said to be one of the smallest and quaintest of islands. It actually just came up on my google feed as a top place to visit!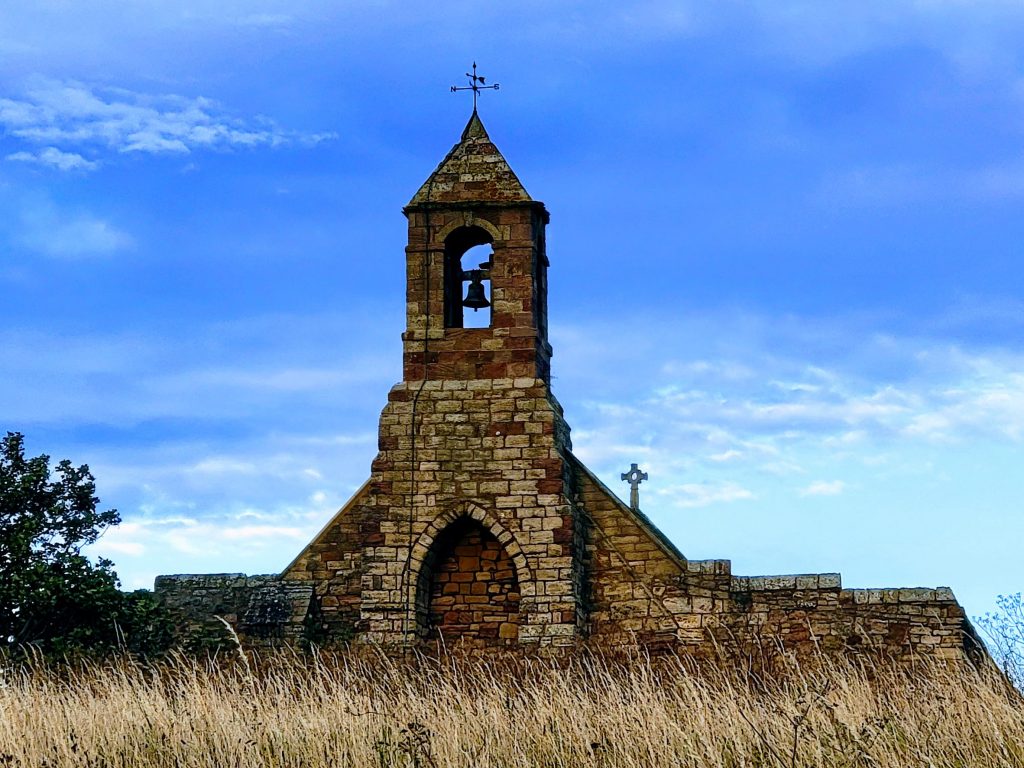 The causeway to this tiny island is virtually washed over by the tide and it's only accessible during a few low tide times during the day. But once there, you can explore the ancient priory, the Lindisfarne Castle, which was originally a Tudor Fort converted to a holiday home in the 1900's, and now is a museum.
The cute shops and pubs, inns, the Lindisfarne Priory, and St. Cuthbert's Island are well worth discovering. Everyone from young families to older explorers line the streets and Priory, the shops, and pubs. On the gluten free travel side, we were able to find options!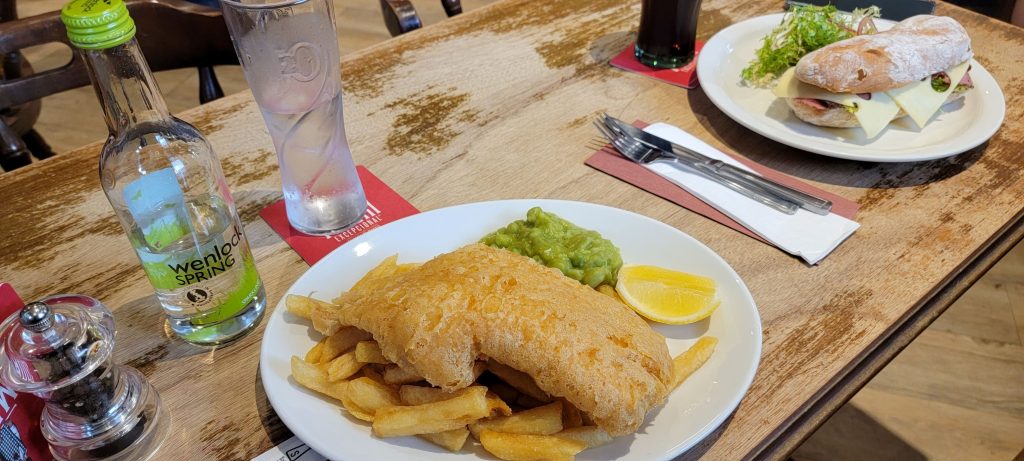 The Lindisfarne Hotel treated me to wonderful gluten free food
We stayed five nights in Lindisfarne with our wonderful host at the Lindisfarne Hotel, Sean. He was amusing, helpful, welcoming, and I loved his accent and cute sayings, like "easy peasy, lemon squeezy".
We enjoyed full British breakfasts each day, with choice of eggs, toast (including gluten free toast in a separate toaster), sausage or bacon, which were also gluten free, and the traditional tomato, mushrooms, and beans, that accompany a good English breakfast. Our rooms were lovely as well, clean and plenty of amenities, water, coffee and tea, and biscuits to enjoy in our room. Sean and his team are so hospitable and helpful. Any problems at all, he would say, "we'll sort it ".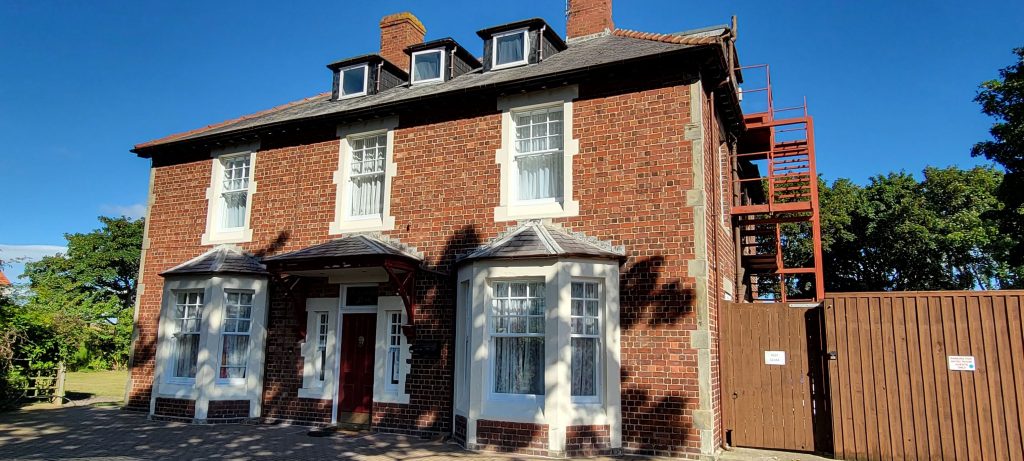 Pilgrim walks and Pilgrim's Coffee
We explored on our own and as we were led on several pilgrim walks; and I had delicious cappuccinos at Pilgrims Coffee, mid morning.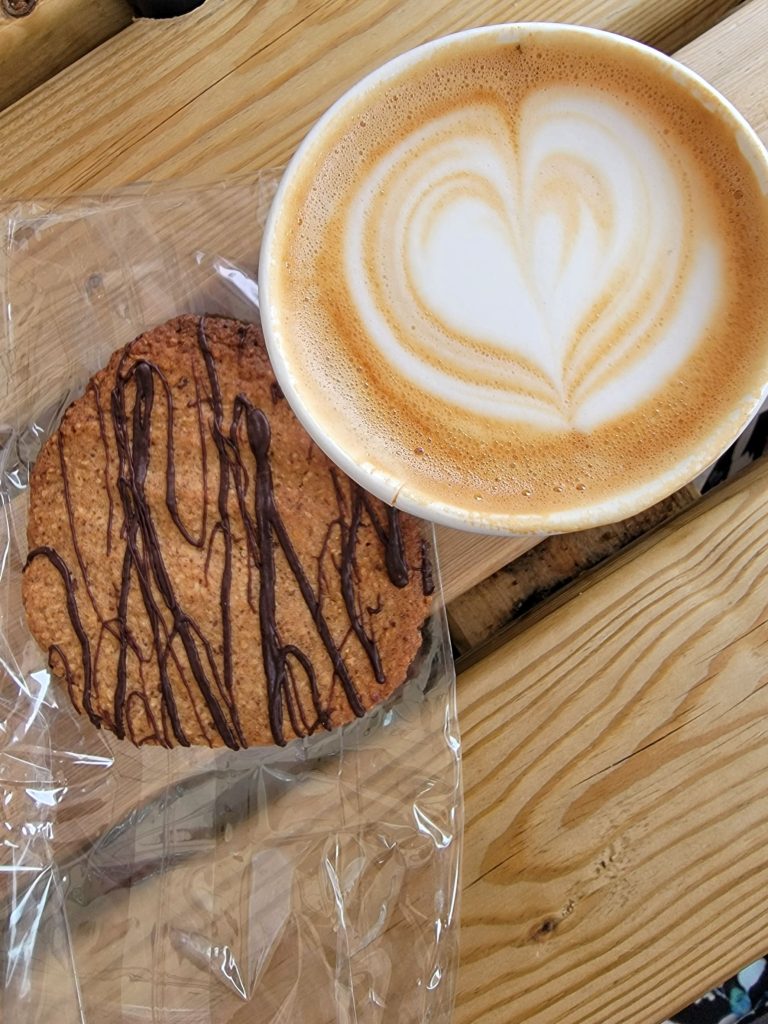 We walked the pilgrim walk, which many have walked for hundreds if not thousands of years, since 635 when the island was given to St. Aidan from King Oswald.
Edinburgh and the Military Tattoo
At the end of our nine days, we loaded a van with our team for our final night in Edinburgh. Everyone said their goodbyes that night as we were all heading our own directions in the morning.
Paul and I decided to stay another night in Edinburgh to see the amazing Edinburgh Military Tattoo Show. It was incredible! Something to see if you ever get the chance. Military guard, drum cores, bagpipers, and dance troupes from all around the world perform in this fantastic show right in front of the Edinburgh Castle. My husband had been wanting to attend this show that happens once a year, for some time. Our trip just happened to coincide that we would be in Edinburgh for their second to last show!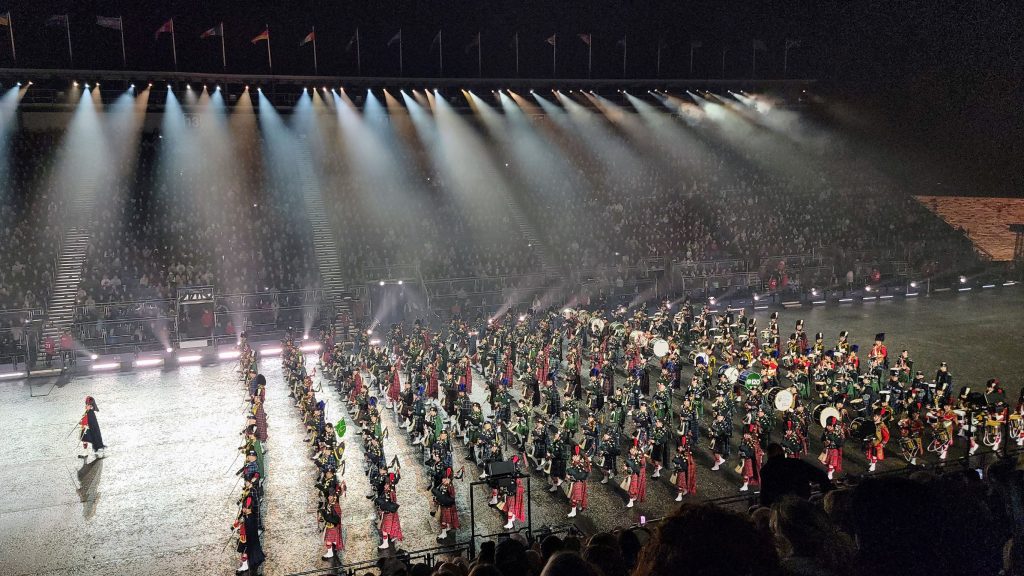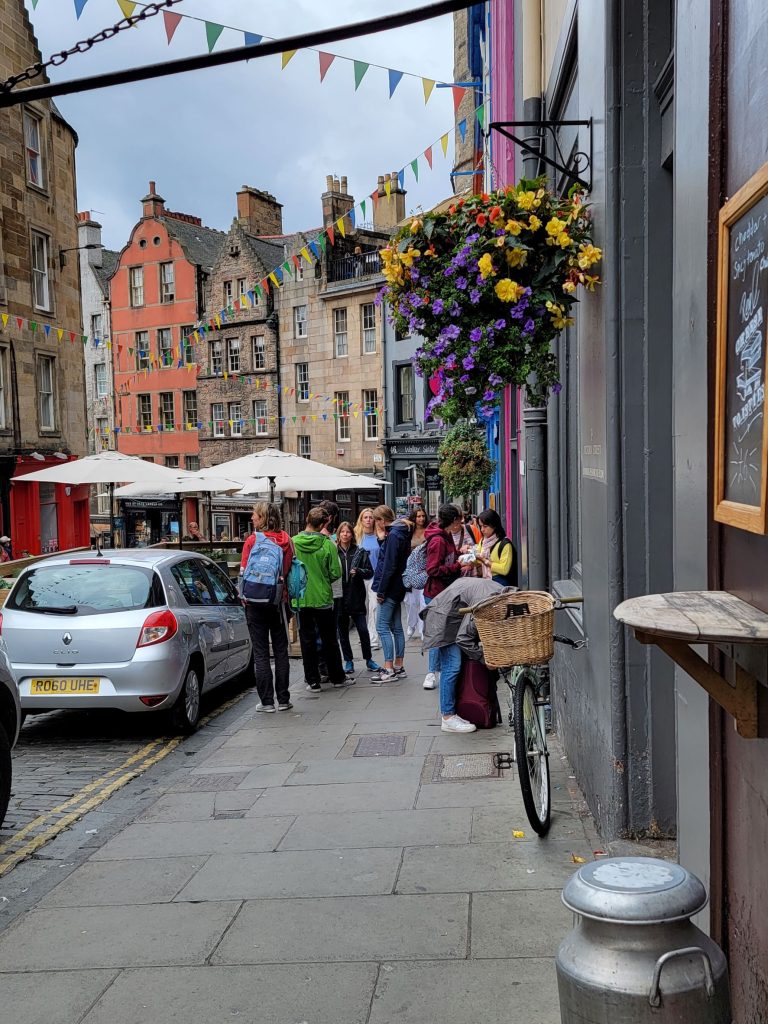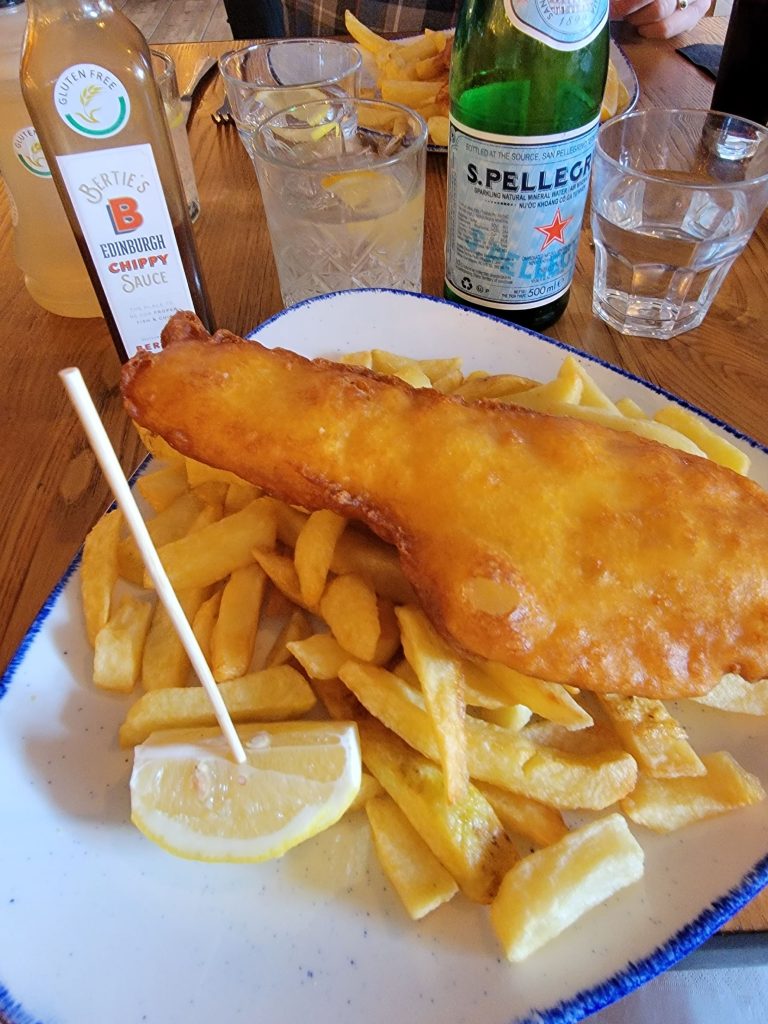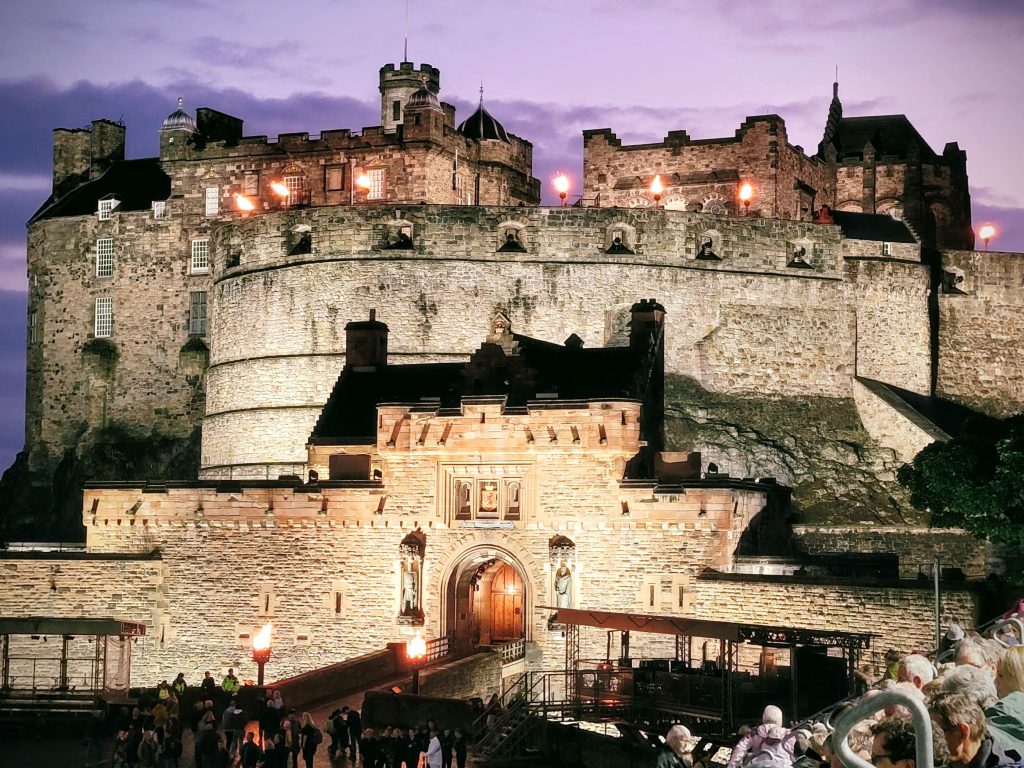 The Scottish Highlands and Inverness
We grabbed a taxi from our hotel in Edinburgh to the Waverly Train Station. We had purchased our tickets for Inverness, Scotland the previous day just to make sure we had a spot! Paul found me a gluten free breakfast at one of the cafes in the train station. Smoked salmon, salad, and hard boiled egg! It was perfect with my gluten free crackers I had bought in Iona.
When we arrived in Inverness it was sunny and lovely out! For most of our three days there we stayed right on the River Ness at the Glen Mohr Hotel. We ended up moving from a very noisy hotel in the center of town to this lovely spot! They were very welcoming and even let us leave our luggage and then check in early. It was such a peaceful location and still very close to the town center. The river was beautiful and we walked park like trails on both sides of the river several times.
We met some couples traveling on a Rick Steve's Tour and felt like we were in the right place!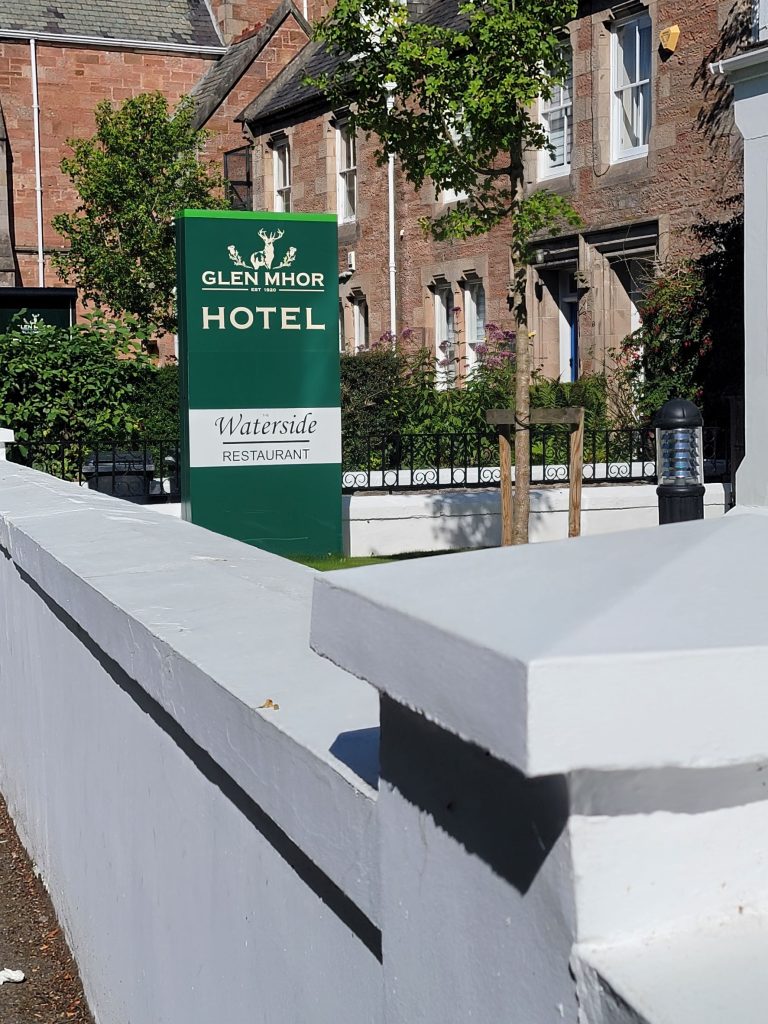 Delicious Gluten Free Meals in Inverness
We enjoyed eating at the Waterside Restaurant right at our hotel and at several other places in Inverness. Encore was our favorite. We not only had a great meal but I didn't get sick. We had a super cute server with a thick Scottish brogue.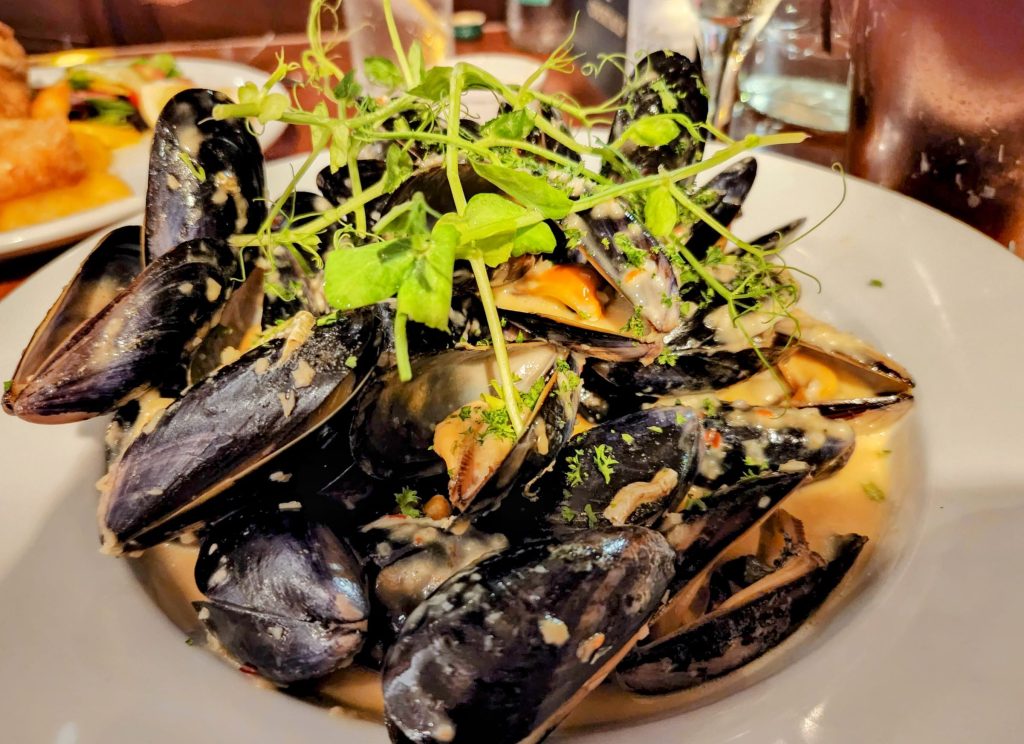 The Scottish countryside did not disappoint! Nor did the twelve-hour Timberbush Tours through the Highlands to the Isle of Skye in Scotland. We stopped first to see Urquhart Castle and then to see some wildlife ~ Highland Coos. We stopped and we all jumped out to pet them and feed them bites of apple. They are so cute! (and fluffy!)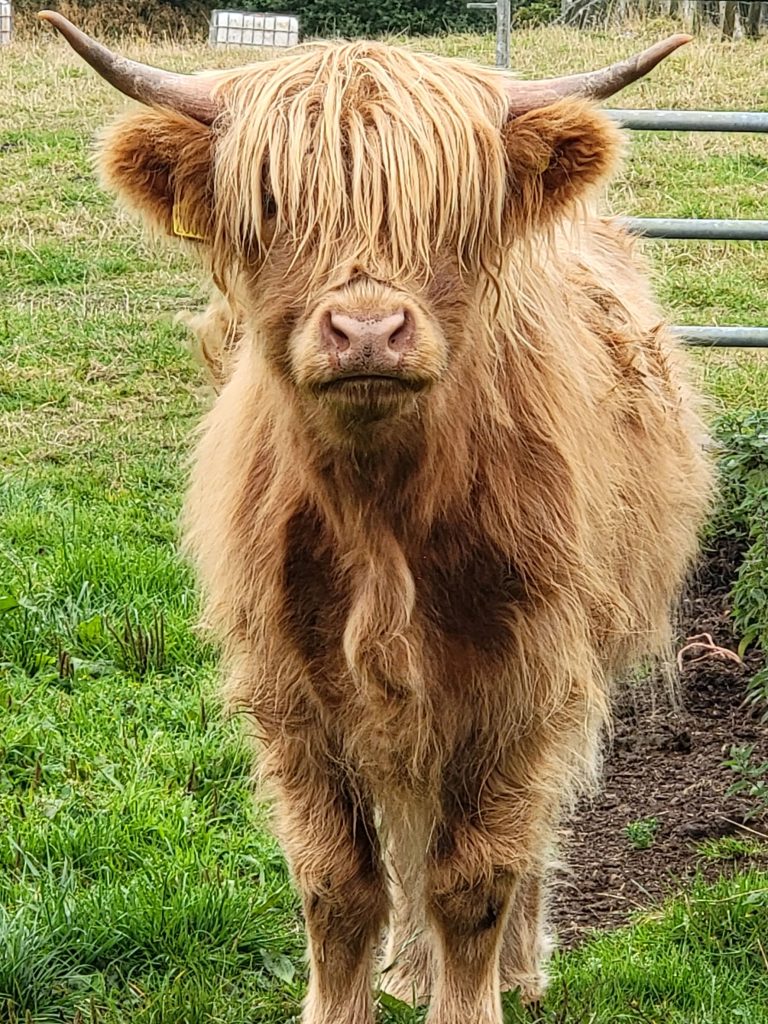 Eilean Donan Castle
Next, we headed to Eilean Donan Castle. It was beautiful and although we didn't go in, we enjoyed mulling around the outside and taking lots of pictures and getting a cappuccino (me, not Paul).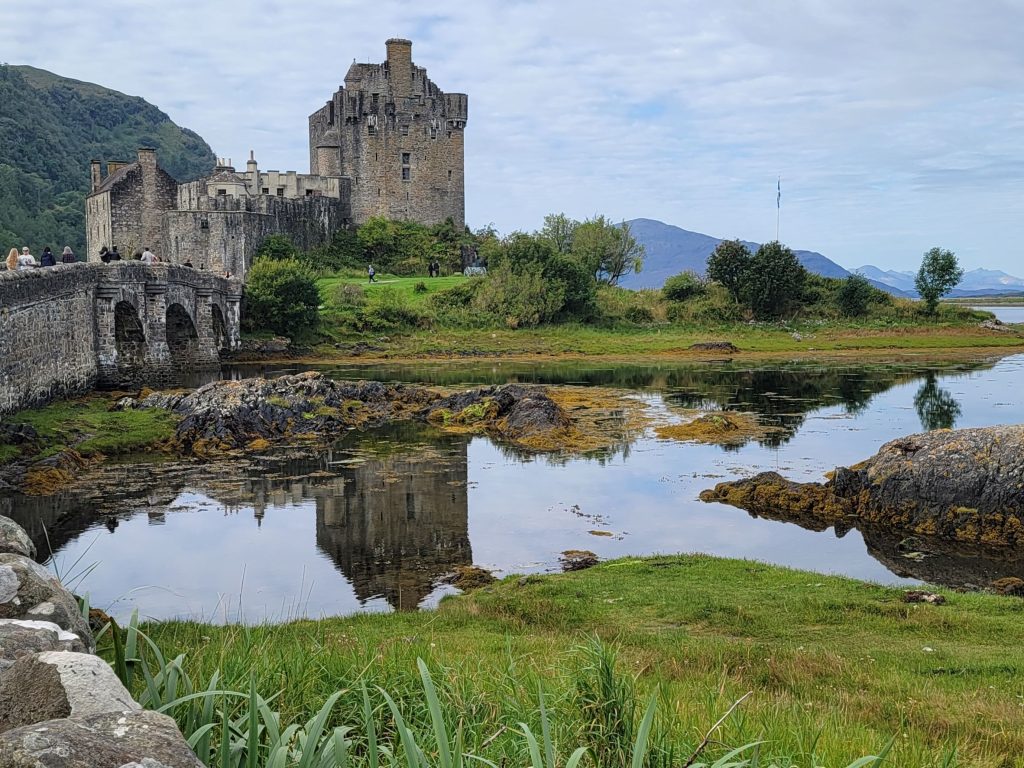 The sites we saw on the tour were amazing. Hillsides and mountains covered in purple heather. Beautiful waterfalls and bagpipers on the ocean cliffs. Cute towns like Portree, where we stopped for lunch. Very romantic and idyllic. But here I did not find any gluten free, so bring your own. It was a cappuccino and some snacks for lunch this day!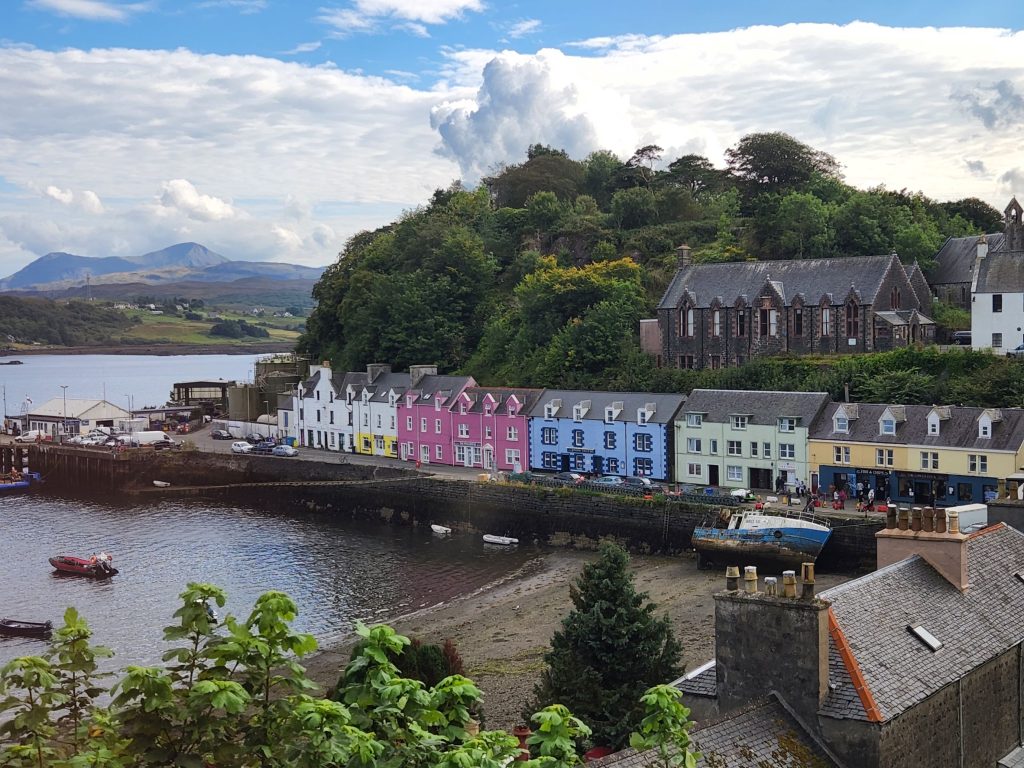 We are so thankful for the opportunity to see this beautiful island. Returning to Scotland, getting to visit Iona, as well as see parts of England on this trip, and seeing the Edinburgh Military Tattoo, and getting to the Isle of Skye were all highlights.
Food allergies? You'll be well taken care of in Scotland and England
If you plan to visit and you need gluten free, rest assured, because it is readily available most places. They really take care of their guests with allergies! When you sit down at a table, the server comes over and asks if there are any allergies. It's amazing! They make gluten free travel a breeze. They take time to go over anything with you and I never once felt like they weren't treating me with respect or care (unfortunately I've felt this in the states on many occasions). Several times, my food even came with a flag that had the allergy or gluten free notation, which made me feel so at ease to eat my meal.
Overall I did pretty well on the entire trip, having about 4 or 5 days of sickness out of the eighteen days we were gone. It was a huge blessing to be so well taken care of!