Jump to Recipe
Print Recipe
Have you ever wondered how restaurants can make a delicious pork chop, but when you try at home they are always dry and tasteless. Look no further for the answer! These Grilled Pork Chops with Peach Compote (Gluten Free) are a just as perfect as any you'll find in a high end restaurant!
I have never made as many pork chops as I have this year! They have continued to be one of the lower priced pieces of meat. Yet, you can still get a high quality and cut. With making them so often, comes lots of working on my recipes for them! I like them grilled best. But, you could simply sear them in a skillet and then pop in the oven to cook.
Summer Grilling
With us moving into summer, we tend to grill a lot. It's gets a bit hot here most days, (86 today!) to turn the oven on. The gas grill, or if you prefer a charcoal grill, is so very easy to cook these the perfectly. You can even get the beautiful crosshatched grill marks and a bit of crispness on the fat cap.
Be sure to have your timer going when you cook and a meat thermometer on hand. You can pick up an inexpensive one at the supermarket. we got a new one recently at Costco that is very straightforward. It is a Polder Safe Serve Instant Read Thermometer.
When to Check Your Pork Chop for Doneness
I usually will usually set a timer for four minutes on the first side, but turn on the grill 120 degrees to get a nice crosshatch marking. After turning, set the timer for another 4 minutes. If the pork chop is thinner than 3/4″ or if the pork chop is boneless, set the timer for 2 1/2 – 3 minutes. Be sure to turn partway through cooking on each side for those nice markings. After the 4 minutes each side, you can start using the thermometer to test for doneness.
Decide How You Like Your Pork Chop Cooked
I know, we never had to worry about this as pork was always served well done, and should I say, sometimes very dry! But now, with the standard not needing to be 165 degrees for safely eating, you can have a choice. Just be sure to cook to a minimum of 145 degrees.
You will also need to take the temperature in several spots on the pork chop, and really each pork chop as the thickness and size and temperature of your grill probably varies as well. Be sure to take the temperature in the thickest part of the meat, but also near the bone, if there is one. We like ours cooked to the 148-149 degree mark. Keep in mind the temperature will rise between 2-5 degrees while resting. Temperature for rare is 145-150, medium rare 150-155, and medium 155-160. Anything above that is considered well done.
What Cut of Pork Chop to Buy
Lately, we have been enjoying the Center Cut Bone-In Pork Chop or the Porterhouse Pork Chop. Both of these are very tender cuts of meat. You could use another cut, but keep in mind that it will cook faster if you don't have bone-in or it is less than 1″ in thickness.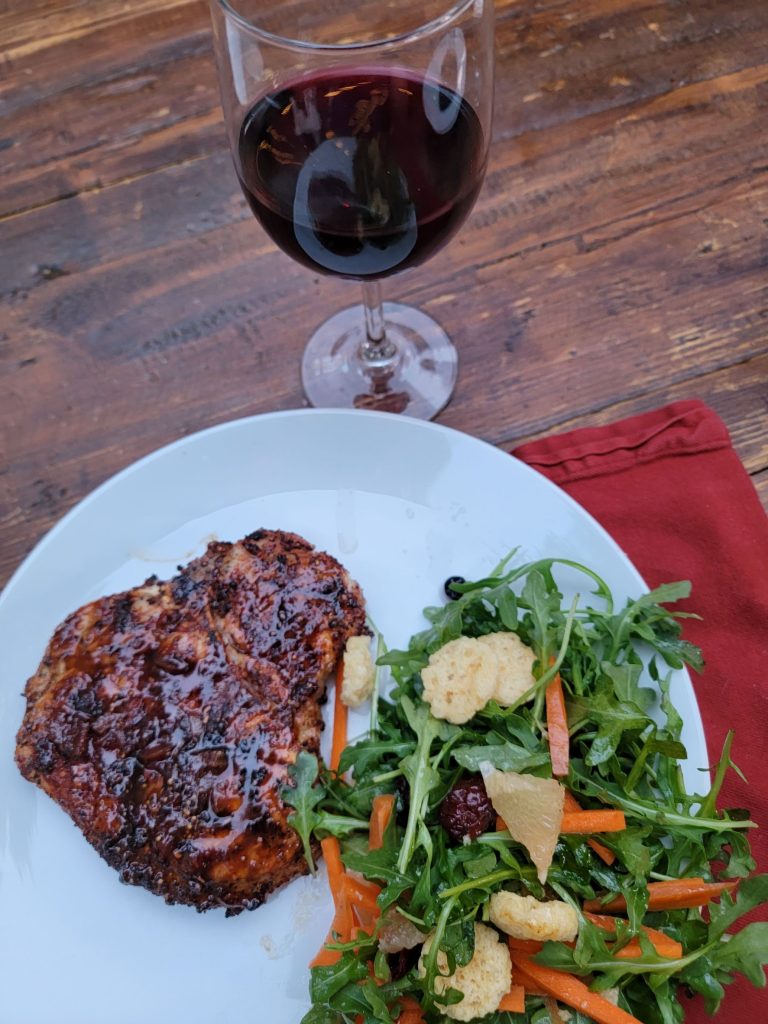 What to serve with your pork chops
Roasted potatoes, garlic mashed potatoes, grilled vegetables, risotto, or wild rice will all pair wonderfully with your pork chops. For these Peach Compote topped pork chops I think I would just keep it simple, with some roasted vegetables and a summery salad. Try them with Charred Green Beans or The Best Artichokes – On or Off the Grill.
You can also change up the compote or leave off completely. I want to try adding a few cherry halves to the peach compote, for a variation. This dish would be amazing with summer apricots in place of the peaches in the compote or you could grill the peaches or apricots instead. Choose whether to serve the compote on the chops or in a dish beside the pork chops, so each person can add their own if they want. Serving them with a fruit chutney would also be a great option.
Try these for your next barbeque and see how your guests like them! They are a hit around here. I consider my husband to be a pork chop connoisseur as he orders them when dining out often, and he claims these are just as good as any of the nearby restaurants' versions. I hope you think so too!
~Laura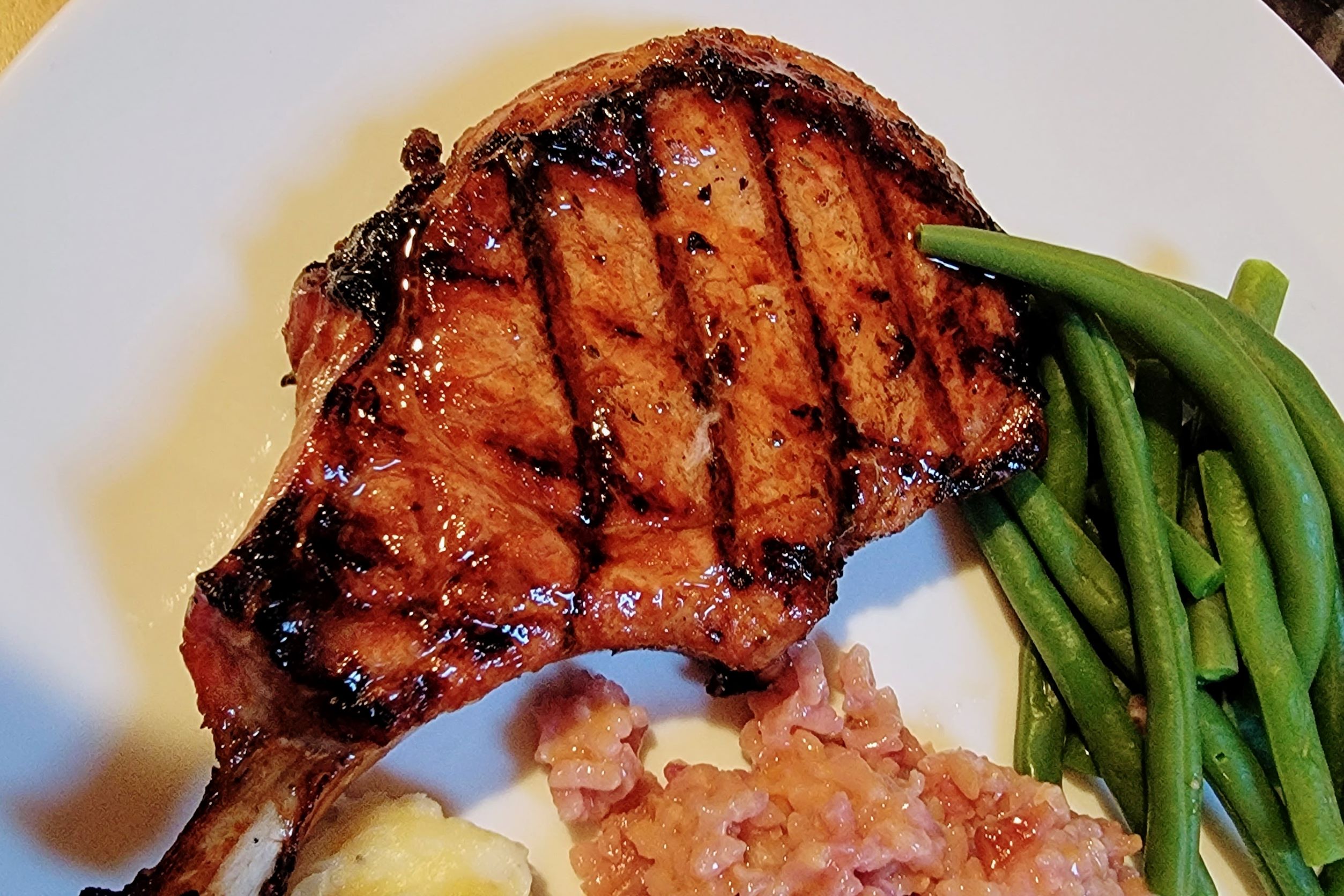 Grilled Porterhouse or Center Cut Pork Chop with Peach Compote (Gluten Free)
Have you ever wondered how restaurants can make a delicious pork chop, but when you try at home they are always dry and tasteless. Look no further for the answer. These Grilled Porterhouse or Center Cut Pork Chops with Peach Compote (Gluten Free) are a great choice for that summer night. These meal can be as much as $40 per entrée in a nice restaurant! For high quality natural pork, you may pay $5.50 or $6.00 for each pork chop. The rest of the meal won't cost you much, so you'll save loads of money and they will be just as delicious!
Equipment
instant meat thermometer or other meat thermometer
Ingredients
4

Bone-In Porterhouse or Center Cut Pork Chops, 1" thick

½

cup

San-J Gluten Free Soy Sauce or Tamari or other gf brand

50% reduced sodium

¼

cup

pure maple syrup

2

tablespoons

Sherry, cooking wine, or water

2

cloves

garlic, minced or pressed

½

teaspoon

dried oregano or dried thyme, gf

⅛

teaspoon

crushed red pepper flakes, gf

optional

2

tablespoons

olive oil
Peach Compote
2

large

peaches, slices, skins removed if desired

1¼

cups

water

¼

cup

organic cane sugar or other sugar

2

tablespoons

honey

1

teaspoon

white balsamic vinegar or apple cider vinegar

¼

lemon, juiced
Instructions
In a bowl, combine the soy sauce, maple syrup, Sherry, garlic, oregano or thyme, red pepper, and olive oil. Stir to combine.

Dry the pork chops with a paper towel. Discard the paper towels.

Set the pork chops in a glass dish or container that they can lay flat in. Pour the marinade over. Turn the pork chops once or twice and poke a few holes in each with the tines of a fork.

Cover the dish with cellophane and place in the refrigerator for 2-4 hours.

About 45 minutes before you wish to grill, remove the pork chops from the refrigerator. Set the pork chops on a plate and add a little pepper and a small amount of Kosher salt to each. The amount of salt will vary. If you are using regular sodium soy sauce, I would probably pass on adding any.

Heat the grill to 400 degrees.

Add the pork chops to the grill and leave the cover off. Set a times for 4 minutes, but at 3 minute mark, or when the pork chop will release, turn about 90 degrees to get your crosshatch marks.

At 4 minutes, turn the pork chops over, moving them on the grill for even cooking. Set a timer for 4 minutes (3 if they are thinner or boneless pork chops). At 3 minutes on the timer, turn 90 degrees for grill marks.

When the second side timer goes off, begin checking the a few of the pork chops.

When the pork is 3-5 degrees from your desired doneness (between 145-160), remove to a clean plate, using clean tongs or spatula.

Cover with foil and let rest for 5-10 minutes before serving. Serve with a spoon of Peach Compote on top of each pork chop or pass a bowl of the compote with the chops.
Peach Compote
To a saucepan, add the water, sugar, honey, vinegar, lemon juice, and sliced peaches. Bring to a simmer, stirring often. Simmer for 15 minutes to reduce the liquid. Serve warm or cool on top of the grilled pork chops.