Jump to Recipe
Print Recipe
I've been dreaming of Pumpkin Spice Ice Cream, with no gluten and no fillers. While it's easy to just grab a carton at the store, sometimes with these parameters it's actually not that easy. Did you know that many ice cream brands and flavors aren't gluten-free? Also, for me, many also contain cellulose (which is on the list of things I can't have). I rarely get to enjoy ice cream out without first examining the long list of ingredients. This can sometimes suck the fun right out of eating the ice cream.
No gluten and no fillers ~ just real ingredients
So many ice creams and ice cream brands contain artificial flavors and artificial colors, fillers, or other additives or preservatives. I love making ice cream because then I know exactly what into it! You can also use organic dairy products easily, as well as organic eggs, and organic spices and organic sugars, and even organic pumpkin. You'll have a very high grade of ice cream at a fraction of the cost.
Decorate the top with coarsely chopped pecans or candied pecans
So, I decided to create my own. Here it is, creamy and delicious, sweet and spicy Pumpkin Spice Ice Cream. I did put some Trader Joe's Candied Pecans on top of this rich ice cream for decoration, which may have added a bit of sweetness. But it was also oh so good! Try topping it with more pumpkin pie spice or with cinnamon sprinkled on top. If you need a gluten free pecan, try Santé Candied Pecan Pieces. They are non-GMO, gluten free, Kosher, and contain no artificial ingredients.
What to serve this Pumpkin Spice Ice Cream with
Because this ice cream is full of flavor so it needs something simpler to pair with it, or just serve it in small bowls, alone. It could go very well with our Best Gluten Free Vanilla Layer Cake or Cupcakes.
Barely sweetened whipped cream on top
I'll be trying this soon with whipped cream on top, which I think will be lovely. Also, it makes a fantastic affogato! If you've never had an affogato, and you love coffee flavor, try making one with this ice cream. There is so much flavor in the ice cream. The spice with the espresso or coffee flavor is pretty perfect!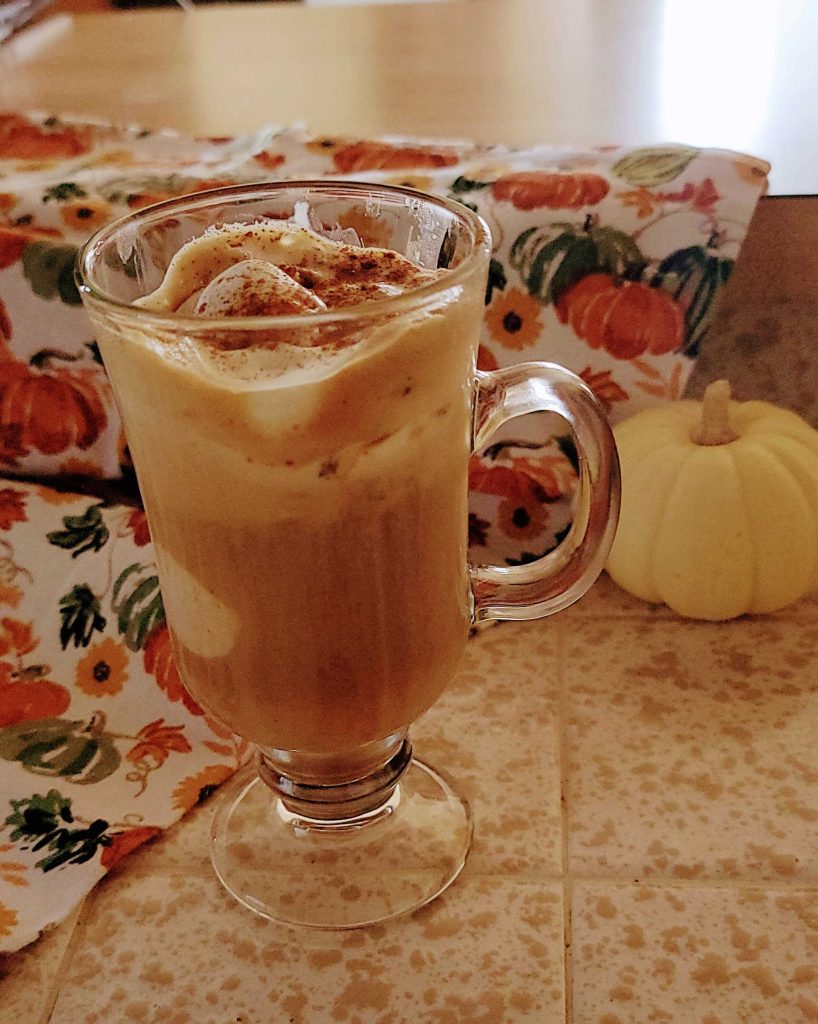 I hope you enjoy this newest fall recipe. It's such a creamy ice cream. It's going to be a new favorite. I do wish I could get my husband to try it though!
Enjoy!
~Laura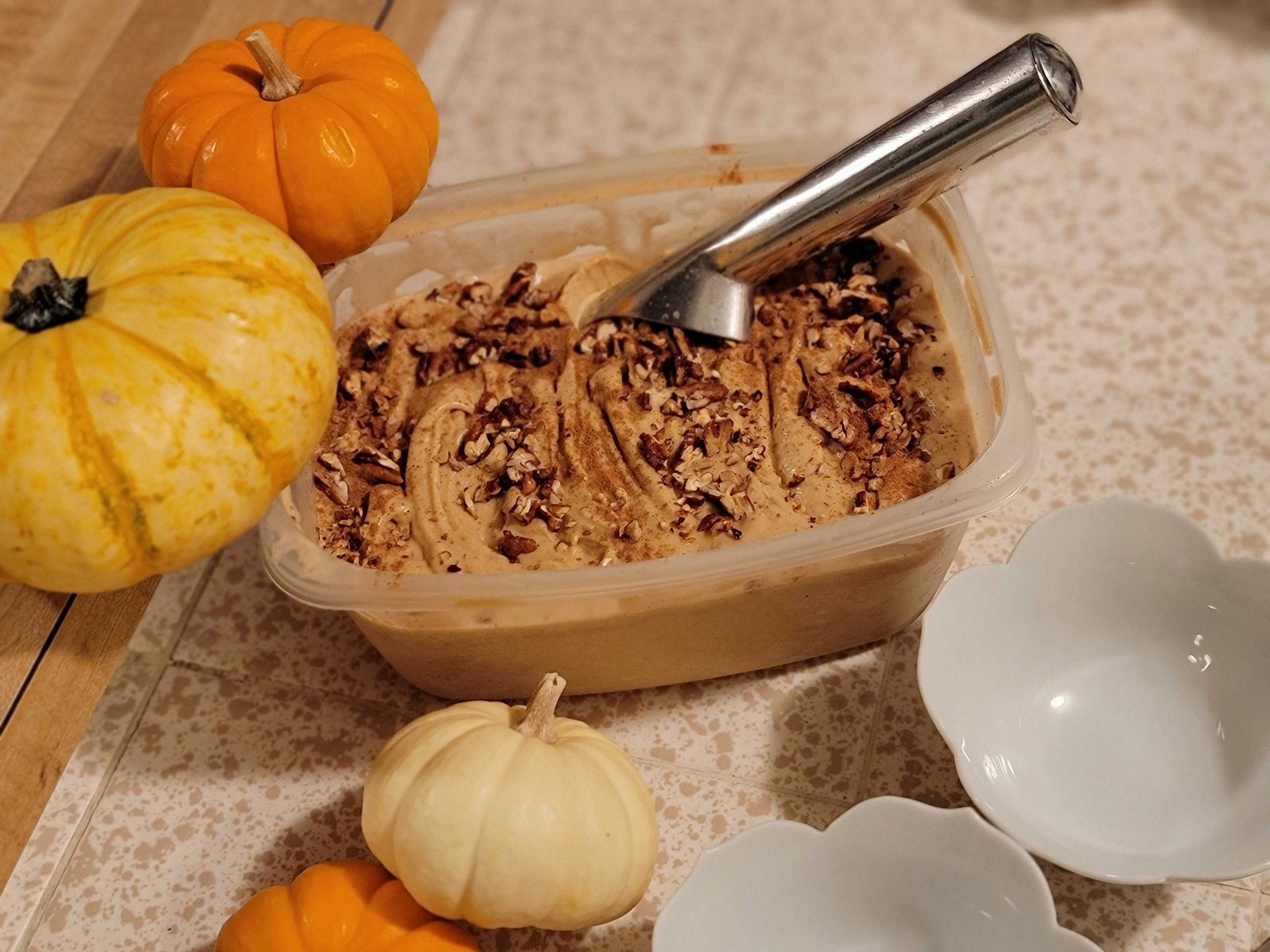 Pumpkin Spice Ice Cream (Gluten Free and No Fillers)
Just simple real ingredients in this perfectly spiced Pumpkin Spice Ice Cream (Gluten Free and No Fillers). If you love pumpkin pie, you are going to love this one!
Equipment
1 Cuisinart Ice Cream Maker

or other ice cream maker
Ingredients
1¾

cups

heavy cream

1¾

cups

whole milk

⅛

teaspoon

fine salt

½

cup

plus 2 tbsp cane sugar

½

cup

plus 2 tbsp packed brown sugar

divided

½

cup

plus 1 tbsp pumpkin puree

2

teaspoons

pumpkin pie spice, gf

or substitute 1 teaspoon cinnamon, gf, ½ teaspoon ground cloves, gf, ½ teaspoon ground ginger, gf & ½ teaspoon ground nutmeg, gf

4

large

egg yolks
Instructions
Heat the cream, milk, 1/2 cup brown sugar, cane sugar, pumpkin puree, salt, and spices until boiling. Stir often.

Whisk the egg yolks and 2 remaining tbsp brown sugar in a large measuring cup or small bowl. Pour half of the mixture into the whisked egg yolk mixture, whisking briskly as you do. Pour back into the saucepan.

Cook for 2-3 minutes over medium or medium low heat, stirring constantly.

Strain through a fine sieve into a clean bowl. Cool. Cover and refrigerate 3-4 hours or overnight.

Process per ice cream machine manufacturer directions. Scoop into a container. Top with pecans or candied pecans or sprinkle with pumpkin pie spice or cinnamon. Cover and freeze for 1-2 hours before serving or serve immediately for a softer ice cream.
Notes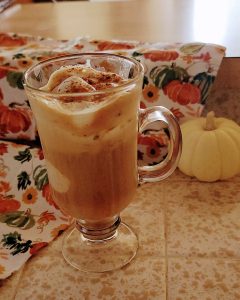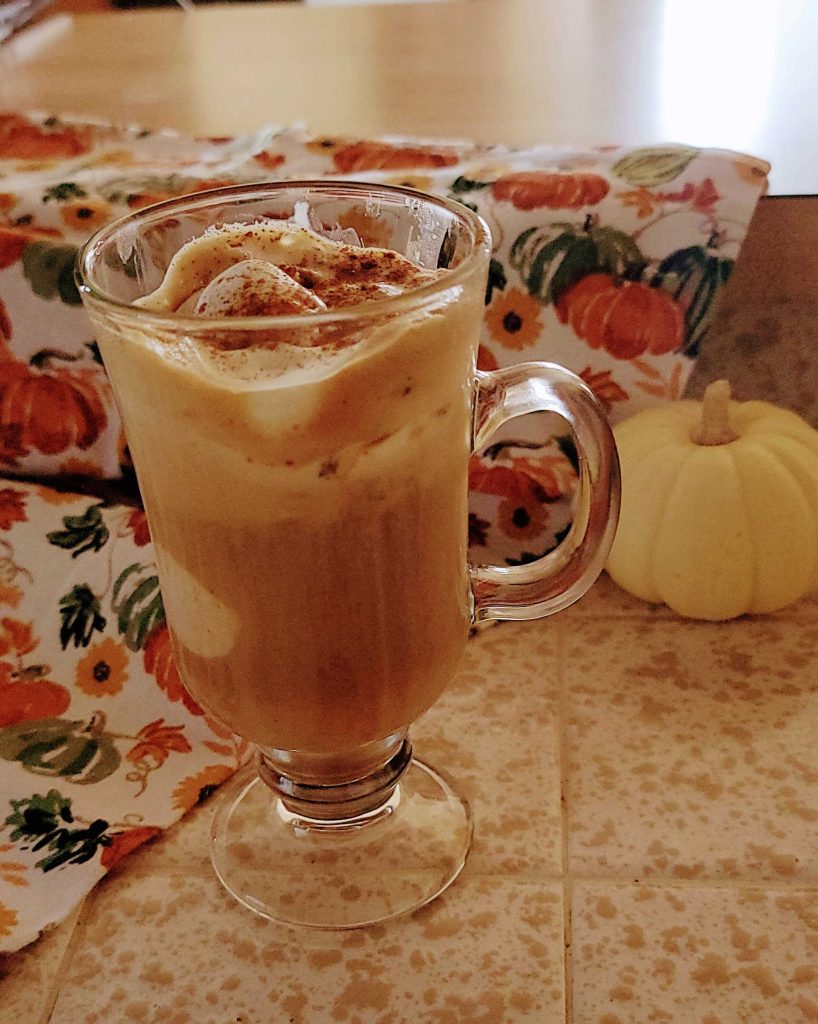 This Pumpkin Spice Ice Cream makes a perfect fall affogato! Just add 2 small scoops of ice cream to a glass or cup. Pour one of two shots of espresso over. Add whipped cream to the top, if desired.