Jump to Recipe
Print Recipe
My recipes range from grilled to baked, outdoor pizzas and indoor pizzas, Dutch oven cooked or braised meats and soups, easy to more difficult, or maybe less or more time consuming. Every recipe is written to be completely gluten free. I also always strive for restaurant quality recipes using fresh, healthy ingredients. That's not to say that we don't use cream and butter and even sugar, although I try to use maple syrup and honey and cane sugar where possible.
This recipe is a favorite in the easy and healthy category! Turkey burgers can be just ground turkey with salt and pepper, which are fine. But these are so much more! They are so moist and juicy, easily pan cooked or grilled, topped with all of your favorite condiments and sauces.
There are many ways to serve these burgers
I have made these probably twenty-five times this year and they never get old! Simply by changing out the toppings and sauces, you have a totally different burger. For this one, I choose to use Williamson Wines Hot Pepper Bacon Jam mixed with Trader Joe's Fig Butter (any fig jam of fig jelly will work) and a half a teaspoon of balsamic vinegar. Together with Dubliner Cheese slices, some blistered jalapeno slices, tomato, arugula, and caramelized onions, it's the perfect turkey burger!
Another favorite way to serve these is to fry some shallot slices. Top with sharp cheese slices, crispy gluten free bacon, shallots and the produce you like. Serve with an aioli sauce. It's so yummy!
What to serve with the turkey burgers?
We like to make oven fries to accompany our turkey burgers. They are crispy and delicious, with a lot less fat than fries. Simple to make as well! Just cut 3-4 potatoes, skin on or skin off into 1/4″ x1 1/4″ slices, lengthwise. Add to a bowl and toss with 2 tablespoons of avocado oil, canola oil, or avocado oil. Bacon fat can be used as well. Toss together with 1/8 teaspoon of salt and black pepper if desired.
Bake in a 450 degree oven for 30-38 minutes until golden brown. I bake them on a lower rack so they brown really nice on the bottom, on a stone bar pan. You could also bake on parchment if your baking sheet tends to stick.
You might also like a nice big green salad or an arugula salad. Or just pile some arugula next to your burger with a few cherry tomatoes. Add a drizzle of balsamic and a little olive if you like. This simple greens is delicious with the flavors of the turkey burger.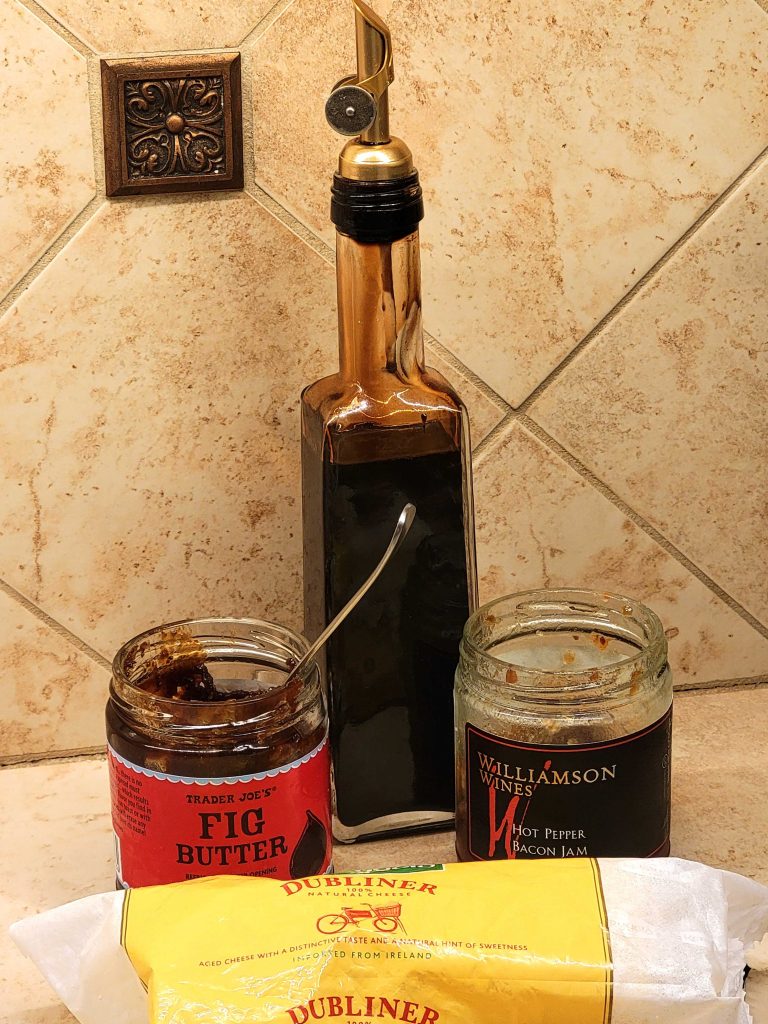 The version I am showing you here is one of my favorites!
Some of my favorite gluten free items
I've chosen to use some of my favorite gluten free ingredients and products in the recipe also: Kinder's BBQ Sauce, Simple Mills Almond Flour Fine Ground Sea Salt Gluten Free Crackers, and Lea & Perrins Worcestershire Sauce. You can simply substitute other gluten free items in place of those suggestions.
For the spices, I always use a brand that is either certified or is gluten free (check their website). This may not be necessary for your gluten intolerance, but for me it seems to make a difference lately. So I am very careful. If you're making for a gluten free or Celiac guest, you can always check with them for their specific needs.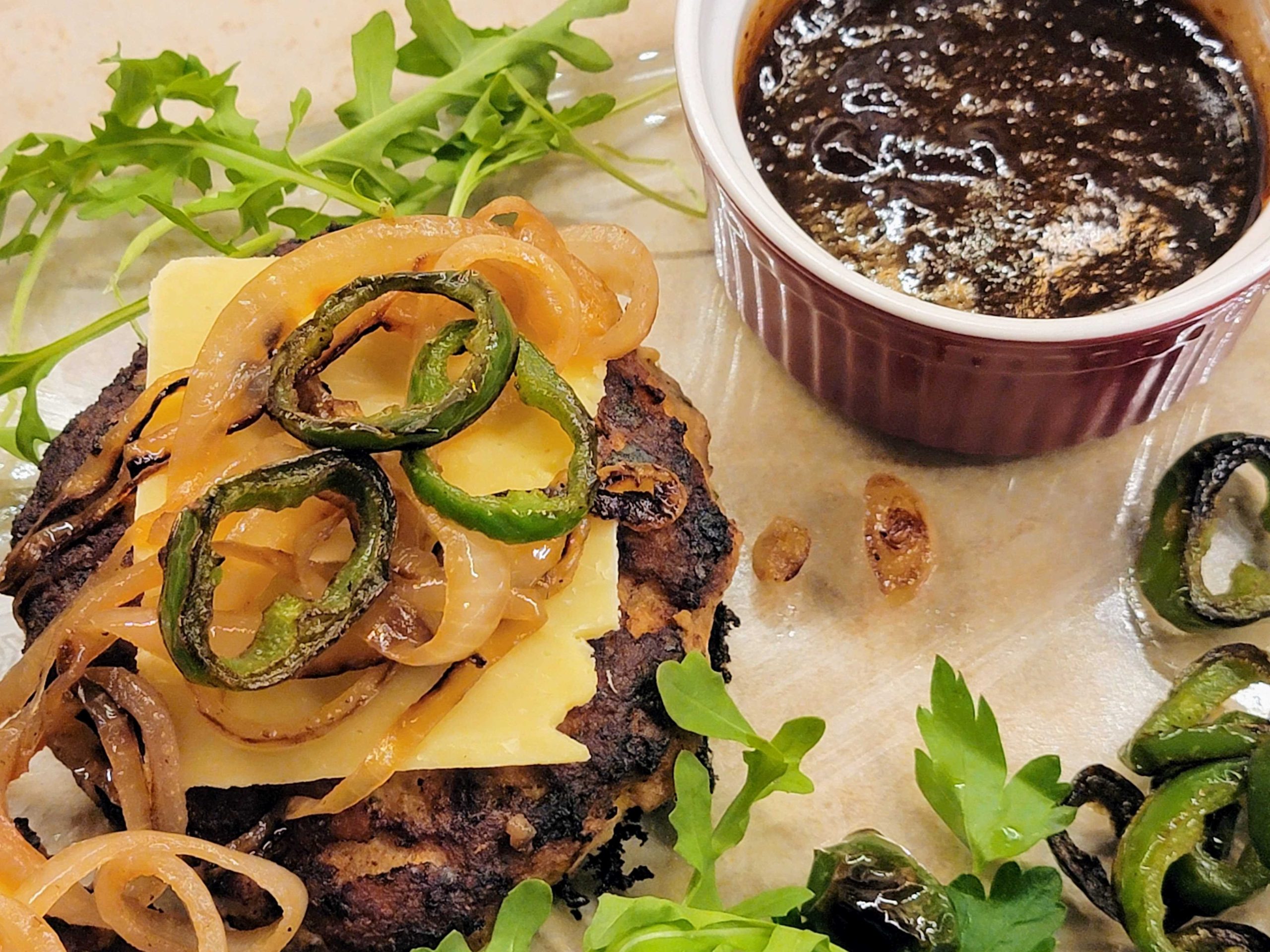 Moist and Flavorful Turkey Burgers (Gluten Free)
Try these healthy, moist and flavorful turkey burgers for an easy summer meal. While you can grill them, I actually prefer pan cooked because the outside gets a nice crisped browning that way. Top these as I suggest or try your own favorite burger toppings.
Equipment
1 non stick or well seasoned skillet
Ingredients
Turkey Burgers
1

pound

ground turkey, 93% fat free

¼

cup

cracker crumbs, gf

Simple Mills Gluten Free Almond Crackers or other neutral gluten free cracker, crushed or ground in a food processor or blender

1

egg

½

teaspoon

garlic powder, gf

¼

teaspoon

paprika, gf

¼

teaspoon

fine sea salt or ½ teaspoon Kosher salt

¼

teaspoon

black pepper

⅛

cup

shallot, finely minced

½

tbsp

parsley, minced

1

tbsp

almond meal or almond flour, gf

1

teaspoon

Lea & Perrins Worcestershire Sauce, gf

or other gf brand

1

teaspoon

Kinder's BBQ sauce, gf

or other gf brand

½

teaspoon

olive oil

slices of Dubliner Sharp Cheddar or other white cheddar
Charred Jalapenos, Caramelized Onions, and Fig Bacon Jelly Topping
2

tbsp

avocado oil, canola oil, or olive oil

1

medium or large

onion, sliced 1/4" thick

sprinkle of salt

1

tbsp

avocado oil, canola oil, or olive oil

2-3

jalapeños, sliced and seeds and membrane removed

2

tbsp

Williamson Wines Hot Pepper Jelly or other bacon jelly, gf

2

tbsp

fig jelly or fig jam, gf

¾

teaspoon

balsamic vinegar
Instructions
Turkey Burgers
Mix all the ingredients for the turkey burgers in a medium bowl, stirring to combine completely. Cut three or four parchment squares, 7×7". Divide into three or four equal amount and form into patties on the parchment squares. Pat to smooth out with wet fingers. Refrigerate for 30-40 minutes.

Heat a skillet over medium heat with 1- 1 ½ tablespoons of vegetable, canola or avocado oil. Add the patties carefully by inverting into the skillet, placing so they don't touch. Cook over medium or medium low heat for 4-5 minutes.

Turn each over carefully and press down with a spatula. Cover with a tight fitting lid. Continue cooking for 5-7 minutes more or until a thermometer registers 165 when inserted in the center of each.

* If you wish add cheese to the top of each burger add it just before covering with the lid.

Add the turkey burgers to gluten free or regular buns, depending on your needs. Or lettuce wrap them, if desired. Top with caramelized onions, charred jalapeños, and fig bacon jelly. Or top with your own desired ingredients.
Charred Jalapenos, Caramelized Onions, and Fig Bacon Jelly Topping
While your patties are chilling make the caramelized onions. Heat a skillet over medium high heat with 1 ½ tablespoons of oil. Add the onion slices. Add a sprinkle of salt. Sauté over medium or medium high, stirring often until the onions are very soft and are a golden to deep brown. Remove from the heat and cover to keep warm or put in the oven on warm in an oven safe dish, covered.

In a small skillet, over medium heat, add 1 tablespoon of oil. Add the jalapeños and saute for several minutes to char or brown one side before turning over to char the other side. Remove to a small bowl and cover or move to the oven in an oven safe bowl.

Stir together in a small bowl the bacon jelly or jam, the fig jam, and the balsamic vinegar. Heat in the microwave for 30 seconds. Add a teaspoon or two of water to make the consistency spreadable.
Notes
I love these turkey burgers with charred jalapeño slices, caramelized onions, and fig bacon jelly. If you don't like any spice you can leave off the jalapeños or top with whatever you like!
Brie is also a delicious cheese with the jalapeño and the fig bacon jelly. It melts quickly so put on during the last minute of cooking the turkey burger.