Jump to Recipe
Print Recipe
I've never been a big fan of shrimp. I didn't care for the flavor that much to be honest. Until very recently had never eaten more than a bite! But lately, I've been trying new foods when cooking, and shrimp has been one of those items that I have been using.
I make them often often for others; they are so easy to grill or pan fry. They are the perfect accompaniment to a steak, or even a chicken dish. You can make them in so many ways, from a herb, olive oil, and lemon marinade, skewered and grilled, to this Shrimp Scampi Served over Gluten Free Pasta.
Another great way to serve shrimp is grilled with some Mexican spices and serves in a taco with cabbage, cilantro, with crema on top.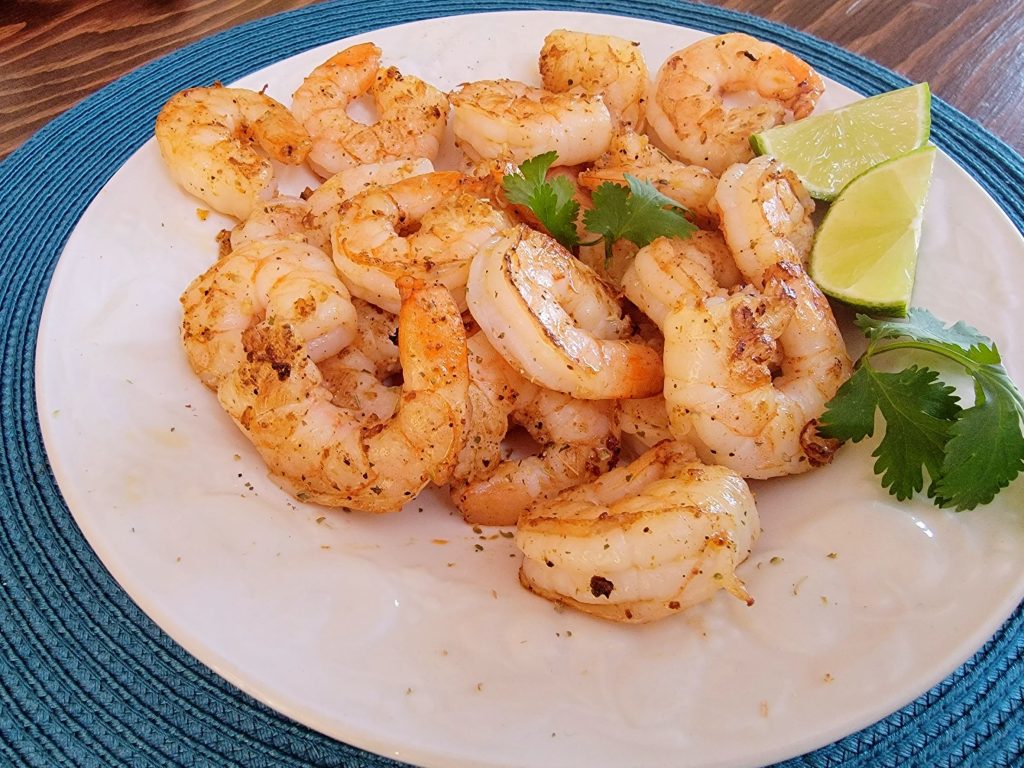 The recipe here is not super traditional in style, maybe. But I love the white wine and baby tomatoes. It's similar to how I fix steamed clams.
The sauce is delicious over the pasta, and you honestly don't need much because it has loads of flavor. The red pepper is delicious in this dish too but you can just use a little black pepper if you prefer. Always salt minimally and add salt at to taste. If you are using salted butter only a pinch of salt will be enough.
Where to get your shrimp?
The main thing is if you are using fresh, get it from a market that has a well stocked seafood counter. The seafood counter at Whole Foods is one of my favorites in our area.
Often, though, I but frozen large or extra large shrimp at Costco and keep in my freezer until I'm ready to use. Then I simply thaw the portion I need in the refrigerator the day I'll be making this recipe. Just be sure to not thaw them in water.
After thawing, just give a quick rinse, and dry completely before using. I buy this type, Kirkland Signature Farm-Raised Raw Shrimp, Tail-On, Peeled, Deveined, 21-25-count, 2 lbs at Costco, and they are very good and only $19.99 for the 2 pound bag. For this recipe, it's best to remove the tails since you won't be eating the shrimp with your hands.
What kind of pasta should you use?
I think the Le Veneziane Gluten Free Cappellini worked perfectly for this dish. Just be sure to cook it "al dente" or on the firm side of doneness. You could also use a wheat based pasta, if you don't need gluten free. Serve it with a linguine, spaghetti, or fettucine for best results.
This very simple dish is definitely going to be in my rotation of recipes more often. The preparation and cooking from start to finish is less than 30 minutes!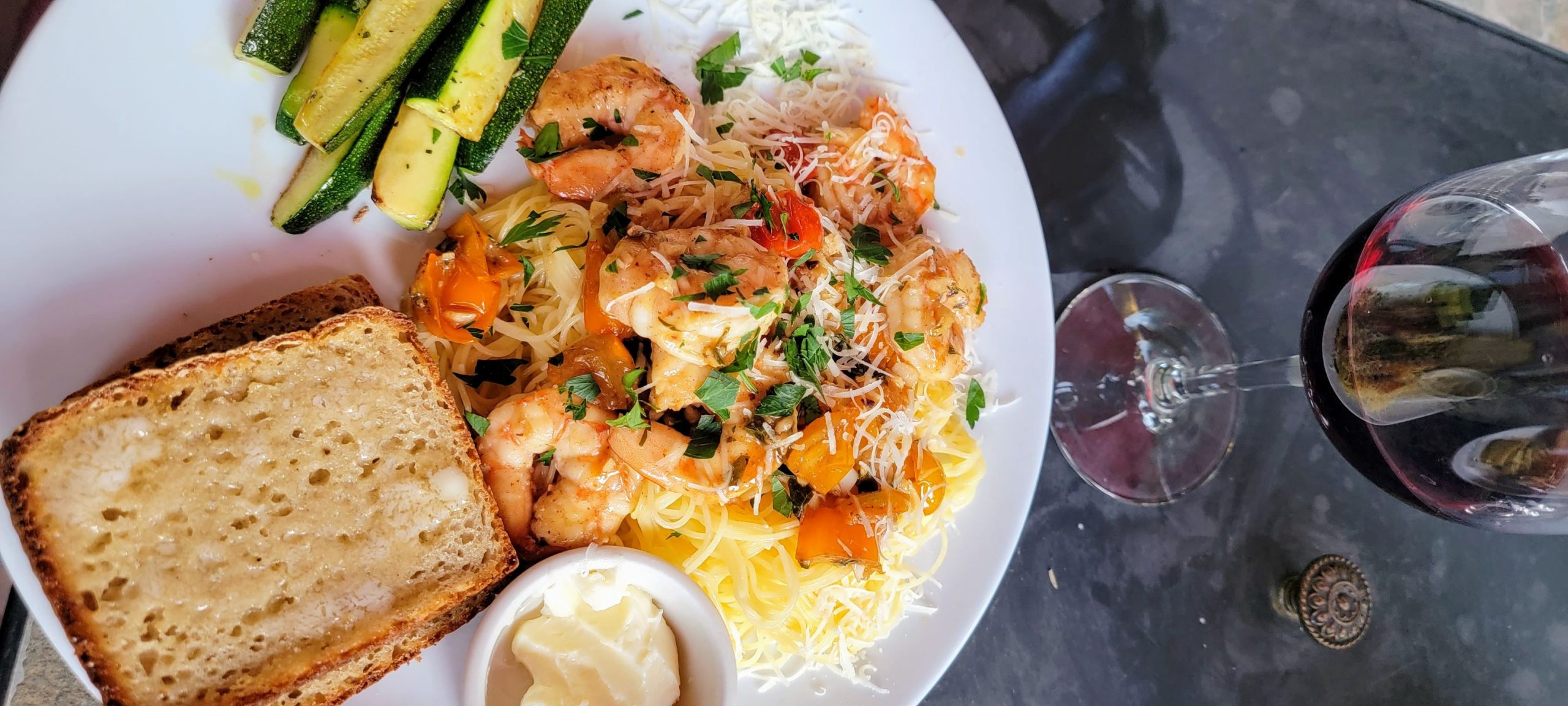 Shrimp Scampi Served over Gluten Free Pasta
Easy and delicious, and then shrimp used can be frozen and thawed shrimp. And you don't need a lot of the shrimp, because they the dish is rich and deep with flavor.
Equipment
1 large skillet or cast iron

1 stockpot or 5 qt saucepan
Ingredients
2

tbsp

vegetable, avocado oil, or olive oil

4

tbsp

butter, unsalted

4

cloves

garlic, minced

18-25

large

white shrimp, or 1 lb., peeled, deveined, tails off, and dried

¾

cup

dry white wine, such as Sauvignon Blanc

½

cup

baby tomatoes, cut in half

⅛

cup

flat leaf parsley, minced, divided

½

lemon, juiced
A few pinches of salt, to taste
A pinch of red pepper or black pepper

1-2

tbsp

grated parmesan cheese, optional

8

oz.

(1/2 lb.) Le Veneziane Gluten Free Capellini Nests or other gluten free pasta
Instructions
Bring your pasta water to a boil with salt.

 Heat 1 tablespoon of the oil and 2 tablespoons of the butter over medium high heat.

Place the shrimp in one layer in the skillet and cook until just turning pink, about 1 minute. Turn over and add half of the amount of garlic. Cook for 30 seconds and stir, continuing to cook for another minute or until the shrimp are done. 

Remove the shrimp and garlic from the pan to a bowll. Add the remaining butter from the pan also.

Reduce the heat, and add the remaining olive oil and butter. Saute the remaining garlic for a minute, stirring constantly.

Add the tomatoes and cook for a minute. Pour in the white wine and lemon juice, ⅓ of the minced parsley, a pinch of salt, and a pinch of red pepper or black pepper. Simmer to reduce the wine and liquid. 

While the sauce is reducing, cook your gluten free pasta as directed. Drain the pasta, rinse, and add a drizzle of olive oil. Stir to coat the pasta.

Remove the sauce from the heat. Add the shrimp back into the skillet. Add more minced parsley to the top.

To plate, divide between flat bowls or plates, or serve family style in a large flat bowl. Add the shrimp and sauce over the top of each bowl or to the top of the large bowl. Top with parmesan cheese and more minced parsley.
Notes
Such an easy and delicious dish! Serve this for company or just your family. Tip: you can reduce the amount of shrimp per person if you are serving over pasta which makes it more filling. The shrimp is also rich, so you don't need many for a perfect dinner. 5-6 or even 4 large would be plenty for most people.