Jump to Recipe
Print Recipe
Print Recipe
This Pork Tenderloin is one of our favorite meals! It's quick and easy, perfect for your holiday dinner or gathering, or everyday dinner. It even reheats wonderfully. You can have it on your table in less then one hour, so it's perfect for those mid week meals too.
The tenderloin comes in two, two packs (each tenderloin is about a pound each and you get four) at Costco and each tenderloin will serve 2-3 people for your entrée. Just rub them down with the rub below after removing any tendon portion and patting dry with paper towels.
I like to make this rub in advance and times the recipe by 3 or 4, then package it in quantities enough for 2 pounds of meat. Then this dish is even easier! You can also make two at a time and reheat the second one a couple of days later. Mashed potatoes also reheat nicely if you want to make twice as much. Just reheat them in an oven safe bowl or glass container, covered (with a drizzle of olive oil and a tablespoon of butter on top) in a 325 degree oven for about 18-20 minutes. The tenderloin can also reheat at this temperature. If you plan to reheat one tenderloin, cool it completely in one piece, before moving to a sealed dish in the refrigerator. Refrigerate the cooled sauce in a separate container. When ready to reheat, preheat the oven to 325 degrees F, tent the piece of meat with foil and heat in an oven safe dish for 25 – 30 minutes for the entire one pound piece (less if it's smaller). You can check the temperature with an instant thermometer. Reheat your sauce in a small saucepan or in the microwave for 20-30 seconds. Slice the meat into 1/4″ thick slices and top with the sauce before serving.
You can try all sorts of sauces to top this. Use ingredients such as balsamic, maple syrup, various fruits or jams, pomegranate molasses, honey, etc. Always use a little acidity in the sauce, such as wine, balsamic, or citrus. As well, you can omit or add any spices to the spice rub. Just get creative!
~Laura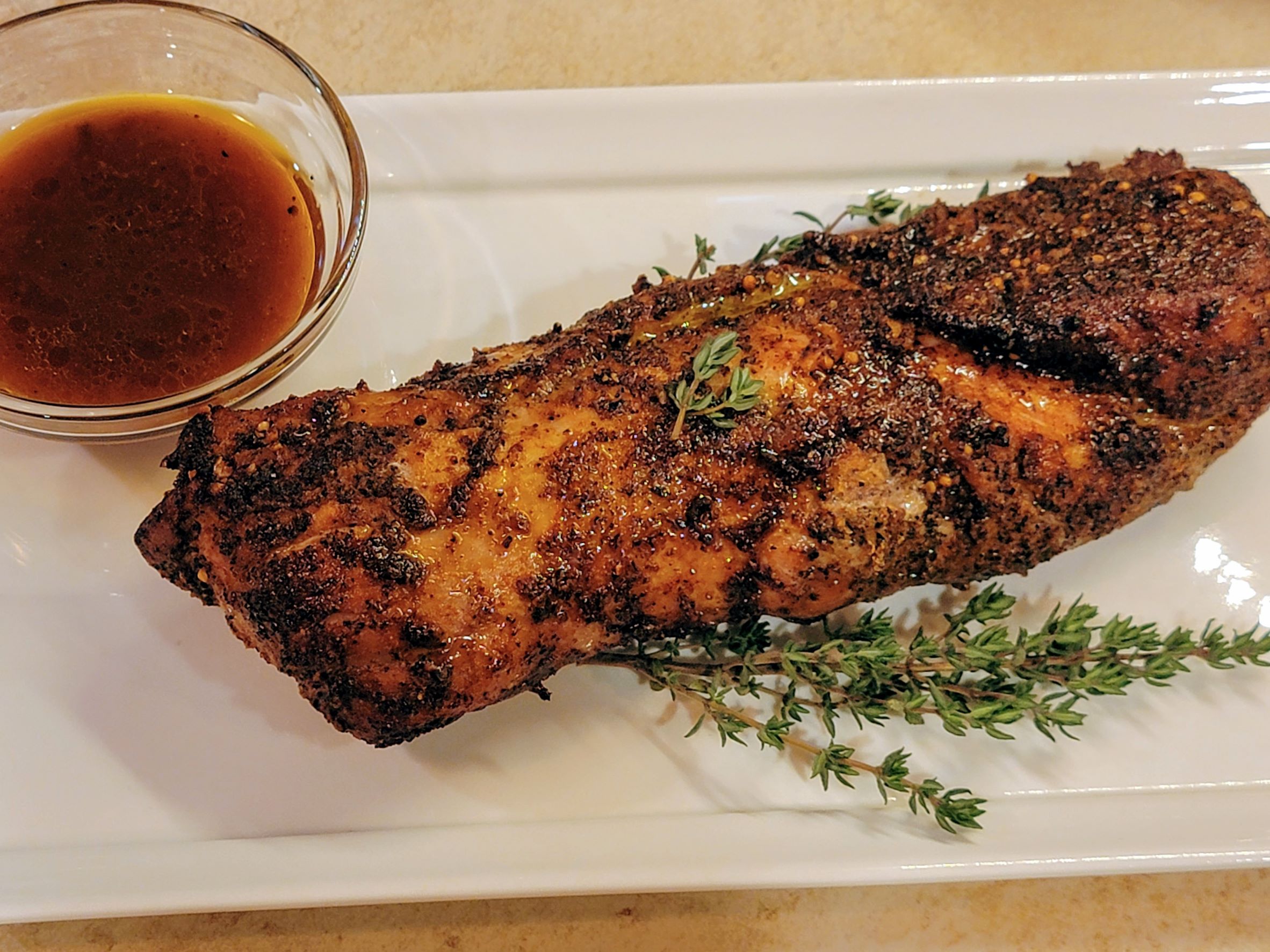 Pork Tenderloin with Apricot Brandy Sauce (Gluten Free)
Ingredients
2 – 1 pound each pork tenderloin

2 teaspoons salt

1 tablespoon paprika, gf

2 teaspoons freshly ground black pepper

1 tablespoon brown sugar

1 tablespoon finely ground coffee

2 teaspoons garlic powder, gf

1/2 teaspoon mustard seed, gf, crushed

2 – 3 tablespoons avocado, vegetable oil, or other high heat oil

Pan Sauce (recipe below)
For Apricot Brandy Sauce:
1/2 cup dry white wine

1 1/2 cups chicken broth, gf

2 tablespoons brandy, gf

2/3 cup apricot preserves

1/4 teaspoon garlic powder, gf

1 teaspoon balsamic vinegar

Salt to taste
Instructions
Preheat the oven to 400 degrees.

In a bowl, stir together the salt, paprika, pepper, brown sugar, coffee, garlic powder, and crushed mustard seed.

Cut off any white silvery tendon pieces, taking care to leave the fat pieces. Dry each tenderloin with paper towels.

Rub two tenderloins with the spice rub coating all over each. If making only one tenderloin, use half the amount of spice rub. 

In a cast iron or other skillet, heat the oil. Sear each tenderloin on each side and ends over high heat, for a total of 5-6 minutes.

Using a pair of tongs move the tenderloin to a stone or baking sheet to roast for about 16-20 minutes, until instant thermometer reads 140-149 in the thickest portion of the pork. You can reheat this perfectly if you cook to 140 -145 in the thickest part of the tenderloin. It you plan to eat right away, remove at 145-155 internal. 

While the pork is roasting, make the pan sauce below in the skillet you used for searing the meat.

searing the meat.Remove the meat from the oven and cover the meat loosely with foil for 10-15 minutes. The temperature will rise as it sits.

Slice into 1/4" thick slices and move to a platter. Pour pan sauce over the slices and pass more for people to add more if they like.

Serve with roasted or mashed potatoes and roasted asparagus.
For Apricot Brandy Sauce:
Deglaze the skillet used for searing the pork with the wine, stirring to break the spice and meat bits off the bottom. Add the broth, brandy, apricot preserves, garlic powder, and balsamic vinegar.

Simmer over medium low heat and reduce sauce down until it begins to thicken, about 10-15 minutes. Add salt and pepper to taste.