Jump to Recipe
Print Recipe
Do you like short ribs? This dish was inspired by many a delicious braised short rib recipe! I have found that making it with a nice piece of chuck roast works just as well. Chuck roast is also a bit more meaty, easier to find a nice cut, and a bit less expensive when serving for a small crowd.
If this dish was decribed in just a few words…big and bold and satisfying! It's comfort in a bowl!
Paul and I like a bit more red sauce in it, so I use a whole can of tomato paste and about 3/4 of a bottle of wine. The wine should be a decent Zinfandel or maybe a Syrah, something big that goes well with beef. If you also pour a glass for your dinner guests that will make the dish shine.
You can adjust the vegetables to your liking, even serving the carrots in the dish if you prefer. I like it that way.
We think it's best served with creamy polenta as in the recipe, but mashed potatoes are perfect too.
It's a perfect dish for a chilly night, but light enough with the polenta to be served on a summer evening too. We just had it tonight and it was incredible.
Hope you enjoy it as much as we do at our house. Hopefully it will put a smile on your face!
-Laura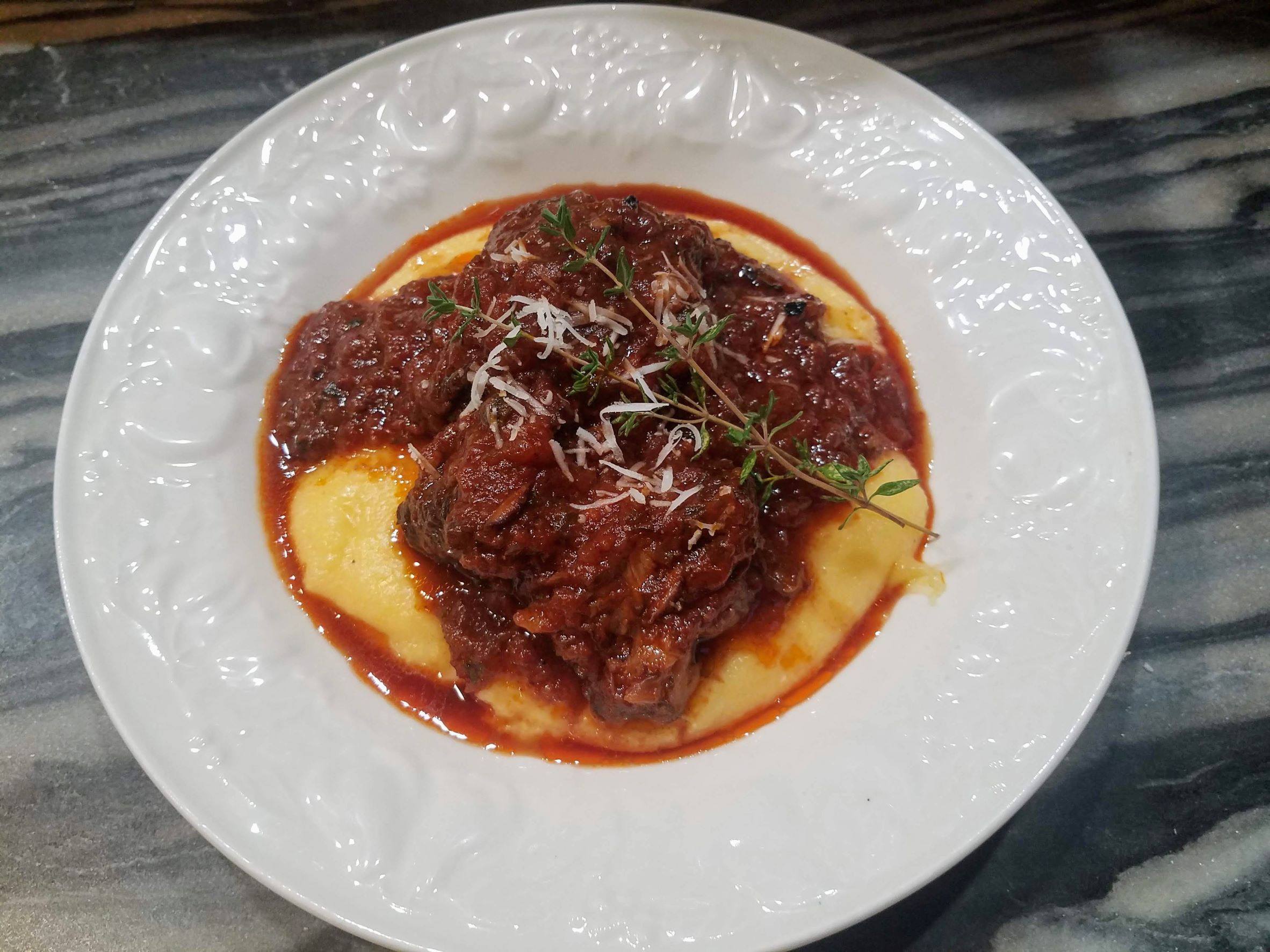 Braised Beef in Wine Over Polenta (Gluten Free)
This dish is comfort in a bowl! If you don't care for polenta, serve this over creamy mashed potatoes and it's just as perfect.
Equipment
1 Dutch oven or large cast iron skillet
Ingredients
Braised Beef
2 1/2 – 3 lbs. chuck roast, cut in 2 1/2 inch cubes

4 tablespoons olive oil

1 teaspoon salt

3/4 teaspoon cracked black pepper

5 cloves garlic, minced or crushed

1 large onion, minced

1 large carrot, cut into 1 inch pieces

2 stalks celery, cut into 1 inch pieces

1/8 cup Italian flat leaf parsley, chopped plus a few sprigs of parsley

3-4 sprigs of fresh thyme or 1 teaspoon of dried thyme, gf

2 bay leaves, gf

1 – 6 oz. can of tomato paste

1 ½ – 2 cups of gf beef broth or gf chicken broth

3/4 bottle of Zinfandel wine or Syrah
Creamy Polenta
4 cups water

1 cup polenta (coarse grain and gluten free)

1 teaspoon salt

freshly grated parmesan cheese, for sprinkling
Instructions
Braised Beef
Preheat oven to 325 degrees, with the rack placed on the lower third of oven.

In a Dutch oven, over medium high heat, heat 3 tablespoons of olive oil. Add minced onions and saute for 5-8 minutes, until translucent. Stir occasionally. Add garlic and cook for 1 minute more. Remove to a bowl.

In a saucepan, heat wine on low heat.

Place your meat cubes on a plate, and sprinkle the salt and pepper evenly over both sides. Tie the thyme, parsley, and bay leaves with kitchen string and set aside.

Heat remaining tablespoon of olive oil in your Dutch oven or large skillet, over high heat. Add 4-5 pieces of meat, pressing down. Turn after a minute or so, searing each side.

Remove to a plate, and repeat with additional meat pieces. Remove the next batch to the plate.

With stove on medium high, pour the wine in. Turn the stove down to simmer and add the broth. Simmer for a few minutes. Add the tomato paste and stir. Next add the meat back in, with the cooked onion and garlic on top. Add the celery, carrot, tied herbs, and minced parsley. Return to simmer. Cover and move to the oven.

Cook for approximately 2 ½ hours before checking the tenderness of the meat. The meat should come apart when pulled with a fork, but hold it's shape. Check every 10-15 minutes until it is done.

Once the meat is done, remove from oven. Take the meat pieces out gently and move to a plate. Cover and let rest.

Strain with a slotted spoon the large vegetable pieces and the thyme and bay leaf. Set aside. If you choose to, the carrots can be served with the dish. On top of the stove, bring the sauce to a boil, reducing it down and thickening it a bit.

Serve atop polenta or mashed potatoes with a glass of wine.
Creamy Polenta
In a saucepan, bring 4 cups of water to a boil. Add the polenta gradually and the salt and lower temperature to medium low.

Stir constantly for the first five minutes, then continue to cook, stirring occasionally until thickened, about 20 minutes more. Lower heat on stove as needed to keep polenta at a simmer.

Remove from heat. Stir in 1 tablespoon of butter, if desired. Top with freshly grated parmesan cheese.
Notes
Be sure to trim off some of the fat from the chuck roast, but definitely leave a little as well. After the meat stews and before serving, you can spoon some of the fat off the top of the sauce, and pull off any larger pieces of fat that remain. I like to serve this with the carrot pieces that were cooked in with the meat, but you can always discard them as well.