Jump to Recipe
Print Recipe
Chicken Parmigiana is one of my husband's favorite entrees and orders it often when we go out for Italian food, and I really enjoy it too, but if I want to have it, it means making myself as not many restaurants seem to make this dish gluten free. It's not difficult to make gluten free and it's amazing!
You can make the marinara recipe below to top it, or use your own favorite recipe, or a jarred gluten free brand. You can do the real deal and just use Parmigiano Reggiano cheese, made with the standards required. Or you can, as I like, use some mozzarella together with Parmigiano (or parmesan if you can't get the other). I love the golden brown that happens to the cheese on top when you broil for just a few minutes. So yummy!
The marinara sauce recipe is very simple with the only spice being crushed basil. This is the way my Southern Italian family taught me. Certain spices do not go in certain dishes in different regions of Italy. In Southern Italy, we were taught only basil was "allowed" in the red sauce for pasta. We also never add sugar to our red sauces, but the basil will give the sauce a sweet flavor, as will the fresh tomatoes. If you don't like your marinara with a few chunks, blend the tomatoes first or crush them during the cooking.
Not much more to say on this one. Try it! No one will know it's gluten free!
~Laura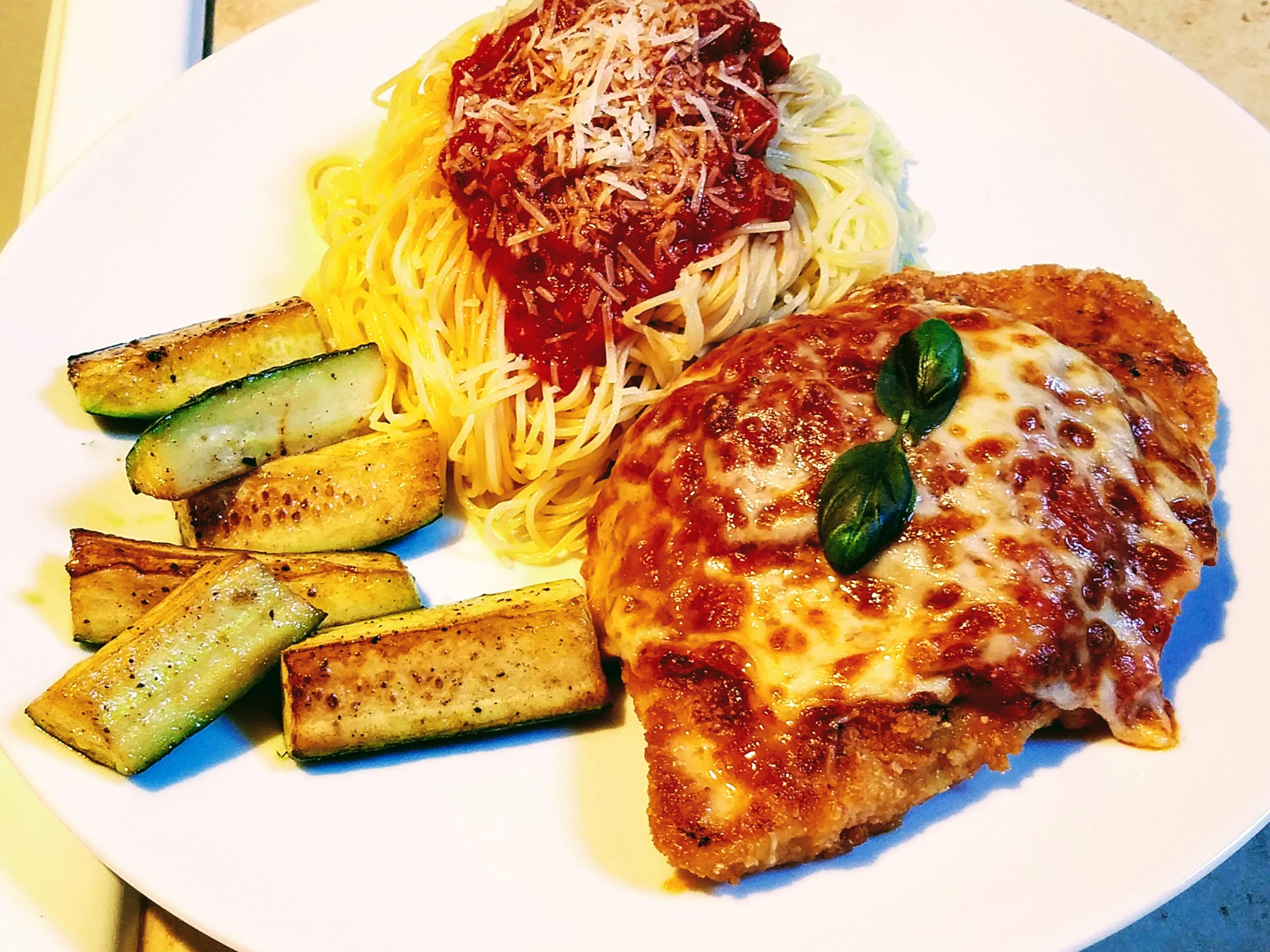 Gluten Free Chicken Parmigiana
Ingredients
2-4

chicken breasts

boneless and skinless, if very large 2 breasts filleted in half to make 4 pieces

1 extra large

egg

½ cup

gluten free flour

½ cup

gluten free cracker crumbs

(I use Milton's Crispy Gluten Free Sea Salt Baked Crackers)

¼ teaspoon

salt

¼ teaspoon

pepper

¼ cup

almond flour

gluten free

6-8 slices (5-6 oz.)

whole milk mozzarella cheese

⅓ cup

Parmigiano Reggiano

or parmesan cheese, finely grated

2-3 tablespoons

olive oil
Marinara Sauce
2 tablespoons

olive oil

⅓ cup

onion

minced fine

3 cloves

garlic

crushed or minced

1 – 28 oz. can

San Marzano tomatoes, crushed tomatoes, or plum tomatoes in juice

chopped or pureed in a blender or Vitamix, or blended with an immersion blender

1 ¼ cup

water

2 tablespoons

tomato paste

6 oz.

roma tomatoes

or baby heirloom tomatoes, diced

1 ½ – 2 teaspoons

crushed dried basil

gluten-free

4-5 large

basil leaves

torn
Instructions
Start by making the marinara (recipe below). While the sauce is simmering, start the chicken.

Beat the egg with a fork in a shallow bowl and set aside.

Pour the gluten free flour into another flat bowl. Crush your crackers in a Vitamix or put the crackers in a Ziploc and use a rolling pin to crush them fine. Set in a shallow bowl. Add to the bowl the almond flour, salt, and pepper.

Dry each piece and place one at a time on a cutting board with cellophane or parchment over and pound to flatten slightly and tenderize each piece. Add a tiny bit of salt and pepper to the top of the chicken pieces. Taking one piece at a time, coat each side of chicken with the gluten free flour. Next dip in the beaten egg to coat each side, and finally coat each side in the cracker mixture. Remove to a large plate. Continue with remaining chicken pieces.

Preheat the oven to 400 degrees F. Heat a skillet over high heat. Add oil and heat. Place each chicken piece into the skillet, two at a time, and cook for 2 minutes before turning over with a spatula. Cook for 2 minutes on the other side. Remove to a rectangular casserole dish.

Bake for 8-12 minutes. Top with marinara sauce, slices of mozzarella, and Parmigiano cheese. Broil for 3-5 minutes until the cheese is golden brown.

Garnish with fresh basil. Serve with gluten free pasta (Le Veneziane Gluten Free Capellini is perfect) topped with marinara sauce and additional Parmigiano Reggiano or parmesan cheese.
Marinara Sauce
In a medium saucepan, heat the olive oil and saute the onion until very soft and just starting to turn golden. Add the garlic and saute while stirring for about 1 minute.

Add the can of tomatoes, water, fresh tomatoes, and crushed dried basil. Let simmer on low for 35-45 minutes, stirring often. Salt and pepper to taste. Add fresh basil and simmer for a few minutes.