This dish is a cold winter night dish! It's really just an elevated chicken soup, but a bit thicker and more complex flavors, I would say. It's a bit like a Coq au Vin (with white wine, which some recipes call for), but more like a stew.
Paul really loves the potatoes in it. It makes for a very hearty one meal dish. Serve it with some crusty french bread to dip (or gluten free bread if you need it) and you have the meal.
For the Herbs de Provence, I use a brand called Aromatica, which is noted gluten free on their website. There are many others that are available, and many that are gluten free or made in a gluten free facility. You can also make your own Herbs de Provence blend, as you can find many recipes online, but it does have contain quite a long list of spices! The taste of the Herb de Provence is amazing in the stew, though.
You can choose to leave the wine out if you wish, but it gives it a great flavor, and the alcohol is all cooked out during the hour and a half cooking time. If you do omit, add a squeeze of juice from a lemon and it will bring out the flavors. Close your eyes, take a bite, and you can easily picture yourself eating at an outdoor café in France!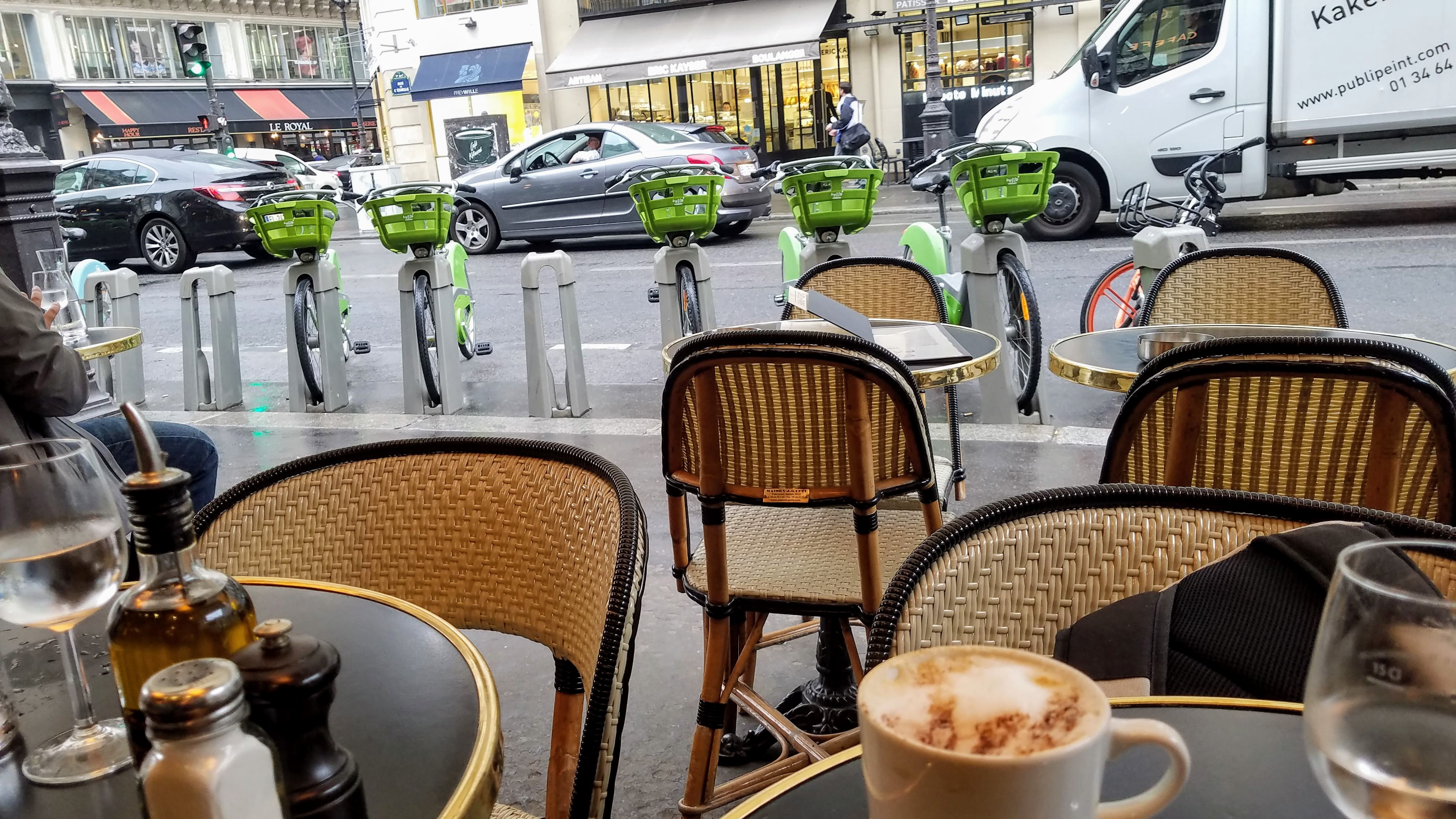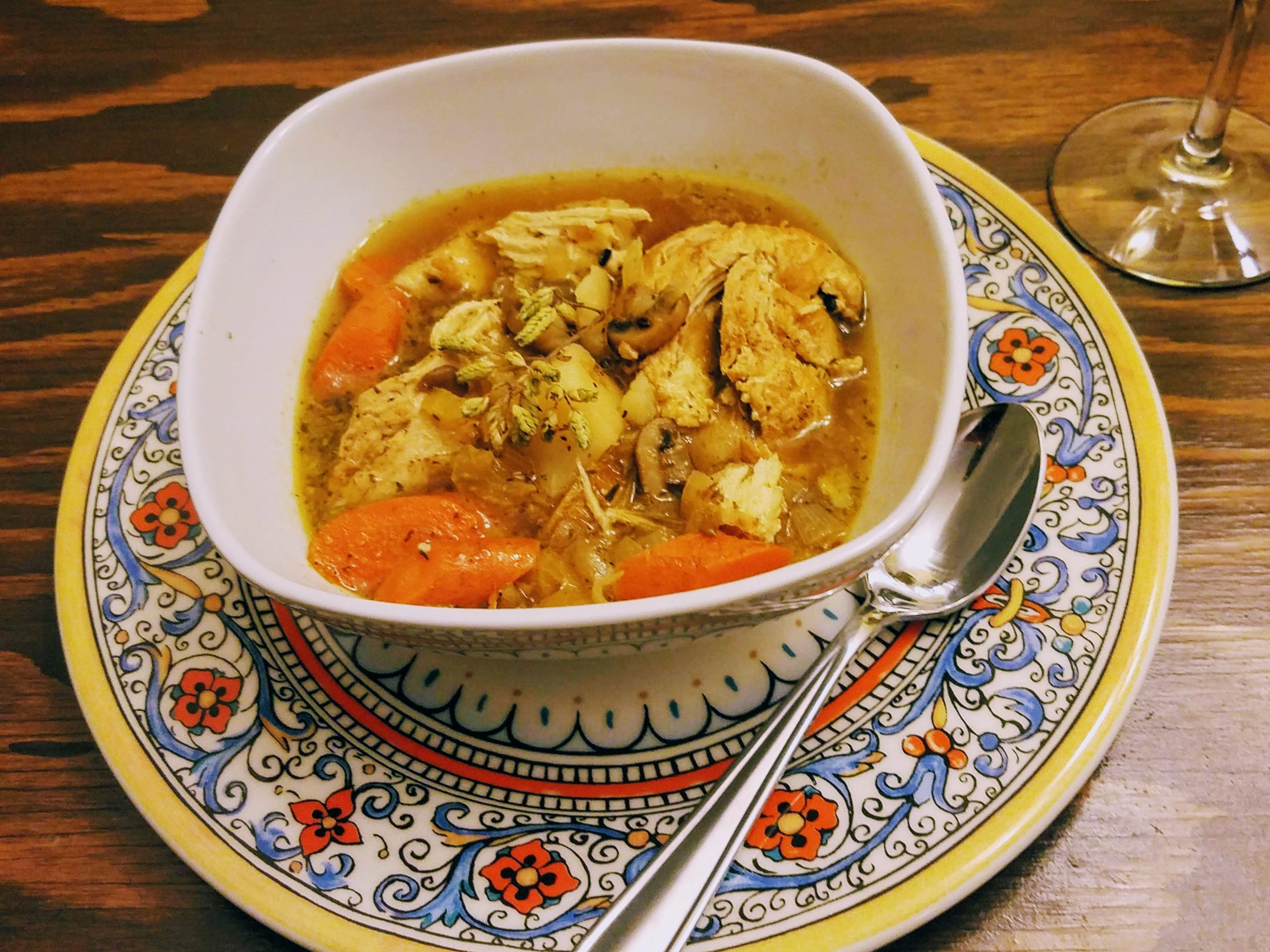 Chicken Stew with White Wine
Comforting Chicken Stew for a cold winter night!
Ingredients
3 tablespoons

olive oil

extra virgin

1

onion

diced small

1/2 teaspoon

salt

or to taste

1/4 teaspoon

paprika, gluten free 

2 medium

carrots

sliced diagonally into 3/4 inch pieces

1 stalk

celery

diced

1/4 stalk

fennel bulb

diced

2 skinless

boneless chicken breast

halves, cut in half, lightly salted and peppered

1 tablespoon

butter

6-8 

Baby Bella mushrooms

sliced

2 medium

potatoes

cut into 1 inch cubes

1 1/2 cups

white wine

Sauvignon Blanc Wine 

1 1/2 cups

chicken broth

gluten free

1/2 teaspoon

thyme

gluten free

3/4 teaspoon

Herbs de Provence

gluten free

1/8 cup

flat leaf parsley

minced, for plating
Instructions
Preheat oven to 300 degrees F.

Heat a Dutch oven over high heat with the 2 tablespoons olive oil. Saute the onion, celery, carrots and fennel in a Dutch oven, with the salt and paprika, until soft. Remove to a small bowl.

In another tablespoon of olive oil, saute the chicken breast pieces over high heat, turning to brown on both sides. Remove the chicken to a plate.

Heat the dutch oven back up with a tablespoon of butter. Brown the mushroom slices, turning to brown both sides. Remove the mushrooms to a bowl.

De-glaze the pot with the wine, stirring to get the particles off the bottom of the pan. Add the chicken broth in, continuing to simmer. Add the chicken back in to the Dutch oven, then the potatoes, soffrito (onion, celery, fennel and carrots), mushrooms, thyme and Herbs de Provence. Cover and place in the center of the oven. Cook for one hour, 20 minutes to an hour and a half. Ladle into bowls and top with parsley (or oregano) if you don't have parsley on hand! Serve with crusty French bread.